Fairytale Fulham; Benitez (& Gerrard) on the brink at Liverpool & Mourinho's trophy-winning guarantee
Comment & analysis round-up
Quote of the day: "We made a major piece of history. The atmosphere is something we will remember for a long time and we are delighted to be in the final. Many teams might have crumbled after their goal but our players kept their heads. In the past two and a bit years I know the players are not going to let me down. The character of this team has been proved time and time again. They consistently surprise me that they continue to show such character. Normally such success softens you and you are not so determined to get such success. But that hasn't happened with this team. We are in the final for no other reason than we have played very well in some difficult games. It has been an amazingly long campaign, and we will end up playing 63 games this season. It's been a wonderful journey and it's an achievement as a coach I am very proud of. I have been lucky in my career with some lucky moments, but the next one is always the best one. To reach a European final, I don't care if you're a top-four team or Fulham, it's an amazing achievement. I know I'll remember this night and many nights like it. We have produced better results and better football than we're entitled to." – Roy Hodgson.
Runner-up: "The future now is Chelsea and then it is Hull, I don't know what will happen in the summer. Right now we have two more games and then we will see what happens. Two or three players have said we need three, four or five players to progress and I agree with them. It will be the same situation. Liverpool is a massive football club. We will try to do our best and the name of the football club is still there. But things have changed here. In the last two or three years we have become a company and we have to manage things in a different way." – Rafa Benitez.
Jose Mourinho quote of the day: "Chelsea were so close – twice in the semis while I was there – but that's life, that's football. Now we did it and, to be fair, I have in a few seconds of the final whistle a few hundred messages on my phone. I have so many from Chelsea, ex-players and people who worked with me there. I know what they felt this season when they lost to Inter and I can imagine how they felt when they lost in the final in Moscow. But we're friends and they are happy for me."
Today's overview: Fulham's thrilling victory over Hamburg dominates with the Cottagers lauded and Roy Hodgson placed on a pedestal for the incredible work he has done by the Thames. In stark contrast Liverpool's exit from the Europa League leaves many to predict that Rafa Benitez is on the brink and Steven Gerrard may also leave Anfield. The third and final theme of the day is Jose Mourinho who continues to be lauded following Inter's incredible display at the Nou Camp.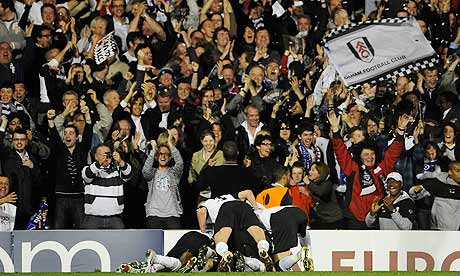 Fantastic Fulham: Patrick Barclay gets the ball rolling on Roy Hodgson and the Cottagers. "The danger to Fulham this summer is that any English club with potential would be foolish to ignore Hodgson. One thing he does have in common with Mourinho is that he seems to be inhabiting the peak of his powers. To have saved Fulham from relegation, hoisted them into the club's best league position and then into the Europa League, in which they have outlasted some of the continent's most famous names, is glowing testimony to a working life intelligently dedicated to the game. No wonder he is talked about as Barclays Premier League Manager of the Year."
Steven Howard describes the win over Hamburg as "another miracle." "At the end, the Fulham faithful's ceaseless support had been rewarded with another incredible return from the dead. It might not have been on the scale of the night Juventus were put to the sword. But in terms of how close Fulham were to falling at the last tantalising hurdle, it was an epic all of its own. What a reward for Roy Hodgson and the team that refused to die, and for the fans who have clung to this roller-coaster ride."
David Hytner joins the chorus. "German sides are not supposed to throw away leads when the race is almost run. Bayern Munich in 1999 was surely the exception. Yet there would be a parallel for scarcely believing English eyes at full-time, when Hamburg's players slumped to their haunches and stared vacantly into the distance. They could not comprehend how they had let two goals in seven minutes unhinge them, first from Simon Davies, then from the outstanding Zoltan Gera. Had Dennis Bergkamp or Eric Cantona finished like Davies, the purists would have drooled for months."
Martin Samuel describes the semi-final victory as a "fairytale at the Cottage." "And when the whistle blew, all of the amateur accountants, the pragmatists, the mere survivalists, those that spend the season calculating how many points to 14th place and never consider what it might be like to actually go out and win something, should have been here. Those fans that have bought the big lie, that have been fooled into imagining scraping by in the Premier League is the limit of ambition, they should have been at Craven Cottage to see what really matters. They should have seen Simon Davies' brilliant equaliser, Zoltan Gera's winner, the sheer power of the emotion it unleashed."
John Ley calls for Roy Hodgson to be the next England manager. "Fulham's achievements this season have been little short of miraculous and the love of Hodgson at Fulham is obvious. 'Stand up for Roy Hodgson' they sang early in the game, and the man who has traveled Europe honing his talents could not help to smile. To Hodgson, the pressure that the game offers is nothing to worry about. He knows how to treat referees, rarely criticising them, and is media friendly, all requirements for the England manager' post."
Losers Liverpool: Following on from Rafa Benitez's post match comments, the lead story in The Sun claims "Rafa Benitez's Liverpool future was hanging by a thread last night after another Euro disaster. Kop boss Benitez looked distraught by his team's defeat and dodged questions about whether he would still be in charge next season."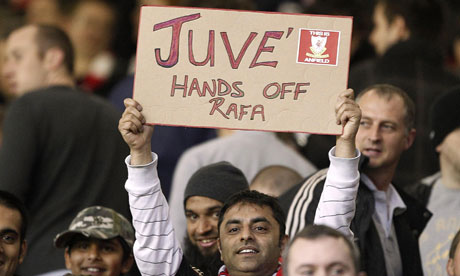 Oliver Kay sums up last night for the Merseyside giants. "This season has been a form of slow torture for Liverpool and Rafael Benítez and, of the thousand cuts incurred, many by their own hand, few will cause more pain and anguish than that administered in extra time last night by Diego Forlán, the former Manchester United forward. The worst thing about it, from Liverpool's viewpoint, was that you knew they did not have it in them to recover. They have made a habit of confounding the odds in European competition in six seasons under Benítez, but when Forlán struck in the 102nd minute, putting Atlético Madrid ahead on away goals after Alberto Aquilani and Yossi Benayoun had overturned the Spanish club's first-leg lead, it was apparent that there would be no comeback this time. What does that say about a team who have often achieved the impossible in Europe under Benítez?"
The Spaniard is not the only one who might not be at Anfield next season. Ian Herbert speculates over Steven Gerrard's future. "Gerrard looked more resigned, than devastated, as he walked off, head held high. If a Europa League trophy might have been the factor to persuade Benitez to stay and fight on in the hope of sunnier financial uplands, then it might also have been the one to cause Gerrard to renew his belief in Liverpool and resist any overtures from those who conclude that a salary like his is modest by today's standards and tell him that greater glories could lie elsewhere. His future looks a little more uncertain today."
Ian Ladyman believes that Chelsea now have nothing to worry about at Anfield on Sunday. "Benitez's team deserve some credit for the way in which they have put aside the disappointment of being bounced out of the Champions League to contribute so fully to the latter stages of Europe's second competition. However, Liverpool most certainly are not in Chelsea's class. Now they will face the League leaders in Sunday's pivotal clash with 120 minutes of cup tie football in their legs and, of course, without their best player Fernando Torres. It may seem trite, but if Chelsea do not win the title and halt Manchester United's dash for a record 19th championship they should ask themselves why. What this evening possessed in tension and spirit, however, it sadly lacked in real quality. Spain's 10th best – and a side who have only won twice to reach the Europa final – against England's seventh best probably summed it up."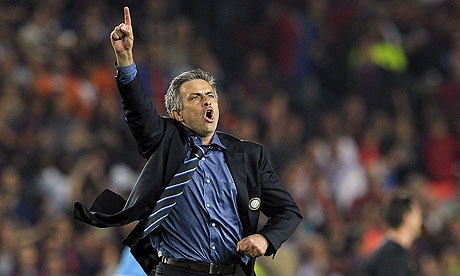 The Special One: The always very readable Simon Barnes heaps praise upon Jose Mourinho. "Inter won because Mourinho's players were willing to run themselves into exhaustion to bring off a battle plan they believed in totally. Only at the end, when they were knackered, did Barcelona get close to them. That willingness, that soul, that spirit was ultimately the difference between the sides — that, and the iffy handball, the slice of Napoleonic luck. And that spirit, that third thing, is ultimately the work of the coach."
Matt Dickinson feels Mourinho is destined to end up at Real Madrid. "It would be a perfect fit; the world's most attention-seeking manager at its most narcissistic club. But that is not the only reason why Real Madrid are expected to make a summer move for José Mourinho. Whatever you may think of the Portuguese's ego, no one can dispute that he comes with that rare quality in football management, a trophy-winning guarantee."
Steven Howard worries that Mourinho's continued success heaps yet more pressure on Carlo Ancelotti. "A Blues blow-out on Merseyside in the week where their former manager pulled off the near-miracle of the Nou Camp will invite comparisons that can do Ancelotti nothing but harm. Chelsea fans, for whom Mourinho is still the Messiah, will be regretting his departure more than ever. Even Roman Abramovich will be thinking: why did I let him go?"
Richard Williams describes Mourinho as Inter's successor to the great Helenio Herrera. "When Massimo Moratti hired José Mourinho to emulate the European Cup triumphs engineered for his father, Angelo, in the 1960s by Helenio Herrera, he cannot have imagined that the Portuguese coach would take him so literally. Internazionale secured their passage to the final at the expense of Barcelona last night by tactics that emulated the stifling effect, if not precisely the catenaccio formula, of Herrera's Grande Inter, in the process exposing Mourinho to similar accusations of promoting a form of anti-football."
Jim White writes of the "cult of Mourinho." "This was characterised as a triumph entirely forged in the technical area: a victory of tactics over skill, of planning over improvisation, of preparation over fantasy. It was the white board win. As one headline pithily put it, this was 'the night of Jose Mourinho'. And so the cult of the manager reaches its zenith. Can anyone remember a team boss being as celebrated in victory? Jock Stein, Bill Shankly, Sir Matt Busby – they all received plaudits by the bucketload for sure, but never were they credited quite so unanimously as the sole reason for their side's success."
Barcelona: James Lawton wonders what now for Barcelona and Pep Guardiola. "Barcelona are still a wonderful team and Messi remains a player of the highest quality. Their problem is that they have invited us to judge them only by the highest standards. It is both their achievement and their curse, which means that we can only hope they are able to whistle away from the graveyard."
Daily Mirror Exclusives: The tabloid speak with Lionel Messi (I will never play in the Premier League) and Ledley King ("It would be a dream to pull on that England shirt again, and what player would ever turn that down?")
Transfer Gossip: The Times report that Roberto Mancini has told Carlos Tevez he can leave if he is unhappy at Manchester City and Arsene Wenger has given William Gallas an ultimatum. The Sun add that Wenger also fears Eduardo will leave this summer, Everton have agreed to sign Joao Silva ("Moyes finds his Silva lining") and Wigan hope to hold on to Marcelo Moreno. The Guardian add that Wenger has also told Andrey Arshavin to stop talking about Barcelona.
The Daily Mail, as ever, are busy bringing us the goss. Lassana Diarra is tipped to join Manchester United and almost every big Premier League team is interested in Blackburn youngster Phil Jones who was linked with Arsenal yesterday.
And Finally: The Sun shed further light on A:3k, the gladitorial skills event taking place after the World Cup with the likes of Wayne Rooney, Didier Drogba and Cesc Fabregas.
Click here for more Premier League betting tips
---