Fabregas back for Arsenal trip to Benfica & Liverpool want Gary Cahill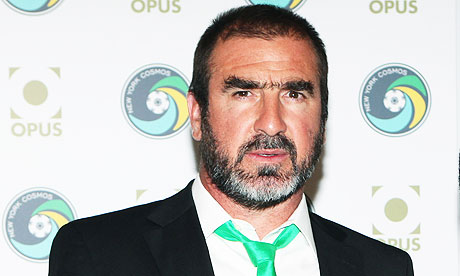 Comment & analysis round-up
Quote of the day: "With these 'unsettled' players it depends where they come from – and why they come. If they come from Milan, maybe. If they come from – no, I don't want to name cities, but I had a great time here. The most important thing for me was to play for the best club in the world with some of the best players in the world. That's the important thing when you're a professional player. The greatest time you can have is on the pitch. I loved Manchester when I was here, and I loved the people. I had a great time." – Eric Cantona takes a "swipe" at certain Manchester City players.
Runner-up: "Certainly, spending money does not guarantee you success. I don't know of any football club that has ever had success that has not spent money. So it is necessary. But it's even more important to spend it wisely." – Kenny Dalglish.
Today's overview: It's another laboured day in the back paghes with Eric Cantona's New York Cosmos press conference one of the few highlights as the Manchester United legend comments upon City, Sneijder and his Old Trafford return.
The Cesc Fabregas transfer saga has taken a slight twist with the news that the Spaniard is back in training and is set to head out to Benfica for a friendly on Saturday.
Liverpool also take up some column inches with Gary Cahill linked in the Mail and Rory Smith predicting Charlie Adam will be one of the bargains of 2011/2012.
Elsewhere, there is more conjecture surrounding Joey Barton (Sun say he could stay, Guardian claim Newcastle want him out quickly) and Roberto Di Matteo talks of the depression he went through when he was forced to retire from football.
Eric Cantons speaks: Paul Wilson reports on The King. "Cantona was in town in his capacity as director of soccer of New York Cosmos, the revived US franchise who will be providing the opposition for Paul Scholes's testimonial at Old Trafford on Friday evening. Sitting next to him at a press conference in Manchester's northern quarter was no less a personage than Pelé, the honorary president of Cosmos, but it spoke volumes for the popularity of Cantona in these parts that almost all the questions were addressed to the iconic Frenchman. 'I didn't want to do the typical ex-player thing and hang around my old club, though I must admit it's great to be coming back with Cosmos,' Cantona said. 'If I am going to try to be a manager I wanted to do it at a special club, and that it just what the New York Cosmos is. The city is unique and the club history is legendary.'"
Somewhat predictably the Daily Mirror trumpet Wesley Sneijder's move to Manchester United through Cantona. "Eric Cantona has urged Manchester United to land £35million Wesley Sneijder, insisting: 'He reminds me of myself.' As reported by the Mirror earlier this week , Inter Milan midfielder Sneijder is mulling over an offer to quit Serie A and become Old Trafford's record signing. United legend Cantona said: 'Sneijder is one of the best. He will be great for the team.' The Frenchman returns to Old Trafford this week, 14 years after his retirement from the Reds, for Paul Scholes' testimonial."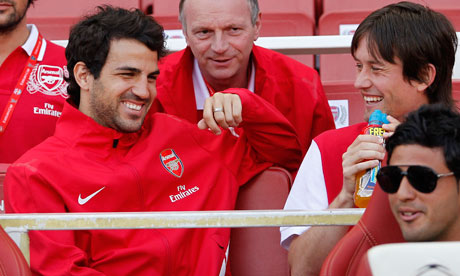 Cesc Fabregas: Jamie Jackson leads in The Guardian with the news that "Cesc Fábregas is back in training with Arsenal as he steps up his recovery from the hamstring injury that has kept him out of the club's pre-season fixtures but his future in north London remains in some doubt. Arsenal's next friendly is against Benfica on Saturday, yet it is unclear whether Fábregas will fly out with Arsène Wenger's squad on Friday. The Catalan's lack of match action may mean that Wenger decides he should continue his rehabilitation at the club's London Colney training base. Fábregas wants to move to Barcelona, with his boyhood team interested in the 24-year-old rejoining them after he departed for Arsenal in 2003, although Wenger repeatedly suggested during last weekend's Emirates Cup that Fábregas could recommit to Arsenal. Fábregas will take part in Thursday's official club photo-shoot."
Sam Wallace also delves into the Fabregas saga. "Cesc Fabregas is fit again and will be in the Arsenal squad for tomorrow's flight to Lisbon for Saturday's friendly against Benfica, as his putative move to Barcelona drags on into the last month of the transfer window. Fabregas has now completed two days' full training with the first-team squad having recovered from a hamstring injury that had ruled him out of any action, including pre-season, since Arsenal's 2-1 loss to Bolton on 24 April. The match against Benfica, for the Eusebio Cup, is Arsenal's last friendly of the pre-season and Fabregas had anticipated that he would have been long gone by now."
Jeremy Wilson adds in the Telegraph: "Cesc Fabregas intends to make his first Arsenal appearance since April against Benfica on Saturday, despite being willing to take a pay-cut to join Barcelona. It has also emerged that Manchester City and Chelsea have made tentative enquiries for the Arsenal captain even though he is only interested in a move back to Barcelona, his hometown club. Yet with negotiations between Barcelona and Arsenal still deadlocked, he has been reintegrated with Arsène Wenger's first-team squad this week. Fabregas will appear before fans at the Emirates Stadium on Thursday as part of an event for club members and will take his place as captain in the club's team photograph for the 2011-12 season. He is also in the squad to play against Benfica in the club's final summer friendly on Saturday evening and is, therefore, in contention to feature against Newcastle United in the Premier League the following week."
Liverpool eye Cahill: Dominic King in the Daily Mail leads their coverage with the claim Liverpool want Gary Cahill. "Kenny Dalglish is ready to spend again after he admitted Liverpool's £100million outlay since January has been 'necessary' in their bid to become a superpower again. The Liverpool manager unveiled his £43m trio of summer signings Stewart Downing, Jordan Henderson and Charlie Adam, and is set to re-enter the market armed with owner John W Henry's millions before the season kicks off a week on Saturday. The new faces follow the £57.3m January acquisitions of Andy Carroll and Luis Suarez, but the manager has unfinished business in this transfer window. Newcastle defender Jose Enrique will bring Dalglish's search for a left back to an end when he becomes Liverpool's next arrival. Yet, having lost out to Manchester United for Phil Jones in June, Dalglish is also searching for a central defender in the mould of Bolton's England man Gary Cahill."
In a second article, Dominic King compares events at Anfield from a year ago. "Determined to mount a challenge to Manchester United, Chelsea and Manchester City, Liverpool unveil the fruits of a summer in which they have been the second biggest spenders. The comparison with the previous summer could not be starker. But, in the space of just over 12 months, Liverpool have gone from being a club in danger of losing their way to one with their momentum back. When you then consider Henderson, Downing and Adam – who faced the media on Wednesday alongside Brazilian reserve keeper Alexander Doni – have arrived at Anfield hot on the heels of Andy Carroll and Luis Suarez, it is evident why Kenny Dalglish's new Liverpool are a hot topic. With the spending of big money, however, comes increased pressure and expectation."
Ian Herbert focuses on Charlie Adam. "One of Charlie Adam's revelations yesterday about the pre-season he began with Blackpool – when he was gratified that the usual system of players washing their own kits had been dropped – provided the greatest insight into the gulf he has leaped to join Kenny Dalglish at Liverpool. There are other, more predictable contrasts. At Blackpool, his debut against Doncaster Rovers in February 2009 was made before 7,500 fans. With Liverpool in the Far East, he trained in front of 38,000 and scored his first goal in the shirt in front of 80,000 against a Malaysia XI in Kuala Lumpur."
Rory Smith tips Charles Adam as potentially the "bargain of the season." "Even amid the unadulterated ambition and eye-watering price tags of Liverpool's summer of excess, Kenny Dalglish can congratulate himself on one piece of thrift. After all, according to no less an authority than Sir Alex Ferguson, Charlie Adam's corners alone are worth £10 million. His old nemesis has picked up the entire player for around £7 million; Dalglish evidently retains an eye for a bargain. It is not, though, the 25 year-old's undeniable efficacy and efficiency with the deal ball that ensured his countryman continued to track him, to prioritise him and to covet him even after an initial bid in January met with a wall of silence from Blackpool. It was the knowledge that Adam and this Liverpool are the perfect fit. For a club saturated by a desire to achieve the impossible, there could be no better standard-bearer than a man who has seen that it is nothing."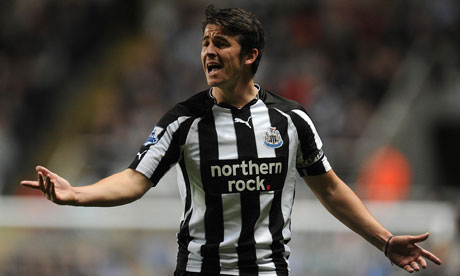 Joey Barton: The Sun suggest the football-philosopher could end up staying at Newcastle after all. "Mike Ashley is set to hand Joey Barton a shock lifeline by getting him to STAY! Newcastle chiefs are sick of Barton's Twitter sniping and may end it by keeping him. Barton yesterday tweeted: 'Just because ur told to jump, it does not necessarily mean u have to. I may choose to stand perfectly still. It's my right… just a thought.' The decision to keep Newcastle's star man will be a massive boost for boss Alan Pardew."
Louise Taylor however believes Newcastle want rid. "Newcastle United remain resolute in their intention to offload Joey Barton and will ignore any attempts from the midfielder to broker a truce. Barton was handed a free transfer after criticising the club's spending policy on Twitter but has still to find a new club and is scheduled to work out alone when Alan Pardew's squad return to training on Thursday following a day off. Newcastle's manager feels Barton's presence is capable of poisoning the atmosphere in his dressing room to such an extent that the 28-year-old is expected to continue training in isolation and will not be involved in games until his departure. That exit may not be as hasty as originally hoped after it emerged that despite being offered to assorted Premier League, Championship and overseas clubs, there is not exactly a stampede to sign Barton."
Rob Bagchi argues that Barton could be a bargain for someone. "This summer he has been as ruthless with the club as they have been to his friends and former team-mates, a fertile ground of attack since neither the board nor the manager are particularly popular. They couldn't get him to shut up so they tell him to shove off instead. Whoever takes him on will no doubt try to address the former before they resort to the latter course of action but you would think that however much managers might flatter themselves as being able to tame a one-man awkward squad, it will take a man-management genius who wins his trust to make Barton silence himself in public."
Chelsea: Martin Lipton suggests the Blues will come in with a bigger bid for Luka Modric. "Chelsea will step up their efforts to land Luka Modric this week by tabling a £30million bid for the Croatian. The Stamford Bridge outfit have seen an initial £22m offer and a subsequent £27m bid rejected out of hand by Tottenham chairman Daniel Levy. But the Blues believe Spurs' stance is weakening by the day and that it is only a matter of time before Levy blinks and concedes he cannot keep Modric against his will. Chelsea are therefore set to make their third bid as a further sign of their desire to capture the 25-year-old."
A number of papers speak with Roberto Di Matteo who talks of his depression at the end of his playing career. Dominic Fifield: "Restored to the club as assistant first-team coach to André Villas-Boas, it is only natural that, clad again in a Chelsea kit, memories drift back to Zurich. So severe was the damage sustained at Hardturm Stadium that fears were raised whether the leg could be saved. 'It took me a long time to digest everything and move on,' Di Matteo says. 'The incident was an accident, but I only realised four or five days later that things were serious. I spoke to my surgeon and he was honest enough to say: 'Look, before we start thinking about you playing again, we have to make sure you can still lead a normal life.' That's when it kicked in. I might be in trouble. I had a lot of complications, nerve problems and soft tissue damage. Bones heal. It was everything else [that went wrong] and, in the end, I never played again. The recovery was day by day. My family were strong and supported me, which was so important because psychologically, mentally, it's very difficult. For most players it's hard to accept you've ended your football career and that you have to go out and do something else. But the way it happened to me, so suddenly … I went into depression and had to deal with that, being depressed, something that had never happened to me in my life before.'"
Transfer gossip: The Sun suggest Fulham could swap Andy Johnson for Carlton Cole, Newcastle are weighing up a shock swoop for Rob Green and Blackburn hope to pip QPR to signing of Miguel Torres.
The Daily Mail claim Samuel Eto'o is "desperate" to move to Manchester City and Tottenham have bid 6 million pounds and Sebastien Bassing for Chris Samba.
The Mirror run with Inter planning to swap Maicon in part exchange for Carlos Tevez, Tottenham and Celtic are leading the chase for Joey Barton, QPR are trying to get Joe Cole on the cheap and Tottenham are in talks with Real Madrid over Lassana Diarra. 
Season previews: The Guardian are now up to Fulham and Liverpool.
---