"Fabio Capello is exploiting his position as England boss to plug an online World Cup cash game" – Shaun Custis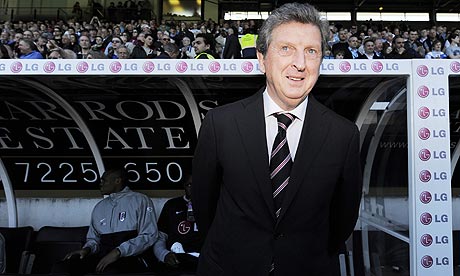 Comment & analysis round-up
Quote of the day: "Since joining Fulham, Roy has transformed the club's fortunes. He initially saved them from the brink of relegation then took them to their highest ever league position last season. This year he has capitalised on that platform, achieving remarkable success in this season's Europa League. He is highly respected by the LMA members and also on an international level where he has worked his miracles in no fewer than seven countries. He is a great role model for all aspiring managers and coaches and is fully deserving of this recognition." – Howard Wilkinson on naming Roy Hodgson the manager of the season.
Runner-up:Â  "It is vital [there is a quick sale]. It would be simple as it would mean we could start planning for next season earlier. All that I ask is that if it is going to happen, then it happens as soon as possible to help the club. We [the players] worry. It is a little bit of a concern and we need to sort out these kind of things, like the sale of the club and the thing with the owners. Once we settle all this then we can begin to look forward and improve the squad… It is not about quantity, it is about quality. We need to bring in the proper ones and improve on the players we already have. It is not cheap but I am sure that the manager and his technical staff will be working hard to change that." – Pepe Reina.
Today's overview: Don Fabio is preparing to announce his 30-man provisional World Cup squad this Tuesday, and the fourth estate plays the predictor game as the Italian is second-guessed from all quarters. But there is a spanner is the works too, after the launch of the Capello Index website.
The Capello Index: For the first time since taking the role of England manager, Fabio Capello finds his character placed under the spotlight following his decision to launch the money-making Capello Index (see here) yesterday.
Oliver Kay comes down on the Italian like the proverbial ton of bricks. "The England manager invited controversy by launching the "Capello Index". The website will rate player performances throughout the World Cup and in the Premier League next season… Even though the Capello Index is simply a performance-analysis resource, the links with a gambling company will not be welcomed by the FA, which is not involved in the venture… Another embarrassment – and perhaps a sign of things to come – arose with the index ranking Sol Campbell, Gary Neville, Paul Scholes and Cole among the top seven English players in the Barclays Premier League over the past month, with none of that quartet likely to figure in today's squad. It is the type of public relations embarrassment often invited by Sven-Göran Eriksson but not previously Capello."
Also pointing out the inconsistencies between the Capello Index an Capello's likely England squad was Jason Burt. "Using Capello's system the top ranking England players over the past month were Ledley King, Frank Lampard and then Michael Dawson, Paul Scholes, Sol Campbell, Joe Cole and Gary Neville. Only the first two of those players are expected to be in his 30-man squad while the poor form of Liverpool means Steven Gerrard wasn't even assessed."
The Independent's Sam Wallace also believes Capello has made a mistake launching his new website. "Capello tried to play down the project as a bit of fun but it represents the first gaffe of an era that has hitherto been very sure-footed in contrast to some of the Italian's predecessors. Capello, who is paid £6m a year by the Football Association, is a stakeholder in his index and is set to cash in on the lucrative online market if it proves to be a success."
Naturally, The Sun also get in on the Capello-bashing act, with Shaun Custis taking the lead role in calling out Capello. "Fabio Capello is exploiting his position as England boss to plug an online World Cup cash game… Capello, on £6million a year as England boss, desperately tried to defend his involvement, insisting: 'It's not only about money, my interest is in football.'"
After hinting the Fab Cap is now a money-grabber, Shaun Custis then offers a supplementary article in which he explicitly labels Capello as "grubby." "Whatever happened to that old adage 'what goes on in the dressing room stays in the dressing room?' Not only that, the England manager is a partner in the company which is using that expertise to make a fortune. How grubby can you get? It's the sort of operation which would have earned previous England bosses Sven Goran Eriksson, Steve McClaren and Glenn Hoddle an absolute caning."
In, Out: Kevin McCarra wields the axe on Manchester City's crocked Gareth Barry, however the big news is that less-than-a-minute-of-football-this-season Owen Hargreaves looks set for a call-up. "There is never much sentiment at work with Capello, who appears to be reconciling himself to doing without Barry. In that game with Switzerland, the player was replaced by Owen Hargreaves. The process might just be repeated on a grander scale, absurd as it seems. The midfielder's knee problems are well known and his action with Manchester United in this campaign was confined to less than a minute as a substitute against Sunderland at the start of the month… A call-up for [Joe] Cole would seem more logical. He has the flair that might be of service in South Africa."
The mooted Hargeaves call-up is torn apart by a disgruntled Matt Hughes. "If Hargreaves makes it into Capello's final 23, which will be announced on June 1, his selection will be almost as surprising as Sven-Göran Eriksson's misguided punt on Theo Walcott four years ago."
Summoning his condescending whit, Oliver Kay also opens fire on Don Fabio's latest decisions ahead of the World Cup. "Maybe we have all been "merk'd". Maybe Fabio Capello's series of deviations from type over the past few days — calling Jamie Carragher out of international retirement, summoning Owen Hargreaves off the treatment table and now scoring what appears a remarkable PR own goal with the launch of something called the Capello Index — are merely the sequel to Rio Ferdinand's infamous Rio's World Cup Wind-Ups programme four years ago… It is tempting to wonder what other surprises he might have in store. A call-up for the injured and out-of-favour Michael Owen, perhaps, or an invitation to Cheryl Cole and her fellow WAGs to join the squad throughout their stay in South Africa?"
Away from the smart alec comments, Matt Dickinson delivers a standout article in which the scribe blows the myth against taking utility players to the World Cup. "There is a reason why a squad consists of 20 outfield players – two for every position – and another reason why every international manager should beware the surface temptations of the utility player. He can, indeed, "do a job" but can he do it well, can he do it under the pressure of a World Cup? Can he do it in a semi-final against Brazil?… A simple rule for Capello is to pack his squad with as many specialists as he can, including the raw Leighton Baines as deputy for Ashley Cole rather than taking a punt that Milner can fill in at a push. At right back, the test is to ask yourself who you would like to see there if Johnson was forced out through injury or suspension. Does Carragher feature in your top three? A straw poll of half a dozen people in the game all concurred yesterday with the choice of Neville."
Staying on the tactical footing, Henry Winter has a list of questions for the England manager. "Will he start Wayne Rooney as No 9 or a No 10? Will he move Steven Gerrard into his preferred central position? Will he get James Milner in the XI? Will he gamble by taking unfit stars such as Owen Hargreaves, a potentially lame lion, to South Africa?"
World Cup Watch: The Guardian today kick off their perfectly bite-size World Cup watch feature, where in injury news we learn "Harry Kewell is confident he will recover from a long-standing groin problem that has plagued his season for Galatasaray to play for Australia. Denmark have included goalkeeper Thomas Sorensen, who dislocated his elbow last month playing for Stoke, in their provisional 30-man squad."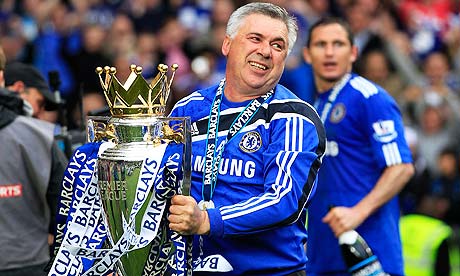 The End of Season Reviews: Taking stock of the end of the Premier League season, Richard Williams notes how the English top flight has outscored its rivals this year. "Such a rate of attrition may go some way to explaining the fact that when Diniyar Bilyaletdinov scored Everton's winner in the 94th minute on Sunday, he was registering the 1,053th goal of the Premier League season, the highest total for 10 years. The equivalent figures in Italy and Spain, with one match to go in Serie A and La Liga, are 968 and 1,002 respectively. In crude statistical terms England offers the most bangs per buck."
Rory Smith takes on the difficult job of listing the top 10 transfer of the 2009/10 Premier League season, with Carlos Tevez coming out on top. "Far more than just the status symbol many thought he may be, it was the Argentine's goals which almost fired City into the Champions League."
Away from the pitch Giles Smith surveyed the differing football outlets on TV over the past 12 months, concluding that Soccer Saturday and Paul Merson in particular have been the leading lights. "Having pioneered the use of "torrid" as a noun (short for "torrid time of it", eg, "the winger's giving him an absolute torrid"), Merson spent much of 2009-10 familiarising the term "worldy" (short for "world-class save / pass / shot", depending on context, as in, "the goalkeeper's just pulled off a complete worldy, Jeff"). That's two fresh additions to the English language — which is exactly two more than Andrew Motion managed in a decade as poet laureate. In this, and in so many ways, Soccer Saturday shows what can be achieved, even in today's game, on a budget."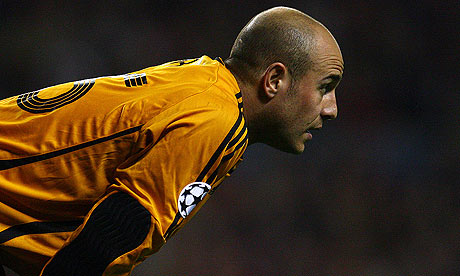 Anfield Anguish: The dark clouds blacken over Anfield once again as Liverpool fans are forced to read more reports linking the star players to moves away from the club.
Andy Hunter details how "Liverpool's goalkeeper [Riena] and the forward Dirk Kuyt have become the latest senior players to voice their concern over the direction of a club laden with debt and where the absence of Champions League football next season has cast doubt over the futures of Fernando Torres and Steven Gerrard."
Yet, there is a hint of good fortune for Reds fans according to Nick Harris, who announces how a new buyer may be in the frame for the club. "A Chinese multi-millionaire internet gaming tycoon from Shanghai has held provisional talks about buying Liverpool, The Independent can reveal. No offer has been tabled yet but Zhu Jun, 44, the founder chairman and chief executive of The9 Ltd – one of China's leading online gaming firms – is described by local sources as "sincerely interested" in the club."
Amazingly, the Mirror also report that another buyer is interesting in moving into Merseyside. "Liverpool have moved a significant step closer to a buy-out deal under the proposed new Gulf-based regime. MirrorFootball can reveal that potential buyer Yahya Kirdi flew to London last week for crunch talks with the Anfield club's new chairman Martin Broughton and co-owner George Gillett."
In other good news for Scousers, John Edwards bleats "Juventus are on the verge of abandoning their pursuit of Rafa Benitez and turning instead to Sampdoria coach Luigi Del Neri."
Managerial Merry-go-Round: The former wally with a brolly, aka Schteeeve, now finds himself as Herr McClaren. Matt Dickinson reports that "Steve McClaren signed a two-year deal with Wolfsburg last night as he became the first English manager to take a job at a leading club in the Bundesliga."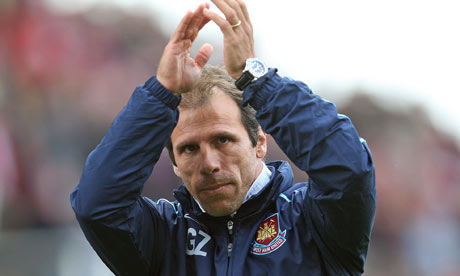 Another manager apparently on the move is Gianfranco Zola, as John Edwards reports that the Hammers are looking to dump their Italian boss. "West Ham will today begin the process of removing Gianfranco Zola from his post, after recording the lowest points total in their Premier League history… hey will then appoint their own man, with former West Ham defender Slaven Bilic, ex-England coach Glenn Hoddle and Paulo Sousa, Swansea's talented boss, under consideration." Chucking another name into the frame, James Nursey barfs "Real Mallorca manager Gregorio Manzano is the surprise new candidate to replace Gianfranco Zola at West Ham."
One manager staying put apparently is the Professor, with Jeremy Wilson announcing "Ivan Gazidis, the Arsenal chief executive, is certain that Arsène Wenger will agree a new contract when his deal expires at the end of next season."
Transfers & Gossip: Jason Burt speculates whether Joe Cole will be at Chelsea next season. "Cole's deal runs out next month, which means he could leave on a 'Bosman' free transfer, but Gourlay said he was 'very conscious of controlling our salaries.' The 28 year-old wants a significant pay rise, taking him into the bracket of Chelsea's highest earners, on more than £100,000 a week."
The issue of wages is also key for Manchester United, with Ian Herbert detailing how the Red Devils are looking to bring in Karim Benzema. "United have been linked with a fresh move for Benzema, who moved to Real for £35m – the same price United were offering 12 months ago. But the player will seemingly need to accept a substantial reduction in pay." Injecting some tabloid tittle-tattle into the mix, Neil Custis claimed "Nemanja Vidic could be used as a £10m makeweight in a Benzema deal."
The hardest working liar on Fleet Street – the Daily Mail's famous no-name reporter – rears his ugly question-marked head this Tuesday with his standard string of lies.
Barfing out nonsense, we learn "Tottenham are weighing up an £18million move for Sevilla striker Luis Fabiano… Redknapp, who has also been linked again with Klaas Jan Huntelaar, wants a striker who can play up on his own to allow a five man midfield on occasions." Next the mysterious hack spews "German Bundesliga side St Pauli are ready to offer Sol Campbell a lucrative one year contract."
Elsewhere, Colin Young reports that "Stoke and Bolton are prepared to test Newcastle owner Mike Ashley's resolve to hold on to his best local talent and make summer bids for Andy Carroll and Steven Taylor," while Mel Henderson announces that "Blackburn are weighing up a £6.5 million move for Brazilian international wing ace Wendel."
Moving onto the thoroughbred red-tops, The Sun's Ian McGarry farts "Chelsea will match Manchester City in the fight for Fernando Torres. Blues boss Carlo Ancelotti has been given the go-ahead to bid for £50million-rated Liverpool striker Torres." Antony Kastrinakis then pops his head above the parapet to vomit "Patrice Evra is ready to quit Manchester United this summer – with Real Madrid and Inter Milan ready to pay £18million." Kastrinakis isn't done there though, as the hack also claims that "William Gallas could quit Arsenal today."
The Sun also appear to have employed Mr. No-Name from the Daily Mail, as they release two articles without a whiff of supporting evidence. First we learn "Bolton are lining up a £4million bid for Portsmouth defender Nadir Belhadj, 27," before reading "Sam Allardyce will step up the search for a new forward after being told he will have around £3.5million to spend on his Blackburn squad this summer."
Lastly, king of the never-gonna-happen transfers, Alan Nixon, reports that "Harry Redknapp is ready to sign David James for Tottenham on a free transfer," while Danny Fullbrook follows closely behind in the Star shouting "Chelsea will make a £20m raid on Spurs for midfield maestro Luka Modric."
---
GAMBLING CAN BE ADDICTIVE, PLEASE PLAY RESPONSIBLY