Everyone left asking the same question: Why didn't Cristiano Ronaldo take a penalty v Spain?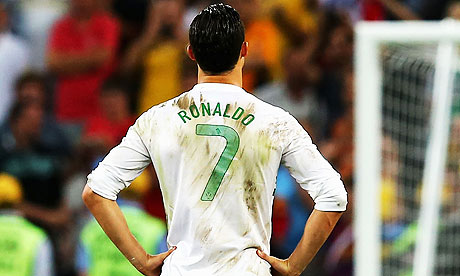 Comment & analysis round-up
Quote of the day: "The fifth penalty would have been Ronaldo's. We have this order and Bruno Alves was fourth and then it would have been Ronaldo. It was our plan. If it had been 4-4 and Ronaldo was going to shoot the last penalty things could have been different. It's all about strategy. We defined before what would be the best conditions to have success." – Portugal coach Paulo Bento.
Runner-up: "I was going to take the fifth penalty but we missed two. It was just a question of me speaking with the coach. He said to me: 'Do you want to take the fifth one?' and I said 'yes'. Sometimes I take the first, the second or the third. I agreed to take the fifth. I hope Spain win the tournament now because I have a lot friends there and I play there and it will be a tough final for them." – Cristiano Ronaldo.
Spain through to Euro 2012 final – why didn't Cristiano Ronaldo take a penalty?
Oh no Ronaldo! Cristiano stranded as Cesc seals it (Ian Ladyman, Daily Mail) "After strolling imperiously through this tournament, Cristiano Ronaldo  stumbled home burdened by a single decision that will surely trouble him for the rest of his glorious career.
Portugal's captain and inspiration has led his country brilliantly throughout Euro 2012, not just by the decisive nature of his football but also by the sheer force of his will and personality. It was largely due to him that Portugal were in this semi-final at all. On Wednesday night, though, when the reckoning arrived, Ronaldo was to be found with his hands on his hips on the halfway line as his country lost a penalty shootout in which he had — remarkably — played no part. As Cesc Fabregas's winning penalty struck the inside of a post and found its way into the net — 'I said to the ball that we had to make history and it shouldn't let me down,' revealed the former Arsenal man later — Ronaldo raised his arms in exasperation. It is a familiar and irritating mannerism but on this occasion it was understandable. Another Portuguese dream had died and he had been central to it."
Cristiano Ronaldo's save-it-for-later approach hurts Portugal (Richard Williams, Guardian) "Cristiano Ronaldo will remember this night as the one on which he saved himself for the last penalyy in the shootout, and never got to take it. A bizarre decision by the Portugal captain will give him plenty of reason for reflection as he considers his failure to achieve his aim of becoming the star of Euro 2012. Now this merely becomes the fifth major tournament on which he has failed to make an impact commensurate with his self-esteem."
Ronaldo conjures tricks aplenty – except when it really mattered (Jack Pitt-Brooke, Independent) "It felt wrong that Cristiano Ronaldo did not take one. Portugal's captain had done everything else last night: left-winger, centre-forward, creative midfielder. He must have been waiting to take the fifth kick, the final kick, to win the shoot-out against Spain. But he never got the chance, as Bruno Alves missed and Cesc Fabregas scored. And so Ronaldo, arguably the most influential player in the history of his country, was left powerless as they went out. He could not help them through the shoot-out and into the final. He could not atone for his miss at the end of normal time, which could have saved so much hassle."
It will haunt Portugal talisman Cristiano Ronaldo: why didn't he take the first penalty? (Duncan White, Daily Telegraph) "Cristiano Ronaldo saw himself in the starring role. He never got out of the wings. He had chosen to take the fifth penalty, in the anticipation that it would be the one to finish off Spain and send Portugal through to the Euro 2012 final. He craved that moment. Instead the glory went to Cesc Fabregas who wheeled away in frantic celebration, mobbed by grateful team-mates. Ronaldo was left impotently mouthing into the night sky. Throughout the shoot-out Ronaldo had cut a tormented figure. Paulo Bento, the coach, had come to consult him first after the game had gone to a shoot-out. He must have opted to go fifth then, a curious choice for your best penalty taker as it was always a risk it would not get to him. And so it transpired."
Germany v Italy
Germany ready to shake off jinx in semi-final with Italy (Paul Wilson, Guardian) "Properly prepared and younger than most teams at the tournament, Germany will want to find space on the pitch in which to run and attack; Italy will prefer to keep things tight. There may not be a lot of goals in the game, it is a semi-final after all. But though the Italians may have a slight edge in defence, where the Germans have occasionally been sloppy, it appears that in this tournament at least, the perennial underdogs have more attacking bite."
Why we should all support Germany now – for one thing they're not Spain (Jim White, Daily Telegraph) "An unexpected sensation overwhelmed me while watching Germany play Greece in the deficit derby at Euro 2012. It came just after Sami Khedira had put his team into the lead with a volley of withering power. And it took me completely by surprise. Much as I might hate to admit it, I found myself wanting the Germans to win. In fact, enjoying the wonderful way they mix muscle and skill, brawn and technique, I began to think that it might be good for football were they to go home from eastern Europe with the championship trophy in their carry-on luggage. It is perhaps not something that I should be shouting about. Favouring the Germans is not the default position of the English supporter."
Oh, to be Germany – envied, admired and even… loved (James Lawton, Independent) 
Deadly Germs can leave Italy sick (Chris Kamara, Sun)
England fall-out
Wayne's foolish gamble: Las Vegas trip before Euros left him a busted flush (Matt Lawton, Daily Mail) "A little more than a month before he hopes to win gold in the Olympic triathlon in Hyde Park, Alistair Brownlee is in the Swiss ski resort of St Moritz. He is there with his younger brother Jonathan, swimming, cycling and running at high altitude in preparation for the Games. Little more than a month before that game against Ukraine in Donetsk last week, Wayne Rooney was in Las Vegas. He was completing his very own triathlon. One that included partying, eating and probably a bit of drinking, too. Brownlee is ploughing up and down a swimming pool. Rooney lazed on a sun lounger in his hotel. Las Vegas is not renowned for its sporting facilities. There are some fine golf courses and they pump oxygen into the main casino halls to keep the punters awake. But nobody comes out of there ready for 120 minutes of quarter-final action against Italy. Vegas is the world capital of excess. Great fun but not somewhere that lures the finest athletes on the planet a few weeks before a major competition. Unless, that is, you happen to be Rooney and unless you have a new England manager who probably wasn't in the job long enough to implement those kind of ground rules."
We had to put the brakes on Roo in training (Paul Jiggins, Sun)
Losing isn't so bad! Coleen Rooney consoles husband Wayne over Euro 2012 exit soaking up the sunshine in LA (Daily Mail)
Manchester City
Get me RVP ASAP!: Meddling Mancini's like a dog in a butchers' doorway (John Cross, Daily Mirror) "Roberto Mancini is demanding that Robin van Persie is made Manchester City's top transfer priority – even though it could put him on collision course with his bosses. City are adamant they must sell before they can buy and want to offload a string of strikers, with Emmanuel Adebayor, Carlos Tevez, Roque Santa Cruz and Edin Dzeko all available. But title-winning manager Mancini wants Van Persie and is straining at the leash to launch a full-on assault for the Arsenal striker."
Manchester City open talks with Silva about new deal… and Balotelli's staying too (Dominic King, Daily Mail)
Luka Modric wants out
Get Ric quick (Paul Smith, Sun) "Luka Modric plans to submit a written transfer at Tottenham in the next seven days to trigger a £30million-plus tug-of-war between Manchester United and Real Madrid. The Croatian midfielder had refused to put in a formal request after being told by Spurs he would be held until his contract runs out in 2016. Now Tottenham are looking for up to £40m for Modric, 26, who is on holiday after Croatia's exit from Euro 2012. United are keen on an all-cash deal while Madrid prefer a cash-plus-players arrangement."
AVB's A-OK: Tottenham all set to name Chelsea flop as their new boss (John Cross, Daily Mirror)
Gazza back on the booze
Gazza on the brink (Sun) Troubled Paul Gascoigne looks a world away from his days as an England footie hero as he is snapped with fans who staged a booze-up at a Middle East hotel. The Geordie star — once among the nation's most talented soccer idols — attended the party in Dubai. Worried onlookers told how Gazza, 45, slurred his words and slumped in a chair with chalk from a pool cue smeared on his face. He also lost hundreds of pounds on pool table bets before eventually being carried away by a concerned promoter and his life-long pal Jimmy Five Bellies."
---