Everyone agrees Arsenal are firmly in the title race, except for the dissenting Hugh McIlvanney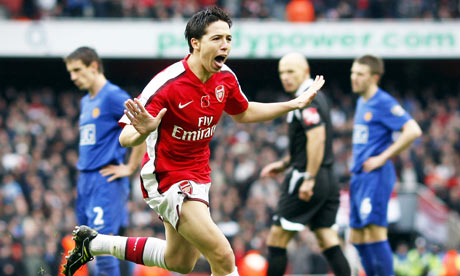 Comment & analysis round-up
Quote of the day: "I've got a lot of close mates who have been in and out of prison and it probably could have been me if it wasn't for football. I also had good parents and people I looked up to, who kept me on the straight and narrow. I've still got friends who've done wrong, I'm sure everybody has… Joey's done wrong, he knows that, but he's done the crime, he's done the time." – NIcky Butt.

Runner-up: "His margins are very small. He can be very good, or indifferent. Jimmy [Bullard] got called into the England squad and his agent immediately contacted us and said 'he's an England player now, let's talk a new deal.' The club said 'no' and I agree. Johnny Haynes could have walked into any club in the world when he was here, but decided to stay where he was. Today's player could sign a new deal one day and leave the next. Why should we offer a new contract to a player who has 16, 17 months left on his old one? You have got to cut your cloth right these days. I believe you work with what you earn." – Roy Hogson.
Today's overview: Columnists across the paper divide swallow large helpings of humble pie this Sunday, as after a week of criticism levelled at Arsene Wenger and Arsenal, most now sign the praises of the North London title-challengers.
David Hytner is quick to talk up Arsenal's title ambitions, saying "these 90 minutes provided vindication for [Wenger] of the most timely and beautiful sort. Arsenal are firmly in the title race – were they ever truly out of it?" Joe Lovejoy adds his voice to the bandwagon saying "the most aesthetically attractive team in the country are right back in contention for the title after winning the match of the season to date." David Walsh picked out William Gallas for special praise, claiming "Arsenal were inspired, and perhaps nobody as much as William Gallas. He was a towering presence, at times a virtual one-man wall of defiance."
And so the compliments continue. Patrick Barclay calls Samir Nasri the new Robert Pires in the Sunday Telegraph, while Jason Burt commented how United "were off the pace, quite literally, as Fabregas, Denilson and Nasri buzzed around them. Arsenal seemed more determined. Incredibly, more aggressive."
Swimming against the tide, Hugh McIlvanney halts all the Arsenal loving to argue "the uplifting defeat of United told us nothing about Arsenal we didn't already know" as "the real question is whether it means anything in relation to the tendency they have shown this season to be undone by the kind of relentless, and not always legitimate, robustness that undid them at Stoke last weekend."
On the transfer front, Joe Bernstein writes "Manchester United have targeted Portsmouth's £12million-rated midfielder Lassana Diarra," Martin Hardy claims Harry Redknapp will launch a £10m raid for Yakubu in January, while the strangest story of the day sees Steve Bates of the People claim that Manchester City could be about to replace Mark Hughes with Darren Ferguson as their new boss.
Chelsea could be moving to a new 75,000 seater stadium at Battersea according to Jamie Jackson. But the Blues could be about the further slip down the money ladder, with Rob Draper reporting that West Ham, Everton, Pompey, Liverpool and Newcastle are all subject to potential Middle-Eastern takeovers that would shake up the financial landscape of the Premier League. On Newcastle though there is further meat to the story, as Brian McNally claims "Newcastle United are poised to become the fourth Premier League club owned by Americans."
Reacting to Roy Keane's comments on the low levels of quality commentary served in England, Rod Liddle picks out his favourite pundits, "first, Alan Hansen, who is as eloquent and astute now as he was when he was playing the game, and secondly Mark Lawrenson, who adds to a fine understanding of the game a dry wit and lugubriousness."
In other news, Dennis Tueart warms how the Premier League could be heading down the same path as the doomed NASL back in the late 70s, Tim Glover (suggesting Steven Gerrard "was enduring some form of crucifixion") argues that Technology needs to be introduced to stop cheating in football, while, on the credit crunch, Steve Tongue notices "that of the 10 home teams in last weekend's Premier League fixtures, no fewer than six recorded their lowest League gate of the season."
David James celebrates the Presidential victory of Barak Obama claiming it to be a victory also for sport except for the fact "Obama's only problem is that has got so much other stuff to do that sport may just get left by the wayside." And playing on the Obama theme, Amy Lawerence notices how Diego Maradona has led the way for the "Yes We Can" mantra – "Play football as easily as breathing? Yes we can. Ingest copious amounts of cocaine and enjoy as much female company as possible? Yes we can. Eat for Argentina? Yes we can… Coach the Argentina national team to the World Cup success that came to him so naturally as a player? So sorry to be a killjoy, but no we probably can't."
---
GAMBLING CAN BE ADDICTIVE, PLEASE PLAY RESPONSIBLY