"Even if Chelsea add the FA Cup to the Premier League title later this week, their squad needs perhaps four or five new players if they are to challenge for the Champions League next season" – Alan Hansen
Comment & analysis round-up
Quote of the day: "It's a fantastic moment. I'm happy to have done this in my first season. I had a lot of help, because I found a team and a club with fantastic organisation. So it was easy for me to do my best. I think that this club will have a future because these players are not so old and we have a very good squad, for next year and the years after." – Carlo Ancelotti.
Runner-up: "This is the hardest league in the world to win and we applaud Chelsea for winning it. We have won it the last three years so we know how hard it is. So I congratulate Carlo who is a good manager and a good guy. Of course we'll be back next year – that is what Manchester United do. Next year we will go again and try and bring back the title to the best place in the world." – Sir Alex Ferguson.
Today's overview: While the scorelines were larger than predicted, the final day of the season proved to be a rather damp squib as Chelsea cantered to Premier League success, Manchester United lined up in second, and Wayne-watch returned after Rooney pulled up with a groin strain.
Champions Chelsea: Laying day the final day facts was Dominic Fifield. "A blistering 8-0 victory, this club's biggest ever success in the top flight, swelled Chelsea's goals tally for the season to a staggering 140 in all competitions and 103 in the league alone. No side had achieved three figures in the division since Tottenham Hotspur in 1963, with Didier Drogba recovering from a first‑half hissy fit at being denied the chance to take a penalty with a second‑half hat-trick."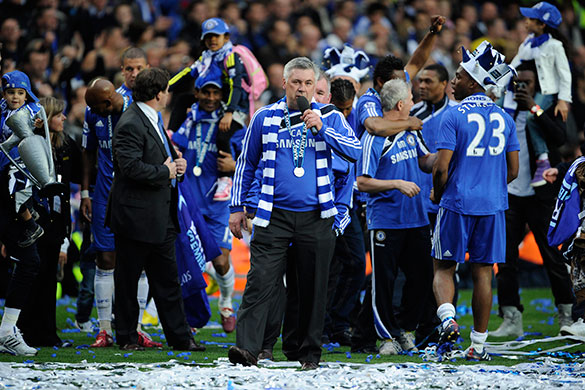 Naturally manager Carlo Ancelotti is lauded, with Kevin McCarra quick to talk up the Italian's merits. "Ancelotti has performed an act of liberation. Talent ran riot at this club as it never has before. There is no parallel for this in the manager's career, where, for instance, some 10 seasons at Juventus and Milan contained a single title. An unanticipated chemistry has been at work in London to cause a conflagration that will still be warming the hearts of Chelsea fans in decades to come."
For Richard Williams Ancelotti has now dispelled the aura of Jose Mourinho from Stamford Bridge. "There were no pouts, no look-at-me gestures, no hurling of medals into the crowds, no mystifying statements complaining, even in the hour of glory, that he had not been given enough personal credit for Chelsea's achievements. Carlo Ancelotti smiled, hugged, waved and behaved with perfect decorum. Then he asked for a glass of wine. Under him, Chelsea have not only learnt how to win again. They have learnt how to win with class."
Sticking with the manner in which Chelsea won the title was Oliver Kay. "They may not have realised Abramovich's Utopian vision of "Barcelona in blue shirts", but this is the season in which Chelsea have cast aside the tactical straitjacket and proved — as much to themselves as the rest of us — that free-flowing football and trophies are not mutually exclusive."
Looking at Chelsea's title success from a different angle was Ian Herbert. "The statistic which tells the story this morning is not Didier Drogba's place at the top of the goalscoring charts but Frank Lampard's fifth position. He is just four goals behind Rooney, an extraordinary achievement for a midfielder – which is precisely what the football world was saying about Cristiano Ronaldo before he drove his Bentley into the sunset last summer."
Away from all the back-slapping, Alan Hansen injects some real opinion into the mix as he argus that the Pensioners need an overhaul over their squad this summer. "Even if Chelsea add the FA Cup to the Premier League title later this week, their squad needs perhaps four or five new players if they are to challenge for the Champions League next season… I'm not suggesting that time is up for the likes of John Terry or Petr Cech, but Chelsea certainly need to bring in players who are capable of not only challenging those two, but keeping them out of side."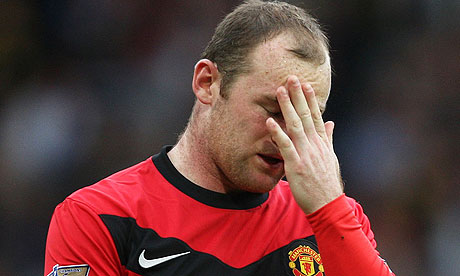 Unhappy United: With Manchester United ending the season in second, the where did go wrong & how can it get better discussions kick into gear this Monday.
James Ducker takes a stab at assessing the present and future for the Red Devils. "Tot up the "what ifs" and a common theme emerges — United have not been good enough when it has mattered most and Ferguson's rather limited appraisal of the season failed to mask some uncomfortable truths, not least an overwhelming dependence on Rooney. It might seem strange to say it, but in some respects, United's failure to secure an unprecedented fourth successive league title could be a blessing in disguise if, as the fans will hope, it prompts Ferguson to shake things up a little during the summer. The Red Knights are planning a shake-up of their own, but with the Glazer family highly unlikely to be receptive to the consortium's impending takeover offer, it may be left to the manager to put a smile back on the faces of the fans."
Wayne Watch: Scaremongering, Paul Hayward plants the seeds of doubt by questioning the long-term fitness of Wayne Rooney. "Rooney's fragility since he sprained ankle ligaments in the Champions League quarter-final at Bayern Munich will worry Fabio Capello, the England coach, although he will be encouraged that Rio Ferdinand got through 90 minutes today."
Oliver Kay also appears to have no trouble talking up Rooney's latest setback as he paints a negative picture for England fans. "Despite the optimistic message from Ferguson, the FA's medical staff needed reassurance from their Old Trafford counterparts last night and are aware that Rooney's condition — along with that of Rio Ferdinand, his United team-mate — will have to be monitored carefully over the coming weeks."
Also horribly misrepresenting the truth of Rooney's injury, Ian Ladyman strikes up the tabloid band bleating "Wayne Rooney winces in pain from a groin injury that has again left the England striker's World Cup in the balance."
Green & Gold: While it was a difficult day for Manchester United on the pitch as they were forced to play in the knowledge that the title was out of their hands, off the pitch it was all about the fans last chance to protest against the Glazers this season.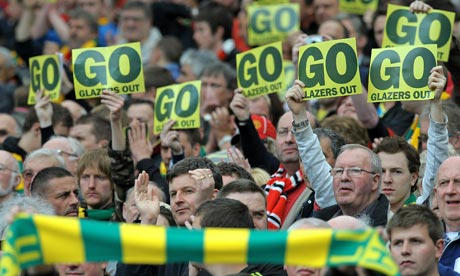 Detailing the news from inside Old Trafford Daniel Taylor noted that "once it was apparent the title was heading to London United's supporters had used the moment to vent their disdain for the club's ruling Glazer family. Dozens of the green and gold scarves that have come to represent their campaign were thrown on the pitch but the players had been instructed not to pick them up and obediently disappointed the crowd." In a supplementary article Taylor added "Manchester United's supporters took their protests about the club's owners to the skies before the defeat of Stoke City when a plane carrying the message "Glazers Out" circled Old Trafford."
Ian Chadband, however, was far more sarcastic about the effectiveness of the protests at Old Trafford on Sunday. "It was a weird and striking sight all right. The United  players on their lap of honour, having to carefully tiptoe past the scarves being hurled at them, doubtless under a three-line whip from the club burghers not even to look at these devilish symbols of protest, let alone pick one up, especially after Sir Alex Ferguson himself had just been screened on YouTube recently signing one of them… A plane, barely noticed, had flown over the ground trailing a "Glazers Out" banner before kick-off, bearing a number of support to text. Ah, a very 21st century protest, this."
Laughing at Liverpool: Gloves off and with his pre-prepared jokes in hand, Rory Smith lays in Liverpool after their awful season. "Liverpool fans have had a lot to wonder about this season. How did they go from the country's second best side to being only marginally better than Birmingham in just 12 months? When will Tom Hicks and George Gillett leave? Who kidnapped Steven Gerrard? Why is Nabil El Zhar, 38, still classed as a youngster? The one issue that all are united on, though, is what happened to the magpie which alighted – the verb for any action of a bird – on the Anfield pitch during the Europa League semi-final, second leg with Atletico Madrid. Where is it? Is it dead? What was wrong with it? We all need to know."
Poor Newcastle: All previous transfer rumours circling St. James' Park can be shelved thjis Monday as the Guardian reveal that Newcastle are flat broke. "Newcastle United's manager, Chris Hughton, will have to rely on free transfers and loan deals to build for life in the Barclays Premier League as the club cannot afford to spend money on new players. A statement issued on behalf of the club's board outlined their financial status and the news was not good. They recorded an operating loss of £37.7m for the financial year 2008-09 and are estimating a shortfall of £32.5m for 2009-10, while their £20m overdraft is already committed."
England's top 30: With the World Cup now in even sharper focus with the Premier League season completed, Patrick Barclay reacts to the weekend's reports that Jamie Carragher and a hosts of crocked players will be i the provisional Three Lions squad.
Barclay: "In each case, he [i.e Capello] is right. Carragher, though no spring chicken at 32, is a big-occasion player with versatility and tactical intelligence and Rio Ferdinand and Ledley King are simply too rich in quality to leave behind, even though their exposure to the tournament might have to be rationed. If Gareth Barry has to limp across the tarmac on June 2, so be it; we are not so blessed with left-footers as to have the luxury of ruthlessness. The remarkable coincidence of the return of Owen Hargreaves, just as the initial squad of 30 is formed, may have to be accepted, too."
Similarly supporting the recall of Jamie Carragher was Sam Wallace. "Carragher's return to the England World Cup squad which Fabio Capello names tomorrow is a relief. England do not have enough good players to be able to spare the likes of Carragher to early retirement – and there is an argument for saying that, were he available, Paul Scholes might still make the current squad. To reject these players on the charge of insufficient patriotism is frankly ludicrous."
Bucking the Carra-for-England bandwagon, Martin Samuel struggles to understand why the Liverpool defender would want to return to the international fold. "There is one aspect of Jamie Carragher's return to the England squad that does not make sense. What has changed? If he goes to South Africa it will in all likelihood be as the fourth-choice centre half and reserve right back, pretty much the career opportunity that proved so easy to resist when Steve McClaren was manager."
The Transfer Lies: The Daily Mail roll out their famous no-name scribe to fart "Birmingham have agreed a £6million deal with Manchester United for goalkeeper Ben Foster… Birmingham also hope to sign Rangers striker Kris Boyd over the next few weeks on a free transfer." In a second no-name article the Daily Mail chug "Liverpool expect to sign Rangers defender Danny Wilson over the next 48 hours," and in a busy day for the anonymous hack we also learn "Everton are closing on a £3million deal for 1860 Munich's young striker Peniel Mlapa."
The Sun's Paul Jiggins spews news that "Roberto Mancini admits Manchester City's Champions League flop could ruin their bid to sign Fernando Torres this summer. City are set to test potless Liverpool's resolve with a £45million bid for their Spanish marksman." Alan Nixon then swells City's spending to a whopping £85million as he reports "Steven Gerrard is ready to wave farewell to ­Liverpool – with Manchester City making a record £40million bid for the Kop skipper."
---
GAMBLING CAN BE ADDICTIVE, PLEASE PLAY RESPONSIBLY