"England's coach may be one of the least easily distracted – and sentimental – individuals on the football planet." – James Lawton
Comment & analysis round-up
Quote of the day: "I am very disappointed not to be included in the squad going out to South Africa, but completely respect Mr Capello's decision, I would like to wish the team the best of luck and hope they have a really successful tournament." – Theo Walcott.
Runner-up: "I'm not concerned [about a lack of warm-up games] because our practices carry you to a level you might not reach in a match, risking injury to one or more [players], we're going to reach a level that the [Argentina] shirt deserves… Argentines should relax because to beat this team our rivals will have to put all their beef on the grill." – Diego Maradona.
Jabulani quote of the day: "The ball is dreadful, it is horrible, but I suppose it is horrible for everyone." – David James.
Today's overview: Theo Walcott is the main man on the back pages this morning following his surprise omission from the England World Cup squad. Opinion is divided but there are no shortage of pundits with thoughts as to how the Arsenal flyer can bounce back next season. Also on the England squad announcement there is widespread praise for Capello's "sensible" squad but criticsm for the way it was announced. Two articles stand out, Matthew Syed on scoring a goal at the World Cup and Rob Bagchi on supporting Holland every four years.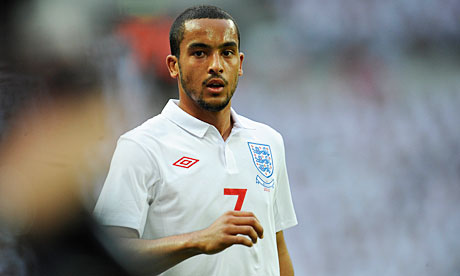 Theo Walcott: The Daily Mirror out trump their rivals as Oliver Holt bags an interview with Theo Walcott. "He answered the phone and listened as Capello began to speak. The reception was terrible. He thought he heard him say something about being sorry. His heart began to beat faster. Then the line went dead. Walcott, 21, still thought everything might be all right. The reception was so bad he couldn't quite be sure what the England manager had begun to say. He phoned Capello back. This time, the line was better and there was no doubt about what Capello was telling him."
The Sun claim to know why Theo Walcott was axed. "Theo Walcott was axed from England's World Cup squad because he would not obey boss Fabio Capello's orders. The Arsenal winger paid the price for failing to carry out instructions to stay out wide in the last two friendly games. Capello kept telling Walcott he had to stay out wide on the right and try to beat his man on the outside, instead of coming inside all the time. But Walcott kept drifting in-field, much to the frustration of Capello, who snapped when he went over a recording of England's 3-1 win against Mexico."
Henry Winter agrees with the omission of Walcott. "He is a terrific athlete and a hugely likeable character, almost too nice, but he has not developed significantly since his shock inclusion for the 2006 tournament. The phone-call from Fabio Capello on Tuesday must serve as a wake-up call. Wing-play involves more than tip and run." In the same paper Alan Smith sympathises with Walcott: "When you know don't see the axe falling, the pain multiplies."
Matt Dickinson disagrees with Don Fabio's decision. "I would have taken Theo Walcott to the World Cup finals. We have been underwhelmed enough times by Shaun Wright-Phillips to wonder what he has done to deserve a place. But those of us — ie, everyone — who thought Walcott would go to South Africa forgot one thing. Fabio Capello does not believe in crossing his fingers. While the rest of us hoped that Walcott could gather form en route to the finals, Capello wanted proof."
Oliver Kay backs the Arsenal forward to bounce back. "A few things need to be stressed here. Walcott is only 21. He is youthful enough to win the PFA Young Player of the Year award for the next three years, considering that James Milner did so at 24. His development has been stunted and his confidence knocked by injuries. He might never be the kind of ball-playing genius that is a natural fit at Arsenal, but he has time. And time is the important thing here. Electric pace, such as Walcott's, can cause a player to underestimate the value of other playing attributes and, if this setback knocks him out of his rapid stride, it might be preferable to travelling to another World Cup as a tourist. In the long term, it may be the making of him."
Paul Hayward is not so confident. "Often overstated is his inability to deliver a telling final ball at the right time or to the right place. There are phases when he hits the spot most times. Wright-Phillips is at least as flawed in that department and, at 28, cannot cite youth or immaturity as a defence. The best English wide players deliver no more reliably than Royal Mail: a modern weakness that may force Capello's teams to play more narrowly than he would like in South Africa, now that James Milner is primarily a central midfielder. Walcott was stoical in the face of the bad news, saying: 'I completely respect Mr Capello's decision.' But he must feel England managers are always sending him back to school."
Matt Lawton also agonises over the former Southampton forward. "Only in March after a win over Egypt, he described him as one of the country's 'most important players'. When Walcott has been available, Capello has picked him. Not just on the bench but from the start, in every game. Even when it came to those World Cup warm-up games against Mexico and Japan, the 21-year-old Arsenal winger was again in the first XI. Perhaps even more painful for Walcott was the fact that he was selected among four players to pose in the official World Cup suit for the advertisement in the match programme that was printed for that Wembley encounter with the Mexicans."
The Sun also take another angle on Walcott's omission. "England star Theo Walcott was dramatically booted out of the World Cup squad yesterday – leaving multi-million pound advertising campaigns in ruins.
The Arsenal winger appears in ads for Marks & Spencer suits and Nike sports gear that assume he is IN the team for South Africa this month."
The England 23: Kevin McCarra wonders about England's experienced squad. "Fabio Capello is counting on the power of desperation. His squad is the oldest England have ever assembled for the World Cup finals and several of the players are therefore being granted their last chance in the tournament. As with so much that the Italian does, the initial surprise is soon followed by appreciation of an underlying logic. In general the tier of younger contenders is of limited merit and the emphasis is being put on that combination of knowhow and appetite."
Martin Samuel questions who will be England's number one in South Africa. "Perhaps the simplest explanation is the best, but also the most worrying. That after 10 World Cup qualifying matches, 14 non-competitive internationals, 36 hours of football, plus injury time and five goalkeepers studied in matches with two more in training, Capello still does not know his favourite. This, for such a practical, strong-minded manager, should be of no little concern. Frankly, it was more of a comfort when we thought he was nuts."
Don Fabio: Matt Hughes wonders about Fabio Capello's "human side." "Walcott's omission confirms that Capello remains as ruthless as we thought, albeit in a more human and pragmatic way. As the pressure continues to build over the next few weeks, his every move will reveal even more about this compelling and complex character." The Times also provide a "duffer's guide" to the England 23. The Telegraph compare the 2010 squad with the 1966 winning side.
Steven Howard backs Don Fabio. "So off they go. We have sent much better squads than this to major tournaments and they have still all come back empty-handed. Yet these players know what Capello expects. There will be none of the flouncing around that accompanied the Eriksson squads in 2002 and 2006. No egos catered for, no celebrity circus, no player power, no WAGS and no mute, impotent acceptance on the touchline as yet another tournament passes us by. If the players do not buckle down, they will know what is coming. A hefty kick in the, er, cojones."
Also in The Sun, Terry Venables also feels Capello made the right decisions. "Fabio Capello got his World Cup squad exactly Wright yesterday. Which is more than I did on Saturday! In this column, I had Shaun Wright-Phillips in a list of seven England stars I felt should be axed from Capello's provisional 30-man World Cup squad. But after watching our fortunate 2-1 victory over Japan in Graz on Sunday, I realised I had got it wrong. What can I say? Even the greatest coaches get it wrong sometimes!"
Sam Wallace feels Capello played it safe. "Only 10 from the original 24-man squad Capello picked to face Switzerland in February 2008 made the cut this time around although injuries played a role in this. And Capello has been fortunate with injuries. David Beckham and Owen Hargreaves aside, no one he would have considered taking is unavailable, although clearly he would prefer Paul Scholes and Wayne Bridge not to have retired. He has been an impossible man to predict in the past when it has come to team selection – and in Walcott he threw a curveball – but at heart Capello is a conservative. As demonstrated yesterday."
James Lawton also looks at Capello's message. "Having virtually anointed Theo Walcott less than two years ago, Fabio Capello yesterday cast him aside even more briskly than he stripped the captaincy from John Terry. Who said the hard edge of Il Capo might just be softening, even crumbling a little, under the weight of recent controversies? The latest evidence is quite to the contrary, suggesting as it does that England's coach may be one of the least easily distracted – and sentimental – individuals on the football planet."
Kevin Garside praises Capello for his "clarity of thought." "Apart from the inclusion of Shaun Wright-Phillips over Theo Walcott and Stephen Warnock over Leighton Baines the culling of his squad to 23 has been little more than a throat-clearing exercise for Fabio Capello."
The announcement:Â Paul Wilson questions how Capello broke the news yesterday. "If, as Capello suggested the other day, he has known his 23 since the end of last week, why not just make it public and put everyone out of their misery? Keeping us all waiting merely invited speculation that he was finding the cull harder than expected or was beset by unenvisaged late problems. The essence of strategy on these occasions is to make it sound as though the final 23 could not have been any other 23, and that the coach has complete confidence in the party he has named. This is not achieved by staying indoors and saying nothing while Sky invites the world to speculate on who should or should not go."
The Daily Mail also question yesterday's drama. "What happened to the old-fashioned squad announcement when the manager spoke face to face with his players and then explained his decisions to the supporters?
Fabio Capello began with a phone call to the unfortunate seven and it was then followed up with a longer explanation by Franco Baldini, who speaks better English. The painful process lasted the whole day…"
Charles Sale also chirps in with "Fabio Capello's preference to reveal his 23-man World Cup squad online at thefa.com was not a great success as the site did not cope well with the extra traffic and attracted plenty of criticism. Also, by the time of the 4pm announcement, a messy drip feed of information throughout the day meant all the selections were already in the public domain. A 2006-style Cafe Royal extravaganza – with or without DJ Spoony as MC – would have been preferable."
The World Cup: Matthew Syed tries to analyse what it is like to score a goal in a World Cup. "For those who will board the plane tonight, the world is alive with possibilities. They stand on the threshold of the most glittering as well as the most fearful stage in football. If they fail, the pain will be deep and enduring. But if they succeed, and — in particular — if they hit the jackpot of scoring a goal, the detonation of hedonism will be beyond compare."
Rob Bagchi looks back over the history of Holland's glorious failures at the World Cup. "Of all the teams one follows as a fellow traveller at World Cups, the Dutch have given me more moments of pleasure than any other and as many causes of exasperation as any one but England. If this is finally to be their year, if Wesley Sneijder, Arjen Robben and Robin van Persie can make up for the shortcomings in their defence, it will be the culmination of a long and often agonising journey that will comfort this romantic if England prove incapable of winning. I just won't be banking on it after decades of blighted hopes."
Transfer gossip: The Times report that "Aston Villa will insist that Manchester City pay close to £30 million if they want James Milner. That is £10 million more than City have offered Villa, who held talks with the player and his agent on Monday, and are willing to play hardball as they did with Gareth Barry." We also learn this morning that Harry Redknapp believes Joe Cole has already agreed a deal with an unnamed club and Jimmy Bullard is heading to Celtic.
The lead transfer story in the Daily Mail is that "Manchester City were closing in on a shock £36million deal for Wolfsburg striker Edin Dzeko on Tuesday night. The surprise move followed the German club's announcement that the Bosnia forward was set to stay after clubs failed to meet Monday's midnight deadline for his £34m buy-out clause." Also in the pseudo tabloid, AC Milan are interested in Gareth Bale, Arsenal will loan Lorient Francis Coquelin to secure Laurent Koscielny, Paul Dickov is the new manager at Oldham and Fabio Cannavaro has signed for Al Ahli.
The Daily Mirror add Galatasaray will swoop for Miroslav Stoch – why do the tabloid call him a "Chelsea star?" And Aston Villa hope to secure Nedum Onuha – described as a "Man City star!" And they reveal that Rafa Benitez has no money to spend this summer.
Spanish newspaper Sport claim Jose Mourinho has targeted Wayne Rooney and the same paper says Manchester City have bid for Zlatan Ibrahimovic and Maicon's agent says its between Real Madrid and Man City to sign the Brazilian full back.
And Finally: The Daily Mail provide a guide to England's World Cup WAGs.
---