"England must move on. At last. The verdict on Beckham's 14 years, 115 caps and 17 goals must be this: he was a good player but not a great one" – Henry Winter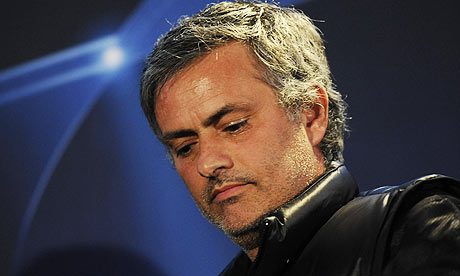 Comment & analysis round-up
Quote of the day: "I feel at home here. I opened the door and walked through the door; I go to the second floor where there are people I know; to the third floor where there are people I know. Before the game I know everybody and I love them. After the game I know everybody and I love them. But for 90 minutes I know nobody. Don't confuse my feelings for my ex-players and my ex-club with my desire and motivation to win this game. I watched Inter v Chelsea seven times. A coach that watches a game seven times, stopping to go back over bits, then run them again I gave everything to prepare for this game. And during the 90 minutes, I will give everything again to help my team win." – Jose Mourinho.
Runner-up: "We needed some fresh impetus. I spoke to Phil and he took it like the professional he is when I informed him of my decision. I admit it's a brave one, but I felt we needed a change because results have been poor and, despite the fact the players are still battling, we are running out of games. I'm looking for an experienced manager, who can inspire us to get the wins we need to stay in the Premier League. I hope to make an announcement tomorrow." – Hull chairman Adam Pearson.
Today's overview: Is David Beckham's next career move to become a cheerleader?
Sam Wallace surveys the news that "David Beckham is to be invited to travel with the England squad to the World Cup finals and stay with them as a non-playing member of the party in South Africa… The prospect of Beckham travelling with the squad is sure to attract criticism from those who feel that he commands rather too much attention at the best of times but the invitation has already been made by senior figures among Capello's staff."
Like the guilty feeling which arises when you read someone else's love letters, there is something distinctly uncomfortable when reading Ian Wright's column in The Sun in which he delivers an emotional letter of sympathy to David Beckham. "Just like you David, I had my dreams cruelly snatched away when I injured my ham-string during a warm- up match against Morocco. I was in absolute pieces and cried my eyes out because I was so devastated. My absence gave Michael Owen his big break in the squad and we all still remember the famous goal he scored against Argentina. His emergence as a top player was fantastic news for England. Instead, I ended up commentating during the tournament – and that was a massive mistake as I still desperately wanted to be there, to be among the players, to feel part of the whole experience – instead of being on the outside looking in. I urge you not to make that same mistake, David. If, as seems to be the case, Fabio Capello asks you to join his squad, then seize the chance to be involved in something so special. Even if you were only a glorified cheerleader, it's where you belong and where you need to be, as someone who cares so passionately."
On a much more sour note, the idea that Becks can be England's cheerleader is also churlishly promulgated by Martin Samuel. "So take him anyway. If the greatest worth David Beckham had to England was as mentor, ambassador, old head, voice of experience and arm round the shoulder of the younger players, then put him on the plane as just that. His influence as a footballer was negligible anyway."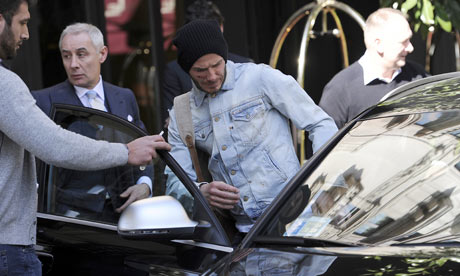 Also happy to take a pot-shot at Beckham is Brian Viner. In his article headlined "Pity poor Beckham. Actually, don't," the hack barked "the erstwhile England captain has become something of a modern-day composite of ancient Greek myths and legends. Dubbed Goldenballs by his very own wife, he has always assiduously courted media attention. In other words he is the man with the Midas touch, flying too close to The Sun."
Henry Winter argues against Beckham travelling to South Africa with the England squad. "England's manager, usually such a wise decision-maker, should strongly resist the idea of bringing Beckham along as some support act in the backroom staff. England must move on. At last. The verdict on Beckham's 14 years, 115 caps and 17 goals must be this: he was a good player but not a great one. The stats show he missed two penalties in open play and one in a shoot-out, that he was sent off twice. And yet he is revered by the fans. Why? Because Beckham is a good man and a great patriot. No one can question that."
Becks' ins't short of things to do this summer though, and Ian Burrell reveals how England's favourite son is now at the centre of a media war. "ITV, which The Independent understands was in negotiations with the footballer for him to appear in the trailers that will accompany the broadcaster's coverage of the tournament, will now hope to engage him in a punditry role. It will face competition from the BBC, which is also interested, and from the American broadcaster ESPN, which made a bid on Sunday evening, shortly after the player was injured while playing for AC Milan against Chievo in Italy."
Optimistic and Schwarzenegger-esque, Matt Barlow confidently claims Goldenballs will be back on the pitch. "David Beckham successfully came through a 50-minute operation yesterday and has already talked to Fabio Capello about an England comeback in the autumn… Beckham is determined this will not mark the end of his career and was already considering an offer to return to AC Milan next January and extend his time-share deal with Los Angeles Galaxy."
Taking a step back, Sam Wallace observes how Beckham's celebrity overtook his skills on the pitch. "The argument is self-perpetuating: the more he is lionised by some, the more he is resented by others and so it goes until the basic questions anyone should ask about a footballer – can he still play? is he a good professional? – are lost in the debate about what he has come to represent… The FA will probably never have such a famous player at their disposal again and they will milk him for all his worth when it comes to competing to host the 2018 World Cup finals. At some point there will doubtless be a call for him to take over as England manager: you can only hope that he and the people around him realise that would be a step too far. However, don't bet on Beckham seeing it that way."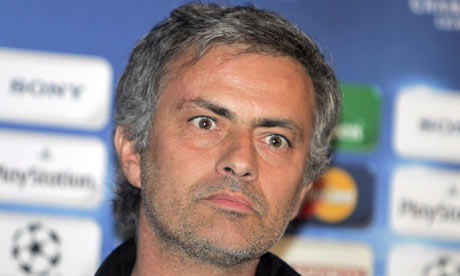 Amazingly, a handful of scribes remember the small matter of Chelsea versus Inter Milan tonight in the Champions League.
Starstruck, Barney Roney opted to focus on Mourinho's press conference on Monday. "Mourinho is always up to something. Generally football managers hate press conferences. The media are grudgingly tolerated, their probings blandly repulsed. Only Mourinho loves them. These occasions are part of the game for him. This is where it kicks off. He prepares carefully for a press conference. He brings his A-game. This is his moment, his perfect moment."
Oliver Kay assesses the likely impact of a win or loss for the Blues. "Beating Inter — Mourinho's Inter — would tell everyone at Stamford Bridge that the club have finally moved on. By contrast, losing to Inter — Mourinho's Inter — would heighten the mystique of the self-styled Special One and subject Roman Abramovich to the kind of humiliation that very rich men tend to take rather badly."
Whipping out his abacuses and history books, Kevin McCarra explains why Chelsea are favourites to progress. "Chelsea are statistically superior to any other during the Abramovich era as an attacking force – they average 2.38 goals per Premier League match, compared with the 1.79 mustered by Mourinho's teams… Chelsea overturned their last two first-leg deficits – against Fenerbahce in 2008 and Barcelona in 2005 – and have not failed to recover from losing the initial match in a Champions League tie since Claudio Ranieri's side went out of this competition in the 2004 semi-finals to Monaco. Furthermore they are unbeaten in 21 Champions League home games."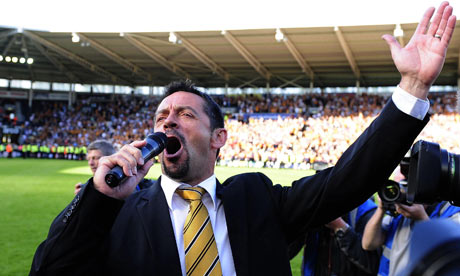 After Phil Brown's sacking from Hull on Monday, scribes play pin the tail on the Tiger in guessing who'll be the club's new manager.
Suggesting Hull will replace one tanned prat for another, David Facey farts "Terry Venables is the man Hull want to save them from the drop. Tigers' chairman Adam Pearson has put former England chief Venables top of his wish-list to replace sacked Phil Brown."
Unsurprisingly, Alan Nixon in The Mirror comes up with a different set of names. "Hull City want Mark Hughes as their new boss after being knocked back by THREE managers in their bid to replace Phil Brown… Hughes emerged as the shock candidate last night after the Tigers were rejected by Paul Jewell and Alan Curbishley – with Gary Megson also reluctant to jump back into the dug-out with them. Avram Grant emerged as a shock possible contender late last night while veteran Terry Venables and the always-available Iain Dowie could come under consideration as quick fixes if Hughes decides against the Hull challenge."
Next, Ian Whittell spouted "Alan Curbishley and Terry Venables last night ruled themselves out of the running to become the new Hull City manager leaving Iain Dowie as the early contender to succeed Phil Brown."
Ian Ladyman makes the case for why Fernando Torres would be forgiven for wanting to bail on Liverpool. "How long does he wait? Steven Gerrard, for example, has been pushing and fighting and scoring and tackling for Liverpool for a decade and still does not have a Premier League winner's medal to show for it.  Will the Liverpool captain have regrets when his career is over? In all likelihood, he will. Torres remains one of the world's best. As such, he deserves the right stage.  When he says he loves Liverpool, he means it. But does he love them enough to sacrifice some of the best years of his career? If he does, then he really is a one-off."
Finally the transfer guff.
Geoff Sweet claims "Tottenham expect to agree a £6.5million four-year deal for Brazilian ace Sandro this week," while a no-name article in the Daily Mail shouts "Real Madrid have issued a hands off warning to Manchester City in their pursuit of Argentina striker Gonzalo Higuain."
Best football betting tips & free bet offers
Click here for more Premier League betting tips
---