England (Man United's Rooney & Cleverley specifically) get panned after Poland point, Serbia & Uefa slammed, Arsenal's keeper setback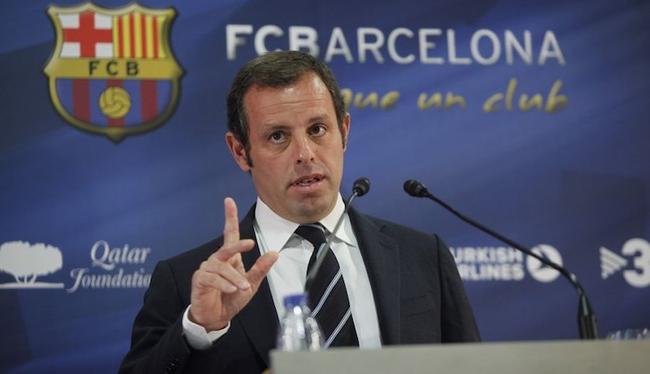 Comment & analysis round-up
Quote of the day: "[Manchester] City are now doing at first team what Arsenal have been doing at academy: call players and offer them lots of money. We are the best in the world, so other clubs want to emulate our success at every level and with every policy. They want to repeat our success and cause us to lose. But we will remain calm and focused on ourselves. Busquets is the last try from City and in the past we have had the same situation for Messi, Valdes, Xavi and Puyol. But they have all stayed and this is the power and force of Barca. Some clubs have asked about Messi, but Leo personally has refused to negotiate… Barca has never received an offer from a sheikh. La Liga needs to mirror the view of the Bundesliga and not the way the Premier League and some of their clubs function." – Barcelona president Sandro Rosell.
Runner-up: "I came and didn't get there and the lad got a good header. It's my fault. I probably should have punched it or stayed in my goal. I didn't do either and they scored. I'm gutted that it has cost us three points." – Joe Hart.
Blaming Sleeping Pills For England's Crapness
Dopes (Sun) England players were given sleeping tablets before delivering a dozy performance in Poland… SunSport understands players were handed the sleeping pills when returning to the team hotel in Warsaw on Tuesday evening. This unusual step will come as an embarrassment as a number of players delivered poor displays in a game Poland could have won.
Wake-up call: England players took sleeping pills before dozy draw with Poland (Mirror) Some of England manager Roy Hodgson's players had to take sleeping pills after Tuesday's farcical postponement because they were revved up for the original game after taking ProPlus caffeine tablets. But the team still looked half-asleep as they stumbled to a point in a 1-1 draw with Poland 20 hours later.
Poland 1 – England 1: The Analysis
Cagey Roy faces his moment of reckoning after England stutter to Poland draw (Martin Samuel, Mail) Top of the group, unbeaten in 11 games under Roy Hodgson, a point away from home, Wayne Rooney on the scoresheet again, so why did this not feel like the best of times for England? Perhaps because we can see what is coming. There is a moment of reckoning. It may occur later in the season against Montenegro, or in the tournament itself in two summers' time, but England cannot continue playing like this and hope to thrive.
Roy Hodgson's England show no signs of improvement (Michael Cox, Guardian) This felt like one of England's Euro 2012 performances. There was poor possession play, men behind the ball in two banks of four, and Steven Gerrard's devilish dead-ball delivery cancelled out by set-piece concessions at the other end. There has been little sign of progression from Roy Hodgson's side in the last four months.
Hodgson drags us back to Dark Ages (Steven Howard, Sun) If we perform like this on dangerous away trips to Montenegro and Ukraine we could find ourselves in the position where our qualification for Brazil 2014 is under serious threat. The usual dimwitted flag-wavers will say we are top of the group with two wins and two draws from four games. That we are a shoo-in for Brazil. That there ain't no stoppin' us now. Don't kid yourselves. We're not even in charge of the group.
Another day, another washout: England's Poland performance raises serious concerns (Ollie Holt, Mirror) England were so bad at keeping the ball at the National Stadium last night they might as well have been playing on a waterlogged pitch. Their passing was so poor, it wouldn't have made much difference. Come to think of it, it wouldn't have made much difference if they were playing on the surface of Lake ­Windermere. Just as worryingly as the collective failure was the fact our best player didn't turn up. Wayne Rooney played well against San Marino on Friday night, when England could have won without him. But last night, when Hodgson needed him to step up, he stank the place out.
Waning Rooney? Not yet, but his dip in form when the national team needed it most was alarming (Paul Hayward, Telegraph) In a Real Madrid or Barcelona shirt, Wayne Rooney would have been taken off long before he spooned a chance to win this game over the crossbar in the 68th minute. Any top-grade manager would have despaired of his inability to find a fellow Englishman with a pass.
Poor pitch and dire passing spoil England's performance in Poland (Paul Wilson, Guardian) There is plenty for Roy Hodgson to think about, beginning with whether Tom Cleverley is really good enough to deliver at this level. The Manchester United midfielder was by no means the only offender in terms of giving up possession and surrendering promising positions, but unlike the ever-industrious James Milner or the dependable Wayne Rooney, he did not ameliorate a poor game by producing anything helpful.
Rooney treads water as England just about manage to stay afloat (Matt Lawton, Mail) This was a painful, at times pitiful, display. A performance that leaves Roy Hodgson facing what looks like a difficult passage to Brazil in an increasingly difficult group.
Serbia Deny Racism: Uefa Also Charge England
Serbia's prime minister calls for criminal charges against England's players and staff as FA consider boycotting the country (Telegraph) Serbia's prime minister appeared to deepen hostilities with England following the rancorous under-21 international that ended in racist abuse and violence, suggesting that England's players and coaching staff could face criminal charges for their part in clashes after the game.
Serbia should face international ban only as a last resort (Jonathan Wilson, Guardian) The Serbian FA must take action if allegations of racism against its players are proven, yet the threat of expulsion from European competition risks further isolationism.
Load of Balkans (Nick Parker, Sun) English football was in uproar last night after the FA was charged over an Under-21s clash which saw our players subjected to racist taunts and an ugly post-match brawl… Serb soccer chiefs DENIED any racism at Tuesday's European Under-21 Championship play-off second leg in Krusevac — and accused Rose of "unsportsmanlike" behaviour.
Boycott Serbia (Paul Jiggins, Sun) FA chiefs are threatening to boycott matches in Serbia following the England Under-21s' night of terror in Krusevac. Stuart Pearce's Young Lions feared for their lives as they were pelted with rocks by racist thugs and attacked by Serbian players and coaches on the pitch. Incredibly, UEFA's official match report makes no mention of the shameful scenes after England's 1-0 Euro 2013 play-off triumph, saying only: "Players took to the pitch at the end of the game." Even more shockingly, UEFA clowns last night CHARGED the FA as well as the Serbs for improper conduct of their players. But Serbia claimed England defender Danny Rose — the victim of vile racist abuse throughout the game — was to blame for Tuesday's sickening brawl.
Nation of hate (Sun) It is just five-and-a-half years since [Nedum] Onuoha himself was subjected to sickening chants from Serb fans while with the Young Lions at the Euro 2007 finals in Holland…. He said: "We aren't dealing with normal people here. If we were, then they wouldn't be dishing out the comments in the first place."
Bad omen: Sickening scenes in Serbia are quite a way to start Kick It Out week (Darren Lewis, Mirror) The Serbian FA's refusal to even admit they have a problem shows just how far behind us they are. We should all hope our Football Association keep the pressure on the Serbs to ensure justice is done over an incident that disgusted fans of every colour in this country.
'Racist' is the new black: let's only call it racism when it really is racist (John Walsh, Independent) Drawing attention to someone's colour at all has become offensive. Sometimes this leads to farcical complications. I left a party the other evening and shared a taxi with two women, one of whom was trying to describe to the other the chap she'd been talking to. "He had this, er, blue shirt… and, er – you must have seen him – an earring and, um, his hair was very dark…" She tied herself up in nets of circumlocution rather than be so vulgar as to say "the black guy". We are not fundamentalists. We do not want to be a society that can feel mortally offended by words, nor mortally frightened of giving offence in casual conversation.
Uefa v Racism
What will these 17 white officials do to fight racism? (Dan King, Sun) What unites the 16 men and one woman is their organisation's disgraceful record on punishing and deterring racial prejudice. Remember, this is the governing body which fined Denmark's Nicklas Bendtner £80,000 for lowering his shorts to reveal a betting company logo at Euro 2012. The same body whose disciplinary body ordered the Bulgarian FA to pay just £32,000 after some of their fans racially abused England's Ashley Young in Sofia in September 2011. The clear message is: ambush marketing – bad; racism – not so serious.
If Uefa cares for game, it will take Serbian villains to task following racist abuse directed at England U21s (Henry Winter, Telegraph) Unfortunately, Uefa's record is of an organisation weak at combating racism. The charge sheet of offences is as long as the list of supine fines. Uefa's warped priorities were indicated earlier this year.
Hold On: England Have Racism Problems Too!
Police to investigate sick Sordell Facebook picture after racism claims against Millwall fans (Mail) Police are set to investigate a message on England Under 21 striker Marvin Sordell's Facebook page. A photograph of Sordell was uploaded, depicting a gun pointed at the 21-year-old with blood across his face and chest and the message: 'dont f*** with the millwall.'
I was racially abused at Barnet match (David Woode, Sun) As I walked along a path, a black Volkswagen Golf pulled up alongside me and the tinted passenger window rolled down. A blond-haired man — face covered with a stripy black scarf — cranked his head out and shouted: "OI YOU F****** GORILLA, F*** OFF BACK TO YOUR OWN COUNTRY." He then threw a square gold metal tin which hit my knee and fell to the floor. Calmly, he wound up the window and the car sped off. I was stunned. I had to check my watch — it said 2012.
John Terry To Accept Racism Charge
Terry appeal shock (Sun) John Terry is today expected to finally admit defeat in his year-long fight to clear his name in the Anton Ferdinand racism scandal… As a result Terry will now begin a four-match ban and pay a £220,000 fine — the punishments imposed a fortnight ago by the commission.
Injury Watch
Wenger's keeper crisis deepens as Fabianski and Szczesny suffer injury setbacks (Mail) Arsene Wenger is facing a goalkeeping crisis with news Lukasz Fabianksi could face another three months out with ruptured ankle ligaments… The latest setback for the 27-year-old means Vito Mannone, who began the season as third choice, will continue in goal with Argentinian Damian Martinez, 20, and James Shea, 21, as back-up.
Theo Walcott blow for Arsenal (Star) Theo Walcott will miss Arsenal's next two matches.
I'm ready: Fit-again Wilshere tells Wenger to finally hand him return after 15 months out (Mail) The 20-year-old played 90 minutes in a behind-closed-doors friendly defeat to Chelsea at the Gunners' London Colney HQ on Wednesday.
Silva set to miss City's clash with Ajax with hamstring injury (Mail) Manchester City winger David Silva will have a scan on his injured hamstring but is almost certainly out of next Wednesday's crucial Champions League game at Ajax.
Transfer Lies
Gareth can be the Real deal (Sun) Luka Modric has told Gareth Bale: Come and join me at Real Madrid… Modric, 27, who played against Bale in last night's 2-0 World Cup qualifier victory over Wales, declared: "He should play for Real Madrid and I hope he'll come. It would be amazing and I think he can. He's a good enough player."
Federico Macheda is set to quit Manchester United (Sun) His agent Giovanni Bia said: "He wants to play and if he cannot do so by January then we'll try to find an alternative solution."
Birmingham face selling off Butland and Redmond (Mirror) Birmingham fear being forced to sell starlets Jack Butland and Nathan Redmond if takeover talks fail… Everton and Southampton both like Butland, while Redmond is on Manchester City's radar.
Wilfried Zaha has been told he can head to the Premier League for £20million (Sun) Crystal Palace slapped the hefty price-tag on the 19-year-old winger's head to scare off Spurs, Liverpool and Arsenal.
Liverpool plot move for Dutch youngster Locadia after debut hat-trick (Mail) Liverpool are monitoring young Dutch striker Jurgen Locadia as a potential solution to their striker crisis.
---
GAMBLING CAN BE ADDICTIVE, PLEASE PLAY RESPONSIBLY