England make Minsk meat out of Belarus
Comment & analysis round-up
Quote of the day: "England's Under-21 team are not producing what they should – despite qualifying for their Euro 2009 finals. On paper, everyone is celebrating the 5-4 aggregate win over Wales, secured at Villa Park on Tuesday. But I look through that young Lions team and I see good players, but no one outstanding. I don't see our next David Beckham or Rooney. No one dazzles." – Harry Rednapp.
Runner-up: "I am not as dangerous as I used to be. I am not as effective in the penalty area any more. That is something I have lost and something I have to get back. I used to score better goals, great goals. But something strange has happened… I think, firstly, that it might have something to do with the fact that whoever plays up front these days has to do a lot more for the team than just score goals. They have to play more for the team and I think I have sacrificed myself recently with regards to that. I also think it is something to do with the quality of [Premier League] defenders. They are strong and big and that makes it difficult for somebody up front." – Carlos Tevez.
Today's overview: Unlike yesterday, there is a solid theme running through today's papers. England, England, and England.
But not everyone is singing from the rooftops, Rob Smyth remains critical of England – "Gerrard and Lampard are one of a few issues that Capello has to resolve. Wes Brown's distribution remains inadequate at this level, while Matthew Upson and Wayne Bridge were poor stand-ins."
But Smyth stands alone in his criticism, with most rallying behind the Three Lions. David Pleat was found gushing, "England pressed early and moved the ball quickly to maximise how traditional fitness and power are being cleverly used; but more importantly there is an emerging team understanding." Martin Samuel also sings from the Three Lions hymn sheet in The Times, with Heskey, Rooney and Gerrard coming in for particular credit. Similarly, Henry Winter celebrates England's win and hands out the gold stars generously.
Sourpuss Richard Williams singles out Steven Gerrard's performance, remaining unconvinced about the Liverpool captain. "Between his early goal and his late assist, Gerrard's contribution could best be described as discreet." Matt Hughes also focuses on Gerrard's performance, reaching far more positive conclusions – "After playing a pivotal role in what was a mature team performance against Belarus, he may have finally exorcised his demons about not playing in his preferred position in central midfield."
For Matt Dickinson Rooney has returned to being a match winning force – "Under the Italian, Rooney is rejuvenated as a playmaker and reborn as a finisher."
Leading the chorus of cheers however is Emile Heskey, who defied the doubters with distinguished leading role, according to Jason Burt. Steven Howard joins in describing Heskey as a man who "has been slated more times than a church roof."
Lastly, Don Fabio receives his dues, Sam Wallace demanding that "All hail Il Capo," and Paul Hayward claims "Capello has taken them out of their prison of defeat."
The remaining features centre on the WAGs, Mike Norrish investigates the source of all the trouble while according to Harry Redknapp, "If you cannot stand your man being away, don't get hitched to a footballer." Lastly, Owen Slot offers ten solutions to help footbal, including the introduction of a salary cap.
The Guardian's Rob Smyth remains critical of England despite winning their fourth match in a row. "Gerrard and Lampard are one of a few issues that Capello has to resolve. Wes Brown's distribution remains inadequate at this level, while Matthew Upson and Wayne Bridge were poor stand-ins for John Terry and Ashley Cole, although with Bridge that probably owes as much to rust as anything: he has played only eight minutes of Premier League football this season. David James must be replaced as soon as somebody capable emerges — it could be a long wait — while Theo Walcott ushered the wearyingly inevitable backlash against him slightly closer with a hare-brained performance… He remains, like England, a work in progress. Just as it would have been wrong to get carried away after Walcott's hat-trick in Croatia, we shouldn't hail England as world-beaters just yet."
Smyth's downbeat approach is contrasted with David Pleat (Guardian), who is full of praise for England's performance in Minsk. "Rooney was simply electric and Sir Alex Ferguson must keep him fit for Capello as his possibilities are immense. Gerrard helped him with his second goal but his spin to beat the keeper was pure poetry after Wayne Bridge had crossed. Bridge used the wide left touchline well and Rio Ferdinand and Matthew Upson gobbled up any longer forced passes… Rooney was master of all around with two further goals from the position where he flourishes. Frank Lampard was alive with his interceptions, playing a less forceful but equally important role. Gerrard proved emphatically that good players can work together and respond to each other provided they have no agendas or egos. England pressed early and moved the ball quickly to maximise how traditional fitness and power are being cleverly used; but more importantly there is an emerging team understanding."
Martin Samuel also sings from the Three Lions hymn sheet in The Times, with Heskey, Rooney and Gerrard coming in for particular credit. "The days of trial and error are over. Capello knows Rooney's best position for certain now and it is behind a target man-striker. It will take exceptional circumstances for him to be moved again. Together, Heskey and Rooney put in football's equivalent of a double weekend shift and then some in Minsk, always available, always providing an option for a midfield that needed to move the ball on quickly under pressure from a youthful Belarus team. With the scores level at 1-1, Heskey and Rooney combined for a goal that illustrated perfectly why their partnership is such a success. Heskey battled his way down the left flank, shrugging off the attention of defenders, looking up for a quick cross only to see Rooney having problems holding the line and half a yard offside. He delayed, rode another challenge, waited until Rooney was in the perfect position to receive and slipped him the ball, the striker opening his body to steer it past Yury Zhevnov in the Belarus goal. Together, they made it look so simple; in reality, it was far from that."
The Telegraph's Henry Winter celebrates England's win and hands out the gold stars generously. "If the names of Gerrard and Rooney dominate the headlines, others merit praise. Frank Lampard was an intelligent presence in midfield, winning the ball diligently, curbing his attacking instincts as Gerrard charged upfield. Emile Heskey punched his weight upfront, creating Rooney's second with a barnstorming run, and letting England's ecstatic fans dream even more about South Africa… Those around Gerrard had felt he would deliver here, had known that the talent would emerge in the white of England as it does so regularly in the red of Liverpool. Suggestions that Gerrard might feature at right-back, even that he might even be omitted were swiftly laid to rest. Class will out. Gerrard was in and on song."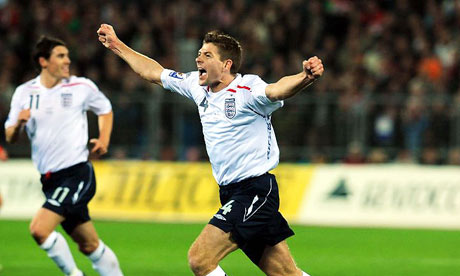 Richard Williams singles out Steven Gerrard's performance in the Guardian, remaining unconvinced about the Liverpool captain. "Between his early goal and his late assist, Gerrard's contribution could best be described as discreet. There were none of the misplaced passes that stained his performance against Kazakhstan and he evidently complied satisfactorily with the manager's half-time request to exert extra pressure on Alexander Kulchy, the home side's captain and holding midfielder… But did he do enough to secure a place on Capello's mental list of untouchables? As with last Saturday's match, Joe Cole's absence through injury deferred a difficult decision that the manager will find himself facing before the qualifying campaign is much older."
The Times' Matt Hughes also focuses on Gerrard's performance, reaching far more positive conclusions. "As an introverted character, Gerrard has always seen his glass as being half-empty, but after playing a pivotal role in what was a mature team performance against Belarus, he may have finally exorcised his demons about not playing in his preferred position in central midfield. After glowering around the team hotel all week, his face broke into a rare smile after giving England the lead in the eleventh minute, a goal that gave him the confidence to go on and play an important role in the game. "
Rooney has returned to being a match winning force, according to The Times' Matt Dickinson. "It is amazing to think that only a month ago, on his way out of the Olympic Stadium in Barcelona after England's victory over Andorra, Rooney, 22, was being asked to reflect on his awful international goalscoring record — two in four years in competitive matches — and responded as if someone had just thrown a drink in his face. The turnaround has been dramatic and no one may be more surprised than Fabio Capello… Under the Italian, Rooney is rejuvenated as a playmaker and reborn as a finisher, his second goal against Belarus an exquisite stroke of the right foot into the top corner after he had dumped a defender on the floor with a confident shimmy."
Emile Heskey defied the doubters with distinguished leading role, according to Jason Burt (Independent). "No one can doubt Capello's admiration for Heskey or his importance to this team. With young tyros such as Rooney and Theo Walcott, still a boy really, either side of him the 30-year-old provides the role of minder and strong man in the way that he helped nurture Michael Owen's international career. He now appears, after his spell out in the wilderness, set to outlast Owen in England colours which would have been unthinkable not so long ago. But players prove their worth in different ways. Just as Gary Lineker always wanted Peter Beardsley, just as Alan Shearer linked with Teddy Sheringham, so Rooney hails the importance of Heskey. He may not have the skills of Beardsley or Sheringham but Heskey helps to make others play, he provides shape and balance and focus."
The Sun's Steven Howard joins to chorus of Heskey cheerleaders. "He has been slated more times than a church roof. But he just keeps coming back to prove all the doubters wrong. The last time he scored a competitive goal was in the 4-1 rout of Denmark at the 2002 World Cup. Yes, that is right — six years ago. The last time he scored any sort of goal for England was the following summer in South Africa. In all, he has netted just five times for his country. It is the sort of scoring record that would have consigned any other international striker to the out-tray long ago. And even last night he added to his hat-trick of misses against Kazakhstan by planting a simple near-post header from a Frank Lampard corner the wrong side of an upright after 33 minutes. Yet it is the balance Heskey gives to the side, the shape he helps the attack maintain that is such a vital part of his game. Against Belarus he also gave us aggression, hard running and non-stop commitment. It is the sort of unselfish work ethic all managers love — and one of the main reasons why Michael Owen not only cannot make it into the team but also cannot even make it into the squad."
Sam Wallace credits Fabio Capello's tactics in the Independent. "All hail Il Capo for that. England teams of the past have conceived of countless different ways of tossing away leads, squandering winning positions or letting nerves take hold. Now under Capello, this England team seems to get stronger in the second half. Last night Capello revealed that he had made a subtle change at half-time, asking Gerrard to mark the veteran holding midfielder Alex Kulchy whose passing had proved so effective in the first half. Belarus lost their rhythm and England's grip on the game grew tighter. It was the kind of tactical sleight of hand that has, in the recent past, more often been used by opposing managers than the one in charge of England. Early days yet but the pressure on this England team has lifted as they approach the friendly against Germany next month with a better record in qualifying than their old enemies. This time two years ago, McClaren was already under pressure in Euro 2008 qualifying. The big question now facing Capello is where he fancies spending his Christmas holiday."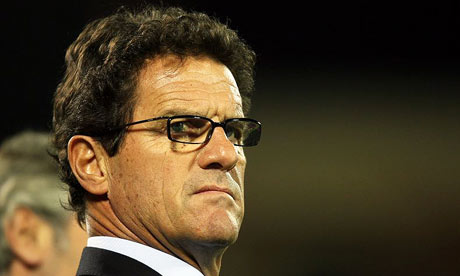 In the Daily Mail, Paul Hayward also adds to the voices in support of Capello. "Rooney is on fire, Heskey has found himself at last, Frank Lampard is in prime form and Steven Gerrard has been jolted out of his introspection by the threat of being dropped. The mood is sombre and professional. And guess what: the players love winning. Capello has taken them out of their prison of defeat. Rio Ferdinand, meanwhile, is the spokesman for the New Austerity as the England footballer heads out alone, minus his WAG, on the road to the 2010 World Cup."
The WAGs continue to ruffle feathers, with the Telegraph's Mike Norrish investigating the source of all the trouble. "The WAGlash. Baden-Baden was a cultural revolution for young women of modest feminist principles. WAG culture was not new. Indeed, Louise Nurding had been plotting her pioneering path in the 1990s. But Baden-Baden brought things crashing into the mainstream. The backlash was fierce. Jamelia, WAG of Darren Byfield, said: 'ootballers wives are leeches. God forbid if Alex Curran split up with Steven Gerrard. What would she be then?'And Melanie Slade, WAG of Theo Walcott, even committed the ultimate sin of enrolling at university. Cheryl Cole also divorced herself from their vacuous world, saying: 'hese women don't cook a meal for their husbands, they don't clean, they have all the handbags they want but never do a day's work. What kind of aspiration is that?'"
Keeping on the WAG culture, Harry Redknapp has some choice words of advise in The Sun. "I think it is a significant decision by Capello to slap a ban on the WAGs latching on to the England squad in future tournaments. People will argue that times have changed and top-level footballers are away from home a lot more these days. Many teams stay in a hotel the night before a home game, then for some there are Champions League trips every other week for the best part of four months of the year. Throw in a few international trips with England and there is a lot of travelling and long periods of separation from the family. So what? At West Ham in the 1960s and 70s, every summer, we would finish the season and then head off for a SEVEN-WEEK trip to America. I remember playing against Aston Villa, Spurs and Wolves in summer tournaments in the US. There was no WAG culture and we had to lump it. And we did not get paid anywhere near the astronomical salaries of today's Premier League players. Today, men fly off to spend weeks at a time working on oil rigs. Thousands of people have to work away just to make a living. If you cannot stand your man being away, don't get hitched to a footballer."
Turning to the credit crunch, Owen Slot offers ten solutions to help football in The Times. "1. Introduce the salary cap in football. Only Fifa can do this because every world football economy would have to follow and that way market forces can still apply. But consider it: you take a club's gross annual takings and cap the combined total players' wages by making it a percentage of that gross figure. Within the salary cap, you can still spoil rotten your Cristiano Ronaldos, it's just other players who will suffer. And the gross from which the club can draw can still be topped up from private injections of funds, so your sheikhs and oligarchs can have their playthings. This way, players' salaries will be contained, market forces still apply, but clubs won't outspend themselves and take on debt that, suddenly, looks very dangerous. Good idea? Maybe. Likely to happen? Never."
Click here for more Premier League betting tips
---