"England are still expected to beat the world. We genuinely believe that victory is the default state" – Simon Barnes
Comment & analysis round-up
Quote of the day: "They [England] are a very different team [under Fabio Capello]. They have some advantages but they are also missing something from their game. They are missing some Englishness, some of the things that have always made England teams difficult to defend against and play against. All I will say is that they are definitely missing something and we know what it is. But of course I am not going to tell you now what it is. It is our secret." – Slaven Bilic.
Runner-up: "John Terry is not talking like that when Didier Drogba goes down for Chelsea. I am not saying Drogba is a diver. I adore him as a player but I'm saying when they get a penalty they're not accusing their own team-mates. You can't say English players don't dive." – Slaven Bilic.
Today's overview: Defoe or Heskey? With the debate likely to run until kick off with Croatia, and probably long after that, the question of England's second striker continues to occupy the fourth estate.
For Oliver Kay, Heskey is Capello's main foil for Rooney in the England attack yet "at least Defoe has underlined his value to Capello, strengthening his claim to stay in the squad ahead of Michael Owen." In a supplementary article Oliver Kay goes on to highlight the different roles of Heskey and Defoe. "When the England manager chooses between Emile Heskey and Jermain Defoe, he does so with a two-stage operation in mind: use the battering ram to do all but knock the door off its hinges, then call for the cat burglar to pick the lock."
Dominic Fifield injects some stats into the equation. "While Defoe boasts an impressive goals per minute record under the Italian – eight in 420 minutes, compared to Heskey's two in 571 – the Tottenham forward has scored only twice in the five games he has started under the current England manager. Both of those came against Trinidad & Tobago more than a year ago, while his only competitive start was against Andorra when he was removed at the break."
Yet, ready to spin those figure in a completely different light is Henry Winter. "Heskey's figures are appalling, one goal every 285.5 minutes under Fabio Capello compared to Jermain Defoe (52.5), Wayne Rooney (108.5) and Peter Crouch (204), yet Aston Villa's occasional forward remains England's first choice at No 9. And rightly so. Heskey is the ultimate straight man, the Ernie Wise to Rooney's show-stealing Eric Morecambe, and Capello loves the self-sacrificing job he does for the team."
The Telegraph's Alan Smith though argues that we are asking the wrong question. "Rather than pondering whether the prolific Jermain Defoe should get a chance from the start for England, a more useful exercise is to wonder whether Carlton Cole has it in him to replace Emile Heskey."
Looking at England's weaknesses, Richard Williams yearns for the return of Theo Walcott and Joe Cole. "Aaron Lennon is a good substitute, but lacks the devastating unpredictability of Walcott at his best. More profoundly missed at the core of the team's creativity is Joe Cole… he has so often used his instinctive ingenuity to turn games for England that his overall contribution to the team's cause could be said to outweigh that of either Gerrard or Frank Lampard."
Sticking with the negatives, Patrick Barclay picks on Glen Johnson. "Going forward, Johnson has pace, power and a perception that makes it understandable why Rafael Benítez has paid £18.5 million to take him to Liverpool. Defensively, however, his slowness to recover gives an indication of why José Mourinho ushered him out of Chelsea." Tony Cascarino also blasts the current England right-back claiming "Wes Brown isn't a better player than Glen Johnson but he is a better defender."
Offering a limited defence of Glen Johnson, Alan Hansen commented "the problem with Johnson is that people are focusing on his defensive weaknesses and sometimes he is pinpointed when the problem might be elsewhere… Had the cross come in from the other side, then it would probably have been put down to nothing more than Ashley Cole failing to cut out a cross."
Attacking the English psyche towards football is Simon Barnes. "In football, England are still expected to beat the world. We genuinely believe that victory is the default state. This is a view that takes no account of the fact that it was shown to be false as long ago as 1953, when England were beaten 6-3 by Hungary at Wembley. It takes no account of the fact that England have won the World Cup once, and then only with home advantage."
And almost working in tandem with Mr. Barnes, Steven Howard in The Sun picks holes in all of England's failings in an attempt to convince readers that England are not world-beaters. "Individual error is the one facet of the England game that can never be eradicated – not even by a £6million-a-year supercoach from the land of 'catenaccio'… All the leading international coaches know that if you run at England and stretch them down the flanks, mistakes will follow as the ball is delivered into the middle."
In a step forward for the future of broadcasting, Owen Gibson announces that "England's World Cup qualifier in Ukraine could be their first game to be shown exclusively live as a pay-per-view match over the internet."
The backlash against Diego Maradona is well underway after Brazil won in Rosario on Saturday night.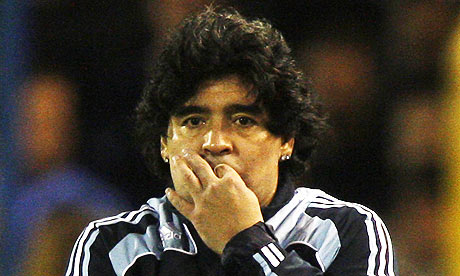 Forlorn, Joel Richards vents "there was never any doubt what kind of manager Maradona would be, yet no amount of tub-thumping was able to hide his side's deficiencies against Brazil. His vision of the national team is a cavalier attacking team, ideally with three forwards, but the ambition of his gameplan simply played into the hands of Brazil, who waited patiently for the opportunity to counter attack." In a separate article Joel Richards criticises the Argentinean defence. "The sight of Gabriel Heinze and Sebastián Dominguez both marking Lúcio and leaving Luisão free to score the opening goal highlighted the chronic level of disorganisation at the back."
Flipping the analysis onto Brazil, Matt Dickinson celebrates how Dunga has transformed the Samba Boys into masters of pragmatism. "This was a victory that said everything about the Brazil created by Dunga in his own crop-haired mould; organised, powerful, pragmatic. And ready to throw up the big men for free kicks."
The Independent go off on their own tangent this Monday, addressing the issue of the "fit and proper" ownership test in English football.
Interviewing FA chairman Lord Triesman, Sam Wallace hears the Lord's thoughts on how the FA, and not the Premier League, should govern the administration of the test. In a second article, Sam Wallace continues his discussion with Lord Triesman to discuss the changes implemented to stablise football's economics in the lower leagues. Triesman: "When I said that at Stamford Bridge I was quite concerned with some of the clubs further down the pyramid; I had the likes of Rotherham in mind. This is a club that has been in existence 139 years, very central to the life of the town. Does a vast amount of stuff with local kids. It could have gone out of existence altogether and I cannot be indifferent to that. The circumstances have made people more cautious."
Child-snatching rears its ugly head again this Monday, as the case against Manchester United begins to crystalise.
According to the Guardian, "the controversy over Manchester United's signing of the 16-year-old French midfielder Paul Pogba has taken a fresh twist, amid claims that the player's parents were given €100,000 (£87,000) each, and a house, to bring him to Old Trafford." David Facey reveals more details in The Sun, claiming "United are alleged to have bought their co-operation with a down payment of £180,000 – and a house. They are also said to have promised Pogba around £16,500 a month when he turns 17 next year."
Looking at how football cures the ills of child-poaching, Martin Samuel warns the governing bodies not to make rash decisions. "Now is the time for cold reason, not populist rhetoric, if we are to avoid doing more harm than good. The gung-ho desire to regulate the trade in young players that followed FIFA's transfer ban on Chelsea will prove devastating unless handled correctly."
Onto the transfers gossip, where the Daily Mail splutter "Lucas Neill has agreed to join Atletico Madrid on a two-year deal worth £2million a year," while The Sun cough "Manchester United are eyeing Russian goalkeeper Igor Akinfeev as they prepare for life after Edwin van der Sar."
We end with Charles Sale's report on how ITV and Al-Jazeera have fallen out over the Arab TV stations policies over how the network plans to broadcast Maccabi Haifa's Champions League games. "The Arab station, who have BBC's Gary Lineker presenting their widespread coverage of the competition on a new sports channel and ITV Sport doing the programme production, laid down editorial guidelines about the prominence given to Israeli team Maccabi Haifa during the qualifying stages. This led to ITV's high command confronting their Arab bosses with allegations that the time allocated to Maccabi Haifa had been decided on racial grounds, which were not acceptable."
---
GAMBLING CAN BE ADDICTIVE, PLEASE PLAY RESPONSIBLY