EL praise for Chelsea ('a machine') & Benitez, Man City chase Isco, Liverpool eye £3.5m Carra replacement
Comment & analysis round-up
Quote of the day: "I'm proud for all of them. I could see everyone was happy, so I was happy too. This was a reward for how hard we've been working all season. But I think it's sad to think we are now 'in success' when we have been doing our jobs for six or seven months. It would have changed nothing if we'd won or lost this final in terms of what we have been trying to do. The job we did was hard work on the training ground, doing our jobs as professionals and, in the end, we have a trophy. We have scored 145 goals this season, a record in the history of the club, and not too many conceded. The players are growing, improving. If you have to win before people realise the job you are doing … But we did win, so hopefully people will say: 'Yes, it's not bad.' If you analyze everything, we won the Europa League with just one striker available for every single game. We managed players with yellow cards, we did the same in the league, and if you put everything together you will realise how difficult it was with a That squad was not too big. We had 18 players today, with [Nathan] Ake on the bench." – Rafa Benitez.
Runner-up: "It's a great feeling. This team deserved this, because we have had a very difficult season and a lot of games." – Branislav Ivanovic.
Chelsea: Europa League Champions
Ivanovic rises high in injury time to seal dramatic Europa League success for Benitez's Blues (Martin Samuel, Mail) So here we are again. Not quite as dramatic as Munich, maybe, but no less impressive for that. Not many teams can win the big matches in adversity like this. There is a special spirit within this team and it is being handed down, like folklore. Chelsea find a way to win. Chelsea refuse to lie down. Imagine what they would be like in a boxing ring… The mockers say Chelsea have no history, but that is a lie. Chelsea have some damn fine history and more was made on Wednesday night.
Terry strip show as Benitez's battlers pull off a miracle (Steven Howard, Sun) They did it — but don't ask anyone how. Chelsea fans won't give a stuff anyway. All that matters is that yet another piece of silverware has ended up at Stamford Bridge and the boys had a couple of bloody good nights out in Amsterdam. A pat on the back for Rafa then, chaps? I don't think so.
Why can't we see Torres perform like that every week? (Jamie Redknapp, Mail) Fernando Torres' goal was like a blast from the past. The strength he showed to get past Luisao was something we saw him do at Liverpool so many times. But it's the first time I've seen him do that in a Chelsea shirt. Last night was the best I've seen him play for Chelsea. He worked hard, was aggressive and got his reward. That should be a given in every game, but it's not always been the case.
Branislav Ivanovic wins Europa League Final with superb stoppage-time header (Martin Lipton, Mirror) A machine. A winning machine. An incredible, infeasible machine. The model of instability – everything a team, a club, is not supposed to be in the modern era. But resilient, remarkable, remorseless. A side that never knows when it is second best, that refuses to submit. A club that changes manager in panic moves in successive seasons, yet ends both campaigns with a European trophy. That turns every month, every week, into a soap opera, essential viewing, with fans who pay homage to one manager while finding reasons to condemn the incumbent. Yet one that wins, wins, and wins again. Finds a way to conquer. A way to claim silverware.
Frank's staying! Chelsea veteran to sign new deal to remain at the Bridge… ahead of his reunion with old boss Mourinho (David Kent, Mail) Frank Lampard will sign a new one-year deal with Chelsea, ending speculation that the midfielder will leave Stamford Bridge this summer.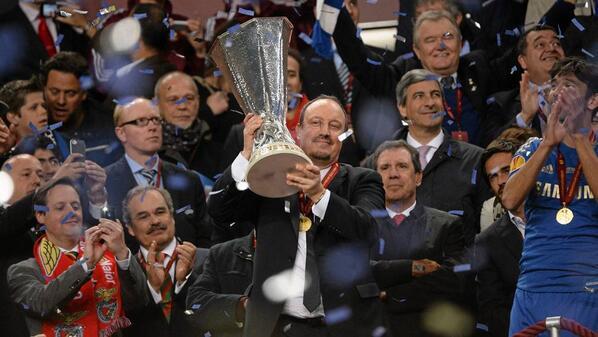 Rafa Benitez: Interim Manager
Rafa Benitez leaves perfect gift for Jose Mourinho (Paul Hayward, Telegraph) So there he was at the end with his trophy, his grin, his vindication. The Europa League pot is not the most glamorous prize in elite-club football but it shone for Rafa Benítez after a season of mockery and vilification at Chelsea.
Rafa deserves respect (Sachin Nakrani, Guardian) Chelsea Supporters May never like Rafael Benítez but after this triumph They Should at Least Respect HIM. As should fans from across England, many of whom formed a negative opinion of the Spaniard based on his time at Liverpool. He was deemed to be a money-wasting, self-obsessed failure. Yet on his return to the Premier League frontline Benítez has demonstrated admirable restraint in the face of hostility from the Stamford Bridge stands and, as well as all but securing Champions League football for Chelsea, has delivered the club the fifth European title in its history. Benítez's tenure has not been perfect – as Chelsea's failures in the Capital One Cup and World Club Championship demonstrate – but he will walk away on Sunday with his reputation enhanced.
All smiles for Benitez as much-maligned manager restores his reputation by rescuing Chelsea's season (Neil Ashton, Mail) Even the Chelsea fans, some so vicious that they still sing '**** off Benitez we don't want you here', must have an ounce of respect for him now. They will never take to him, but at least he could celebrate in front of them without fear of another toxic attack on his name.
Chelsea's Europa League win means Rafa Benitez bows out with respect he deserves (Ollie Holt, Mirror) Rafa Benitez and Chelsea was supposed to be the marriage made in hell, but it ended here in Amsterdam in a kind of forgiveness… But even on a night like this, there were still plenty of Chelsea supporters keen to fast-forward to a time when Benitez is no longer part of the club.
City Want Isco
Man City have Isco fever (Martin Blackburn, Sun) Manchester City are closing in on a double swoop on Malaga as they begin life after Roberto Mancini. The Spanish club have confirmed their coach Manuel Pellegrini will be free to leave in the summer — paving the way for him to move to the Etihad. But City are also making progress in their move for young midfield ace Isco — who has a £27million release clause in his contract at La Roseleda.
City move for Spain star Isco as incoming Pellegrini plans to bring Malaga's key man to Manchester (Chris Wheeler, Mail) Manchester City have been given the green light by Malaga to appoint Manuel Pellegrini as their new manager and are now planning to secure the Spanish club's star player, Isco, as well.
Manuel Pellegrini targets five for Manchester City (Paul Brown, Star) Pellegrini is also interested in Real Madrid winger Angel di Maria, plus Seville stars Jesus Navas and Geoffrey Kondogbia. Borussia Dortmund's £32m-rated winger Marco Reus – who has helped his side reach the Champions League final this season – is also a target.
Tottenham Step Up Striker Search
Tottenham move for £5m Croatia U21 striker Rebic… and will move for Villa, Damiao or Benteke if Adebayor is sold (Richard Sharp, Mail) Tottenham have made a £5million offer for RNK Split striker Ante Rebic. The 19-year-old Croatia U21 international has attracted interest from Parma also but Tottenham are favourites with the player keen to come to England… Spurs are hoping to bring in another two strikers this summer with Barcelona's David Villa, Internacional's Leandro Damiao and Aston Villa's Christian Benteke among their targets. Their spending, however, may depend on finding a suitable buyer for Emmanuel Adebayor. They also remain keen on Wigan midfielder James McCarthy but have yet to make a bid for the young Republic of Ireland international.
Replacing Carra
Liverpool set to sign £3.5m Ilori from Lisbon to replace retiring legend Carragher (Lee Bryan, Mail) Liverpool are closing in on a £3.5million deal for Sporting Lisbon defender Tiago Ilori… Valencia have also made enquiries but Liverpool hope their strong relationship with the Portuguese will help close the deal quickly.
Martinez To Malaga?
Malaga target Roberto Martinez as new boss following Wigan's relegation (John Cross, Mirror) Roberto Martinez is on Malaga's shortlist to replace Manuel Pellegrini… Paul Scharner will return to Hamburg following the end of his loan spell, while on-loan goalkeeper Joel Robles will go back to Atletico Madrid. Reserve striker Angelo Henriquez will also rejoin parent club Manchester United. Antolin Alcaraz, Maynor Figueroa, Franco Di Santo and Ronnie Stam and striker Franco Di Santo – all key players this season – are all out of contract, and the Latics have not agreed new deals with any of them.
---
GAMBLING CAN BE ADDICTIVE, PLEASE PLAY RESPONSIBLY