"Eduardo has been the recipient of much goodwill in this country since he suffered a career-threatening injury 18 months ago, but some of that may now dissipate" – Matt Hughes
Comment & analysis round-up
Quote of the day: "Yeah, I heard it but it's football, you know. I don't care. I know I'm not a monkey. I might be as strong as a gorilla but I'm not a monkey. That's life, isn't it. You've just got to carry on and get on with it and we got the result – that was the main point. The fans got what they deserved. As you get bigger in football, you're going to get taunts. I look at someone like Frank Lampard as an example. He gets abuse everywhere, but he still gets his head down and carries on. That makes him a bigger and better person. It's about mental toughness." – Carlton Cole.
Runner-up: "If it's clear on television, then Uefa should act against Eduardo and ban him. I think he should get a two-game ban. It was not a penalty. I told him and everyone in the Celtic team told him." – Massimo Donati.
Today's overview: Two days after the ugly scenes at Upton Park, and slowly attention is turning to punishment – not only for the rioting thugs but also West Ham football club too.
According to Dominic Fifield, "West Ham United will need to prove to the Football Association they did everything possible to prevent the ugly crowd scenes that marred Tuesday's Carling Cup tie against Millwall to stave off the possibility either of being forced to play behind closed doors or cast from the competition." The latter threat is brushed aside by Oliver Kay who reports "West Ham United will not be expelled from the Carling Cup as punishment for the violent clashes that marred their victory over Millwall."
Typically sensationalising the event to the max, Jeff Powell is found barking "the thugs are back… What went off in east London on Tuesday night was an eruption waiting to happen. Make no mistake, the odds are that it will trigger many more outrages of this ilk in the coming weeks and months." Threats of more violence will be news to Graham Taylor in the Express who finished his reaction to events by writing "hopefully, this is just an isolated incident."
In arguably one of the dumber suggestions of the day Harry Redknapp, writing in The Sun, argues that West Ham and Millwall should be banned from playing against each other. "I don't like saying this but I am afraid there is only one answer if the Hammers and Lions are ever drawn to face each other again – put the balls back in the hat and draw them out again…And if they ever meet in the League then the game should be played behind closed doors because the human cost of these kind of disturbances is just too high to bear any longer."
Contrasting the predictions of more violence, several scribes band together with the benefit of hindsight to let the public know how they would have handled the situation better.
First to run his mouth is Cass Pennant. "What happened was a result of that draw. These teams and their supporters cannot meet and the only way you can solve that and keep the integrity of the competition is to ban away fans… Either [the police] knew they didn't have the numbers to tackle head-on a crowd hell-bent on trouble, or their tactics have changed and they now allow people to riot and commit the most serious crime possible, then arrest them afterwards on the strength of CCTV footage."
Next, apparent soothsayer James Lawton claimed the violence was an inevitability in the Independent. "The worst of it is the terrible inevitability… Football, the national sport, has been exposed to such behaviour for the best part of half a century now and what is so depressing is that the central problem is as apparent as ever."
Equally angered by the public response to the violence, Dougie Brimson barks that only peer pressure will solve the ills of football violence. "Yes it's stupid, yes it's irrational, but yes, it still happens. And it will continue to happen until someone finally realises that legislation on its own is no answer to the hooligan problem and never can be." Yet, that position is challenged head-on by Henry Winter who calls for the justice system to "kick this hooligan scum out of football for good." "Only by properly punishing Tuesday's trouble-makers, and that means with custodial sentences, can an enduring cancer, albeit one that has been largely undetected in recent years, begin to be excised."
Others, including David Conn, offer a more considered response to Tuesday night's violence. "While [such] violence is, thankfully, extremely rare now at matches, there are still small groups of men who engage occasionally in the bizarre, dismal ritual of arranging fights away from grounds to avoid today's more intense policing." Tony Cascarino makes a similar point writing "it's not as if hooliganism is at an all-time high, but we're kidding ourselves if we don't think it's still widespread and serious. Nice stadiums and high ticket prices hide it, they haven't stopped it."
The most relaxed response to the West Ham-Millwall violence comes from Patrick Barclay. "While there will inevitably be calls to punish both clubs, and especially West Ham because they were the hosts, it seems inappropriate… While hooliganism is small, it can be crushed. And should be. But there is no need for football to beat itself up."
The Guardian includes a brutally honest article from self-confessed West Ham fan Jacob Steinberg, recalling his eye-witness experience of the violence. "I have never been so embarrassed by West Ham fans, who… dragged my club's name through the mud… Fans duly flooded past the stewards, and I saw little or no attempt made to stop them. Obese middle-aged men, City types in suits and teenagers dressed in Stone Island. A father even dragged his young daughter on to the pitch with him."
The main talking point from Arsenal's defeat of Celtic in the Champions League today centres of Eduardo da Silva's dive.
On the Croatian's cheating Kevin McCarra wrote "[Eduardo] burst into the danger area had been sharp and skilful, but his supreme piece of technique was to pretend that Boruc had brought him down when there had been no contact." Far more aggravated though was Matt Hughes, who is found spitting fire at Dudu. "Eduardo has been the recipient of much goodwill in this country since he suffered a career-threatening injury 18 months ago, but some of that may now dissipate. His 27th-minute dive as Artur Boruc charged from his goal, admittedly with undue recklessness, was as blatant as any crime."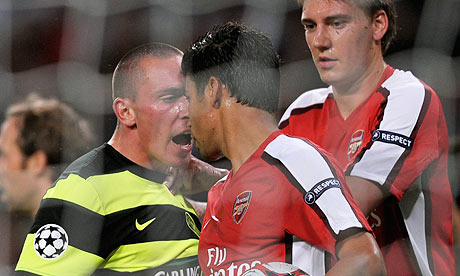 Also spitting feathers over Dudu's dive is Sam Wallace in the Independent. "There are, in football, dives that look like fouls and fouls that look like dives, and then there are the blatant, disgraceful, fling-yourself-to-the-ground-and-con-the-referee dives. It was the latter category into which Eduardo da Silva fell – or rather dived – last night." While, looking to take the edge out of the debate, Henry Winter commented "unless Celtic's goalkeeper was wearing a particularly pungent aftershave it was impossible to understand why Eduardo collapsed."
Staying with the Champions League, Kevin McCarra makes the bold step to claim that Inter Milan can go far this season in Europe's most prestigious competition. "With [Samuel Eto'o] on board, the Serie A champions finally look equipped to make an impact in Europe this season." Elsewhere, ahead of tonight's draw Oliver Kay makes it known that "because Real cannot be drawn against another Spanish club, it means that there is a two in three chance that they will face one of the four English entrants – Arsenal, Chelsea, Liverpool and Manchester United."
Portsmouth are a joke.
After wasting almost the entire summer desperately scrambling around for an elusive new owner, Jamie Jackson now reports a new hold-up for the South Coasters as two competing Arabs claim to have signed deals with Alexandre Gaydamak. "Gaydamak has exchanged contracts with Sulaiman al-Fahim on his sale of Portsmouth, yet the outgoing owner faces the threat of legal action from another businessman, who claims he had a deal to buy the south coast club."
Gabriele Marcotti details his fear for Pompey if Distin is allowed to leave. "I don't care if Rafa Benitez, Carlo Ancelotti or Sir Alex Ferguson win every single game from here on out and, along the way, win every trophy in sight while also capturing Osama Bin Laden, finding a cure for cancer and solving the Arab-Israeli crisis: if Sylvain Distin leaves Portsmouth and Paul Hart manages to keep them up, he will deserve to be a unanimous choice for manager of the year."
Heading over to Spain, Sid Lowe previews the new La Liga season. "[Barcelona] still have phenomenal players, continuity and a clear identity. Madrid have to build a team, Barcelona already have one. Madrid have the players but they're still searching for that identity. So far, they've not convinced."
Marina Hyde lets rip over fans who write off their teams too early in the season. "All across the country, right now, are people who have built season simulation models that are accurate to within an infinitesimal margin of error. Not only can they tell you that Liverpool's season is completely over, but they can even forecast the precise flapping of, say, Mark Hughes's wings that will result in a tsunami of trophies come May."
With the transfer window readying itself to be slammed shut, clubs are busy shuffling around looking for those crucial last minute buys.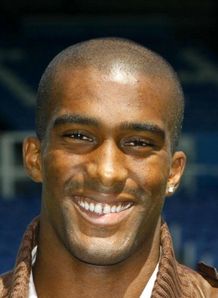 Martin O'Neill got busy on Wednesday, Stuart James reporting the Richard Dunne completed a £6m move from City while hopes are high theat Stephen Warnock will also move from Blackburn to the Villains. Staying with defenders on the move, Rory Smith details Everton's approach for Pompey's Sylvain Distin while also noting that "one of Steven Taylor, David Wheater, Robert Huth and Ryan Shawcross is likely to join the French international, should he join."
Over in the Daily Mail we learn that "Sunderland manager Steve Bruce is launching a £6million bid for Hull defender Michael Turner." While according to Gary Jacob, Birmingham are close to matching Middlesbrough's £5 million valuation of Tuncay Sanli while 16-year-old "Jakub Sokolik's agent claims that the defender will move to Liverpool from Banik Ostrava."
Lastly, the future of Tottenham's Roman Pavlyuchenko remains in doubt, Mark Ogden reporting that "Spartak Moscow are keen to pay £10 million to re-sign Pavlyuchenko, who left the Russian club in a £13.8m move to Spurs 12 months ago."
---