Eden Hazard set for at least a 5 game ban & everyone forgets that Swansea have reached the Capital One Cup final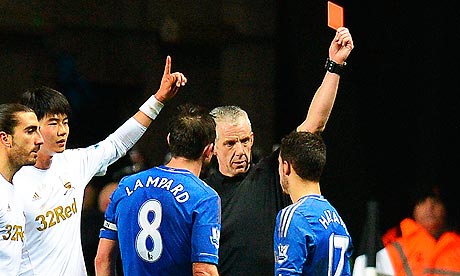 Comment & analysis round-up
Quote of the day: "The boy put his whole body on to the ball and I was trying to kick the ball and not the boy. The boy came into our changing room and we had a quick chat. I apologised to the boy, he apologised as well and it's over. Sorry." – Eden Hazard.
Runner-up: "The boy has been into our dressing room, they have spoken and apologised to each other. They knew they were both wrong. He was wasting time, Hazard wanted to get the ball back quickly and they both made mistakes. We can't change things now. I didn't see the incident during the game, so I can't say too much. But it left us playing with 10 players, which was a problem because we needed three goals. We will deal with it internally. He (Hazard) was frustrated. The ballboy was wrong and Eden said he was wrong, too. Do you not think we are disappointed with the situation? That we don't regret what has happened? Listen to me, as Chelsea FC, we know it was a mistake. But we talked with the boy, we talked with the player. The boy was with us in the dressing room, everyone was very clear." – Rafa Benitez.
Eden Hazard faces lengthy ban
Frustrated Chelsea star Eden Hazard faces five-match suspension for row with Swansea ballboy (James Corrigan, Daily Telegraph) The Belgian was shown a red card in the 80th minute after he lost patience when the ballboy refused to hand over the ball after it had gone out of play for a goal-kick. Hazard then appeared to try to kick it from underneath him but instead made contact with the youngster. Officers interviewed the player and the 17-year-old, but have decided no charges will be brought. However, the Chelsea player seems certain to be hit with at least a five-match ban.
Nothing to see here! Police say Eden Hazard won't face charges over ballboy kick (Neil Rowlands, Daily Mirror) Eden Hazard will NOT face criminal charges after appearing to kick a ballboy during Chelsea's Capital One Cup semi-final defeat against Swansea, both clubs have confirmed. The astonishing incident, the latest to blight Chelsea's season, happened with just over 10 minutes remaining of the tie, which the Blues lost 2-0 on aggregate. The game was goalless on the night and Hazard lost patience when the ballboy refused to hand over the ball after it had gone out of play for a goal-kick. The ballboy fell to the ground as Hazard attempted to get the ball from him with the Blues forward then trying to kick it from under him but instead he appeared to make contact with the youngster. Several Chelsea players went to tend to the ballboy, who was left holding his ribs, before referee Chris Foy produced a red card.
That Haz to be a sending off (Jack Royston & Katie Earlam, Sun) Cops were called in last night after Chelsea star Eden Hazard KICKED a ballboy in a cup semi-final match. With little more than ten minutes to go and Chelsea staring defeat in the face, Charlie Morgan, 17, blocked Hazard's path to the ball after it went out for a goal kick. The teenager fell on to the ball and the 22-year-old millionaire Belgian international — who earns £170,000 a week — then tried to boot the ball out from under him.
Hazard incident poses the question… when will Chelsea rise from the gutter? (Neil Ashton, Daily Mail) Chelsea players demanded answers from Eden Hazard in the dressing room at the Liberty Stadium – and they had every right to do so. They are furious with the £32million man after he dragged the reputation of this club – champions of Europe remember – into the gutter again. Forget the FA and the lengthy ban that will follow for the red card. This time Chelsea must act. They must take their own action, make an example of a player who has embarrassed and humiliated the club in front of a worldwide TV audience… Hazard's flash of anger is a new low, a despicable act that has brought the great name of Chelsea into disrepute again.
Desperate act of ignominy that reveals the dark mood currently gripping Chelsea (James Lawton, Independent) For Swansea a stunning triumph, the reward for brilliant commitment to some of football's best values. For Chelsea almost comic ignominy, not only banishment from the road to Wembley but the deathless charge of roughing up a ballboy as a grim expression of what happens when a hugely expensive team runs out of not only inspiration but the most basic ideas. Swansea were approaching serenity even before Chelsea's Eden Hazard was sent off after appearing to kick the boy who lay on the ball, perhaps in a passion of partisanship. Swansea were only briefly diverted from their glory but what it said about the mood of Chelsea, the sense that they have become prone not just to error but unbroken public-relations disaster was utterly desperate.
What was the ball boy doing?!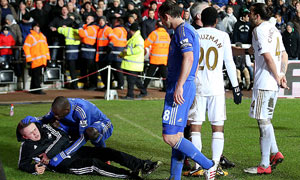 Why was the Swansea ball boy attempting to cheat? Football needs to take a look at itself (Rik Sharma, Daily Mail) Swansea should be the subject of an investigation by the FA for the conduct of their ball boys. And for what it's worth, it's debatable whether the ball boy even got kicked anyway. Hazard sticks his boot in and the ball pops up the other side. The apparent agony of his victim was laughable, particularly when you factor in the image of two staff members carrying him off as if he were an injured footballer. He certainly reacted like one. Having turned 22 earlier this month, Hazard is barely five years older than the so called ball boy. What we saw was closer to two brothers messing around in the back garden.
Swansea reach the Capital One Cup final!
Sing it Laud: Swansea hold 10-man Chelsea to reach Capital One Cup final (Darren Lewis, Daily Mirror) But Swansea did expect this second leg of their semi-final to be far tougher than it was. Rafa Benitez played his strongest side, tried to unsettle Swans boss Michael Laudrup in the build up, but in the end Chelsea failed to land a serious blow. They were shocking. In fact, with the exception of a Gary Cahill header cleared off the line by Angel Rangel and a few speculative efforts, they limped out of this semi-final. The Blues could even have been behind before that with Michu forcing a save from Petr Cech and last ditch blocks from Cesar Azpilicueta and Cahill needed to keep out Wayne Routledge and Jonathan De Guzman. And as Swansea sailed into a Wembley date with Bradford, Benitez was left to chalk off another target that should have been easily achieveable.
Swansea City have final say as Chelsea's Eden Hazard sees red (Daniel Taylor, Guardian) It has taken more than 100 years but, finally, Swansea City know what it is like to reach a major final. They will play Bradford City at Wembley on 24 February while Chelsea, and Eden Hazard in particular, will reflect on another ignominious chapter in the story of a difficult season. Two-nil down after the game at Stamford Bridge, it was remarkable in the first place that Rafael Benítez's side played with such conservatism, not managing a shot on target until the 73rd minute and barely offering any sense they were in the mood to pull off a dramatic feat of escapology. Yet their prosaic performance will be swiftly forgotten in comparison with what happened in the 78th minute when Hazard went to get the ball from a ballboy close to the corner flag and ended up being sent off for violent conduct. Put it this way: it will be some story for the schoolyard.
Swans reach first major final… but it's overshadowed by Hazard shame (Shaun Custis, Sun) And they will be in the unaccustomed position of being overwhelming favourites to lift a first major trophy in their 100-year history. Should they do so, they will also be rewarded with European competition next season. Last time Bradford played Swansea six years ago 7,347 fans saw a League One clash at Valley Parade that ended 2-2. Next month, there will be 80,000 to watch them at the home of football.
Coloccini does a Tevez
Fabricio Coloccini deserts Newcastle (Martin Hardy, Independent) Fabricio Coloccini is heading out of Newcastle United after he told officials he does not want to play another game for the club. The 31-year-old captain now plans to leave Tyneside in his desire to return home to Argentina as he bids to deal with "personal matters". Coloccini's wife is already believed to have returned home to Argentina. Talks had taken place earlier this week between Coloccini's representatives and officials from Newcastle in a bid to broker a peace deal where the central defender would stay at St James' Park until the end of the season, at which point his position would be reassessed. However, after extensive discussions they failed to reach agreement and now the player is set to quit.
Arsenal hit 5 past West Ham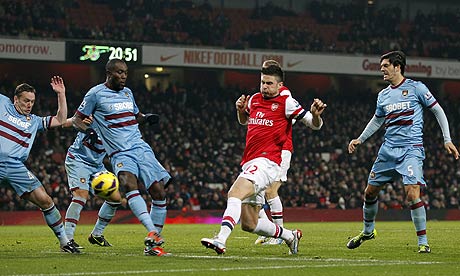 Olivier Giroud leads Arsenal rampage to crush West Ham (David Hytner, Guardian) When Arsenal click as they did for 12 whirlwind minutes at the beginning of the second half, it can feel as if all of their problems, the well-documented angst and the soul-searching, are nothing more than tricks of the imagination. In a game that they had to win, after the dispiriting Premier League losses to Manchester City and Chelsea, they started badly and left themselves needing to scramble up an incline, if not a mountain, after an early concession to Jack Collison. Yet Lukas Podolski pegged West Ham back before his team showed style and ruthlessness immediately after the break to pull to within four points of fourth place and script happier headlines. The composition of Arsenal's half-time brew might need to be tested. This was an awesome demonstration of their attacking potential and West Ham had no answers.
Hammers in horror show (Dan King, Sun) West Ham boss Sam Allardyce watched in horror as Dan Potts suffered a sickening injury in his team's crushing defeat. The young sub, 18, was knocked out cold in a collision with Arsenal's Bacary Sagna and needed NINE MINUTES of treatment. Allardyce said: "He hit the floor as a dead weight. He was able to answer questions but not in the right way. They have protected his neck. "He was out for a few seconds. When you hit the floor like that it might be a problem. He has gone straight to hospital with concussion. "As he lost consciousness it is a minimum of two weeks I think before he can play again."
Brilliant Bradford
Bradford City's band of brothers produce the perfect Hollywood script with their voyage to Wembley (Henry Winter, Daily Telegraph) Bradford's success in reaching Wembley is more than a sporting triumph. It is a tale of fighting setbacks, the type of against-all-odds plotline that sets pulses quickening in Tinseltown script meetings. Parkinson and his players would never be presumptuous to think it, let alone proclaim it, but life lessons can be found on their voyage to the vaulting arch of Wembley. If Bradford continue to confront and overcome adversity and win the Capital One Cup, a team from the fourth tier accounting for their fourth elite opponents, Hollywood will surely come knocking. The appeal is obvious. Those facing life's travails can take comfort and guidance from the deeds of Bradford's players. Qualities like perseverance shine through, individually as players and collectively as a club.
Manchester United land Wilfried Zaha
United finally land £15m Zaha as Young is sidelined for BOTH Real Madrid games with knee injury (Sami Mokbel, Daily Mail) Manchester United have clinched a £15million deal for Crystal Palace winger Wilfried Zaha… as it emerged Ashley Young will miss their Champions League double-header against Real Madrid with a knee problem. Young limped off in the 2-1 win over Liverpool on January 13 after a collision with Daniel Agger – and Sportsmail understands the winger has damaged his left medial ligament so will miss at least another four weeks. United manager Sir Alex Ferguson hoped to include Young in his squad to face Tottenham last weekend but the winger was ruled out after medical tests.
Manchester City climb into Deloitte list
Manchester City climb into Deloitte top 10 earners after league title (Owen Gibson, Guardian) Manchester City's first Premier League title and inaugural season in the Champions League have helped them climb five places in Deloitte's annual survey of the 20 biggest earners in football, meaning that half of the top 10 clubs come from England. For the eighth year running Real Madrid were the top-earning club in Europe, with revenues of €513m (£431m). The Spanish club took over top spot from Manchester United in 2003-04 and have held it since.
---
GAMBLING CAN BE ADDICTIVE, PLEASE PLAY RESPONSIBLY