Easter Lies: Sparky to replace Villa's O'Neill as Irishman eyes Benitez job at Liverpool, Barca want Evans & £50 Cesc, United target Benzema, Spurs linked to Dzeko, Rooney aims for Bayern return, Zlatan out & Chelsea have the EPL in sight
Comment & analysis round-up
Quote of the day: "That's twice we've been beaten by refereeing decisions, it happened at Stamford Bridge as well. The linesman is right in front of Drogba and he gets it wrong. It was a poor, poor performance from the officials in a game of this magnitude. The quality of the officials has cost us, though I must admit we looked leggy in the first half and Chelsea were by far the better team. They have got to be favourites now, Chelsea are in the driving seat. We can win all our remaining five games and we still won't win the title if Chelsea win theirs." – Sir Alex Ferguson.
Runner-up: "We are not favourites. We are top of the league but nothing is decided yet. There are still five matches to play and we have to stay focused." – Carlo Ancelotti.
Today's overview: It's Sunday, which means that all the nonsense rumours which have been circling the gutter press over the last few days congeal together to produce a ridiculously long-list of never-gonna-happen stories.
The tabloid trash: As always the News of the World set the tone, with their big story today being that "Mark Hughes will be the man Aston Villa turn to if Martin O'Neill walks out in the summer… O'Neill has a clause in his contract which gives him a 'window of opportunity' at the end of the season to talk to any clubs interested in luring him away. Liverpool would certainly be keen as they look for a successor to Rafa Benitez."
Rob Shepherd tries to inject some opinion into the O'Neill-Aston Villa story. "Villa fans should be grateful and recognise that, with Manchester City now in the mix, the task is getting even tougher given the sensible ceiling on the club's finances. O'Neill is just the right manager for such challenges. Yet they are pushing him towards the door… O'Neill has never been a quitter. And if he does leave it will be with his head held high. And if Liverpool don't snap him up then O'Neill would be the right man to solve West Ham's problems."
Staying with the managerial-merry-go-round, Paul Smith spews up a read-it-all-before piece detailing that "Gianfranco Zola has no long-term future at West Ham… Waiting in the wings are Slaven Bilic and Steve ­McClaren."
One manager not moving on any-time-soon is Arsene Wenger. Rob Draper writes "Arsene Wenger will meet with Arsenal director Danny Fiszman, chief executive Ivan Gazidis and club chairman Peter Hill Wood this summer to discuss extending his contract at the club which ends in the summer of 2011. And Wenger, who has long ben a target of Real Madrid president Florentino Perez, is likely to commit to another three years at the club even if they fail in their quest to win a trophy this season."
Last weekend Hamburg defender Jerome Boateng was linked with a handful of clubs, and today the NOTW claim Manchester City are in pole position for the 21-year-old, although Manchester United and Arsenal are also circling. The NOTW also add that brother Kevin Prince Boateng is a target for Newcastle.
Alex Crook surveys the fire-sale at Portsmouth. "Kanu is set to quit Fratton Park to make a mega-money move to UAE side Al-Ahli… Belhadj is subject of interest from Roma and CSKA Moscow, Boateng wants to return to Germany and Wilson is a £3m target for Sunderland." The Mirror add that "John Utaka is set to be the next player to exit Fratton Park. Sochaux head a quartet of French clubs bidding to sign the 28-year-old."
Turning to The People, the two major stories are Steve Bates' report that "Barcelona and Real Madrid are waiting in the wings with big wage offers – if Jonny Evans fails to agree a new deal with Manchester United," and Alan Nixon's lie that "Manchester City are heading the chase for unsettled Inter Milan striker Mario Balotelli."
According to the Mirror, "Manchester United hopes of landing long-term target Karim Benzema have been boosted by claims Real Madrid are ready to let the Frenchman leave the Bernabeu on loan next season… AC Milan have already made an enquiry and were told to revisit the situation in the summer."
Elsewhere in the Sunday Mirror we learn that Bolton are eying Stuttgart forward Cacau who is available on a free transfer this summer. Greg Stobart wastes his time claiming Spurs are tracking £25million-rated Wolfsburg star Edin Dzeko while also barking "­Redknapp is looking to ­offload forwards Robbie Keane and Roman ­Pavlyuchenko in the ­summer." While the most unexciting transfer story of the day links Benfica with Liverpool reserve keeper Diego Cavalieri. Lastly the Mirror link West Ham midfielder Valon Behrami with Palermo.
The Observer's Paul Hayward links Joe Cole with Manchester United. "Cole's high wage demands could cause his departure this summer and Old Trafford is a possible destination, assuming United are willing to pay more in wages than Chelsea seem inclined to."
And then we arrive to the Daily Mail's headline-grabbing article, provocatively titled "Cesc Fabregas may never play for Arsenal again as Barcelona prepare £50m bid." Bob Cass then explains "although Barca manager Pep Guardiola is more focused on recruiting a replacement for Thierry Henry, with Franck Ribery and David Silva the targets, the coup of securing Fabregas at the start of Rosell's presidency will drive the bid."
Consolidation: According to Chris Bascombe, Everton are still trying to pen teenager Jack Rodwell to a new £5 million deal to stay at Goodison. Following on, Steve Millar adds that "Everton boss Moyes has ­revealed that both [Steven] Pienaar and Rodwell are in new contract talks to tie up their long-term futures."
Manchester United's policy of keeping hold of what they got continues this Sunday, Neil Ashton scribbling that "Nemanja Vidic is prepared to have a dramatic change of heart and stay at Manchester United if they catapult him to the top of the pay league… [He] could yet stay if they make him an offer in excess of £100,000 a week." Harry Pratt fleshes out the story writing "Nemanja Vidic has ­ended all talk of a ­summer transfer – vowing to stay at Manchester United ­'until 2012 at least.'"
Money, money, money: The coffers on Merseyside are set to swell considerably according to Chris Bascombe, who, hurling the cart miles in front of the horse, reports "Liverpool will hit the £150million jackpot in a mega new shirt manufacturers' deal with adidas… adidas are convinced investment is on its way to Anfield and a new board will soon be in place following the £110m debt reduction from the Rhone Group… Liverpool will be looking to better Chelsea's 10-year deal with adidas which was worth £100m in 2005. They will want a minimum of £15m a year."
The good news for Liverpool fans continues in the Mail on Sunday, Daniel King raising Scouse hopes chugging "Liverpool are on course to secure fresh investment or even completely new owners before the end of the season. New York's Rhone Group are the only party whose interest in injecting £100 million to bring down the club's debt in return for a stake of up to 40 per cent has been made public. But it is understood that there are other potential bidders, including consortia and individuals with the resources to buy Tom Hicks and George Gillett out entirely."
World Cup: The Mirror's Justin Penrose sets about spreading rumours of mismanagement and disoraganisation surrounding the 2010 World Cup. "The World Cup faces the ­embarrassing prospect of ­almost-empty ­stadiums at ­dozens of games – with over a million unwanted tickets. With under 10 weeks to go until football's showpiece kicks off, sponsors have returned 378,000 tickets. It comes after 650,000 tickets were handed back by football associations – and it means almost a third of the 3.7million available seats remain unsold… Meanwhile, to add to South Africa's woes, thousands of paramedics and firefighters are ­threatening to go on strike during the World Cup, ­shutting down South Africa's emergency services."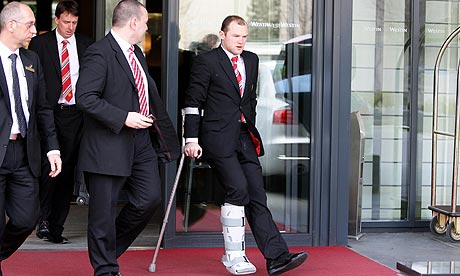 Champions League: Not only is he England's saviour, but now Wayne Rooney is also an Easter miracle!
Steve Millar in The Star splashes with news that "Wayne Rooney will beg Manchester United boss Sir Alex Ferguson to let him loose on Bayern Munich on Wednesday night… There is a real chance that he could be drafted onto the bench with the star forward desperate to get on the pitch to add to his 34 goals this season." Steve Stammers adds his weight behind the story too in the Mirror, farting "Wayne Rooney believes he has a chance of playing in Manchester United's Champions League clash with Bayern Munich on Wednesday."
Flipping to Barcelona-Arsenal, Gary Lineker warns the Gunners that their Champions League campaign will likely end this week. "Barcelona are the best team on the planet and red-hot favourites to win the Champions League, although the match at Arsenal proved you can never be certain about things in knockout football. Even if Arsenal were able to go to the Camp Nou with their strongest team on Tuesday, I would still expect Barca to progress to the semi-finals. But without Cesc Fabregas, Andrey Arshavin and William Gallas, I'd find it very hard to make a case for Arsene Wenger's side."
That said, there is some good news for Gunners' fans with the Mail on Sunday revealing "Barcelona striker Zlatan Ibrahimovic has been ruled out of Tuesday's Champions League quarter-final second leg against Arsenal  through injury, the Catalan club have announced on their website."
Also looking to weaken the aura around Barca, Paul Hayward believes the Catalans have an inherent problem. "While we luxuriate in this majesty it is also necessary to say the European champions have a weakness. It can be seen in the rhetoric of artistic endeavour – of entertaining the Catalan masses – which even presidential candidates at Camp Nou are reciting to the mirror to prove their cred… However strong the urge to perform cartwheels in gratitude for Barca's gift to us all there is also a voice that urges them to kill teams off and not just enchant in bursts."
The op-eds: Toff twat Piers Morgan today embarrasses himself as an uneducated football pundit using his column to reveal such gems as "I genuinely had no idea Harry Redknapp had built such an overwhelmingly home-grown factory at White Hart Lane… When my mind drifts towards candidates for 'world's most irritating footballer', the name Teddy Sheringham is never far from my lips… [and] I don't know what One Show beauty Christine Bleakley is doing to Frank Lampard."
Rod Liddle chastises West Ham for complaining against Fulham's side that lost to Hull. "The world has not forgotten how West Ham secured their Premier League survival in 2007, partly through a patently corrupt arrangement by which they acquired the services of Carlos Tevez and Javier Mascherano… I quite like the irony of West Ham complaining that Fulham had rested a certain Bobby Zamora for the game against Hull. When Zamora was at Upton Park the fans seemed to wish he would be rested for every game, if not permanently rested."
The Premier League title race: We end with a review from Saturday's mammoth day in the Premier League, with Manchester United's title hope in tatters after Chelsea's 2-1 away win.
Patrick Collins denied United the refuge of using Didier Drogba's offside goal as a reason to feel wronged. "United's problems run far deeper. A side which started the day on top of the heap should not have to resort to spent forces like Neville, whose performance yesterday decisively buried any notion that England might use him in South Africa. Likewise Paul Scholes, still capable of the odd, sublime pass, yet still convinced that he is morally entitled to at least one malevolent lunge in every match… [By contrast] Chelsea are durable, disciplined, blessed with serious performers in crucial positions and led by a coach whose record tells us how well he knows his business."
Paul Wilson poked holes at Dimitar Berbatov's performance. "Dimitar Berbatov was short of support and apart from a couple of optimistic penalty shouts the home side rarely threatened. Berbatov failed to make a convincing case for himself, either as Rooney's deputy or a presence capable of leading the attack on his own. Too much of the game passed him by and too often he was easily knocked off the ball. Neither of those charges can normally be levelled at Rooney."
Also jumping on Berba's back was Mike Norrish. "United didn't look remotely capable of beating Chelsea without him. And on that evidence, they won't beat Bayern Munich either. Sir Alex Ferguson said last week that 80 per cent of United fans are behind Berbatov. Not sure quite where he got that figure from, but it's safe to say the Berba-backers will have reduced in number since this morning. And rightly so."
Kevin McCarra cited fatigue as United's downfall on Saturday. "The effort was great after the interval, but Chelsea had the benefit of freshness. It was their opponents who struggled with the after-effects of last week's Champions League match. There comes a moment when willpower is asked to take over from flair or strategy. United had none of their normal verve and even basic proficiency wavered."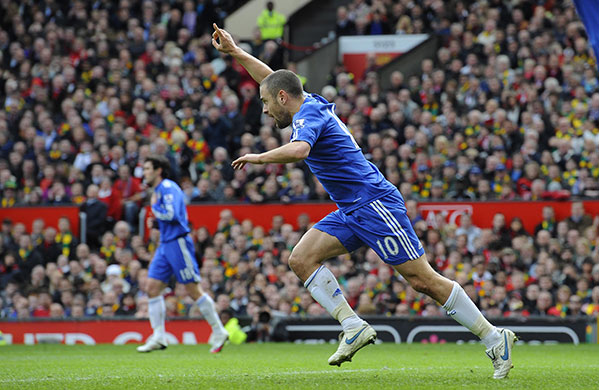 Switching analysis, Duncan Castles purrs over Joe Cole's goal at Old Trafford. "If this does not jog Fabio Capello's memory, nothing will. The slow-motion moment, replayed again and again as we sought to pinpoint the delicacy of touch that deceived his marker and angled the ball across Manchester United's six-yard box and left it nestling in the corner of the net. This was the Joe Cole everyone remembers — the English midfielder with the inventiveness to change games and the destiny of titles."
Henry Winter makes the case that Chelsea would be deserving champions. "If Malouda and company do progress to the title, none of their rivals can complain. If they prevail at Anfield, Chelsea will have taken all 18 points from Liverpool, Arsenal and United. In the heavyweight division, and Manchester knew all about that on Saturday, particularly with David Haye marching across the pitch before kick-off, Chelsea reign supreme."
After seeing Arsenal pull the rabbit out the hat against Wolves, Andrew Longmore believes the Gunners can win the title. "After leaving their winner until stoppage time in three of their last six games and scoring in the last 10 minutes in their last nine, no one will count out Arsenal until the mathematics decree it. To the technical skill and fluent passing add dogged spirit and never-say-die persistence."
---
GAMBLING CAN BE ADDICTIVE, PLEASE PLAY RESPONSIBLY