"Do Tom Hicks and George Gillett have the money to sack Benitez? The question is: can they afford not to?" – Des Kelly
Comment & analysis round-up
Quote of the day: "Clearly I want to fight. If I signed a contract for five years it is because I want to fight. And I will fight because I'm a fighter. Our fans, they are very clever. They know Bill Shankly, our most famous manager in the history of the club, was a lot of years without winning. They know that the club has had good moments and bad moments. The proper fans, they know for years this club is a massive club and that we have won things and lost things. We are frustrated because we want to do well. Because the last year was so good, we wanted to be closer. I have to believe we can finish in the top four. I have the belief that we can do it, but we have to win the next game and that is what I am concentrating on." – Rafa Benitez.
Runner-up: "Disappointing news. The boss left me out the squad. No explanation. What happened after a first good season? Scoring 10 goals, being young talent of the year, and then second and this season don't play at all?" – Ryan Babel vents on Twitter.
Today's overview: Several clubs find themselves starring into the mire this weekend, with clubs across the country criticised for their poor management and owners. With that being the case, we begin by asking how close are we to seeing football fans mobilise themselves to actually take over their own clubs?
Robin Scott-Elliot concedes that fan buy-outs are still a long way off. "Newcastle's trust have 12,000 signed up to their "Yes We Can" campaign, ShareLiverpoolfc has attracted 10,000 members and the Manchester United Supporters Trust is now 36,500 strong. The numbers are impressive but their hopes of forcing regime change remain, in reality, thin."
Next, can the Citizens win the Premier League?
Perma-tanned prat Terry Venables falls just short of fully backing Manchester City as the goateed pundit thumbs over Manchester City's title hopes. "Tevez is playing like two men and has all the determination of a player who desperately wants to rub his old manager's nose in it. Can he do it? Can City win the title? Yes, they can."
Ironically, Chris Brereton then reports that "Roberto Mancini does not consider Manchester City to be potential Barclays Premier League champions. Not for the time being, anyhow… Behind Mancini's supposed Midas touch lies a healthy dash of realism and he has moved to quell any over-enthusiasm regarding City's chances of winning the English top-flight title for the first time since 1968."
Queen's Park Rangers have the impression of a club in crisis this Saturday as their disgraced owner Flavio Briatore is reported to want out of the club. James Nursey breaks the news that "Briatore is set to be the next high-profile departure from crisis-club QPR – sparking a possible takeover…  Briatore's decision to sell his stake in QPR could well precipitate an entire takeover of the club. Briatore's plans to move on will be welcomed by some QPR fans after accusations of meddling in team selection."
A confused picture of the Super Hoops continues to unravel in the Daily Mail, where Simon Cass ignores any talk of Briatore leaving Loftus Road by arguing that the chairman's meddling caused manager Paul Hart to walk. "Paul Hart walked out on Queens Park Rangers after just five games and 28 days in charge because he became exasperated by interference from flamboyant owner Flavio Briatore… [Briatore] is understood to have wanted to continue influencing team selection and the club's transfer targets."
Closing out the confusion, Sandy Macaskill announces "Telegraph Sport can reveal that Briatore has told close friends that he had already planned to leave at the end of the season should the team again fail to qualify for the play-offs."
Unsurprisingly, Liverpool and Rafa Benitez in particular, take a beating in the backpages this Saturday.
Des Kelly begins the doom-mongering as he discusses firing the Spanish waiter. "Do Tom Hicks and George Gillett have the money to sack Benitez? The question is: can they afford not to? Do they have the nerve to sack Benitez? No, not before the end of the season…. The truth is, Liverpool are stumbling to the edge. Either Benitez goes over, or they all do."
Next to shout 'RAFA OUT' was the Independent's James Lawton. "Why sack Rafa now, without a decision on his successor and at a cost of up to £20m? It is because each day he remains in the job seems to increase the torment of all concerned. He is talking in riddles now, blaming referees and a malign fate. Who or what is served by this prolonging of agony? Certainly there is no benefit that can be placed against the old truth of the professional game that if you lose the dressing room it is not a passing mishap."
Sorry Liverpool fans. Apparently Stevie G now wants outs of Anfield.
According to Duncan Wright, "Steven Gerrard is ready to quit Liverpool in his desperate search for trophies. The Kop captain is considering leaving this summer for a £30m move – with Real Madrid the likely destination – as  the team struggles under Rafa Benitez."
Staying with the Merseysiders, the headline news in The Sun is that "Rafa Benitez plans to land hitman Kenwyne Jones in a stunning swap with Ryan Babel… Villa manager Martin O'Neill is plotting a £12m move for the Black Cats forward." The Sun, ignoring the Reds' lack of funds, go on to claim Liverpool have yet more transfers lined up as "Liverpool are battling AC Milan for Serbia ace Milan Jovanovic."
The Daily Mail point to Liverpool's lack of pulling power in the transfer market as John Edwards revealed "Liverpool had an approach to take Manchester City striker Roque Santa Cruz on loan turned down on Friday and attempts to prise Kenwyne Jones away from Sunderland have so far failed."
Before delving any deeper in to transfer gossip, Glenn Moore makes the prediction in the Independent that spending will be heavily down in this transfer window. "With spending in any window weighted towards the last few days, English clubs eventually lashed out £170m last January. This month spending seems unlikely to reach half that figure despite pre-window tales of Birmingham having £40m to spend, West Ham and Portsmouth facing firesales, Chelsea having gone to court for the right to make transfers, and the richest club of all, Manchester City, hiring a new manager. It seems the recession is having a belated effect."
There is a 3-way battle for highly talented, and constantly touted across the backpages defender Simon Kjaer this Saturday. The Star act first shouting that Chelsea and Manchester City are both tracking the Palermo centre-half, while Alan Nixon slaps the classic EXCLUSIVE over his article in the Mirror claiming that Spurs set to swoop for £12million Sicilian.
Without a whiff of a quote in sight, a no-name piece in the Daily Mail crashed "CSKA Moscow winger Milos Krasic has rejected an approach from Roberto Mancini's Manchester City, saying he only wants to join either Manchester United or Arsenal."
Wrapping up the shorts, Owen Coyle wants Arsenal's Jack Wilshere on loan at Bolton, Amr Zaki claims he is on the verge of signing for Hull on loan until the end of the season, while one deal that appears off is Fulham's loan move for Roma forward Stefano Okaka Chuka.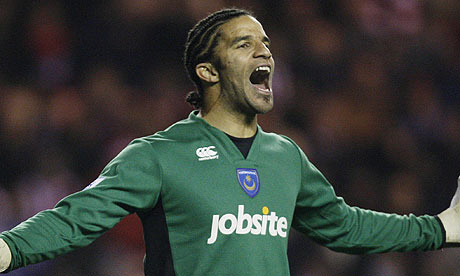 Who is the greedy party – David James or Pompey?
News that the England goalie's move to Stoke has collapsed is widespread in all the papers, but the reason for the breakdown differ. The Star's Dave Armitage claimed "Stoke were unwilling to meet David James's wages once the season was over. His contract does not expire until June 30 and that would have left them paying over £300,000 without him playing." Alan Nixon challenges that opinion, arguing "Stoke City pulled out of the deal to sign England goalkeeper David James after Portsmouth demanded a fee… Pompey pulled the plug on a deal to send James to Stoke City yesterday because they 'changed the goalposts' and asked for a full-time cash deal rather than a loan."
Lastly, in the managerial-merry-go-round Nick Ive writes arguably the most spurious article of the day bleating "Roy Hodgson has played down rumours linking him with the Liverpool manager's job."
---