"Ditch the Pitch," Berabtov is "lazy, unprofessional & infuriating" and will Newcastle drop Michael Owen?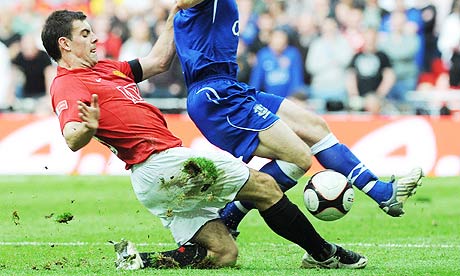 Comment & analysis round-up
Quote of the day: "It's handicapping the national team because do you think Steven Gerrard, Frank Lampard and Wayne Rooney don't want to play on a good pitch? Of course they want to play on a good pitch. It's the worst. In the Premier League it's 21st position. Before, ­everybody wanted to play at Wembley because the pitch was so special. Now, nobody wants to play at Wembley because the pitch is so bad. When you spend £800m [on Wembley], I don't think it's unreasonable to ask for a good pitch. If you go to a dentist and he says, 'Listen, I have a tool but it's from 1950,' you go to another dentist with a modern instrument. Football is the same. If they try to make you play on a pitch of 20 or 30 years ago, then anyone would prefer to play on a new, modern pitch. If the pitch is not right, then nothing else matters…It is a matter of respect to the fans who pay good money to watch a football game. You will never see a good football match on a bad pitch." – Arsene Wenger.
Runner-up: "The financial world has learnt a serious lesson in the last year that living by the old adage, 'If it ain't broke, don't fix it' can lead to catastrophic results. There is a real danger that English football could go the same way. Corrective action needs to be taken now to address serious weaknesses in the governance of the game as well as severe financial imbalances. Lack of proper governance and financial instability are the two fundamental vulnerabilities to the success that English football has enjoyed in recent times. Our report includes tough measures to improve the way the game is run and to combat 'financial doping' whereby short term success can be bought at the expense of long term financial stability." – Labour Party legislator Alan Keen.
Today's overview: There is a mixed bag of topics in today's backpages, leading with the latest FA debacle surrounding the poor state of the Wembley pitch. Reports of Dimitar Berbatov being panned by his own supporters are also flagged up by many, while some question whether Little Micky should be axed by the Toon.
On the hot topic of the day, Kevin Eason investigates why the Wembley pitch is so poor. "Wembley cost a stonking £757 million and someone has got to pay. The concert-goers help to foot the bill with 12 dates scheduled this year, in between some rather important football matches. Without these big dates, the FA would struggle to cover the loans on the stadium." And staying with the Wembley turf, Jeremy Wilson notes that "it costs an estimated £100,000 to relay the pitch. Wembley have also spent around £750,000 on special lamps that are designed to improve the state of pitches which do not get much sunlight."
The vitriol against Dimitar Berbatov is rising, as noted by James Ducker. "Lazy, unprofessional, infuriating. Not fit to clean Eric Cantona's boots. Juan Sebastián Verón Mark II. They were some of the more polite barbs aimed in the direction of Dimitar Berbatov on fans' forums yesterday when Manchester United supporters vented their spleen over the Bulgaria striker's dire miss in the FA Cup semi-final penalty shoot-out defeat by Everton at Wembley on Sunday." James Lawton adds a fresh insult against Berbatov penning "if the Bulgarian had brought any less concentrated commitment to the task he would probably have slipped into a coma."
Nevertheless the Bulgarian is still in favour with Sir Alex, Mark Ogden writing "despite Berbatov's six-game goal drought and unimpressive form, however, United manager Ferguson remains fully supportive of a player who is expected to partner a fit-again Wayne Rooney against Portsmouth at Old Trafford on Wednesday night."
Newcastle's plight is assessed by Louise Taylor noting "a change of manager can often, at least temporarily, inspire previously under-achieving teams towards a few vital wins as players respond to a 'fresh voice'. Sadly Newcastle's decline is too deep-seated to be arrested by such means." Matt Barlow offers his own tactical change for the Toon – dropping Michael Owen. "With Mark Viduka and Obafemi Martins fit again and bursting off the bench to inspire a late rally at Spurs, Alan Shearer must consider the unthinkable – that dropping his friend and former England strike partner may be the best thing for the Geordie nation." And the calls to drop Owen are continued by Charlie Wyatt, who farts "the brutal reality is Owen, 29, no longer delivers the goals Newcastle need."
Niall Hickman delivers more bad news to Toon fans, barking "Newcastle face financial Armageddon if they are relegated next month… The squad is full of players who have no relegation clause in their contracts, meaning the club will be in dire straits unless Shearer can steer them away from the drop."
Ian Wright's latest ramblings in The Sun sees the talking-head evaluate Wolves' chances next term. "If Mick McCarthy gets it right with the players he brings in, Wolves could become an established, medium-sized top-flight team. In my opinion, Wolves are a bigger club than the likes of Bolton, Blackburn, Wigan and Fulham." Staying with Wolves, the Mirror report that "Mick McCarthy is lining up a £4million bid for Chelsea defender Michael Mancienne as he prepares for the Premier League."
In today's other transfer news, Scott Rutherford is one of many who report that "Roque Santa Cruz may have played his last game for Blackburn Rovers after claiming he has told the club that he wants to leave at the end of the season." The Mirror's John Cross jumps on this story to claim that Liverpool are tracking Santa Cruz.
In the Daily Mail we learn that "Arsenal are reportedly in pole position to sign 16-year-old Brazil star Wellington… Atletico and Real Madrid have also been tracking him, while Manchester United and Chelsea have also been linked with his signature, but Arsenal are understood to be his preferred destination." And according to Darren Lewis, "West Ham to step up interest in Inter Milan starlet Mario Balotelli."
In an offbeat article, Kevin Mitchell wonders whether BBC radio commentator Alan Green is a treasure or a tearaway. "He's in the opinion business, after all, and he has plenty of them. Indeed, he probably has them in his sleep. In his waking hours they flow through that abrasive sieve that is his challenging Ulster delivery. No other accent invites an argument with such lack of ambiguity. It is his gift."
In the Guardian's European round-up, Leander Schaerlaeckens investigates how Louis van Gaal's AZ Alkmaar side shocked every expert by becoming the first side from outside the 'Big Three' to win the title for 28 years. The Telegraph's Rory Smith adds "van Gaal has taken Holland's Leicester to the title. He has broken the cartel."
On Serie A, Paolo Bandini picks up on the racist chanting which Juve fans dished out on Inter's Mario Balotelli. In France, Ben Lyttleton looks at reasons for Lyon's demise flagging up "rotten luck with injuries… a coach trying to adapt a new system to his players… squad disharmony, overreliance on Benzema and individual mistakes at the back." Lastly, Sid Lowe in Spain writes about how "divine intervention may yet ensure Espanyol keep their seat in La Liga."
---