"Didier Drogba could have been blinded or even killed by the Burnley morons" – Ian Wright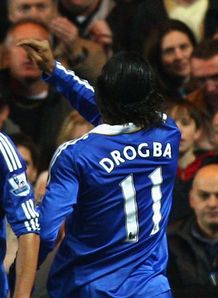 Comment & analysis round-up
Quote of the day: "My time at Tottenham went exceptionally well. I took a lot of pleasure in what I achieved. I had a lot of success. I did a lot of good for the team and left a club in great shape. The current results are showing what I did for Tottenham. The team is great and young. I am still asking myself what happened in the end. I don't understand it. I advised the club to take a coach (Ramos) and it went well at first. But when he had problems the club turned on me. I am leaving a club with a lot of assets, many, many good players." – Damien Comolli.
Runner-up: "When we lost to Arsenal in the FA Cup last season, Arsene Wenger was very complimentary about our performance and he loaned us young midfielder Mark Randall on the back of that game. Arsene liked the way we went about the game and I have no doubt that it had a big influence on his decision to send Mark to Turf Moor. Hopefully, we can now build a similar relationship with Felipe Scolari and Chelsea because they have some players that I would love to work with here. I tried to get Scott Sinclair on loan last season, but that fell through at the last minute. And I was also keen to sign Michael Mancienne on loan before he went to Wolves. I'm always looking to build relationships and pick people's brains, though, so the trip to Chelsea was always about more than the game for me." – Owen Coyle.
Today's overview: Not for the first time in his career, Didier Drogba's behaviour dominates the back pages. Many of the papers lead with the coin throwing incident from the Blues' Carling Cup clash defeat to Burnley.
Matt Lawton (Daily Mail) claims "Didier Drogba is facing a minimum three-match ban after it emerged that referee Keith Stroud did not see the Chelsea striker sling a coin at Burnley supporters or flip his middle finger at them." The lead story in The Sun details that both the FA and police are to probe the incident and Gordon Taylor even criticises a member of his players' union.
Graham Poll in the Daily Mail analyses an "ugly week for football," raking over a number of incidents that have occured in English football in the last seven days. On the Drogba incident, the man who gave three yellow cards in the World Cup writes: "Drogba should have been shown a red card for his behaviour on Wednesday night — he was not because, I understand, referee Keith Stroud did not see either his coin-throwing retribution nor his obscene gesture, which explains why Drogba remained on the pitch. Now let's see how the FA respond." Jasper Gerard in the Telegraph also lays into the Chelsea striker: "He is an easy player to admire, Didier Drogba, but a harder man to like."
But, Ian Wright in The Sun comes out in support of the Drogs with a typical nonsensical piece that starts: "Didier Drogba could have been blinded or even killed by the Burnley morons who pelted him with coins the other night. So what action will be taken against those scumbags who are probably sitting down the pub right now bragging about it to their mates?"
Joining Wright and West Ham boss Gianfranco Zola, is Tony Cascarino (The Times) who writes: "All the talk is about how long Didier Drogba's ban should be and that's taking the focus away from the person who started the whole thing – the fan who threw the coin at him… Stop fans abusing players and you stop the problem of players being pushed past breaking point."
On football matters following the defeat to the Championship side, David Hytner (Guardian) looks at Chelsea's "faltering home form."
With Spurs continuing their impressive run under Harry Redknapp, Sam Wallace reveals in The Independent "How Harry got Spurs hot again." On Football365, Alan Tyers marvels at the managerial prowress of 'Arry: "You can't beat a bit of banter if you want to get ahead, as Harry knows better than almost anyone alive."
Also on the recent Carling Cup action, Stuart Pearce in The Sun urges "Wenger's babes" to leave the Emirates to become England internationals. On the financially troubled pair of Everton and Liverpool, "top dealmaker" Keith Harris urges the Merseyside giants to share a ground.
With this week marking Sir Alex Ferguson's 50th year in professional football, there are a number of tributes. The Sun salute Fergie and then select 50 highs 'n lows, Ian Ladyman in the Daily Mail charts "one of the most celebrated and envied CVs in football" and Oliver Kay in The Times also has a tribute. In other United news, James Ducker claims the champions are still keen to seal a deal for Carlos Tevez.
There are a number of other articles worth a look in the Guardian. Matt Scott reveals that "Fifa's plans fora '6+5 rule' of quotas for domestically qualified players in clubs' starting line-ups appear more developed than suspected." Following Joe Kinnear's recent comments, Harry Pearson asks "Why shouldn't Mickey Mouse be a referee?" And, Paul Doyle analyses whether a team of ex-pros entering the FA Cup would be a good idea: "Traditionalists would no doubt fulminate against the triumph of celebrity-based gimmickery over tradition and dignity – but you'd watch their matches, wouldn't you?"
Click here for more Premier League betting tips
---