Di Matteo sacked for dropping Torres & Abramovich tempts Pep with £15m a year offer as Benitez takes on Chelsea chalice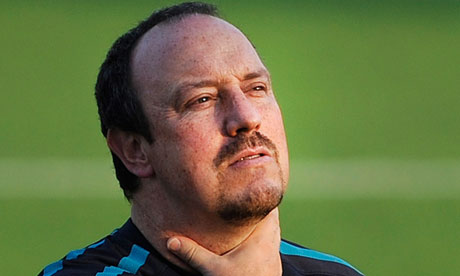 Comment & analysis round-up
Quote of the day: "The reason [I have not coached for two years] is that you are looking for a top side that can challenge for trophies, because there are not too many top sides that can challenge so I had to wait. I am looking for a club that can challenge for trophies so Chelsea is one of these clubs." – Rafa Benitez.
Runner-up: "Pep will not decide which club he will coach until January or February. He will be the only one who decides his future because he is a strong personality. Right now he is resting, reading, watching football. In January he will start to think about what team he wants to coach." – pep Guardiola's agent Josep Maria Orobitg.
Rafa Benitez takes over at Chelsea
Gaffer Rafa! Benitez takes interim job at Chelsea… but fans furious and Pep has £15m-a-year offer (Neil Ashton, Daily Mail) Rafa Benitez will meet Chelsea's shell-shocked players today after being appointed interim manager in the wake of Roberto Di Matteo's brutal dismissal. Sportsmail exclusively revealed yesterday that  Di Matteo was to be sacked and replaced by  Benitez after Chelsea's 3-0 defeat against Juventus. The axe duly fell at the club's training ground in the early hours of yesterday morning. Owner Roman Abramovich wants former Barcelona coach Pep Guardiola to be Di Matteo's long-term  successor, and has offered to make him the highest-paid manager in the world on £15million a year.
Raf ride: Chelsea fans threaten boycott after old foe Benitez is named new boss (Martin Lipton, Daily Mirror) Rafa Benitez will walk into a Stamford Bridge bearpit on Sunday after being appointed Roman Abramovich's ninth Chelsea manager. Former Liverpool boss Benitez is parachuting into SW6 until the end of the season following Roberto Di Matteo's early-hours sacking. But the 52-year-old will instantly be confronted by the wrath of the Chelsea fans who voiced their anger over Abramovich's decision to give the Spaniard Di Matteo's job. Benitez was confirmed as "interim first team manager until the end of the season" even before he boarded an overnight flight from Abu Dhabi, due to touchdown at Heathrow at 7am. Chelsea's top target, former Barcelona coach Pep Guardiola, has turned them down once but will be approached once again in the summer, with Abramovich believing he could still get his man.
You Luiz! Why Chelsea hiring Rafa Benitez is bad news for the loose-cannon defender (David Maddock, Daily Mirror) Ask any of his former players what Rafa Benitez brings to management, and universally they will offer an answer that provides insight into his appointment by Chelsea. The Spanish coach is a bit of a Marmite figure among his ex-charges, they either love him or hate him. But whichever side they are on, not one has anything but praise for his meticulous planning and preparation. Under Roberto Di Matteo, Chelsea have looked a side lacking direction at times, their new inventiveness through the likes of Eden Hazard and Oscar too often undermined recently by a corresponding lack of discipline. Conversely, few managers can match Benitez when it comes to tactical acumen, or strategic thinking. With him, it is guaranteed that players will know their roles precisely – even if they don't always enjoy them.
New Chelsea manager Rafa Benítez must restore reputation at Stamford Bridge (Ian Chadband, Daily Telegraph) The first question that gnaws away at you about Chelsea's impending marriage with Rafa Benítez is: 'Why would Roman Abramovich feel the need to get rid of a man whose Champions League win was a glorious fluke with a man whose Champions League win was a glorious fluke?'
Roberto Di Matteo's sacking at Chelsea
Stabbed in Di back at 4am (Mark Irwin, Sun) Roberto Di Matteo was brutally axed as Chelsea boss by Roman Abramovich at 4am yesterday — straight after his plane landed following the 3-0 defeat by Juventus in Turin on Tuesday night. The 42-year-old was sacked by the billionaire Russian owner's henchmen at the club's training ground just 187 days after leading the Blues to Champions League glory. The ruthless dismissal was slammed by fans and players. Last night, ex-Liverpool boss Rafa Benitez took over at Chelsea. Di Matteo — who earned Chelsea £47million by winning the Champions League — was already a dead man walking as he landed at Gatwick Airport at 2.30am yesterday and posed with fans. As the manager was driven back to Chelsea's base in Cobham, Surrey, merciless Abramovich was already on the phone to his henchmen — club chairman Bruce Buck and chief executive Ron Gourlay — telling them the Italian had to go straight away. 
Diabolical Blues told RDM he'd be axed if he dared to drop Torres (Mark Irwin, Sun) Roberto Di Matteo was warned he would be sacked if he axed £50million flop Fernando Torres. SunSport can reveal that Chelsea chiefs were aware Di Matteo was thinking of dumping owner Roman Abramovich's pet signing against Juventus on Tuesday. They advised the manager not to but the Italian ignored the warning — even though he knew it would cost him his job. Former Liverpool chief Rafa Benitez has been named as interim boss until the end of the season. Di Matteo was ruthlessly axed at 4am yesterday, hours after Chelsea were effectively knocked out of the Champions League with a a 3-0 defeat in Italy. Abramovich still hopes he can get former Barcelona coach Pep Guardiola in the summer.
He won Abramovich the Champions League but was repeatedly told to play Torres: The real story behind Di Matteo's brutal sacking (Neil Ashton, Daily Mail) When Roberto Di Matteo named his team at Turin's luxurious Golden Palace Hotel on Tuesday lunchtime, it was a final act of defiance. Fernando Torres paid for his pitiful performance at West Bromwich on Saturday and Di Matteo knew the evening would end in yet another change in personnel. On this occasion, in the office of the Chelsea manager. But Di Matteo sensed the end was coming long before his 42nd and last game in charge. As early as last summer, when he dared question the strength of Torres' ambition at Chelsea, the European Cup-winning coach was left in no doubt about who is actually in charge at Stamford Bridge.
Di Matteo is just the latest victim of Roman's random reign at Chelsea (Martin Samuel, Daily Mail) They sack the man who swept the board at Porto; his assistant, who nearly got West Bromwich Albion relegated, takes the same group of players and wins the Champions League. They sell their most influential player to China; they spend £50million on one who can't get in the team. Mark Hughes is yet to win a Premier League game at Queens Park Rangers this season, Roberto Di Matteo held the Champions League trophy aloft six months ago. Guess who is first out the door? Yet don't say he didn't warn you. Abramovich never wanted Di Matteo to be his manager, and he made that plain all along. A regular feature of Chelsea's progress to the Champions League final in Munich was a managerial press conference in which Di Matteo was asked, repeatedly, when he was going to be given the job full time. He did not once entertain the question, wonder aloud, or encourage speculation.
Torres has finished off more bosses than chances (Steven Howard, Sun)  Roman Abramovich's love affair with a big-name striker has cost yet another Chelsea manager his job. By the time Roberto Di Matteo was sacked at 4am yesterday on his return from Chelsea's 3-0 drubbing by Juventus, Fernando Torres had played a huge role in the demise of the last three managers — Di Matteo, Andre Villas-Boas and Carlo Ancelotti. You would have thought Abramovich might have learned something from the Andriy Shevchenko fiasco. Jose Mourinho, preparing for the 2006-2007 season after winning his second title, was landed with a player he never wanted. But the Russian owner was adamant: He's my man, he cost £30million and he's in the team. Mourinho's nose was put out of joint and his relationship with Abramovich never recovered.
What next for Pep Guardiola?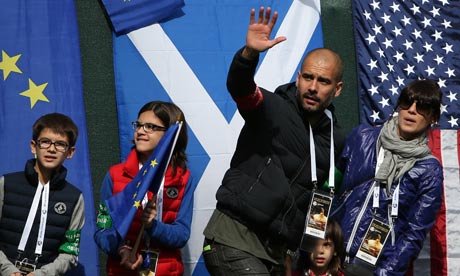 Pep Guardiola will keep Chelsea waiting and may not come at all (Sid Lowe, Guardian) It is hard to avoid the conclusion that Roman Abramovich stuck with Roberto Di Matteo for the same reason that he was a John Terry slip away from sticking with Avram Grant: not because he wanted to, but because he had to. How can you sack the coach who has just won the club's first ever European Cup? Especially when the man you really want isn't available. Not yet, any way. He still isn't. The ideal scenario was for Di Matteo to continue until the end of the season, successfully overseeing a transition before stepping aside. But that lack of conviction in Di Matteo, and the lack of assuredness over the future beyond the final in Munich, always meant that little excuse would be needed to sack the Italian. In theory, the long-term dream remains in tact; in reality, another short-term fix is a fact. Guardiola is seduced by the former idea and repelled by the latter. Once again, the job has become available before Guardiola is ready to take it. He was on the other side of the Atlantic when Di Matteo's sacking was announced and as he wakes up to the news he will be in no hurry to move. Timing matters to him and Chelsea's timing has been awful.
Why would Guardiola even consider going near Roman's gilded playpen? (James Lawton, Independent) There is no mystery in Rafa Benitez's rush to the colours of Roman Abramovich. He has scarcely concealed his eagerness to return to the game. But then nor should there be any surprise that Pep Guardiola, the oligarch's latest favourite football man, has for the moment at least chosen the stimulations of the Big Apple over the club whose treatment of Roberto Di Matteo must suggest for some a certain rottenness at its core. Why, if you are a lord of the football universe, if you have credentials which give off an almost unearthly glow, would you consider for a second, serving an organisation which has proved so incapable of either understanding, and still less respecting, the nature of the challenge facing even the very best of your trade?
Former Barcelona coach Pep Guardiola's stock rises despite taking time out (Paul Hayward, Daily Telegraph) The formula for great young philosopher-managers: retreat to Manhattan, gaze across the trees of Central Park and wait for the offers to roll in. Seldom has inactivity enhanced a reputation like the sabbatical now being enjoyed by Pep Guardiola, who stepped away from the madness and made himself infinitely more powerful in the Premier League jobs market. The mystique acquired by Barcelona's former coach was earned. Guardiola added a decisive tactical dimension to the brilliance of Lionel Messi, Andrés Iniesta and Xavi Hernández and raised them to another level. But fatigue and politics drove him off in search of another kind of life. This display of broad-mindedness – or vulnerability, take your pick – has only increased his options. His face fits nicely in the frame for jobs at Chelsea, Arsenal, Manchester City or Manchester United, in the short or longer terms.
Manchester City dumped out the Champions League group stages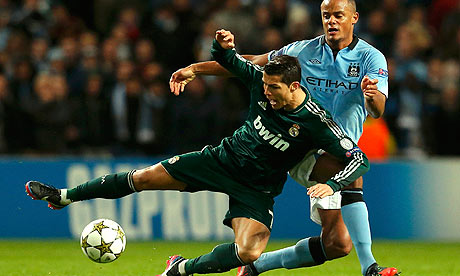 Mancini declares job is safe after a second consecutive Champions League failure (John Edwards, Daily Mail) Roberto Mancini backed himself to survive another Champions League failure last night after Manchester City crashed out at the group stage for the second season running. A 1-1 draw with Real Madrid consigned City to a straight fight with Ajax for a place in the Europa League, but when he was asked whether it might cost him his job, a surprised Mancini answered: 'No. Why? Why? I think the season is long. You have the Champions League, the FA Cup and the Premier League and if we think we can be champions of Europe after only two years, we are crazy. 'We need to improve as a team. We did some mistakes, but we are a good team. I don't have any fear about this. But I think this season's campaign has been worse than the last one.
Manchester City undone by lack of star turns and concentration (Jamie Jackson, Guardian) The tale of Manchester City's travails in this season's Champions League was told in the Real Madrid opener here. A sleepwalking home defence dawdled and when Angel Di María swung in a cross from the right Maicon watched Karim Benzema wander away to slot home past a helpless Joe Hart. Cut to a Roberto Mancini looking embarrassed at what he had witnessed. A few moments later the emotion on the City manger's face was fury: this time Cristiano Ronaldo skipped past Maicon too easily and flipped in a ball from the left that Sami Khedira, again unmarked, hit just wide. Lax defending and an unhappy search for fluidity and a menacing edge have killed City in this second campaign among the continent's elite.
Back for Mour (Shaun Custis, Sun) On the day Chelsea sacked Roberto Di Matteo and replaced him with Rafa Benitez, Blues fans must have cast an envious glance towards the Etihad as the Special One went about his work. Jose Mourinho, having had three rock 'n roll years at Stamford Bridge, was back in his favourite adopted country plotting Real Madrid's march towards the knockout phase of the Champions League. And you could not help wonder how long it will be before Mourinho is back in England for good, possibly in charge of Manchester City. He misses us, he really does. Mourinho won last season's La Liga title with record points and record goals scored but they don't love him in Spain like we do in England.
Arsenal qualify from the Champions League group stages, again
Jack's near his best, but I won't burn him out! Wenger vows to protect talisman Wilshere (Sami Mokbel, Daily Mail) Arsene Wenger insists he will protect Jack Wilshere from burn-out, despite admitting his talismanic midfielder is approaching his best form.
Against Montpellier the England midfielder scored his first goal in 725 days – his first since returning from a 15-month injury nightmare. It was Wilshere's fifth game since returning in the win over QPR on October 27, and the manager claimed he was only a matter of weeks away from replicating the performances that took English football by storm before his lengthy spell on the sidelines.
How Olivier Giroud quietly became indispensable to Arsenal's attack (Amy Lawrence, Guardian) It has become increasingly clear over the past few weeks that Giroud has become a leading light in Arsenal's attacking strategy. He demonstrated that again against his old club Montpellier by racking up yet more assists for his collection. They were impressive in their variety too. The first was a classic big-man knock-down where he hung in the air to nod the ball on for Jack Wilshere to flick in the opening goal. Then Giroud found his inner Alex Song, and scooped a deft pass for Lukas Podolski to volley in with stirring ferocity. The Frenchman's statistics are encouraging now. Despite a slow start, when Wenger even felt it necessary to remove him from the starting XI firing line between September and October, seven goals and six assists from 11 starts in Arsenal colours tells of a compelling improvement.
Marouane Fellaini hints at Everton exit
Fab four: Fellaini hints Everton must reach Champions League for him to stay (David Maddock, Daily Mirror) The midfielder is desperate to do that with Everton, but the clear inference must be that he will consider his options in the summer if they don't manage it. "I want to play in the Champions League, and if Everton finish in the top four then I'm happy to stay here – I'd love to do that with Everton," he explained. "I want to do that. I want to improve as a player, and I want to give everything for Everton. They brought me here from Standard Liege and gave me my chance to play in the Premier League, and I always want to repay them for that. "I had two big injuries and they stuck by me and I worked very hard to come back from them. I feel good now in terms of my fitness, and I want to go to the next level, in the Champions League."
---