David Villa wants to sign for Arsenal & Rafa Benitez thinks he will be Chelsea boss next season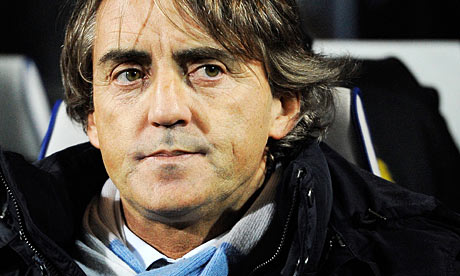 Comment & analysis round-up
Quote of the day: "Of course I will be supporting United when they take on Real Madrid. I might even go along to watch with a little red and white flag. I don't know if we can make up the gap on United but I do think they will find it a little bit harder in February and March and that is when the title might be decided. When you have 14 games left you still have a chance, because it is a long season and anything can still happen. When we played Real Madrid it took a lot out of us and I think United are going to find it difficult as well, because along with Barcelona [Real] are the best in the world right now." – Roberto Mancini.
Runner-up: "On the day of the draw I was out training and I had this strong feeling that we were going to get Manchester United. And when the draw was made I was very happy. It's a tough match of course — Madrid and United are the two biggest clubs in the world and it's a real 50-50. It could go either way. But for me it will be a pleasure, a real pleasure. Of course I know there will be a lot of attention on me but for me there is no pressure, no pressure at all. It is only a game, just a football match against my old club. I'm not going to war, I'm going home — and I am really looking forward to it." – Cristiano Ronaldo.
The Sunday Sun say David Villa wants to sign for Arsenal (The Sunday Mirror disagree)
Arsenal's Villa thriller (Sun, Antony Kastrinakis, Sunday Sun) David Villa wants a £14million summer move to Arsenal. Barcelona insiders say the striker, 31, has set his heart on a switch to the Gunners after deciding to quit the Nou Camp. Boss Arsene Wenger failed in a bid to land Villa last month. But the Spanish star will have just a year left on his contract and Arsenal are likely to get him for less than the £16m demanded in January. After a long-term injury last season, Villa has failed to command a first-team place at Barca this term. He has made just 15 competitive starts — yet still scored 10 goals.
Out Gunned: Arsenal set to give up chase for Barcelona striker David Villa (Dave Jones, Sunday People) Arsenal are set to give up their pursuit of David Villa, writes the Sunday People. Though Gunners have been tracking the Spanish striker through the transfer window, Barcelona made it clear they would not be willing to sell until the end of the season. There was talk that boss Arsene Wenger would be prepared to hold off until the summer before tabling a £9million bid. But now he has indicated to staff that he is going to turn his attention to younger options instead.
Rafa Benitez thinks he's staying at Chelsea
Wishful thinking? Chelsea players think Benitez is doomed but boss is defiant (Matt Law, Sunday Mirror) Chelsea players are convinced Rafa Benitez is fighting a losing battle to stay on as manager. And that is despite training ground warnings from interim boss Benitez that he will still be at Chelsea next season. Sunday Mirror Sport understands Benitez has tried to motivate players by telling them performances cannot drop because he is going nowhere. But the claims have been shrugged off as a "desperate" move by Benitez to try to ensure his and Chelsea's ­season does not collapse. Benitez is only contracted to the club until the end of the season, but the Spaniard last week made his first play for the full-time job by saying "it is a great opportunity."
Gary Neville on Mario Balotelli
If Balotelli really was a genius he would surely still be at City. The truth is that, as a footballer, he's simply unprofessional (Gary Neville, Mail on Sunday) Because Balotelli wasn't a maverick, he was an unprofessional footballer. Fighting with your team-mates and manager, getting sent off in crucial games, going out the night before a match and causing a disturbance the evening before a big game are all examples of that. Of course, he has talent. But if he was touched with genius, he would still be at Manchester City. There's no doubt he had his moments, some of them excellent. But at Manchester City they weren't delivered consistently enough. You always have to weigh it up with characters such as Balotelli: is the negativity worth it because of what he's giving the team? And Manchester City have come to the conclusion it's not. I have always said you do have to show some tolerance towards young people who make their mistakes in public, particularly today, when everything is recorded on social media and there's no private place. So maybe we shouldn't give up on him just yet. His displays at Euro 2012 were excellent. Everyone cites the semi-final against Germany, where his instinctive finishing won the game. But I was more impressed with how he played against England. He surprised me with a selfless, disciplined performance in which he constantly ran the channels and held the ball up for team-mates. It wasn't as eye-catching but it was excellent and I wondered if we'd see a different Balotelli this season.
Carlos Tevez next out the door at the Etihad
Argy bargy: Carlos Tevez heads massive Man City summer clear-out (Simon Mullock, Sunday Mirror) Carlos Tevez will be allowed to leave Manchester City as the champions plan a massive summer clear-out. The Argentine striker has shown no inclination to sign a new deal at the Etihad Stadium as he pines for a return to his South American roots. As his current deal moves into its final 12 months, City will look to recoup some cash on a player who will turn 29 on Tuesday by making it clear they will listen to offers. Edin Dzeko, Samir Nasri, Joleon Lescott, Scott Sinclair, ­Aleksandar Kolarov and Maicon are also being lined up for the Etihad exit door.
Can QPR stay up?
QPR's big transfer window gamble strays close to line of recklessness (Daniel Taylor, Observer) There is, after all, a point when spending becomes reckless and QPR are surely straying close to the line when, even ignoring for one moment the Loïc Rémy deal, they have just splurged £12.5m on a 28-year-old centre-half – Chris Samba – and agreed to pay him somewhere around £20m in wages over the next four and a half years. It is true, granted, that someone with Samba's competitive courage could be an important player for a club that have won two league fixtures all season and that, if the gamble comes off and there is a dramatic late feat of escapology, they will no doubt consider he was worth every penny. But £12.5m?
Queens Park Rangers chairman Tony Fernandes says Premier League club 'will not become a Portsmouth' (Jason Burt, Sunday Telegraph) Tony Fernandes, the chairman of Queens Park Rangers, has strongly defended the club's spending in the January transfer window and denied he has acted "recklessly" insisting there is a "sensible" business plan in place. The Malaysian entrepreneur said that if QPR were relegated from the Premier League it would not lead to a financial meltdown. "I'm an accountant, I run businesses. We are sensible with what we are doing," Fernandes said, claiming that the club's wage bill had actually been reduced in January, because of the number of players who had gone out on loan, and despite the arrival of high-earners Christopher Samba, for £12.5 million, and Loïc Rémy for £7 million. On the pair, Fernandes denied that Samba was being paid as much as £100,000-a-week and insisted that the defender would stay at the club should they be relegated – and did have a clause in his contract reducing his salary. Rémy, however, would be sold.
David Beckham signing for PSG
I'm happy to have Beckham here in Paris, but it's not my team, it's the owner's team, says PSG manager Ancelotti (Rob Draper, Mail on Sunday) In the end, the best-laid plans came together in a rush. On Tuesday, Carlo Ancelotti was not anticipating adding David Beckham to his squad. By Wednesday, a deal was being worked on. By Thursday morning, the former England midfielder was jetting to the French capital. 'It was a really quick deal,' said Ancelotti, the former Chelsea manager, now at Paris St-Germain and charged with finding the best role for the 37-year-old in a team three points clear at the top of the French league after Friday's 4-0 victory at Toulouse. While it would be wrong to say it has been a normal week at the office – nothing relating to Beckham mania could ever be described as normal – it would be fair to say that there is little that can surprise Ancelotti. PSG, after all, are a club that have spent £220million on new arrivals since the takeover by Qatar's Al-Thani royal family in 2011 – more than Sheik Mansour got through in his first 18 months at Manchester City.
Beckham 'to make mint from £3 PSG shirts sold for £96' (Neil Syson, Sunday Sun) Replica football shirts which cost just £3.50 to make but sell for £96 will net David Beckham millions, it was predicted last night. Sponsorship experts reckon he will rake it in from tops bearing his name and squad number 32 after his deal with Paris Saint-Germain. The income would outstrip the £3million wages he has chosen to give to a French children's charity — and save him crippling taxes of up to 75 per cent. Profit from the sale of merchandising is subjected to just 30 per cent in tax across the Channel.
Poor Paul Gascoigne
"No one can save me": Shocking pictures show Paul Gascoigne wracked by booze and pills (Nick Owens, Sunday Mirror) Eleven  o'clock in the morning – and Paul Gascoigne ­cuts a sad figure as he emerges from an off licence with a bag of strong lager. Just two days earlier the bloated and barely recognisable ex-England star had burst into tears in front of 500 people at a ­charity event and was led off stage shaking and trembling. But despite previously vowing to beat his demons, Gazza has told friends he knows he is in danger and admits that he "can't live without a pint". Pals fear his drinking is out of control and he will end up killing himself with booze. He told one: "The one thing I can't live without in my life is a drink," adding: "I know I have to stop boozing but I simply can't."
England v Brazil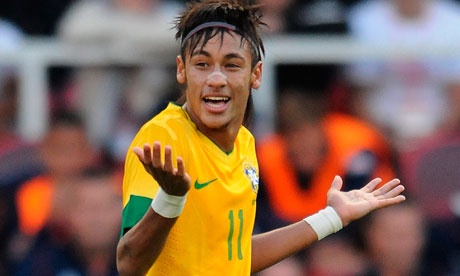 Enduring bravura of Brazil ready to decorate the Wembley stage (Barney Ronay, Observer) This time around it is Brazil, rather than England, who find themselves poised on the verge of interesting times. Staged as part of the FA's 150th anniversary celebrations, a visit to Wembley also provides a starter's pistol shot on the final 16 months of epic-scale preparation for Brazil's first home World Cup since 1950. If Roy Hodgson's England find themselves in a customary period of reconstruction, this pales next to the current fug of pre-World Cup tension swirling about a Brazilian team ranked – misleadingly – 18th in the world, and with Luiz Felipe Scolari taking charge for his first game back as manager after the sacking of Manolo Menezes.
England v Brazil: world football's unique relationship (Henry Winter, Sunday Telegraph) Always good box-office, Brazil glide into a sold-out Wembley this Wednesday to help the Football Association celebrate its 150th birthday. Good choice. Three of the distinguished visitors, guest of honour Carlos Alberto Torres, coach Luis Felipe Scolari and the recalled attacker Ronaldinho are particularly adept at blowing out England candles. Think Guadalajara 1970 and Shizuoka 2002. If England is the mother of the game, Brazil is her most gifted, garlanded son and any meeting is bound to be special. "It's an iconic fixture,'' said John Barnes, who himself enhanced the history of this famous fixture with that memorable 1984 dribble through Brazil's defence at the Maracana.
Crazy Peter Odemwingie
Peter Odemwingie, a mystery injury, the England manager and the bizarre Deadline Day transfer saga that ended in farce (Simon Hart, Independent) Whatever else Peter Odemwingie does on a football pitch, he will be forever known for one thing: as the man who turned up to sign for a new club but failed even to get through the front door. Thursday evening's bizarre events at Loftus Road was the biggest story of the week in English football and – with the help of Sky Sports News and Twitter – gave us a very modern morality tale. On a typically overhyped deadline day, it was the transfer that did not happen which left Odemwingie – the West Bromwich Albion striker born in Tashkent to a Nigerian father and Russian mother – as the villain of this 21st-century piece and the butt of a good few jokes too; Arsenal's Alex Oxlade-Chamberlain tweeted: "Does Odemwingie need a place to stay tonight?"
---
GAMBLING CAN BE ADDICTIVE, PLEASE PLAY RESPONSIBLY