"David Sullivan made one mistake with Gianfranco Zola. He should have sacked him when he had the chance in January." – Martin Samuel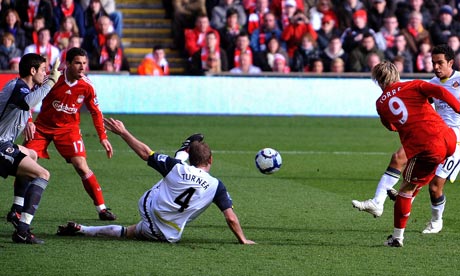 Comment & analysis round-up
Quote of the day: "It will not be easy to deal with Rooney because he is such a good player. We normally man-mark players like him but I don't think we can with him because he is too good. We will have to defend zonally so that more than one player can take care of him." – Mark van Bommel
Runner-up: "I've scored better goals and, hopefully, the best are still to come. For me it's about keeping going and scoring more goals. That's my job. We're going the right way as a team. The last part of the season has been much better and now we have six games left to continue playing like this. We have to be as strong away as we are at home. You could see from the first minute this was a different team compared to the first part of the season. We have confidence now and you can see we are playing well. Now we have to try to win all our games, wait for the other results and see where it leaves us." – Fernando Torres.
Today's overview: There are no shortage of themes this Monday morning as Liverpool are lauded, West Ham are in crisis, there is the Champions League this week and club ownership in England could see some drastic changes.
Sunday's action: Steven Gerrard takes the plaudits for his performance in Liverpool's 3-0 win over Sunderland yesterday. Oliver Kay: "With Fernando Torres scoring twice and Steven Gerrard driving them forward from his central midfield position of old, this was as impressive a performance as Rafael Benítez's side have produced for a long time. Fourth place, which has long been the limit of their ambitions in the Barclays Premier League this season, remains distant, but this was a display that will have caused unease at Tottenham Hotspur and Manchester City."
In his weekend round-up, Jamie Redknapp hails Jamie Carragher. "A sensational opening goal for Fernando Torres heralded a welcome return to form — now seven in four games — but my favourite statistic at Anfield has to belong to my old mate, Jamie Carragher. That was his 620th game for Liverpool, which means he pulls alongside Alan Hansen in the all-time Anfield appearance list. What a servant he's been."
Ian Herbert meanwhile enjoyed the performance of Maxi Rodriguez. "Fernando Torres, whose mere six goals away from Anfield this season tells the story of their travels, extended his tally here to seven in four games but for once he was overshadowed by others. Maxi Rodriguez, in particular, showed that £1.5m can buy you talent with his finest performance for Liverpool, characterised by a wonderful touch, a simplicity in passing and an understanding with Steven Gerrard."
David Pleat offers little support to Burnley fans looking for some hope from their derby defeat to Blackburn. "The home team desperately needed craft and pace. The introduction of Eagles on the right and Robbie Blake on the left showed belated ambition, allowing Elliott to maraud forward in support. A more attacking philosophy earlier in the game and a determination to secure the match's first goal might have been more rewarding."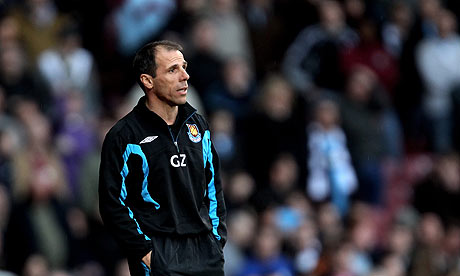 West Ham: The Sun's main headline reveals that West Ham's under performing players have been given three days off. Whilst Gary Jacob in The Times adds that Gianfranco Zola has been backed to see out the season by West Ham's owners. But Jason Burt punctures this image with the news that "Gianfranco Zola will hold a crisis meeting with the West Ham United squad before making a final decision on whether to quit the Premier League club."
The consistently excellent Simon Barnes casts his eye over the English attitude to leadership. "We believe that leadership is innate. That's why, time and again, we make top-level managers of footballers who have no experience of management. As a result, we have a glorious record of destroying young managers before they have begun. We appoint them to a job beyond their capacities on the assumption that their in-built leadership qualities will somehow see them through. We believe that leadership is not a skill but a gift. The victims of this belief make a series of glaring public mistakes and are branded failures. The latest in a long line is Gianfranco Zola."
Steven Howard also lays it on thick to describe West Ham's plight. "Desperate times at Upton Park require desperate measures. After five successive defeats, the brains trust got to work on how best to overcome mighty Stoke City. A tactical master-stroke or two from the coaching staff to outwit Tony Pulis? Stringing a few passes together or some shots at goal, maybe? No. To prevent Stoke's Rory Delap launching his enormous bombs, the club planted temporary advertising hoardings on the touchline. This being West Ham, one of them got knocked over. Cue a plea over the tannoy for 'a steward, please, to put that board back up.' What next, digging a trench?"
Martin Samuel pinpoints David Sullivan for his failure to sack Zola on arrival at Upton Park. "David Sullivan made one mistake with Gianfranco Zola. He should have sacked him when he had the chance in January. Not because Zola necessarily deserved it then, but because it was what Sullivan's gut instinct told him to do. Then, if West Ham United went down at the end of the season, Sullivan would have only himself to blame. Instead, right now what is coming through from his increasingly outspoken comments is not just his frustration and fear of relegation, but his resentment. He resents not having been the ruthless boss. He resents not backing his judgment. He resents sticking by Zola primarily to keep the crowd happy. He is an angry man, because he did not do what he wanted to do, and now it may be too late."
Champions League: Alan Hansen predicts another Manchester United-Barcelona final in the Champions League this season. "You would back Sir Alex's team to overcome Bayern and then, whether it be Lyon or Bordeaux in the semis, it would be United all the way for me. Arsenal have it all to do, especially with Inter Milan, who they could face in the semis, looking really impressive against Chelsea in the last round. Inter were dreadful in games against Liverpool and United in recent seasons, but they looked a much more formidable outfit against Chelsea. But despite their success in eliminating Chelsea, I would not expect them to beat Barcelona and that's why, as we prepare to watch the last eight, it looks like United versus Barcelona in the final."
Oliver Kay feels this season could be Sir Alex Ferguson's crowning glory. "This might not, on paper, be a great United team — and it is quite feasible, at this stage of the campaign, that they will end the season empty-handed — but in some ways this is beginning to look like the most admirable of all Ferguson's sides. There are perhaps fewer world-class players than in any of his successful teams — Rooney certainly, Evra probably, Vidic and Rio Ferdinand theoretically but with question marks over their fitness — yet it is slowly proving to be greater than the sum of its parts, epitomised by Darren Fletcher, once an ugly duckling of a footballer, now beginning to fancy himself as the cock of the North."
Ian Herbert speculates what might happen if the Premier League force Sir Alex Ferguson to speak to the BBC. "Those who believe it is time for him to be hauled back into line will welcome the notion of an official warning for the United manager, followed by fines of increasing magnitude. But any notion the Premier League has of dragging Ferguson back to the centre of the nation's footballing life is a delusional one."
James Lawton fears for Arsene Wenger ahead of the Barcelona tie, following the draw at Birmingham. "Wenger's best hope now is that his team will respond against Barça as they did after the Eduardo injury. Then, they went to San Siro and ransacked another set of reigning champions, Milan. Fabregas scored a goal of brilliant skill and great nerve and Wenger had reason to believe the crisis had passed. There were darker realities, however. One was that Milan would soon enough reveal that they were an old team in the process of falling apart. Another was that Arsenal carried wounds that went deeper than many, and perhaps even Wenger, imagined. What he probably wanted most on his return to St Andrew's was evidence that his team is a little older and rather more resilient. If he didn't get that, at least he could hope this time he was merely counting flesh wounds.
Stan Collymore, ranting as always, advises Arsene Wenger to buy a new keeper. "Whether Arsenal win the title or not they are surely going to have to buy a new goalkeeper this summer. I was at St Andrews for talkSport on Saturday to see their 1-1 draw with Birmingham. And I thought their Spanish shot-stopper Manuel Almunia was found wanting for City's late equaliser, when he was caught off his line. He also made a couple of duff clearances, which on another day might have been punished."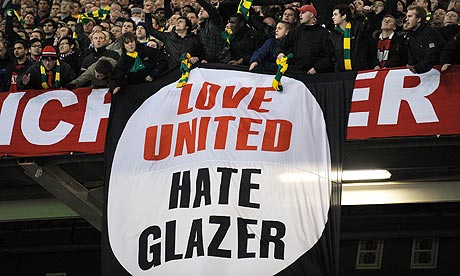 Club ownership: The lead in The Guardian is an exclusive from Owen Gibson. "The government is to unveil radical proposals that would give football fans first option to buy their clubs when they were put up for sale and require clubs to hand over a stake of up to 25% to supporters' groups. The ideas, due to be included in the Labour manifesto with a promise of action in the first year of a new government, are designed to give fans a far greater say in how their football clubs are run and overhaul the way the game is governed. It is believed that No 10, which has been working secretly on the plans for weeks, has resolved to deliver concrete proposals to tackle growing public disquiet at the level of debt carried by some clubs, the ownership model of others and the dysfunctional structure of the Football Association."
Patrick Barclay writes of Uefa's draft regulations on "financial fair play." "Overall, the proposals are sensible. Their central message is that clubs should spend no more on wages and transfer fees than they earn though gate receipts, television rights and merchandising — but that they can spend unlimited amounts on 'infrastructure' (stadiums, training facilities) and youth development. Although it is extraordinary that clubs have taken so long to acknowledge the bleedin' obvious, Michel Platini and his sidekicks deserve a round of applause."
On a similar note Gabriele Marcotti argues that the gap between rich and poor in European football has narrowed. "it's undeniable that we're seeing the kinds of title races many thought would be a thing of the past. Schalke and Bayer Leverkusen — eighth and ninth last season respectively — are challenging Bayern Munich for the Bundesliga crown. As many as six clubs have a realistic chance of winning Le Championnat. Roma, a distant sixth last season, are one point behind Inter Milan in Serie A and AC Milan are closing in as well. The Barclays Premier League remains a three-horse race. And, while Barcelona and Real may be steamrolling everybody else in La Liga, it remains a fascinating race that promises to go to the wire. So perhaps we ought just to sit back and enjoy it. If the trend has reversed itself, it can only make things more exciting. And, if this season is a blip and normal service resumes with the elites beating up on the cream puffs, at least we'll be able to look back with fondness."
Transfer tittle-tattle: We start with the managerial merry-go-round: Sven-Goran Eriksson has been appointed Ivory Coast coach for the 2010 World Cup and Roy Keane looks set to be sacked by Ipswich this week.
The Sun claim that Newcastle want Jimmy Bullard when they return to the Premier League. And the Daily Mail report that Bolton, Birmingham and Preston are all tracking Manchester United youngster Tom Cleverley and Geovanni is heading to AEK Athens. The Daily Mirror continue to churn out baseless rumours including Manuel Neuer to Manchester United (yawn) and Liam Ridgewell is to hand in a transfer request at Birmingham.
---
GAMBLING CAN BE ADDICTIVE, PLEASE PLAY RESPONSIBLY