David Beckham tributes, Arsenal want Rooney & Bale set for new Spurs deal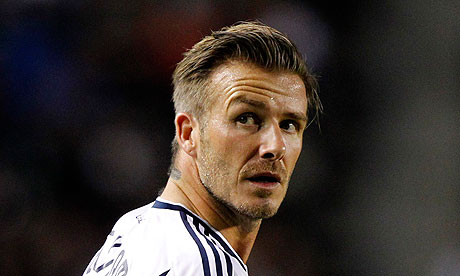 Comment & analysis round-up
Quote of the day: "I probably knew when Messi was running past me in the home game, but I'm privileged to have won the trophies I have won. Over the years, when I've seen players retire, when you ask them about it, they always say you'll know when you're ready and I think I know when I'm ready. I think I'm ready. Obviously it's a difficult decision because I still feel that I can play at the top level and still have done for the last six months. But I always secretly said to myself that I want to go out at the top. If you'd have said to me eight months ago I'd be playing in the French league — winning the French Cup, winning the league and finishing like this — I would have probably said "absolutely no chance" but I was given the opportunity to come to PSG and I just feel now is the right time." – David Beckham.
Runner-up: "Our league consistency hasn't been good enough these last two years. That's something we must address this summer. City and United have raised the bar and we need to get back to that battering ram mentality we had before, winning games 1-0 even when we're not at our best. We need to be able to close ranks and grind out results again as too many times in recent years we've had a bad month when everything has dropped away. When we won the title under Jose we were criticised for the fact we were so dogged but we certainly need to get some of that mentality back in our game. It doesn't mean taking away the beautiful football entirely because we have to cater for the creative players we have and get them into our team. But there has to be a happy medium because challenging for the league again next season is a huge priority and if Jose does come back it will be a huge lift for this club. He's the greatest manager in Chelsea's history and changed the whole mentality of the place to turn us into a winning club. The fans idolise him and those players who haven't worked with him before will soon understand that he'll come in and give them the extra edge that will turn us back into a consistent force." – Frank Lampard.
David Beckham tributes
Not bad for a clothes horse! Never mind the brand, Beckham was all about hard work and dedication (Martin Samuel, Daily Mail)
For a man who was only picked to sell shirts, it turned out quite a career. The only English footballer to win the league in four countries; England's most capped outfield player; 59 of his 115 international appearances came as captain; more competitive starts than any England player. Sir Alex Ferguson rated him. So did Fabio Capello and Carlo Ancelotti. He made the most of what he had; but anyone who says what he had was ordinary doesn't know a player. David Beckham wasn't Cristiano Ronaldo or Zinedine Zidane. It could even be argued that with the announcement made by Paul Scholes on Sunday, he wasn't even the greatest Manchester United player to retire this week. But don't let it be said that he wasn't special. And not special in our modern media sense, either, a special brand, or a celebrity special. Beckham was special as a footballer.
Lionheart: Beckham's refusal to admit his England days were over was not vanity or self-delusion, it was respect (Oliver Holt, Daily Mirror) Around 18 months ago, David Beckham sat in one of the empty stands at the Home Depot Center. It was a balmy autumn day in Los Angeles and Beckham, who will retire as a player later this month, looked a picture of contentment as he talked. Once, perhaps, he had been a divisive figure, someone who had been accused of caring more about style than substance. Some said he had been indulged because of his commercial worth – he had been bought to sell shirts. Critics saw him as a symbol of a game chasing the dollar. They overlooked the fact he was picked for England by seven different managers. That had all changed by the time he sat in the late morning sun that day in Carson, California. By late in his career, everybody loved Beckham.
David Beckham exits as gracefully as one of his arcing crosses (Daniel Taylor, Guardian) Over the coming days it is fair to say we should expect to see quite a few replays of the free-kick David Beckham famously speared into the net against Greece and that slightly unusual feeling – growing old, possibly – when so many people who have been a part of our football lives are politely showing themselves to the door. Never before can there have been a time in football when retirement has been so de rigeur among the A-listers. Paul Scholes and Jamie Carragher have already called time on their own careers. Michael Owen's announcement came in March and, in case you have not heard about it, a certain someone at Manchester United takes charge of his last match on Sunday. It makes you wonder who might be next. It also means there are only two players, Steven Gerrard and Rio Ferdinand, from that World Cup qualifier at Old Trafford in October 2001 who will be going in for the daily grind of training when pre-season starts in July. For Beckham, this must be the first time in his life when he has been following the trend rather than setting it.
David Beckham retires: the glory days are long gone but they must never be allowed to be forgotten (Henry Winter, Daily Telegraph) David Beckham was a good footballer, very good at times, but he will not be remembered as a great footballer.
He was a midfielder of considerable strengths, a taker of sublime free-kicks, a global brand, a nice guy, a genuine role model, a petulant peacock at times but always a tireless worker for his teams. Beckham's fame stretched beyond his footballing talent, a reflection of his love of the limelight but also of the cult of the personality in modern society. He was adored even by those with little affinity to football. It was the glamour, the lifestyle, the clothes, the premieres, the endorsements, the bling, the spreads in Vogue and a marriage that Hello! breathlessly hailed as "a match made in A-list heaven" that appealed to many. He wowed Japan, triggering so much frantic attention at the 2002 World Cup that Football Association security feared an impassioned local falling under the wheels of the England bus such was the frenzy to get close to "Beck-Ham, Beck-Ham". When a Japanese frigate was stationed off England's coastal training centre, headlines screamed "Nuclear Gun-boat Protects Becks".
Manchester United players happy with Moyes
Manchester United players happy with David Moyes appointment (Jamie Jackson, Guardian) Manchester United's players have welcomed the appointment of David Moyes as Sir Alex Ferguson's successor. The majority are said to be happy he was chosen over José Mourinho, who they see as having a divisive nature, and there is also a sense that Moyes's tenure at Everton where he has managed for 11 years better fits the model of managerial longevity preferred by United. Mourinho, the Real Madrid coach and former Chelsea manager, was considered the favourite to succeed Ferguson when he stepped down. But instead Ferguson recommended his fellow Scot, a decision that has gone down well with United's squad.
Arsenal in for Rooney
Arsenal on red alert for Rooney with Wenger bolstered by £70m transfer kitty… but will Wayne's wages scupper the move? (Sami Mokbel, Daily Mail) Arsenal have discussed a move for unsettled Manchester United striker Wayne Rooney. Less than 12 months after selling Robin van Persie to this season's Premier League champions, the Gunners are plotting an equally dramatic move for his troubled team-mate. Sportsmail can reveal the club's backroom team first raised the possibility of a move for the England striker at a scouting meeting in March, having been alerted to Rooney's problems at Old Trafford. The Gunners are serious about trying to land Rooney this summer but know putting together a financial package to land him is the major obstacle to a deal. Lukas Podolski, Arsenal's top earner, is on just over £100,000 a week compared to Rooney's £250,000.
Bale set for new Spurs deal
'Bale's staying!' Tottenham confident Gareth will agree £170k-a-week deal and snub Real Madrid and Man United (Darren Lewis, Daily Mirror) Tottenham are confident Gareth Bale will commit his future to the club next month – by signing a stunning new deal that will pay him £170,000-a-week. Bale, the £60million-rated new triple Player of the Year, remains in the sights of Real Madrid, while new Manchester United boss David Moyes is also tipped to enter the bidding this summer. But Bale, already under contract at the White Hart Lane club until 2016, is expected to add another year to that deal AND have his wages almost doubled by chairman Daniel Levy. Spurs' hopes of competing in the Champions League next season will be decided on Sunday in the campaign's final set of matches. They will finish in the top four if they beat visitors Sunderland and Arsenal fail to take all three points at Newcastle. Bale's representatives are set to sit down with the club early next month, but envisage few problems.
Praising Rafa Benitez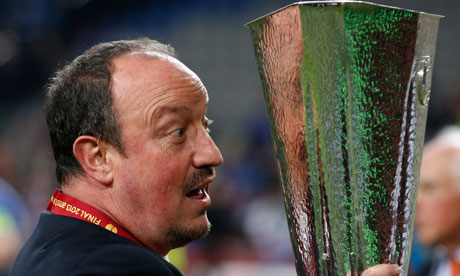 Rafael Benítez finally earns grudging respect of Chelsea fans (Dom Fifield, Guardian) In the end it was as if exhaustion enveloped them all. Chelsea's victorious players, the majority suited and booted but all with winners' medals draped around their necks, piled on to Titan Airways flight ZT7412 from Schiphol and rather slumped into their seats, basking in the afterglow of success. Petr Cech raised a plastic thimble of a glass of Champagne. Frank Lampard and John Terry, just inside the door, each enjoyed a bottle of beer. All sported weary smiles as the hefty Europa League trophy was passed, row by row, down the plane. The contrast with Munich last May was stark, not least with the players travelling back immediately after their late win at the Amsterdam ArenA with a final league game still ahead, rather than enjoying an overnight celebration at their hotel before the victorious trip home. The mood reflected many things: relief that a slog of a season had finally yielded silverware; satisfaction at a second successive European title; fatigue as a campaign that has stretched to 68 fixtures is nearing a conclusion.
Manchester City chase Jesus Navas
Cit use Sat Nav (Martin Blackburn, Sun) Manchester City are plotting another raid on Spain to land Seville winger Jesus Navas. The Sky Blues hope to confirm Malaga coach Manuel Pellegrini as their new boss in the next couple of weeks. And he may bring midfielder Isco with him.
Steve Harper on retirement
Harper's Toon hell (Ian Gordon, Sun) Steve Harper has revealed how he was plunged into depression during his Newcastle United career. The veteran keeper, 38, is retiring after two decades with the Toon. But he admits spending so many years as No 2 to Shay Given took too much toll on his mental health. Harper plays his final game against Arsenal at St James' Park on Sunday. He said: "We had a year or two with Shay when we were neck and neck — and then he kicked on and for three or four years I played about six matches. "Those were wilderness years. Some good people at the club helped me through it, but there were some dark times. "I probably was a bit depressed in that time.
Brighton suspend Poyet
Brighton & Hove Albion suspend manager Gus Poyet for an alleged breach of contract (John Percy, Daily Telegraph) Gus Poyet has been suspended by Brighton and Hove Albion and is facing legal action as his likely departure from the Amex Stadium becomes ever more acrimonious.  The Brighton manager was informed yesterday that he must stay away from the Npower Championship club as they conduct an internal investigation into an alleged breach of contract, with the club believed to be examining his outspoken comments after losing the play-off semi-final against Crystal Palace. The Uruguayan said that he was considering his future after the home defeat in the second leg on Monday and he told his players that he could offer no ­guarantee as to whether he would stay on next season but Brighton's board have taken the extraordinary step of suspending him immediately.
Click here for more Premier League betting tips
---