Credit Crunch: Do Liverpool have the funds to buy Carlos Tevez, as Arsenal's war-chest shrinks to £13m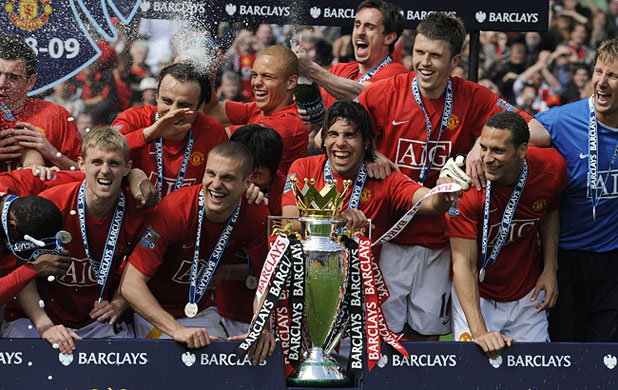 Comment & analysis round-up
Quote of the day: "I know that I am not going to continue at Manchester United. I feel that they have lacked respect towards me. It's not about whether they pay £5million more or £5million less, but I feel I have been badly treated. There are ways in which the club is managed that I don't understand. When you don't agree with the manager in how the club is run… I don't have faith in a lot of things that happen here. I've been here for two years and the directors have never come to speak to me. Not once have I had a meeting with them. Therefore, it's best that I leave the club so as not to clash with (manager) Alex Ferguson and the directors. Neither do I understand why I don't play in the team. I've asked Kia (Joorabchian) not to speak to me about offers during the next 10 days. I want to concentrate only on the final matches that we have to play. Afterwards, I've got a month to take a decision and choose where to go." – Carlos Tevez.
Runner-up: "People will tell him what is going on and there is nothing worse than hearing 'all your players were out in this nightclub in Romford'. You don't want to hear that. I don't want what happened to Ledley last week to happen again. I can't sit here and do nothing about it. We had another problem the other week with Alan Hutton. I don't want to see it. I don't want to wake up on a Sunday morning and get told one of my players is in the paper again for being drunk and disorderly. Why should we have that here? Why should the chairman have that, he's the one paying all these wages… I can't have a bouncer on every nightclub door and I can't be following the players home. I can't always keep an eye on what they do, but footballers are high-profile and other people will. Do you think Paolo Maldini, who is 40, is going out and get drunk on a Saturday night after a game, and drink lager until it's coming out of his ears and fall over? I can't imagine him doing that somehow." – Harry Redknapp.
Today's overview: After a poor match that most see fit to skip over, Premier League champions Manchester United today receive their praise in the Sundays.
Looking to summarise the United campaign, Paul Hayward concludes "the debate about which has been the finest of Ferguson's championship-winning teams will fill the hours on flights to Rome. But this is surely his best and most well-balanced squad: a fact that reflects clever planning and the immense wealth of the club." For Kevin McCarra however, the underlining hallmark "is a more contained team than any Sir Alex Ferguson has pieced together in the past."
David Walsh is quick to spin yesterday's bore-draw in United's favour. "That's how it is with serial winners: they assess what needs to be done, they get it done and move on. United will have to be better against Barcelona a week on Wednesday and you can bet that they will be."
Henry Winter takes time out to praise Wayne Rooney individually. "If Rooney shines in Rome, putting Messi and Iniesta in the shade, he must be a leading contender for European Footballer of the Year, particularly with no summer tournament."
After arguing that Dennis Bergkamp was better than Cristiano Ronaldo, Lee Dixon calls for United to hold onto Carlos Tevez. "I can't believe he will be allowed to leave the club, because he's a huge part of their play now with his energy and what he gives when he is on the pitch. Would I pay £32m for him? It's a huge chunk of money, but if you sell Ronaldo you will have money and I don't think there is anyone else like him."
And keeping with the Tevez affair, James Corrigan writes an excellent appraisal of United's tactics on the matter. "What definitely is expected by the movers, the shakers, the shysters and the deal-breakers, is for United to play the old waiting game as they try to land Tevez at the price which suits. And a vital facet of this particular game is obviously to do nothing to discourage the burgeoning image of the Iranian businessman as a James Bond villain or a slave-trader."
In a surprising twist in the Tevez affair, John Richardson suggests that Liverpool have also refused to be held to ransom for the Argentine. "Liverpool boss Rafa Benitez wants Carlos Tevez – but he isn't prepared to blow all of his transfer budget on the Argentinian striker… Even if Liverpool were able to negotiate a fee of £20m for Tevez, it would leave Benitez with precious little cash for other transfer targets." The People's Scott Piecha adds his voice in support, penning "Chelsea are leading the race to sign Carlos Tevez – while Liverpool have dropped out of contention… Benitez needs to sell before he can buy which will be too late to tempt Tevez to sign, while Chelsea are looking to make some major summer signings."
Not so, according to Chris Bascombe, who farts "Liverpool are confident of gatecrashing Manchester United's title party by snatching Carlos Tevez in a stunning £22million raid." Elsewhere, according to Paul Smith, "Tevez is wanted by SIX rival Premier League clubs.  Manchester United, Chelsea, Arsenal, Tottenham, Manchester City and Aston Villa are all vying to sign the Argentine striker this summer."
Complete with YouTube video evidence, Kaveh Solhekol lists the "20 defining moments that won Manchester United the Premier League title." By contrast, Mark Ogden has whittled his list down to the "10 key moments in [the] 2008/09 Premier League campaign."

Rory Smith turns attention to Liverpool and the Merseysiders' title challenge. "It will be remembered as the campaign in which Rafa Benitez finally produced a Liverpool side cast in his own image, a workaholic, formidably strong, devastatingly effective team almost impossible to beat." Also referencing the Reds, Steve Tongue is convinced that "the right club has nevertheless won the title, even if it would be hard on Liverpool to lose only two matches and finish as runners-up."
After Arsene Wenger described how he felt like a "murderer" in the the eyes of Arsenal fans, Rod Liddle defends The Professor. "Arsenal fans are ingrates who do not know how lucky they are, compared to the torments endured by the other 88 league clubs. Not only are Arsenal, by any rational measure, fabulously successful, but they also play a brand of football which is adored by the purists and, further, do all this on a fraction of the budget (or debt) of their closest rivals." Staying with the Gunners, Rob Draper suggests Wenger's thriftiness will have to continue next season as "Arsene's summer transfer budget has been slashed to £13million by the board in a move that is likely to infuriate already iriate Arsenal fans."
Another Sunday, and the cat-calls for more regulation of the Premier League grow louder. Today we find Jamie Jackson boasting the radical plan to cut squad sizes in the league, "with a new limit on the size of squads for a -season – perhaps as low as 25 players, but more likely around 30. If the new rule is agreed, clubs would have to stick with those players regardless of injuries and suspensions until, at least, the January transfer window."
Swimming against the tide, Amy Lawrence heralds that English manager of the season – Steve McClaren. "Now that he is safely back on his feet, the burning question is what McClaren does next. Rumours have linked him with the notoriously difficult Ajax job from which Marco van Basten recently resigned."
Piers Morgan picks his Premier League XI, begrudgingly having CR7 in his team. "He may be an annoying, diving, moaning, disloyal little weasel but he's also a fabulous player. He would walk into any team in the world and be their star. If I was Sir Alex, I'd be selling a few racehorses to keep him." The Portuguese crooner is also referenced by Simon Mullock who reports that "Cristiano Ronaldo is set to sign a £6million-a-year sponsorship deal with sportswear giants Nike."
In the interviews, while Paul Hayward catches up with Petr Cech, the must-read article sees Hugh McIlvanney speak revealingly with Sir Alex. On Rooney the Scot said, "We couldn't not buy Rooney… He gets all your emotions going, drags you in with the physical, emotional way he plays. When he starts to compete and show that great desire and intensity, you say to yourself, 'F****** hell, what is he made of, the boy?'"
In other news, Duncan White assesses England's chances of winning the hosting rights for the 2018 World Cup. "The bid campaign will be fronted by Beckham and Prince William as the Football Association try and take on the global charisma of Barack Obama, who is backing the United States' rival bid."
We close-out with the Sunday transfer gossip.
Beginning with the managerial-merry-go-round, Martin Handy claims that "Slaven Bilic has emerged as a front-runner to take the reins at Sunderland in the summer… although an approach for Celtic's Gordon Strachan has not been ruled out."
Changes are in the air on Tyneside. Tony Stenson claims that "Newcastle could battle Blackburn in the summer for £10million-rated Portsmouth striker Peter Crouch." On the way out, David Harrison writes that "Bolton are ready to offer bad boy Joey Barton an escape from Newcastle." Also leaving the North West could be Stewart Downing, Martin Handy reporting that "Martin O'Neill has entered the race to sign England winger Stewart Downing."
And there is more. Steve Lillis announces that "Roy Hodgson is confident that £6million rated Wigan star Paul Scharner will be his first Fulham summer signing," and David Harrison claims that "Manchester City are showing a strong interest in signing Benfica duo Luisao and Oscar Cardozo."
Best football betting tips & free bet offers
Click here for more Premier League betting tips
---