"Control-freak" Benitez demands final-say over transfers; Scolari's departure looks increasingly likely; Man City set for a mega-bid for Kaka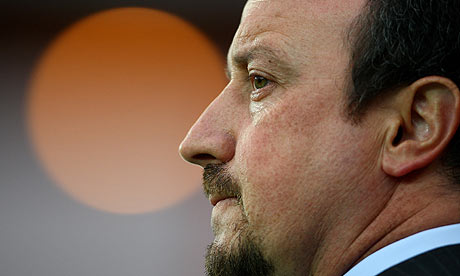 Comment & analysis round-up
Quote of the day: "I didn't see Chelsea. I saw people from Chelsea before the match, at half-time and after the match. But I didn't see Chelsea on the pitch. I only saw Manchester United… I've had words with him [Ferguson] about different issues in the past but in the end it was OK. The best thing for those looking on from outside is to just shut up and let them get on with it. I didn't bring the wine this time, it was his [Ferguson's]. We had a chat for half an hour. I told him how we are going to play against them [in the Champions League] and he told me what United's line-up would be." – Jose Mourinho.
Runner-up: "In my eyes, Shay is still going nowhere. He's got a major role here, as has Michael Owen and they both proved they are focused and committed to this club." – Joe Kinnear.
Today's overview: Having played up Rafa's rant over the past few days, arguably the much bigger story surrounding the Spaniard – the stalling of his contract negotiations with Liverpool – is today the focus of attention. And while the Reds are trying to hold onto their manager, rumours and momentum appear to be building up against Felipe Scolari whose future at Stamford Bridge looks to be increasingly in doubt.
Andy Hunter delivers an insight into why Rafa Benitez's contract talks have broken down, pointing to the thorny issue of transfers. "[Benitez] wants to dispense with the existing chain of command and operate on his own terms, setting the valuation on players providing the transfer budget allows." John Edwards also picks up of the fractious issue of Liverpool's transfer policy, penning "Benitez is holding out for a greater say in how the club is run and wants full control over transfers… [while] Hicks and Gillett feel he should not be trying to dictate terms."
Calling the Spaniard a "control-freak," Paul Doyle comes across as a die-hard United fan with a bitter criticism of Rafa Benitez. "Dirk Kuyt is his favourite player despite cringe-inducing limitations because, you suspect, Dirk Kuyt does exactly as he is told. Robbie Keane is distrusted because he is too free-spirited. Benitez has many, many qualities but his one big shortcoming is that he, like Gerard Houllier, over-manages. Ferguson, by contrast, knows there is a time to surrender responsibility to his players."
The backlash against Chelsea and Felipe Scolari continues.
The Sun's duo of Shaun Custis and Ian McGarry join forces to report that "Phil Scolari's job is on the line in the wake of an astonishing bust-up with Nicolas Anelka… we can reveal the Blues boss has clashed with French striker Anelka, who is fuming at being dumped on the bench for the last three games. The two rowed at training with Scolari telling Anelka he would start at Old Trafford only if he agreed to play on the left."
Kevin McCarra leads the chorus predicting a Scolari departure claiming "the fecklessness of the team puts him in danger of dismissal in the summer at the latest." Matt Hughes also believes the Brazilian could be out this summer although the hack points out that such action will result in Scolari's one year appointment costing Chelsea £10 million. Henry Winter echoed the same line saying "there appears no appetite within Stamford Bridge to divest themselves of the Brazilian just yet, although one thing is clear: there will be a major clear-out in the summer, either in the manager's office or the dressing-room.
Contrary to the consensus opinion, Matt Lawton argues that "Roman Abramovich will decide on the future of Chelsea manager Luiz Felipe Scolari over the next eight weeks."
Jason Gee interviews six former Chelsea legends to garner their opinion on the Blues' current predicament, with David Speedie suggesting "I'm not sure that [Scolari] even knows what his full-strength side is." James Lawton offers Scolari words of sympathy noting "he must feel he has inherited a club suffering not a financial brake but also a dwindling of passion."
Martin Samuel offers his thoughts on Chelsea, pushing for Abramovich to once again put his hand into his deep pockets. "The same investment that produced two titles under Jose Mourinho, the former manager, is required to restructure a team that appears to have peaked…Petr Cech, Ricardo Carvalho, Didier Drogba, Michael Ballack, Deco, even John Terry, the England captain, are showing signs of age and wear and tear. To use a television term, this team has jumped the shark."
The major transfer story of the day appears in the Daily Express where Paul Joyce and Richard Tanner announce "Manchester City have sent a high-powered delegation to Milan to try to secure a stunning deal for Brazilian superstar Kaka. Chief executive Gary Cook and chief operating officer Paul Aldridge have been dispatched to Italy to open negotiations with AC Milan over what would be a world-record swoop for the attacking midfielder."
The Times' transfer window watch claims that "Manchester City are expected to agree a deal to sign Craig Bellamy for about £12 million this week." Oliver Kay links Manchester United with yet another young Serbian, 16-year-old midfielder Filip Djuricic. Sam Wallace reports that Spurs are tracking Wigan's Wilson Palacios, while Christopher Davies says "Portsmouth are set to bid for Wolfsburg striker Edin Dzeko to replace Jermain Defoe." The funniest transfer rumour appears in the Mirror with James Nursey linking Newcastle with a bid for Nigel Quashie.
Sir Alex Ferguson has a new bone of contention this Tuesday, with Daniel Talyor reporting that "one of the men who banned Patrice Evra for four matches recently is an Arsenal season-ticket holder… Nicholas Stewart QC chaired the four-man independent disciplinary panel… [but] while there is no question of Stewart's integrity or professionalism, Ferguson has strong reservations about a supporter of one of United's major rivals being involved, on the basis that there could be allegations of a possible conflict of interest." Ian Herbert muddies the waters adding "Ferguson has grounds for some indignation where Stewart is concerned, since it was at the QC's behest that the contents of the commission's ruling were made freely available on the FA's website before United were informed."
Staying with United, Ian Herbert focuses on Jonny Evans pointing out "United have conceded just seven goals on the 13 occasions Evans has played for United this season. That's one goal every 167 minutes."
Matt Dickinson turns his attention to identifying who should be this season's Footballer of the Year in the Premier League. "If there is someone out there who intends to become Footballer of the Year, could he please make himself known immediately… with a diversity of candidates, there is also the possibility of a repeat of 1998-99, when the awards system was brought into disrepute by victory in both individual prizes, from players and journalists, for David Ginola"
Picking up on the fact that twenty-three Football League games were postponed at the weekend due to the weather, Benjie Goodhart wonders whether we should seen a return to artificial pitches.
Heading to Italy, Owen Slot questions whether Beckham will end up staying at AC Milan. "While the possibility of Beckham staying in Milan appears to be taking root, it would be extremely expensive for Milan to buy Beckham out of any of his Galaxy contract and they have not even inquired as to whether it may be possible." And tempering the hype over Becks, Paolo Baldini argues "for all that Beckham played his part, it is hard to shake off the sense that Milan might be better served by finding room for Mathieu Flamini."
Lastly, in a superb article Tom Dart lists football's top 50 rising stars. "7. John Fleck (Rangers) The nephew of the former striker, Robert Fleck, he became the youngest player to feature in a Scottish Cup final last May and is a 17-year-old attacker with prodigious talent who has generated plenty of buzz."
---