Consensus opinion is Liverpool must sell cannibal Suarez, Man United's greatness is questioned & should City sack Mancini?
Comment & analysis round-up
Quote of the day: "Suarez is a good as a player as there is in world football at the minute. Yes, he's messed up and shouldn't have bitten another player but a player like him has to play right on the edge. Without it he wouldn't be the talent he is. LFC would be mad not to back him IMO…if they don't I'm sure the queue of Champions League clubs would stretch round the block. Only have to look up the M62 and see what Fergie did with Cantona to know Suarez is worth it. Yes, HE is that good!" – Joey Barton.
Runner-up: "I'm not sure what to make of it, embarrassing. He's making it very difficult to stay at Liverpool. That puts him in the last-chance saloon. It's important to safeguard the football club – it's up there with Barcelona and Real Madrid – and this will show Liverpool in a very bad light in this week of all weeks. This and this is not the first time he has bit someone in a match. The board have to sit down as we're risking everything that this great club stands for. It's what children do in a pram when they're not happy. There are lines that you can't cross and he has done that. Unfortunately in the world of football, those pictures will be beamed around the world. You have to care and cherish this football club and he has put them under real pressure." – Graeme Souness.
Luis Suarez Gets Mauled: Liverpool Told To Sell Star
Same old Suarez, always eating! (Phil Thomas, Sun) Brendan Rogers is ready to give Luis Suarez the boot if he reckons the Kop bad boy has shamed Liverpool once again. Striker Suarez faces a hefty ban after being caught in the SECOND bite storm of his career yesterday.
Liverpool must leave their own mark after Luis Suarez bite (Mark Lawrenson, Mirror) There is no doubt that he is facing a great big ban so why don't Liverpool head off the FA at the pass and come out and say 'this is indefensible, we are going to ban him ourselves for 10 games'? It has come to the point where they might even have to sell him now. Everybody can see he is a world-class player – he showed that with both Liverpool goals – but everyone will have forgotten that brilliance.
Save great club's reputation by getting rid (James Lawton, Independent) Liverpool have to face up to the prospect of more such damage if they continue to balance the value of a superbly gifted footballer and someone plainly incapable of consistently decent conduct. Of course it is a tragedy that Suarez himself underlined with his brilliant equaliser at the end of yesterday's game. Few in football can lift the spirits so swiftly as Suarez in a moment of sheer, devilish brilliance. But there is also the devil in the too frequent detail. It is of a player who once again has moved beyond a point of reasonable trust.
Luis has had his last chance … now Liverpool must kick out scandal-hit striker (Steven Howard, Sun) The game's governing body cannot and must not fudge this one. No weakling response that since the referee didn't see it no retrospective action can be taken… To those on the Kop he is a hero and a legend. To the rest of football, the 26-year-old is a pariah. A man who cannot operate within either the laws of the game or society in general. A man who obviously never learns.
Now kick out the Cannibal – Apology from shamed striker Suarez is not enough after his disgusting bite on Ivanovic (Dominic King, Mail) Liverpool are under mounting pressure to kick out Luis Suarez after he bit Branislav Ivanovic in his side's 2-2 draw against Chelsea. Though Suarez used his Twitter account to apologise for the extraordinary incident and also issued a statement on the Liverpool website, he is fighting to save his Anfield career after manager Brendan Rodgers said 'all players can be replaced'. Liverpool managing director Ian Ayre cancelled a trip to Australia and the Far East to deal with an incident that has been condemned globally.
This is the worst time for 'Cannibal' Luis Suarez to hurt Liverpool (Ian Herbert, Independent) The timing is dismal for reasons we can assume Luis Suarez does not have the faintest notion of. This is the week of the preliminary legal hearing which will set out parameters for new inquests for the 96 Liverpool fans who died at Hillsborough. It is another big step on the 24-year road to justice led by Anne Williams, who refused to accept the establishment lies about the death of her son, Kevin, and whose own death, five days ago, was remembered with a minute's applause at Anfield yesterday. That is all testament to the qualities of dignity and unyielding resolve to which Liverpool FC are wedded – they call it the "Liverpool Way" – and all of which will now be drowned by another Suarez controversy.
Ban Liverpool biter Suarez NOW for seven games (Graham Poll, Mail) Luis Suarez should not have been on the field to score the last-gasp equaliser after he disgraced himself and bit Branislav Ivanovic in the second half of the Liverpool v Chelsea game. The Football Association have failed to punish plenty of wrongdoing over the last few weeks — Daniel Sturridge will be the latest after his nasty, over-the-top challenge on Ryan Bertrand, as it was an 'on the ball' tackle. However, the Suarez biting incident was not. Now the FA must act and surely ban Suarez for the rest of the season.
Liverpool still loves Rafa Benitez but Fernando Torres finds few pals (David Anderson, Mirror) They are both ­Liverpool greats, yet their ­receptions from the Kop could hardly have been more different. While Rafa Benitez was lauded by Liverpool fans as the hero he will always be to them, ­Fernando Torres was jeered. The abuse started before Torres even made it on to the pitch – he was roundly booed when his name was read out before kick-off. It got worse when the game started and the striker's sexuality was questioned in one chant. If he had hoped for some anonymity from his Zorro-like face protector, it was not working. He was a masked man and a marked man.
How Good Are Man United?
Fergie: My 2013 crop is one of Utd's very best (Neil Custis, Sun) Fergie said: "If we win the league the team has to be considered in terms of other teams, there is no doubt about that." United could set a Premier League record of 96 points if they go on to win their remaining five matches.
United aren't a patch on Treble side (Harry Redknapp, Sun) For me the pick of the Old Trafford bunch would be the team which won the unique Treble of 1999 — the Champions League, the Premier League and the FA Cup. I would love to see that team play the current one. If only.
The awful truth is that waning Rooney could be burning out at Manchester United… (Martin Samuel, Mail) Rooney is not the same player as he was at the start of the season, not the same player as in previous campaigns… Maybe he is burning out. It can happen. Michael Owen was English football's last great teenage prodigy and his career has come to a premature end. Next year, technically, Rooney is due a testimonial. We still think of him as youthful, but this is a long stretch. There is no guarantee Rooney has the same ambition or desire as modern marvels like Ryan Giggs and Paul Scholes, or even Frank Lampard. He looks fatigued at times. If the rumours about conditioning issues are true, it could be argued that he lacks commitment.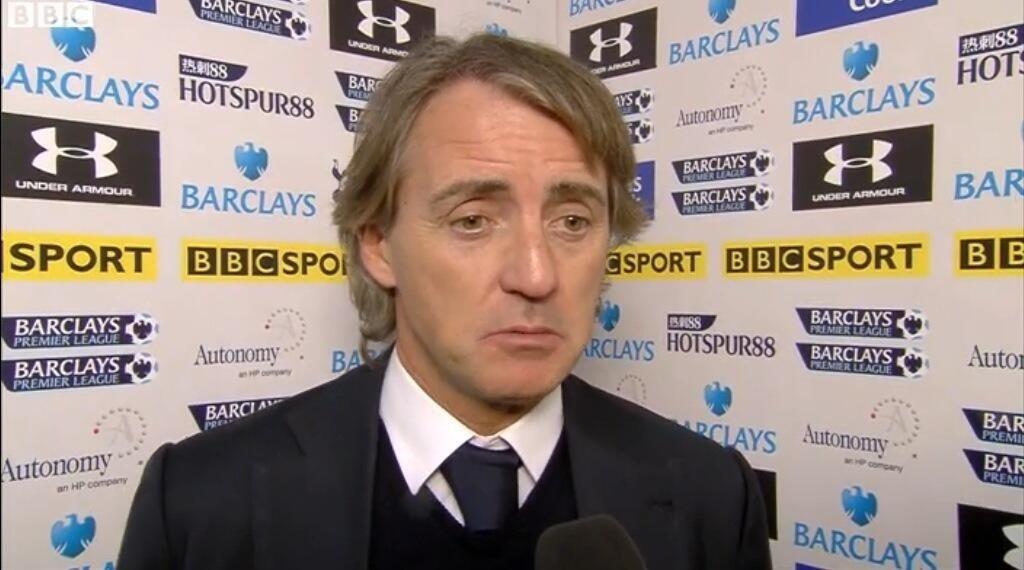 Spurs 3 – Man City 1
City must keep their nerve – and Mancini (Alan Shearer, Sun) In his three full seasons in charge Mancini will, in all likelihood, have finished third, second and first and delivered two FA Cups. That, for me, in such a short space of time is success… City are building something still and to change the manager who has done so much to start it all would be wrong. Unless they want to be regarded in the same vein as Chelsea, whose knees jerk at the slightest slip-up, they need to keep faith with Mancini.
Games like this should fill Mancini with fear, late capitulation at Spurs was unforgivable for a side now 13 points behind leaders (Neil Ashton, Mail) There are certain performances that can get managers the sack at the end of the season. For Roberto Mancini, this was one of them. Manchester City knew, at some point, that they would surrender the Barclays Premier League title after falling 13 points behind neighbours United. To capitulate in the manner they did, when they had been so convincing at White Hart Lane for 75 minutes, was unforgivable.'
Tottenham rewarded after André Villas-Boas shows his flexible thinking (Michael Cox, Guardian) After an hour, Villas-Boas changed things more dramatically, moving from a 4-2-3-1 to a 4-3-3. Tom Huddlestone replaced Parker and sat solidly in the holding role, tracking Tevez across the pitch, and spraying some excellent forward passes into attack. Meanwhile, Lewis Holtby replaced Sigurdsson, and alongside Dembélé helped overpower Barry and Touré with sheer energy. Once Jermain Defoe had replaced the ineffectual Adebayor 10 minutes later, Spurs were playing in a completely different fashion. Their first half attacks were slow and involved various players crowding the centre – now, with Bale higher up the pitch and looking for balls in behind, an approach Defoe instinctively replicated, they could attack directly at speed. Forward passes were combined with clever runs, and Spurs were superb for the final 20 minutes and Mancini failed to respond tactically.
Sagna Out Of Arsenal?
Monaco eyeing move for Arsenal right back Sagna as defender's contract talks stutter at Emirates (Simon Jones, Mail) Monaco are weighing up a move for Arsenal's Bacary Sagna. The Frenchman, 30, is understood to have rejected the latest offer of a contract extension from Arsenal and Monaco want a quality right back. They are keen to add big names to compete with mega-rich Paris Saint-Germain next season.
---
GAMBLING CAN BE ADDICTIVE, PLEASE PLAY RESPONSIBLY