Cole & Terry described as an embarrassment to Chelsea & England, Super Mario storms off & Arsenal linked with Falcao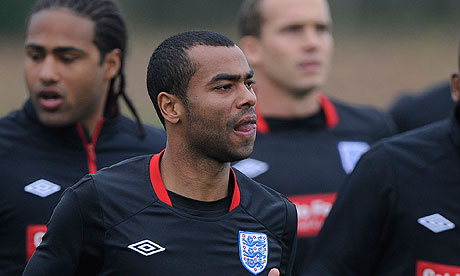 Comment & analysis round-up
Quote of the day: "What is more worthy of consideration is the fact that Ashley, at a relatively young age and with more football left in him, is likely to get his 100th cap very soon – and that is fantastic. I don't think we should ever underestimate the value of that. I for one respect that wholeheartedly and have found him to be an excellent professional and a very, very enthusiastic and important member of the group and I'm looking forward to working with him for a period of time to come. He has done it with consistency and there is no reason why he cannot set his sights higher. I must say it is an achievement we shouldn't be underestimating and if people are going to praise his achievement it is something I would endorse. Every player has the right to be true to their own feelings, and his is that he will do his talking on the field, I don't want to give lots of interviews, I want to be judged as a pure footballer." – Roy Hodgson on Ashley Cole before that Tweet.
Runner-up: "They could play up front together, there's no doubt about that, but one would always have to drop off a little and I think that would happen naturally. It is possible I will use them as a front two, but to be honest I am still exploring all the options. All the strikers we have at this club now, apart from Chicharito [Hernández], can play right at the front or drop in." – Sir Alex Ferguson on Wayne Rooney & Robin van Persie.
John Terry & Ashley Cole bASHed by the Sundays
John Terry and Ashley Cole have shamed Chelsea and England (Observer editorial) Chelsea have been shamed by this incident. They have been shamed by John Terry and Ashley Cole. For those of us who love football it is dispiriting, depressing and disgusting to see how football (including the FA who were also criticised by the independent commission) has dealt so ineptly with this Terry affair. And not just this incident. Who can forget Liverpool's lamentable response to the Luis Suárez incident last year? And the FA, even now, seem to have some difficulty learning lessons from this fiasco. In a briefing to journalists from the Sunday media on Thursday – before the publication of the independent commission's report – the England manager, Roy Hodgson, responding to persistent questions, said he might consider giving the captaincy to Ashley Cole for the World Cup game against Poland to coincide with the defender's 100th cap. On Saturday the FA made it clear to those same journalists that they should not refer to that section of the press conference lest it reflect badly on Hodgson or the FA, or that not giving the captaincy would be seen as revenge for the Cole tweet. Perish the thought.
Chelsea's Toxic Twins John Terry and Ashley Cole are an embarrassment to the game and their peers (Henry Winter, Sunday Telegraph) They are an embarrassment to the club and to the game that rewards them so handsomely. Chelsea need to order Terry to start apologising and Cole to stop tweeting. Over the past decade, the centre-back and left back have been England's most sure-footed defenders, invariably alive to danger, vital sporting qualities painfully lacking in their human armoury. Having been found guilty of making a racist remark by an Independent Regulatory Commission, and then received "written reasons" dripping with condemnation, Terry would be a total fool even to consider an appeal. He cannot be that stupid, surely? Nothing would surprise in this unseemly saga, though. Privately, the FA admits there is no chance of Terry's four-game ban being increased if his appeal fails but what remains of his credibility would be washed away in a further storm of derision.
It's high time Toxic Two were consigned to history (Michael Calvin, Independent on Sunday) The Dear Leader, Roman Abramovich, has definitive decisions to make. He was notable by his absence from his executive box, and though he will remain a silent, spectral presence, his authority must be imposed. The fine levied on Cole will be worthless if the owner fails to demand an overdue change in attitude. It is unrealistic to expect the siege mentality to lift voluntarily. Chelsea officials are understood to be deeply unhappy with the FA's criticism of their conduct in the Terry case. But the culture of self-indulgence is compromising a club with pretensions befitting European champions.
Trail of emails could reveal why Cole altered his evidence in Terry affair: FA may investigate how the word 'black' got into Chelsea star's statement (Rob Draper, Mail on Sunday) Ashley Cole could face an FA investigation into his conduct if the  governing body decide there is evidence that he tried to mislead the disciplinary commission which found Chelsea captain John Terry guilty of racial abuse. While Cole, in line to make his 100th England appearance on Tuesday week, might have been anticipating plaudits from the FA, it will be the job of the ruling body's disciplinary chiefs to decide whether they should bring two charges of 'improper conduct' against the Chelsea defender. And if they charge him on the basis of the 'evolution of his evidence', as the disciplinary commission put it in their judgment on the Terry case last week, then the FA will be empowered to demand the trail of internal emails at Chelsea to  discover exactly how Cole's  evidence came to be changed.
Furious Blues clobber Cole (Rob Beasley, Sunday Sun) Ashley Cole is facing severe punishment from Chelsea and the FA over his foul-mouthed "bunch of t**ts" tweet. Blues boss Roberto Di Matteo confirmed: "We have a social media policy at this club and there's going to be disciplinary action against Ashley because of the tweet." Cole is set to become the first England player to win 100 caps without ever being invited to captain his country.
Ashley Cole to be fined by Chelsea and will miss England World Cup qualifier against San Marino (Jason Burt, Sunday Telegraph) Ashley Cole is set to be omitted from England's World Cup qualifier at home to San Marino on Friday, sparing him an awkward pre-match handshake with Football Association Chairman David Bernstein and a potentially hostile reception from the Wembley crowd.The defender will also be fined two weeks' wages – £240,000 — by Chelsea for his foul-mouthed attack on the FA in the wake of the publication of the report that found John Terry guilty of racially abusing Anton Ferdinand. Cole labelled the FA a "bunch of t—-" on his Twitter account and although he later deleted the post and apologised through his solicitors he will face disciplinary proceedings.
Super Mario storms off back to Italy
Balotelli storms off pitch and jets home after being substituted in victory over Sunderland (Joe Bernstein, Mail on Sunday) Sulky Mario Balotelli stormed down the tunnel when he was substituted by manager Roberto Mancini after just 55 minutes of Manchester City's victory against Sunderland on Saturday. And within hours, the 22-year-old Italian had boarded a budget airline flight from Manchester back to his homeland. Senior figures at City now doubt that they will ever be able to harness Balotelli's talent.
Breaking point: Man City boss Mancini ready to dump super sulk Balotelli (Simon Mullock, Sunday Mirror) Manchester City are ready to ditch Mario Balotelli. The controversial Italian striker was at his ­petulant worst again yesterday when he was ­substituted in the 55th minute of City's 3-0 victory over Sunderland. Balotelli stormed down the tunnel after being replaced by Sergio Aguero, rather than watch his team-mates from the bench. And supporters at the Etihad were stunned to see him leave the ground less than 15 minutes after the final whistle. Sunday Mirror Sport understands there is growing pressure on ­Roberto Mancini to admit defeat in his attempt to ­unlock Balotelli's potential.
Racist abuse at Millwall
Bolton Wanderers striker Marvin Sordell claims racist abuse by Millwall fans (Sunday Telegraph) Bolton striker Marvin Sordell has claimed he and several team-mates were racially abused by Millwall fans at the New Den on Saturday. The 21 year-old reported the incident, which allegedly occurred as he warmed up as a substitute, and revealed that midfielders Lee Chung-yong and Darren Pratley, plus fellow forward Benik Afobe, had also been subjected to racist taunts. Sordell wrote on Twitter: "Putting the match aside, its 2012 in england and people are still shouting racial abuse at a football game!? #Shocking." He added: "Chungy, Pratts, Benik and I had all sorts of things said to us. The police were standing yards away and did nothing …" Sordell also received abusive responses to his allegations on Twitter. Millwall and Bolton are investigating the allegations.
Manchester United set to start RVP & Rooney at Newcastle
Rooney is in the same mould as Robson, Adams and Keane (Gary Neville, Mail on Sunday) Bizarrely, the horrific injury Wayne suffered five weeks ago against Fulham might have been a blessing in disguise. It allowed him to step off the roller-coaster and stopped people from judging him every three days on the basis of whether he was in the team or not. It allowed him to go back to pre-season training again, as his initial preparation before the season wouldn't have been as intense as he would have liked because he had been playing in Euro 2012. But over the past few weeks it looks to me as if the team of physios and sports scientists at United's fitness department have beasted him in training.
El Clasico
Real Madrid's José Mourinho gets shirty as Sergio Ramos saga goes on (Sid Lowe, Observer) Most players swap shirts at full-time but Sergio Ramos and Mesut Ozil swapped theirs 45 minutes earlier. In a tense Bernabéu dressing room last Sunday, José Mourinho decided to make a change and words were exchanged. Although Real Madrid were 3-1 up against Deportivo La Coruña, Mourinho was not particularly pleased with what he had seen. Ozil was taken off and Kaká was sent on for the second half. Sitting not far from Ozil was Ramos. When the German took his shirt off, Ramos put it on underneath his own. No one would have noticed had it not been for a photographer from Marca. Just about visible on Ramos's back, peering through his own shirt was: Ozil, 10. It was meant as a gesture of support but, given the context, you could be forgiven for seeing it as an act of subversion. Here was a challenge to his manager – and a very public one, too.
Real rally to Mourinho's call after ragged start (Mark Elkington, Independent on Sunday)  
Harry Redknapp on Luis Suarez
I don't have any sympathy for Suarez (Harry Redknapp, Sunday Sun) Take Luis Suarez. I love him as a player. He is fantastic, he is a mazy dribbler and is up there with the best in the Premier League. But he has a reputation for throwing himself around a bit. He can be prone to theatricals, for going to ground and over-doing it. It's a shame referees probably think of him as a bit of a Tom Daley. If he has pulled the wool over one referee's eyes one week then next week the next official will be on alert, in the same way they keep an eye out for players more likely to put in an over-the-top tackle. That's human nature. Maybe he dives when he should not. That means after time he might not get penalties when he should, because the referee is aware of his image. Perhaps that is not fair but if we are honest you cannot help but think 'That's what you get for diving around' — you can't expect sympathy. Players who dive make a rod for their own backs.
Arsenal linked with Radamel Falcao
Hello kitty: Wenger could use £35m windfall to enter chase for Falcao (Steve Stammers, Sunday Mirror) Along with a number of other clubs like Chelsea and Paris St ­Germain, the Arsenal boss is a huge admirer of Falcao, the Atletico Madrid striker. The prolific Colombia international destroyed Chelsea with a hat-trick in the UEFA Super Cup in August. His buy-out clause is about £50m – but that could drop because of the country's financial ­crisis. If Atletico come down to the £40m, then Wenger could be ­interested.
Barcelona & Juventus want Vidic
Red alert! Barcelona and Juventus ready to lure Vidic away from United (People) Nemanja Vidic's Manchester United future is in doubt again, with Spanish giants Barcelona and Italian champions Juventus trying to lure away the Old Trafford captain, writes The People. Both clubs have indicated their interest in the big Serb defender and will monitor his situation between now and the end of the season, even though he is currently out of action following knee surgery. Vidic will have one year left to run on his current deal come the end of the season and is unlikely to make a decision on his future until then.
Oscar wants Neymar at Chelsea
Ney way for Oscar (Sunday Sun) Brazil superstar Neymar says Oscar has pleaded with him to join Chelsea. The Santos ace, 20, has been tipped to join Spanish giants Barcelona or Real Madrid next season. But after playing with Chelsea new boy Oscar at London 2012, Neymar says his mate is desperate for him to ignore Barca's Dani Alves and move to Stamford Bridge.
---
GAMBLING CAN BE ADDICTIVE, PLEASE PLAY RESPONSIBLY