Cole signs on at Chelsea for £200k a week, Wenger offered £30m to join PSG & Pep wants Luis Suarez at Bayern Munich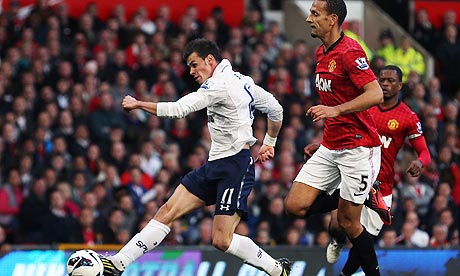 Comment & analysis round-up
Quote of the day: "We tried to buy him from Southampton and they turned us down. It was not the boy who turned us down, it was Southampton, then a few weeks later he signed for Tottenham. It happens. You don't get them all. As I said before, we would have loved to have got Gascoigne but we didn't. But we did get Paul Ince and he was a great player for us. These things happen." – Sir Alex Ferguson on Gareth Bale.
Runner-up: "Robin will get stick from the Spurs fans I'm sure, but he won't mind that and he'd love to score against them. I don't think we expected him to come in and score that many goals. It just seems like this was the right player to the right club for him at the right time. He's come here and settled straight in and that's exactly what we hoped for. He's been terrific. It was a good signing for us, giving us an extra threat. The other forwards have done well but Robin is grabbing all the headlines, and rightly so far, for what he's done." – Michael Carrick.
Ashley Cole signs on at Chelsea for £200k a week
Cole's £10m for extra year (Rob Beasley, Sun) Ashley Cole is to sign a new mega deal with Chelsea worth a whopping £10million. The staggering one-year extension makes England star Cole the world's highest-paid left-back. A Chelsea insider said: "Ash is getting around £200,000 a week but he is worth every penny. Everyone is pleased it has been sorted at last." But 32-year-old Cole's bid to bag a longer deal beyond 2014 has ended in failure.
Ashley Cole signs new Chelsea contract (Sunday Telegraph) Cole is out of contract at the Blues at the end of the season and was expected to leave Stamford Bridge, but the 32 year-old has snubbed the overtures of Real Madrid and Paris St Germain by committing his future to his current club. The England defender has put pen-to-paper on a one-year contract extension and both parties expect the paperwork to be signed off in the next 48 hours. Cole's Chelsea team-mate, Frank Lampard, is also out of contract at the end of the Premier League campaign and has been linked with a move to LA Galaxy. The news that Cole has agreed to commit his future to Chelsea will go some way towards appeasing the Blues fans who had become unhappy with the club's failure to tie the player down to a new deal.
Moneybags PSG try to tempt Wenger
Mon Dieu! PSG will tempt Arsene Wenger to leave Arsenal with massive £30m deal (Matt Law, Sunday Mirror) Arsene Wenger will be offered a massive £30million deal by Paris Saint-Germain to quit Arsenal this summer. And current PSG boss Carlo Ancelotti would be interested in a job swap to ­succeed Wenger at the Emirates. PSG's rich Qatari owners are ­prepared to hand Wenger a £10m-a-year, three-year ­contract to take over at the Parc des Princes next season. The French club last week saw Pep Guardiola agree to ­become Bayern Munich boss, while Real Madrid manager Jose Mourinho ­reiterated his desire to return to England. PSG have not given up on Mourinho, but now see Wenger as their best ­option – even though he has vowed to see out his Arsenal contract that runs to 2014 and has never walked out on a club. Wenger is already one of ­Europe's highest-paid ­managers on £7m-a-year, but PSG would have no problems giving him a significant ­increase.
Mario Balotelli could leave Manchester City
Manchester City's Mario Balotelli in Milan move – if price is right (Andy Martin, Observer) Mario Balotelli's turbulent spell at Manchester City seems more likely to fizzle out in a swift January exit than end in fireworks after the Milan vice-president Adriano Galliani confirmed his club's interest in the Italy striker who adorned Euro 2012 but has so often proved an encumbrance to his long-suffering manager Roberto Mancini. The deal that would see the 22-year-old return to Serie A and the club of his choice hinges on the Premier League defending champions' asking price of €37m (£31m). Balotelli's off-field antics – ranging from training ground fisticuffs to pyrotechnic mishaps – have raised questions about his temperament at City. But Galliani said Milan were still eager to sign the player, provided the price is right. He told Gazzetta dello Sport: "At the end of Friday, Manchester City still said €37m. We will see on Monday. Under these conditions, he will remain at Manchester City."
Frank Lampard in talks with AC Milan?
Italian job: Unwanted Chelsea midfielder Frank Lampard in talks with AC Milan (Dave Kidd, People) Frank Lampard is set to make a ­sensational summer move to AC Milan – but Ashley Cole WILL stay at Chelsea for another season. Sunday People Sport can reveal that ­positive talks have been held between England midfielder Lampard and the Italian giants. He could even sign a pre-contract agreement with Milan in the next two weeks.
Pep Guardiola's snub to Chelsea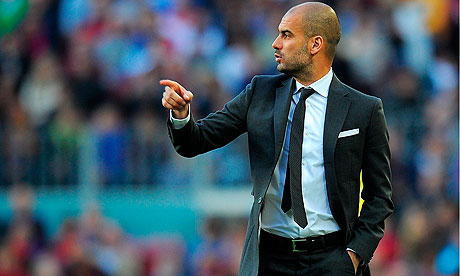 Roman has run out of options to replace Rafa (Gary Neville, Mail on Sunday) Here is a coach with an almost unblemished reputation, who in his four years of management has won almost every trophy available while his teams have played some of the greatest football we've seen. So to choose a club of such stature, with stability, an emphasis on bringing through young players and crucially, one that is run by former professionals, great names like Franz Beckenbauer, Uli Hoeness and Karl-Heinz Rummenigge, executives who have true appreciation and understanding of the game. And it was impossible not to wonder whether this was the week when Roman Abramovich got his comeuppance. At times he seems to have been bent on creating a Utopian football team set up for Guardiola to manage. It's as though he's been saying: 'I'm getting rid of all these old players for you; I'm signing Eden Hazard, Oscar and Juan Mata and I've got Fernando Torres, who's Spanish, for you; I'm making a team for you. Come and manage my club.' And Guardiola has given an emphatic: 'No.'
Pep Guardiola and José Mourinho still in sights of the Premier League (Daniel Taylor, Observer) Guardiola delivered football of butterfly beauty to Barcelona. He did it with grace and dignity and perhaps Roman Abramovich may now have a better idea about the tendency of human beings to want structure and security in their lives. Chelsea's owner may not particularly care what the rest of us think but he was close to obsessed with Guardiola and, by choosing the Bundesliga, the most in-demand manager in the business is effectively telling us that someone of his distinction does not want to immerse himself into a culture of short-termism and remote-control sackings.
So Chelsea will move for Moyes
David Moyes emerges as real contender to take over from Rafa Benítez as Chelsea manager in the summer (Jason Burt, Sunday Telegraph) Moyes is currently figuring strongly in Chelsea's deliberations, with his suitability being discussed as the club considers who to appoint when Rafa Benitez's period as interim manager ends this summer. Jose Mourinho is also a candidate but there is a growing expectation that he will quit Real Madrid this summer to succeed Carlo Ancelotti at Paris St-Germain. Roman Abramovich is believed to be very happy with Benítez, and would like to retain him after the end of this campaign, but he accepts that the appointment cannot happen given the hostility of the club's supporters to the Spaniard. Despite what one source said was the "disarray" at Chelsea, Abramovich is pleased with the Benítez even though has conceded that with Chelsea now 13 points behind leaders Manchester United any hopes of winning the Premier League have ended.
Pep wants Luis Suarez at Bayern Munich
Pep's challenge: Guardiola wants Liverpool striker Luis Suarez at Bayern Munich (Alan Nixon, People) Brendan Rodgers is bracing himself for a £40million bid from Bayern Munich for Luis Suarez when Pep Guardiola makes his comeback, writes the Sunday People. Guardiola is a huge fan of the Uruguay star who scored in Liverpool's 5-0 win over Norwich City yesterday. Former Barca boss Guardiola also has a straight line into Suarez ­because his brother is the player's agent – and a price clause is known to him. Guardiola wants to make a couple of landmark signings when he moves to the German giants in the summer and Suarez is on his short list. Liverpool boss Rodgers hopes to keep Suarez happy after fending off Juventus in the last window and giving their star South American a new deal.
Teddy Sheringham thinks Manchester United can win the treble
Fergie still knows when a player has fire in his belly … that's why the Treble is on, says Teddy (Joe Bernstein, Daily Mail) Sheringham:  'We also had a never-say-die attitude. It was about Peter Schmeichel's desire to save a penalty from Dennis Bergkamp in the FA Cup semi-final, to dig deep in the Champions League quarter-final against Inter Milan. 'I see it in this United team. I watched their FA Cup game against West Ham on TV. They weren't playing well and you couldn't see any way back. Then, Giggs plays a pass to Van Persie – what a ball – and they're still in it. 'Whatever side Fergie puts out, they play like he manages. The will to win has been with him for more than 25 years and it is amazing how he does it. We did the Treble so why can't anyone else? They are outstanding."
Bigging up AVB
André Villas-Boas improves with age and gives Spurs something to savour (David Hytner, Observer) Villas-Boas's man-management has been an eye-catching feature of his six months in charge and he has succeeded where he failed at Chelsea in the implementation of a meritocracy. His near-pathological impulse to treat everybody the same, from the club captain to the cleaner, has gone down well, making him popular and, crucially, stoking the fires of fair competition within a talented squad. If you train and play well, you will be picked, regardless of reputation.
Sol Campbell bashes Arsenal
Jack Wilshere carrying a team lacking leadership says Sol Campbell (Jason Burt, Sunday Telegraph) In a withering assessment the former defender said Arsenal "haven't got the same characters" as when he played for the club and urged manager Arsène Wenger to "get back to the good old days" by buying "some good British players". "They have very good footballers for sure," the 38-year-old said of the present Arsenal squad. "People like Jack Wilshere – he's fantastic, he's great for the future. He knows what it means to play for Arsenal and what it means to the club to win. He's grown up seeing Arsenal win things and compete. So you do need a lot more of his kind of calibre, in different positions. "They're a great footballing side, Arsenal. They play fantastic football. But it comes down to those final moments where you need leaders. And not just one leader, you need five leaders up and down the pitch. It's too much for one guy. You need four or five leaders to cement that winning mentality and hopefully make it change."
Maybe giving Alan Pardew an eight-year deal was a mistake?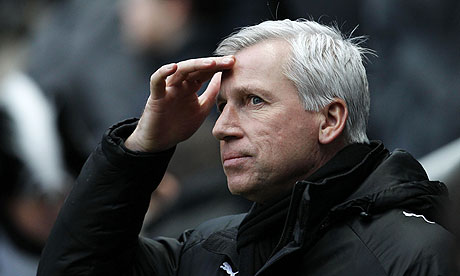 Adam Le Fondre leaves Alan Pardew floundering (Martin Hardy, Independent on Sunday) By the time the second goal went in, the Newcastle owner, Mike Ashley, had left – his seat, definitely, the ground, perhaps. Derek Llambias, the Newcastle managing director, was similarly absent when Adam Le Fondre cast a city into despair. Llambias had returned by the time Andre Marriner signified that Alan Pardew's side had lost their 10th Premier League game from the last 14 they have played. There were jeers to greet the confirmation of defeat. There had been jeers for the substitutions of Sylvain Marveaux (tactical) and Yohan Cabaye (fitness related). There had been a dismissive wave of his right arm from Pardew to the criticism of that decision. There had been chants of "You don't know what you're doing". No club teeters from success (fifth top in May) to disaster quite so quickly (currently two points off second bottom).
Ronaldo & Mourinho row
Ronaldo rows with Mourinho (Antony Kastrinakis, Sun) Cristiano Ronaldo and Jose Mourinho's stunning bust-up was confirmed by Real Madrid last night. The heated exchange between the two happened after Real's 2-0 first-leg Copa del Rey win against Valencia this week and was published yesterday in Spain. Real boss Mourinho had a pop at his fellow Portuguese Ronaldo, who snapped back: "I give my life for you and you are wrong to criticise me." But yesterday Real centre-half Raul Albiol tried to play down the incident. He said: "After the matches the boss can have an opinion and tell a player. "In this case they are two winners like Mourinho and Cristiano who are ambitious and demand a lot of themselves. They had an exchange of opinions but nothing more. It will not affect the team nor our performance. "It stays there because we have an important match in Valencia and we want to win."
Wayne Rooney's expensive bike
Fancy owning a Rooney-designed, diamond-encrusted motorbike? It's yours for £60k… (John Drayton, Mail on Sunday) Wayne Rooney's overhead kick against Manchester City in February 2011 is rightly lauded as one of the finest goals in the history of the Premier League. And it serves as the inspiration behind the diamond-encrusted custom chopper designed by the England striker.
A motorbike inspired by a bicycle kick – it seems rather fitting. The bike is to be sold at the Bonhams auction of Sports Memorabilia on February 20. It is expected to fetch between £40,000 and £60,000 for the charity KidsAid. The bike had previously sold on eBay but is now back up for grabs at the famous auction house. The flash custom-made bike is capable of more than 60mph in under four seconds and was made by Danish manufacturers Lauge Jensen.
Why Gary Lineker quit Twitter
Lineker: My life was being ruled by Twitter (Laura Armstrong, Sun) Football  presenter Gary Lineker last night revealed he quit Twitter as it was "taking over his life". The ex-England striker shocked his 1.3 million followers when he quit the site for "personal reasons" on Friday. Yesterday he told The Sun he just wanted to spend more quality time in the real world with his family. The Match of the Day host, 51, said: "I left Twitter because it tends to take over and I thought I would try life without it. There is absolutely nothing sinister about the decision at all."
---