"Close down Steven Gerrard and Fernando Torres, push the full-backs deep, and you have a chance [against Liverpool]" – Henry Winter
Comment & analysis round-up
Quote of the day: "It is up to the team to improve, not just some names, but it is also up to the senior players to take the responsibility and take us forward… This squad is virtually the same as last season, so I believe it is good enough to mount a title challenge." – Rafa Benitez.
Runner-up: "There will always be critics and I know that will only increase. With the ambition we have and what we have committed to the club there will be more criticism. It is frustrating but it will only be there because of our success. It doesn't faze anyone here. We are looking forward to proving we can do it that right way… The reality is we are trying to build a club to be the best in Europe. That takes time and a financial commitment. You will not reach that top echelon of European football by not investing. We have made team judgments on the areas where we need to invest and I think the results will show they were the right choices." – Manchester City chairman Khaldoon al-Mubarak.
Today's overview: If you're a Liverpool hater, then today is the day you've been waiting for. Let the bashing begin!
Rather than focus on Villa's triumph, consensus opinion revolves on how the Reds' threw the match away. Andy Hunter is the first to react, commenting "Rafael Benitez had called on Liverpool to revisit their history and turn Anfield into a fortress. Instead, they lowered the draw-bridge and invited Aston Villa inside to lay their proud unbeaten record to waste." In similar fashion Oliver Kay made the point that Liverpool "seem to have developed self-destructive tendencies over the summer… Liverpool were all over their place, their travails summed up by the alarming regularity with which Gerrard's passes found an opponent"
Gerrard continued to be called-out in the backpages, Tony Barrett headlining his match summary in The Times with "Angry Rafael Benitez points finger at Steven Gerrard for defeat." Continuing the theme is John Edwards in the Daily Mail who headlined his article as "Kop that! Benitez slams Gerrard after Aston Villa stun Liverpool at Anfield."
However the finger-pointer of the day has to be Sam Wallace who is happy to share the blame around the Reds' squad.
Wallace: "You could pin the blame on the hapless Lucas Leiva… You could look at the weakness of the Liverpool bench from where Andrey Voronin and Ryan Babel… But why blame the foot soldiers when the generals were all over the place too? It was Steven Gerrard's ludicrous tackle on Nigel Reo-Coker that conceded the penalty from which Ashley Young scored Villa's third and decided the game. Fernando Torres scored Liverpool's only goal but this season they will need so much more from him. With his black eye, streaky blond hair and constantly scowling demeanour Torres looked like a latter-day Paul Calf, railing against all the injustices of the world."
For Henry Winter it is less about personalities, and more about tactics that led to Liverpool's demise. "It would be wrong to venture that Benitez's well-established system has been worked out by opposing managers but there is a predictability to Liverpool. Close down Steven Gerrard and Fernando Torres, push the full-backs deep, and you have a chance."
Looking for reasons to help explain Liverpool's poor start to the season is Rory Smith. "Spending the bulk of the Alonso fee on a player he knew would be injured for the opening salvos of the season was Benitez's risk, and it must be assumed it was one he feels is worth taking for a player of Aquilani's ability. But that he has seen little money other than that is a situation which, it is fair to suggest, may have taken the Spaniard by surprise."
An open thread in the Guardian highlights how "Liverpool have already lost as many games as they did last year. Home draws ultimately cost Rafael Benitez's side the title then; this time a loss on home soil.., even at this stage, is it time to write off Liverpool's chances for another season?"
Stepping a step back to look at how City, Spurs and Villa are trying to break into the Champions League is Kevin McCarra. "No one… declares that the cartel at the top of the Premier League will be smashed, but it is good for the health of the game that such a possibility exists… The squads of the elite clubs are no longer beyond reproach."
Staying with Spurs, Matt Hughes celebrates the turnaround at White Hart Lane since Harry walked through the doors. "The transformation of the North London club since Harry Redknapp replaced Juande Ramos last October has been little short of extraordinary, with the new manager winning more than half and drawing just less than a quarter of his 45 matches in charge."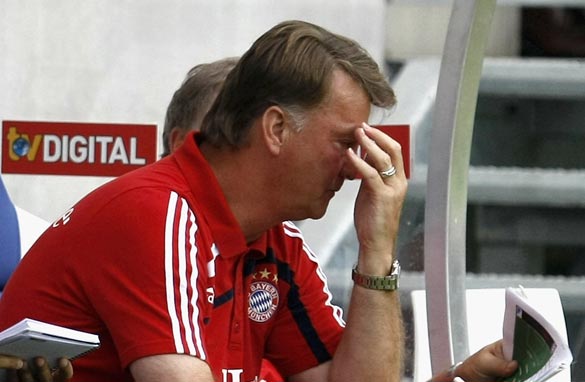 The Guardian return with their European round-up this Tuesday.
Kicking off in Germany, Raphael Honigstein shines an investigative torch in Bayern Munich's face. "Munich find themselves with just two points and in fourteenth place… their worst start to a Bundesliga campaign since 1966, when a 20-year-old Beckenbauer was floating over the pitch. 'The Bayern-Downfall,' screamed Bild on Monday morning, 'worse than under Klinsmann' was Spiegel's considered verdict on Louis van Gaal's team."
Picking up on all things Italian, Paolo Bandini chooses to flag up the plight of Adrian Mutu who is currently being forced to pay £14.6m to Cheslea for breach of contract. "Off the pitch there will be no quick fix to Mutu's problems. Fiorentina can only hope that he continues to find sanctuary on it."
With Joleon Lescott's transfer to Manchester City past the point of no return, focus has shifted onto Everton's new recruitment drive.
According to Andy Hunter, "Moyes hopes to move on from the Lescott episode in the next 48 hours with the signing of the Russia winger, Diniyar Bilyaletdinov, and Valencia's combative midfielder Ever Banega. He has also ear-marked the Portsmouth's Sylvain Distin as Lescott's replacement in a £5m deal." The Telegraph are quick to widen the alleged Toffee targets, announcing "other player names being linked with a move to Everton include: Tottenham's Alan Hutton, Bolton's Gary Cahill, Newcastle's Steven Taylor and Arsenal's Phillipe Senderos."
Amazingly, there are still suggestions that Man City could yet splash the cash once more, as Oliver Kay inks that "Mark Hughes considering the merits of Rafael van der Vaart and Wesley Sneijder, who are unsettled at Real Madrid, as he looks for a creative midfield player."
West Ham are also looking to splash the cash before the window shuts, Jason Burt writing that "a £7 million deal to secure Bordeaux's Marouane Chamakh is already in place and on Monday West Ham chief executive Scott Duxbury travelled to Italy to conduct negotiations over a deal for Livorno's highly-rated Alessandro Diamanti." The Independent doubt the move for Diamanti though, printing that "the Italian side said they were yet to receive 'any satisfactory offers' for the 26-year-old forward."
Of all the over-priced transfers witnessed over the summer, Carl Markham today announces that Sam Allardyce is only prepared to sell Stephen Warnock to Aston Villa for a whopping £10m.
The Daily Mail continue to churn their daily transfer tales, Simon Cass farting that Arsenal are back in the hunt for Saint-Etienne midfielder Blaise Matuidi, before Cass reported in a separate article that "Tottenham are giving a trial to Honduras international defender Osman Chavez as Harry Redknapp looks to boost his options at the back."
The Mirror also churn out a ton of gossip, John Cross penning that "Roy Hodgson has made a £2m move for Le Mans centre-half Gregory Cerdan," the hack then bleating "Atletico Madrid have come in for Newcastle left-back Jose Enrique," while Alan Nixon suggests that "Benni McCarthy could be heading back to Ajax."
Wrapping up the other stories, The Sun claim that "Chelsea are keeping tabs on Benfica's talented trio Angel Di Maria, David Luiz and Fabio Coentrao," the red-top also claims that "Wolves will pay £2m for Reading midfielder James Harper," while the Notts County revolution has snared is first marquee signing, Gary Jacob reporting that Sol Campbell has signed after meeting with Sven-Goran Eriksson.
John Cross closes out today's paper round-up with a headline grabbing EXCLUSIVE in the Mirror. "Manchester United midfielder Anderson has been told he can quit Old Trafford after a furious bust-up with Sir Alex Ferguson. The Brazilian star left Fergie fuming after reacting badly to his failure to make the starting line-up for the Community Shield defeat by Chelsea… Anderson's flare-up has seen him barely feature this season. He played 59 minutes stuck out on the left wing in the defeat at Burnley and hardly made an impact."
---
GAMBLING CAN BE ADDICTIVE, PLEASE PLAY RESPONSIBLY