"Clapello" calls on the England boo-boys to be silenced
Comment & analysis round-up
Quote of the day: "I remember the atmosphere at the old Wembley when the crowd helped the team. When we have played here, there have been problems if things have not started well. This is a very important game and I hope the fans don't boo us after 20 minutes if we haven't scored by then. That is very important. Don't boo. They have to have patience. It's very, very important for the players to be able to play, so we have to ask the supporters to help us." – Fabio Capello.
Runner-up: "When we lose, the first player to swap shirts with Rooney or Beckham will never play for the national team again. They must concentrate on the game. If they try to swap shirts straight after the game they will be in big trouble with me. If they really want an England shirt, I will buy one for all the players out of my own money… The whole Borat thing is an absolute nonsense. It is nothing like Kazakhstan. Kazakhstan is a very big country with very nice people, a rich country with plenty of oil and gas. We are a very serious country and we want to show that at Wembley. Borat is just a character. You cannot compare that to my team." – Bernd Storck.
Today's overview: There is a lacklustre feel in the papers today as most commentators find themselves drawn to discussing England, but with Kazakhstan as the opponents, nobody predicts anything less than an England win. (The lead picture is as exciting as the controversy gets, with The Sun snapping the Kazakhstanis buying England shirts on their shopping spree in London.)
There is some excitement in the back-pages however, with Matt Scott reporting that "Charlton Athletic were last night the subject of a takeover bid by the Maktoum family in a deal that would seem to end Dubai's interest in Liverpool." So South London has gazumped Merseyside, with Nick Szczepanik and Kevin Eason explaining that "Instead of bidding for an established Barclays Premier League club, it has followed the lead of Bernie Ecclestone and Flavio Briatore, who took over Queens Park Rangers for an investment of £14 million and are looking to take them into the top flight — a more economical way of acquiring a Premier League club, if it comes off."
But not all of Liverpool will be downbeat this Saturday, as Mihir Bose explains – "Everton seem poised to be sold. Bill Kenwright, the Everton chairman, is flying off to meet an overseas buyer today which could see the Merseyside club sold for a total value of about £180m. The deal is said to be at an advanced stage."
The other main Premier League stories come from Simon Kuper, who wonders what the economic downturn will mean for football's big spenders ("This week the Wags must be quaking in their Jimmy Choos"), while Sam Wallace reports the Spurs are close to letting go of Damien Commoli, claiming Tottenham are set to do away with the director of football position at the club.
Yet most of today's column inches are filled up by England talk. Martin Samuel looks at how Fabio Capello has avoided falling into the traps usually associated with the so-called "impossible job," while for Jonathan Wilson, tactics, not star names, will end false dawns for England.
And on the tactics themselves, James Lawton celebrates Capello's approach to handling the Gerrard-Lampard situation, Sam Wallace looks at the expectations placed on Gerrard ahead of today's match, and Terry Venables considers how he would line up England – "For me, the solution is to push Theo Walcott up into a three-pronged attack and make sure Gerrard, Barry and Lampard stay narrow in the midfield area."
On Walcott, Richard Williams is concerned about the development of young Theo, urging Fabio Capello to let the flying youngster run riot rather than holding the player back. The same sentiment is picked up by Tony Cascarino, who also believes Walcott must be given time to settle in the England team. Lastly, Henry Winter also focuses in on Theo Walcott, arguably over-hyping and putting too much pressure on the youngster predicting "Chants of 'Theo, Theo' will reverberate around a merry, sold-out Wembley. Walcott represents the teenage kick-start all England craved."
Taking a slightly sideways approach to today's match at Wembley, number-crunching Daniel Finkelstein makes his pitch for the England job before offering his results on who should be playing for England. And Jim White injects some homour, reporting on Paddy Power's "Borat Book" – "Bookmaker Paddy Power are offering odds on which phrase from the lexicon of Kazakhstan's finest fictional export will be the first uttered by the commentator."
Other articles of note include the Guardian's Big Interview with Mike Newell talking to Richard Rae about returning to football at Grimsby, and Marcela Mora y Araujo previews "the oldest South American derby," Uruguay v Argentina.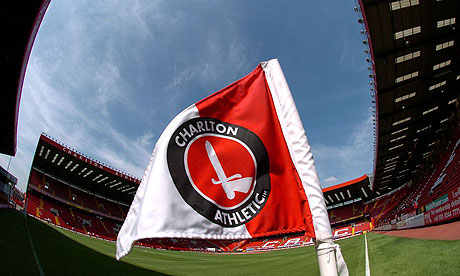 The Guardian's Matt Scott drops a bombshell this morning, reporting that "Charlton Athletic were last night the subject of a takeover bid by the Maktoum family in a deal that would seem to end Dubai's interest in Liverpool." "The Maktoum family had been involved in fruitless negotiations with the Anfield club's owners, George Gillett and Tom Hicks, and also turned down the opportunity to purchase Newcastle United. Hicks recently travelled to Dubai with a view to offloading his 50% stake in the club but the talks were inconclusive. Then Mike Ashley and Dennis Wise also paid a visit in an attempt to generate interest in Newcastle but according to sources familiar with the discussions the sums the pair demanded were considered unrealistic. Their attention then turned to Charlton. Superficially there would seem to be few motives for taking over a club who lie only 14th in the Championship today. But there was an influential link with Liverpool in that Rothschilds, the investment bank, had represented the five-times European champions and also worked for Charlton."
The Times' tag-team of Nick Szczepanik and Kevin Eason also report on the likely takeover of Charlton by the Dubai group. "Charlton Athletic are in line to be the next British football club to pass into foreign ownership after Zabeel Investments, a Dubai-based company, made an offer thought to be between £20 million and £30 million for the Coca-Cola Championship club… Instead of bidding for an established Barclays Premier League club, it has followed the lead of Bernie Ecclestone and Flavio Briatore, who took over Queens Park Rangers for an investment of £14 million and are looking to take them into the top flight — a more economical way of acquiring a Premier League club, if it comes off."
And Charlton are not the only side on the verge of being taken-over, with Everton on the brink of a sale according to the BBC's Mihir Bose. "Everton seem poised to be sold. Bill Kenwright, the Everton chairman, is flying off to meet an overseas buyer today which could see the Merseyside club sold for a total value of about £180m. The deal is said to be at an advanced stage. This would include taking over Everton's debt of about £65m (£25m securitised debt and a £40m overdraft). If the remaining £115m is paid for the club's shares that would represent quite a premium on the club… Although there has been speculation that the Indian billionaire Anil Ambani was interested, the buyer is not Ambani or any other Indian. This offer represents the first genuine bid for the club and if the talks progress well the club could change hands quite soon."
Under the wonderful title "Wags Lyrical," the FT's Simon Kuper wonders what the economic downturn will mean for football's big spenders. "This week the Wags must be quaking in their Jimmy Choos. Lord Triesman, the Football Association's chairman, estimated English football's total debt at £3bn. He wants – dread words – a salary cap. Liverpool have delayed building their new stadium. Manchester United's sponsor, AIG, has, in effect, been nationalised. Could the credit crunch do to Wags what it did to Lehman Brothers?… The Wags might be about to collapse beneath a bar table but not beneath the weight of their own contradictions. This year may even go down as the year they were crowned on red velvet thrones à  la David and Victoria Beckham at their 1999 wedding. Studies of happiness show that what makes people happy is not absolute wealth but having more than others. The City wife's pain is the Wag's pleasure. But Wags beware. Once a sideshow, they could become the only game in town, except for the National Lottery – which has already created well over 2,000 millionaires. The shrinking of opportunities for wannabe millionaires' partners will expose Wags to increased competition. Short careers could get even shorter as the British middle classes and foreign imports swarm to entice their husbands. Perhaps the Wags should diversify out of sunglasses and salt away some of their assets in stocks. On second thought, perhaps not."
After week's of speculation, the Independent's Sam Wallace reports the Spurs are close to letting go of Damien Commoli, claiming Tottenham are set to do away with the director of football position at the club. "The Tottenham Hotspur hierarchy is debating whether to abandon its director of football system altogether as the sacking of Damien Comolli becomes imminent. The Frenchman is on his way out of the club after their disastrous start to the season and there is pressure on chairman Daniel Levy not to replace Comolli when he does eventually leave… Levy has been told by those close to him that it would be pointless to replace Comolli because it is the chairman who does most of the deals himself anyway. It was Levy who flew to Zagreb at the end of last season to tie up the £16.5m deal for Luka Modric personally. Often in negotiations Comolli now finds himself acting as little more than a go-between for his chairman who decides the limits of Spurs' buying and selling."
With England riding high, The Times' Martin Samuel looks at how Fabio Capello has avoided falling into the traps usually associated with the so-called "impossible job." "Capello, having wasted little time on Swedish weathergirls or CD compilations of his favourite classical music, has not found his private life under the same scrutiny as Eriksson's. And as his backroom staff tends to consist of granite-faced Italian fitness instructors rather than faithhealing housewives from Berkshire who claim to have put invisible force fields over the goals at the Olympic Stadium in Rome, he has avoided much of the ridicule that came Hoddle's way, too. As for Taylor, the repeat screening of the fly-on-the-wall documentary covering his failed World Cup qualifying campaign revealed much of why he found the job impossible, although self-awareness was never his strength. So it is to be hoped that Capello is about to blow this whole sorry culture out of the water, if he has not done so already, by showing what can be achieved if a gifted coach, organiser and motivator stays focused on one goal."
For Jonathan Wilson (FT), tactics, not star names, will end false dawns for England. "Anybody who has pointed out just what an extraordinary result it was – and remember, Croatia had never previously lost a competitive game at home – has been berated on blogs and message boards, accused of getting carried away on the back of one game… Constant pessimism, though, is no more accurate than overoptimism. No side ever plays consistently well, so the dearth of genuinely competitive international games means that fluctuations in form are magnified and the ability to achieve results in one-off matches is far more important than it is in club games. Club management is as much about sustaining a squad's focus, discipline, morale and fitness as it is about strategic issues; at international level tactical decisions take centre stage."
The Independent's James Lawton celebrates Capello's approach to handling the Gerrard-Lampard situation. "Either Lampard, aged 30, and the 28-year-old Gerrard, prove finally that their brains do not automatically turn to shredded wheat whenever they simultaneously pull on the shirts of their nation or they go their separate ways… In the face of such a possibility there is only one appropriate word. It is Hallelujah. Hallelujah for the revelatory flash that never came when Sven Goran Eriksson stood and blinked and did not much else on the training field and his assistant and successor, Steve McClaren, fussed around with training cones that, in the end, might have been just as effectively placed around one of the building sites on the M1. Hallelujah, too, for the simplicity of Capello's approach – and the irritation that floods his face when it is suggested that international footballers of the standing of Gerrard and Lampard are somehow powerless to read a game with something more profound on their minds than the next opportunity to show themselves at their best."
Sam Wallace (Independent) looks at the expectations placed on Gerrard ahead on today's match. "Gerrard will be under scrutiny this afternoon like never before because he, above all, is the highest-profile gatecrasher of the party that beat Croatia 4-1 in Zagreb. If the winning streak of this team is disrupted today then it will probably be Gerrard who has to carry the can. He is arguably the greatest English player of his generation and yet no England manager has been able to decide properly where he would like him to play until today, when Capello claims that he will end all the arguments… In reality, Gerrard has never been well treated by England managers who have looked to fix problems by adapting him to wherever in their midfield they have found themselves threadbare. Steve McClaren played Gerrard on the right wing before he rescued England playing in the centre against Andorra in March 2007, Capello tried him as a second striker against France in March this year and – arguably – on the left against the Czech Republic in August. Even Gerrard's most vehement critics would surely concede that if he is not to be played in his preferred position in the centre then he at least is entitled to some consistency."
In The Sun, Terry Venables considers how he would line up England. "For me, the solution is to push Theo Walcott up into a three-pronged attack and make sure Gerrard, Barry and Lampard stay narrow in the midfield area. Then I'd instruct Theo to play up, wide and high on the right, pulling the left-back out towards him. Over on the left Emile Heskey would have a similar role — but with a vital difference. He would be instructed to play INSIDE the right-back. That creates all sorts of headaches for his defender: Does he let himself get pulled in by Heskey — opening a huge gap out on the wing for a rampaging Lampard to exploit? It's a tactic which has worked well in the past, particularly for Heskey, and causes defenders a lot of problems."
Richard Williams is concerned about the development of Theo Walcott in the Guardian, urging Fabio Capello to let the flying youngster run riot rather than holding the player back. "Walcott's performances are demanding the display of confidence that was withheld from Owen until the arrival of Sven-Goran Eriksson – and had previously been denied, for different reasons, to a whole string of gifted wingers with Caribbean ancestry, starting with Laurie Cunningham and including Vince Hilaire, Mark Chamberlain, Mark Walters and Tony Daley. Whether or not Walcott ends up representing his country in Owen's position, at the moment he represents the realisation of the promise of those thwarted by coaches unable to cast aside the blinkers of prejudice… Theo Walcott is Theo Walcott, whatever that may turn out to be, and Capello – despite his sensible warning not to expect such fireworks every time the young man takes the pitch – probably can't believe his luck as he fends off requests from Stuart Pearce to make the player available for next year's European Under-21 finals."
The same sentiment is picked up by Tony Cascarino in The Times, who also believes Walcott must be given time to settle in the England team. "Walcott is only 19, he will be inconsistent. But top teams can afford one player who they occasionally have to carry, but they know he can be a matchwinner. Oppositions will adapt to him and man-mark him. He'll have to find the answers to that – all top players do. But for the next decade or so, there'll be that devastating pace. While we can't expect a hat-trick every game, there's every reason to believe Walcott will chip in with goals and assists fairly regularly, and that justifies his place. And let's remember how level-headed and mature he is for his age."
The Telegraph's Henry Winter also focuses in on Theo Walcott, arguably over-hyping and putting too much pressure on the youngster at this early stage in his England career. "In predicting the dawn of a "new era" for England, Fabio Capello appreciates that the warming rays of sunshine now being spread by his players emanate to a large degree from Theo the Tyro, whose pace and fearlessness have lifted the mood in the dressing room and on the terraces. England's central pair of Steven Gerrard and Frank Lampard, and a roaming Wayne Rooney, will look to release Walcott down the right. Chants of "Theo, Theo" will reverberate around a merry, sold-out Wembley. Walcott represents the teenage kick-start all England craved. The arch pragmatist, Capello knows that England still have plenty of problems to solve on the mazy road to the 2010 World Cup, including the mystery of the misfiring Gerrard-Lampard axis as well as discovering how and when Rooney met Edward Scissorhands. But Walcott has given England hope."
Number-crunching Daniel Finkelstein (The Times) makes his pitch for the England job before offering his results on who should be playing for England. "Who would take the England job? Well, I would for a start. Think about it. You get paid a fortune to work for about six weeks a year. The rest of the time you get to watch football matches, writing down your dream squad in a small notebook. True, you get called a turnip in The Sun. But I had that happen to me anyway, without being paid all that money. The only other cloud on the England manager's horizon is that you have to settle the Steven Gerrard versus Frank Lampard question. But that's easy. Lampard. I'll send the FA my bank details." (Finkelstein's England squad can be seen here.)
The Telegraph's Jim White reports on Paddy Power's "Borat Book" ahead of England-Kazakhstan. "Bookmaker Paddy Power are offering odds on which phrase from the lexicon of Kazakhstan's finest fictional export will be the first uttered by the commentator during ITV's debut coverage of England under their new contract, the World Cup qualifier against the country that spawned Borat. You can get odds of 10-1 on the Borat greeting "Jagshemash" and 100-1 on "It's sexy time". The favourite is "Very nice" at nice odds of 4-1. But if Tyldesley really wanted to strike it big, he could put a fiver on "May George Bush drink blood of every man, woman and child in Iraq", and earn himself a handsome return at 500-1."
The Guardian's Big Interview sees whistle-blower Mike Newell talk to Richard Rae about returning to football at Grimsby. Newell: "Now I feel totally fresh. I don't have any ego issues about taking on a club at the bottom of League Two because this a club with history and far more potential than a lot of clubs… If I had my time again I would have moved to a bigger club, instead of digging my heels in at Luton. There will also be a day I can reveal the full facts about what happened there, and I will. I haven't said a word in the past 18 months."
Marcela Mora y Araujo previews "the oldest South American derby," Uruguay v Argentina, in the Guardian. "For Argentina manager Alfio Basile, a lot is at stake. His side have not won any of their last six matches. The Argentinian press are reporting the fact that there are still 5,000 unsold tickets for the Monumental as evidence that people are losing faith. Juan Román Riquelme, the current enfant terrible of domestic football, is in questionable fitness. Column inches are being churned out following the dramatic soap opera — without Román there is no option: "3-4-3, because there is no other link man in the system," states sports daily Olé… Riquelme's nemesis when he was a Boca player first time round was Uruguayan manager Oscar Tabárez, the first manager who dared to bench him. Tomorrow, Tabárez will again be in the dugout, this time in charge of Uruguay. His team's fitness worries focus on a different issue: who can replace the injured Diego Forlán up front?"
Click here for more Premier League betting tips
---