Christmas Crackers! Tottenham linked with David James, Arsenal target Craig Bellamy while Chelsea & Man City prepare bids for Fernando Torres
Comment & analysis round-up
Quote of the day: "Bellamy's my friend. I spoke with him two days ago. There is no problem. I think all the players in the squad are happy. I told him we have two games in three days and I need all my players at 100 per cent. Today we played Robinho but it is possible that against Wolves we will play Craig. I was very happy with the way they applauded me before the game. But I can only answer them with my work, by doing a good job. Mark [Hughes] was a fantastic player in England. He was popular. I'm not popular in England – I'm popular in Italy."  – Roberto Mancini.
Runner-up: "You could say that I'm flattered by a team of Tottenham's stature and that it would be good for my England chances to join an upwardly-mobile club." – David James.
Today's overview: Sadly for all the cynics out there, Stoke looked all too happy to roll over at Eastlands on Boxing Day which has allowed the fourth estate to today trumpet the early achievements of new Manchester City boss, Roberto Mancini. Yet one player continues to stick out at City, as Robinho's poor performance against the Potters was registered across the board.
Summing up the current landscape at City, Paul Wilson coughed "Mancini seems to have sorted out Manchester City in no time at all. Solving the £32.5m problem that is Robinho, on this evidence, may take rather longer… Stoke were poor, in all honesty, yet even against moderate opponents Robinho was unable to shine. Mancini gave him every chance, restoring him to the apex of the attack and even more controversially dropping Craig Bellamy to the bench, yet the Brazilian gave another startling indication of just how little £32.5m buys you these days if you don't spend it carefully."
Jonathan Northcroft was next to stick it to Robinho. "City more or less had to secure three points using 10 men, so risible was Robinho. The Brazilian's parlous levels of effort and motivation were not boosted, as might have been expected, by the arrival of a new manager and yesterday his touch and creative input were poor."
Looking forward, Henry Winter helped prepare the blueprint for Mancini's City. "Mancini will have observed that Man City must build around the outstanding triumvirate of Shay Given, Gareth Barry and Carlos Tévez, who each gave every last drop of sweat for their new leader.  By the final whistle, the document surely carried other entries. Recruit a commanding centre-half. Nurture a stronger unit from such technically talented individuals. Teach Robinho how to play for the team or sell him. Craig Bellamy achieved more in 20 minutes than the lightweight Brazilian managed in 70. "
Taking a more considered approach to Mancini's debut win, Paul Hayward sullied the atmosphere spitting "senior judges think City are a gang of talented individuals who have yet to coalesce into a team. Even in this comfortable win there was no consistent pattern of play and an absence of real authority at the back."
Alberto Aquilani finally received his starting debut for Liverpool against Hull on Saturday, but the Italian failed to glean rave reviews.
Nick Townsend commented "Aquilani looked willing but too often his passing was awry," while slightly more optimistically George Murray wrote "after a misplaced early pass to Gerrard, Aquilani showed his determination not to be found wanting in the hustle of the Premier League."
Sitting on the fence, Andy Hunter commented "Aquilani started brightly before fading – as might be expected of a central midfielder who has played little this calendar year but could benefit from Benítez's protection no longer"
With Arsenal and Liverpool lined up in their next two matches, can Aston Villa assert their Top Four credentials?
Stuart James shines the spotlight on the Midlanders and, using James Milner as the test case, the scribe wonders whether O'Neill can manage to successfully juggle his troops in the next few weeks. "This is O'Neill's conundrum: how do you rest a player whose energy and enthusiasm for football is boundless and whose form has been so outstanding that he has gone from being on the periphery of Fabio Capello's squad at the start of the season to now being a nailed-on member of the 23-man party for South Africa?"
Getting slightly carried away, Paul Wilson wonders if Villa could actually have title aspirations. "Villa in particular are playing well and have no European distractions to slow them down this season. Everyone is saying Martin O'Neill's side look a good bet for fourth place this season, yet the way the top four are playing they could do better than that. Much better. Villa are still a long shot for the title, 40-1 in fact, but that's a decent-value punt if you are in touch with the leaders at the halfway stage of a four-horse race."
Stepping back to survey the halfway point of the season, Paul Hayward believes that the recession dogging the British economy is finally affecting the nation's footballing elite. "At the halfway point this has been the most captivating Premier League season in memory. The aristocracy are losing games like never before, the middle-classes (Aston Villa, Tottenham Hotspur) are on the march and the proletariat (Burnley) are restoring the lost virtues of thrift and self-reliance… There is a sense at last that the big powers are no longer rattling their jewellery. The reason, surely, is that, unlike in society, the downturn weakened the rich more than the poor."
Also looking to draw end of year conclusions is Rod Liddle, who headlined his final piece in 2009 as "Spare us the bleatings of puffed-up prima donnas." "This has been a vintage year for sectionable delusions of grandeur among football players. The more they are paid, the more ludicrous they become. Any year that ends with Bobby Zamora believing he is good enough to play for England has got to be one for the record books. If Bobby actually gets in the squad, I reckon I'm in with a decent shout."
With the transfer window just days away from reopening, the lies begin to gather some pace.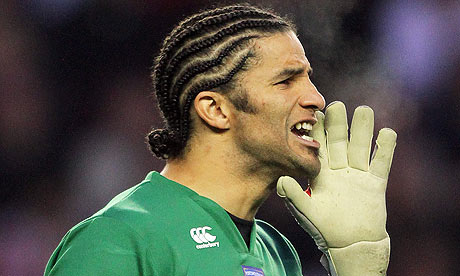 Having lost a massive 6-pointer at Upton Park on Saturday, Bill Neenan begins by linking Pompey keeper David James with a move to White Hart Lane. "David James has said he welcome a move next month from Portsmouth to Tottenham Hotspur, where he would be reunited with Harry Redknapp." (The irony of this rumour is that, as explained by John Aizlewood, current Spurs keeper Gomes was Spurs' hero at Fulham on Saturday.)
Staying with goalies, The Sunday Times announce "Chelsea are looking to replace Petr Cech as first-choice goalkeeper… The club has drawn up a list of potential replacements, including CSKA Moscow's Igor Akinfeev, Gianluigi Buffon of Juventus and Lyons' France international, Hugo Lloris, inset."
The Mail on Sunday's Simon Draper refuses to name names when announcing "Arsenal are considering a £20million gamble by signing a striker and a defender in the January transfer window to boost their growing title challenge." Moving onto Liverpool, Joe Bernstein crashes in with news that "an attempt to swap Babel for Tottenham's out-of-favour Russian striker Roman Pavlyuchenko failed because Liverpool also wanted £3m as part of the deal."
The Mirror on Sunday surpass themselves with a selection of never-gonna-happen lies. Steve Stammers is first to shoot, claiming "Arsenal have emerged as shock contenders to sign Craig Bellamy," before Jeremy Butler claims "Inter Milan defender Ivan Cordoba has issued a come-and-get-me plea to Manchester City's new boss Roberto Mancini." Butler continues to run his mouth off shouting "Liverpool hope to offload Ryan Babel, Andrei Voronin and Andrea Dossena in the transfer window to free up cash for new signings… Benitez wants the money to fund moves for West Ham frontman Carlton Cole and Palace winger Victor Moses."
And the Mirror on Sunday continues, with Brian McNully reporting "Tottenham boss Harry Redknapp set to offer Robbie Keane as bait for Sunderland striker Kenwyne Jones," while a faceless article announces "Arsenal and Tottenham are ready to fight it out for Newcastle keeper Fraser Forster."
The News of the World's Chris Bascombe delivers terrible news to the red half of Merseyside claiming that City and Chelsea are preparing bids for Fernando Torres, Steven Gerrard is a target for either Real Madrid, Barcelona or Inter Milan, while on the plus side Andrei Voronin could be heading to Panathinaikos.
Staying in the NOTW, Andy Dunn reports "Liverpool misfit Ryan Babel, Aston Villa's Emile Heskey and Sunderland ace Kenwyne Jones are in Pulis' sights," Hugh Southon will likely prove to have fibbed spouting "Wenger is poised to launch a £12million January bid for French international striker Andre Pierre Gignac," while in other news Aston Villa are linked with £8m Wolfsburg defender Marcel Schafer, Federico Macheda is touted for a loan switch to Zaragoza, Juventus defender Giorgio Chiellini is linked with Old Trafford, and Atletico Madrid are rumoured to be sniffing around David Bentley.
The People then deliver their host of seasonal half-truths.
Alan Nixon begins by shouting "Carlo Ancelotti will make a transfer window U-turn by offering a British record £45million for Franck Ribery." The news was followed by Steve Bates' report that "Liverpool were last night mounting a major effort to sign former Lazio striker Goran Pandev on a free transfer next month in a bid to boost their flagging season."
The red-top closes out by linking Sol Campbell to Eastlands, claiming "Brazilian striker Luis Fabiano paved the way for a summer move to Manchester United by declaring: Come and get me, Sir Alex," while Mel Henderson went to print claiming "AC Milan want to take Arsenal goalkeeper Vito Mannone back to Italy in the January transfer window."
Finally, in the manager-merry-go-round Bob Cass takes journalistic license to fart "Mourinho wants the United job: Inter boss snubbed City's millions because he has his heart set on taking over from Fergie at Old Trafford."
---
GAMBLING CAN BE ADDICTIVE, PLEASE PLAY RESPONSIBLY