China v India for control of Liverpool & Cesc Fabregas returns to Arsenal today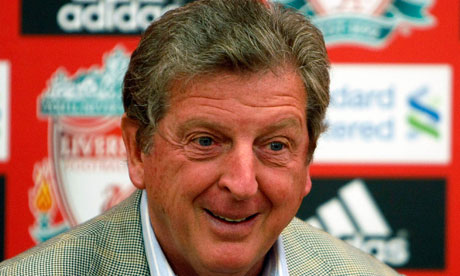 Comment & analysis round-up
Quote of the day: "As a player you have a chance to change things. If you don't think the team is doing as well as it should, as a player you can do something about it. If you are a big player, maybe you will. I don't get involved in that. My attitude is that we want our big players because they will help the team to win. If they are not playing well and not helping the team to win I will be advising them to look into the mirror rather than look for excuses elsewhere and blame the owners for not having spent £500m. If we look at Real [Madrid] last season they spent a fortune on two or three players and it didn't give them what they wanted. They didn't win the Champions League or even get to the semis, and they didn't win the Spanish league or the Spanish cup. The two most expensive players in the world par excellence didn't help them get what they want. Are those players then entitled to say: 'I should not have come here because the club lacks ambition.' Or is the club entitled to say: 'We spent £150m on you two, we wanted you to help us win.'" – Roy Hodgson.
Runner-up: "Some players are in good condition but others need more time. The 10 players that only came back to us on July 26 need to have another two weeks of work. After just eight days of training it is impossible to be fit. We are all disappointed because we have lost three games consecutively so it's not a good start for us. Now we have to hope we can come back with a win against Manchester United in the Community Shield on Sunday." – Carlo Ancelotti.
Cesc Fabregas quote of the day: "Cesc's a big player for Arsenal so I'm looking forward to playing with him next season. He's one of those players who spots a ball no one else would. I've been texting him. I sent my congratulations for the World Cup and said what a great pass he made for the winner. After that he just needed a good mental break from it all. I'm looking forward to seeing him back. He's a fantastic player for us and our captain. After Spain's victory, it's a nice bonus to have a World Cup winner by your side." – Theo Walcott.
Today's overview: The likely takeover of Liverpool continues to dominate with it now a straight battle between the Chinese and Indians to secure control of the Merseyside giants. Most papers seem to back Kenny Huang and the Chinese government.
Besides Liverpool and Roy Hodgson's managerial debut at Anfield tonight, the return of Cesc Fabregas to Arsenal today is also reported on. There is a host of transfer gossip with potential movement beginning to take place involving Craig Bellamy to Spurs and James Milner inching towards Eastlands.
There is also England chat and the excellent Jonathan Wilson has an article on "Is 4-2-3-1 the future?"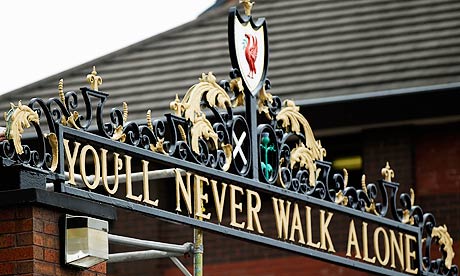 Takeover of Liverpool: The exclusive in The Guardian is by Matt Scott who reports "The Chinese government fund represented by Kenny Huang has spent the past fortnight raising precisely the amount of cash required to finance a bid for Liverpool. Sources have confirmed to Digger that the China Investment Corporation, the sovereign wealth fund to the world's most populous nation, is the organisation being fronted by Huang, who yesterday admitted interest in bidding for Liverpool. In a series of trades since 19 July, CIC has sold $558m of shares in Morgan Stanley, equating to £351.4m. That sum is equivalent to Liverpool's debt to the nearest decimal place, and is exactly the number insiders say has been quoted to interested parties as the sale price."
Ian Herbert also back the Chinese in The Independent. "Liverpool's American owners Tom Hicks and George Gillett appeared to be losing their fight to walk away from the club with a profit last night as Gillett's preferred Syrian buy-out bid was widely dismissed as lacking credibility and the rival Chinese move for the club was revealed to be backed by the state-owned Chinese Investment Corporation (CIC) which has $332bn (£209bn) of assets under management. In a day of dramatic scrambling for the ownership of Liverpool, which coincided with manager Roy Hodgson confirming he is ready to make an £8m bid to bring Juventus' defensive midfielder Christian Poulsen to Anfield as a likely replacement for Javier Mascherano, representatives of Yahya Kirdi, a former Syria international now fronting one bid, insisted that a price has been agreed and a formal purchase agreement 'is in the final stage of negotiation'."
Phil Thomas bills it as "China v India for Kop control." "Indian billionaires Mukesh Ambani and Subrata Roy face the Chinese government in the battle to buy Liverpool. The tycoons tabled their bid for the Reds nine months after failing to buy a 51 per cent share in the Anfield outfit. They join at least four other interested buyers including Chinese businessman Kenny Huang, who has already held talks about buying Liverpool's £237million debt off the Royal Bank of Scotland. Huang, backed by the £209bn Chinese Investment Corporation, was favourite to replace unpopular Yank owners Tom Hicks and George Gillett. He is said to be backing boss Roy Hodgson with a £150m transfer kitty. But the Anfield auction is now wide open."
Paul Kelso compares Liverpool and Blackburn to find out which Premier League club is more attractive to investors. "At first glance Liverpool look the plum prize, a Manchester United-sized brand for less than half the price. If it was a house, the estate agents would be marketing "a historic residence, formerly considered one of the finest homes of its type in Europe". In the small print however they would have to admit that it was in need of significant refurbishment — in fact it needs knocking down and rebuilding up the road. Add running costs of £150 million and rising and a price tag in the region of £350 million and any buyer would need to take a deep breath before asking for the keys."
Liverpool-Rabotnicki: Andy Hunter looks forward to Roy Hodgson's home debut at Anfield this evening. "One minute he is being labelled a treacherous 'bugger' by Mohamed Al Fayed for leaving Fulham, the next he is the Midas of Liverpool for convincing Fernando Torres and Steven Gerrard to resist moves that never got off the ground. It probably explains Roy Hodgson's sanity after 34 years in football management that he can ignore such extremes, although even the self-confessed 'ultimate pragmatist' expects his Anfield honeymoon to withstand a second date with FK Rabotnicki in the Europa League."
Cesc Fabregas: Nick Szczepanik reports on Fabregas' return today to Arsenal. "Cesc Fábregas returns to Arsenal today at the end of his extended post-World Cup break and everyone associated with the club will hope that the planned squad photocall ends with the captain sitting alongside Arsène Wenger in the official team picture, all smiles. Wenger called at the weekend for Fábregas to end speculation that he will be returning to Barcelona, where he began his career. But if manager and supporters are desperate for such an outcome, then so are the players, who know that their chances of hoisting a trophy this season depend on a fit and committed Fábregas."
Matt Barlow also writes of Fabregas' return to Arsenal today. "Arsenal want Cesc Fabregas to make a public pledge of loyalty on Thursday when he comes face to face with his manager and the club's fans. Fabregas will report to the Emirates Stadium for the first time since the protracted tug-of-war with Barcelona that has infuriated Arsenal manager Arsene Wenger. The player will take part in a photo-shoot and training session in front of club members before signing autographs for supporters in the afternoon."
Wayne Rooney's performance against Airtricity XI: The main story in The Sun concentrates on Wazza. "Rooney got the biggest welcome and though he made a mess of two chances up front, his workrate was more like the real thing. Leading the line, dropping deep, helping the defence, he was everywhere. Last season was exceptional for the England striker as he racked up his best goals tally. He will be looking to do the same again in this coming campaign as United aim to regain the title from Chelsea. Rooney will have to as well, because where else are they going to come from unless Javier Hernandez becomes the find everyone of a red persuasion hopes?"
(Super) Mario Balotelli: Laura Williamson and Nick Pisa team up for a special report on the "bitter family feud" surrounding Mario Balotelli. "Mario is no longer a Barwuah. He has taken the surname of his adopted family, Balotelli. The toddler has grown up into an Inter Milan striker and Champions League winner valued at around £29million. The player they call 'Super Mario' claims his natural parents abandoned him when he was two years old. The grainy images in the Barwuahs' humble flat in Bagnolo Mella, a sleepy town of terracotta buildings, haphazard cobbled streets and a population of just 13,000, are therefore the only connection they have with their eldest son." In a seperate article the Mail also cast doubt on the move due to Balotelli's wage demands.
Chelsea sign Ramires: Dan Francis picks up the story in the Daily Mail. "Brazilian World Cup star Ramires will arrive in London on Thursday for a medical after Benfica agreed to sell him to Chelsea in an £18.2million deal. Sportsmail revealed last month that Carlo Ancelotti was keen to sign the midfielder after his impressive displays in South Africa. Ramires is now set to sign a four-year contract at Stamford Bridge after the Portuguese champions confirmed to the Lisbon Stock Exchange that they had entered negotiations with the London club."
Transfer gossip: Harry Redknapp has made a bid for Craig Bellamy, West Ham have swooped for New Zealand World Cup star Winston Reid, Stoke are lining up Kevin Prince Boateng and Blackpool want James Beattie, all in The Sun.
In the Daily Mail we learn that Zenit St Petersburg have lined up a 21 million pound move for Yuri Zhirkov, Wigan have won the loan race for Tom Cleverley and Spartak Moscow have dubbed Aiden McGeady "McGreedski."
The Daily Mirror chime in with Liverpool closing in on Christian Poulsen, Stoke have joined West Ham and Liverpool in the race for Loic Remy, Chelsea want Dario Srna and Celtic are after Craig Bellamy.
The Guardian report that Sunderland have made a loan move for Joe Hart, Birmingham want 2006 World Cup winner Mauro Camoranesi and Mark Hughes doesn't want Steve Sidwell at Fulham.
Rory Smith has an update on James Milner to Manchester City. "Manchester City will attempt to break the deadlock with Aston Villa over James Milner's proposed move to Eastlands by offering Martin O'Neill a cash-plus-player deal. Villa have so far refused to reduce their £30 million asking price for the England international, despite the midfielder making plain his desire to leave the club, while City are not prepared to improve their second bid, believed to be in the region of £24 million. But Roberto Mancini is hoping to bridge the gap by offering Villa a number of players as makeweights. The Italian is conscious of the need to cut his squad substantially before City submit their 25-man list to the Premier League at the end of the month."
Foreign sources suggest Manchester City have targetted Diego Forlan if the move for Mario Balotelli falls through, PSV have recieved no offers for Ibrahim Afellay and Newcastle have reportedly won the battle for Marseille winger Hatem Ben Arfa.
Premier League previews: The Guardian continue with two a day, the latest being Blackpool and Bolton.
England: With England's first post World Cup friendly coming into view, Marina Hyde takes a closer look at the Three Lions through the prism of Frank Lampard's gold-plated iPods. "The thing about the England of recent years is that even when you think you have seen it all, they always find a way of disappointing you further. Only days ago, the sheer scale of the trust-building task was once again underscored by the tale of the gold-plated Frank Lampard iPods. Have you heard this one? Let me summarise: 5,000 gold-plated iPods bearing Frank Lampard's lasered signature are to be melted down after demand for the £599 product failed to materialise in the wake of the World Cup. Do take a moment to digest those details. Writing in this space before the tournament, I recalled all those dementedly self-regarding autobiographies that followed the 2006 World Cup tournament, of which Frank's was such a standout example. Yet at no stage, not even in my most grimly cynical moments, did I suspect that the once-bitten Frank was at that very moment lending his lasered imprimatur to something that even in a crowded marketplace would manage to redefine early 21st century tosserage."
Mark Fleming reveals the likely squad changes. "England manager Fabio Capello is to recall both Adam Johnson and Theo Walcott for next week's friendly against Hungary and may also select the young Arsenal pair of Jack Wilshere and Kieron Gibbs as he seeks to inject fresh life into the side that flopped so badly at the World Cup. David James will be dropped from the squad, though, and the veteran goalkeeper, who celebrated his 40th birthday last Sunday, looks set to be the highest profile casualty of England's poor showing in South Africa, despite having started three of the four games in the tournament."
Tactics: Good news, Jonathan Wilson returns with the question: Is 4-2-1-3 the future? "Evolution never stops. As the World Cup showed, 4‑2‑3‑1 has come to replace 4‑4‑2 as the universal default (18 of the 32 teams played some form of 4‑2‑3‑1 at some stage, with another three fielding a 4‑4‑2 that perhaps should have become 4‑2‑3‑1) so the system at the very highest level has already begun to mutate. Spain, by the end of the World Cup, had followed what Barcelona did at times last season, what Arsenal seemed to be reaching towards, and set up in a 4‑2‑1‑3. Now clearly the distinction between 4‑2‑3‑1 and 4‑2‑1‑3 is minimal. It entails nothing more than the central player in the trident pulling a little deeper and the two wide players advancing slightly. In practice, as the wide players look to escape the attentions of full-backs, their depth of position may not alter greatly, but to refer to the system as 4‑2‑1‑2‑1 and start introducing a fifth band is probably to begin to confuse the simplicity that gives value to the practice of assigning numerical codes. The shape, if anything, resembles a diamond sitting on a plinth. As I've said before, the designations are of course crude, but they have a use in providing a broad explicatory template."
Robbie Savage's new book: The Welsh midfielder has yet more revelations in the Daily Mirror. "I looked into Steve Bruce's eyes when I said goodbye and I saw hurt, anger and betrayal. I had lied to him and I'd stitched him up to get a move to Blackburn. It was November 2004 when the speculation started about my future. Mark Hughes had left Wales to take the Blackburn job and the rumours were that I would be following him. At the end of the month, we played Blackburn and drew 3–3. I wanted to put on a good show and I scored. Blackburn fans were singing "Sav's a Rover". I just knew I was going there. The gaffer did everything he could to keep me at Birmingham, but I lied to him. I sat in his office and told him things about my private life that were not all true. I sat there and turned on the tears with help from the onion I had in my pocket."
And Finally: Joey Barton has grown a comedy moustache… to help build Newcastle's Premier League spirit.
Click here for more Premier League betting tips
---