Chelsea's monkey taunt man is found (but where is any Clattenburg evidence?), Mancini's secret Monaco deal & Liverpool go for Walcott
Comment & analysis round-up
Quote of the day: "I believe one of the best things in sport, especially in England, is that it is a battle on the pitch and then you sort out the problems you have had internally. When I didn't behave well, I prefer that I have an explanation from the referee rather than going public with little proof. If football becomes a sport to make the lawyers rich, I am not a fan of it. I didn't follow the whole Clattenburg story completely but I am a deep supporter of doing these things internally. I have had occasions when the referee has said some things and it can happen that a referee doesn't behave well. They are not all angels. But one of the great things in sport is tolerance, forgiveness and internal explanation. I was not always behaving in certain situations but it is always better to sort it out in the room." – Arsene Wenger.
Runner-up: "I really don't know any more about it than what I read in the papers and we need to wait and see what comes out of this. If something has happened then they have to deal with it. "The problem is we have let it go on too many days so there are too many times to talk about it. It happened Sunday, now it's Thursday and you are asking me about it. It goes on and on and then people will ask on Saturday and Sunday, let's get things on the table and deal with it. If as a player or a manger I am angry because I should have had a penalty or a free-kick then the (the referee) is allowed to say something back, but obviously there is a limit and there are things you cannot say and the ones in charge have to deal with it. They are mic'd up so it should be easy, but they don't record it? That will be the next thing, a recording, but if I had one on the bench or people in the stand had one… sometimes you say things you do not mean, but there is a limit obviously and there are things you cannot say even if you are 180." – Michael Laudrup.
The Chelsea 'Monkey' Man Is Caught
Named and shamed: Chelsea yob who made 'monkey' gesture at United ace Welbeck is exposed (Mail) The racist yob who abused Manchester United striker Danny Welbeck with a monkey gesture has been named as Gavin Kirkham. As of early on Friday morning no arrest had been made following his disgraceful actions during Chelsea's 5-4 win in the Capital One Cup clash at Stamford Bridge… Chelsea had said they would ban the individual for life when he was eventually identified. A Chelsea spokesman said: 'Chelsea are committed to removing all forms of discrimination and if we have sufficient evidence we will take the strongest possible action, including supporting criminal prosecution.'
Named as monkey taunt Chelsea fan (Sun) The Sun last night tracked down Gavin Kirkham after he was named on social networking sites as the man appearing to abuse Man Utd striker Welbeck. Asked if he wanted to comment, Mr Kirkham, 28, said: "Not at the moment, no." He added he was busy "trying to earn a living" and said he had not been contacted by police officers or Chelsea officials. Mr Kirkham — who lists his pastimes on Facebook as Chelsea, playing football and drinking — refused to comment further, adding: "Call me tomorrow."
Exposed: Chelsea thug who made sick monkey gesture at black Manchester United star (Mirror) Kirkham, who lists himself as Drunken Menace on MySpace, says one of his favourite films is The Football Factory – a violent movie about Chelsea hooligans… Incredibly some Chelsea fans went on internet forums yesterday claiming Kirkham was a "media plant" designed to discredit the club. And one of Kirkham's family members said: "I can't believe he's done it. He's got black friends, Asian friends. He's not a racist person."
Chelsea v Clattenburg (We're Still Waiting For Evidence…)
It's a reffin' mess, Chelsea (Sun) Arsene Wenger has slammed Chelsea for their handling of the Mark Clattenburg race row. The Arsenal boss says the Blues were WRONG to go public, WRONG to pursue the matter and WRONG to make lawyers rich. Wenger claims the European champions have "little proof" to back up their official complaint that Clattenburg used inappropriate language about John Obi Mikel during Sunday's clash with Manchester United.
Take Clatt (Steven Howard, Sun) All the initial talk was about Mark Clattenburg having his career destroyed if Chelsea's allegations of inappropriate language — and implied racism — stacked up. Yet, increasingly, the case for the prosecution seems to be straining at the seams. Should it emerge, in fact, that Clattenburg never used the words Chelsea are claiming then surely Ron Gourlay's job as Stamford Bridge chief executive is on the line?
Chelsea face FA rap: Charge looms over row in ref Clattenburg's dressing room (Mirror) Chelsea are bracing themselves for an FA misconduct charge. The Blues are facing trouble over their massed raid on referee Mark Clattenburg's dressing room area 15 minutes after the final whistle of Sunday's explosive Premier League match with Manchester United. FA rules stipulate a club's manager has to seek permission from the match official before being allowed in. Even then, however, the manager has to observe a 30-minute cooling-off period.
There is a black hole at the heart of Chelsea and a persecution complex developing in their minds (Paul Hayward, Telegraph) Unless there is some killer fact in Chelsea's possession, their chances of proving their accusation are not promising… If you view this through Chelsea's eyes, though, you might say the club stopped thinking straight when a persecution complex took hold, long before Clattenburg sent off Branislav Ivanovic and Fernando Torres and was let down by the assistant who missed the offside for Javier Hernández's winning goal. So when did it start? With Jose Mourinho, with Tom Henning Ovrebo's farcical refereeing against Barcelona, since avenged with Champions League success? It can be traced more recently to the Terry saga and the ensuing mental paralysis. The disastrous policy of supporting Terry's evidence to the Football Association commission (and "evolving" that of Ashley Cole) left Chelsea wallowing in a dangerous mix of resentment and shame that may have caused them to act too fast and too aggressively when Ramires and company made their allegations after Sunday's game.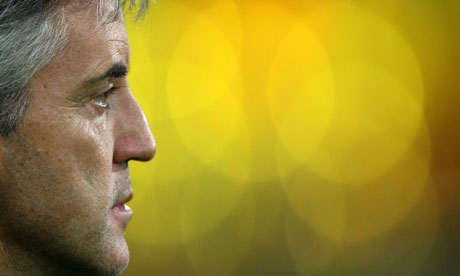 Mancini To Monaco: The Secret Deal 
Man City remain tight-lipped after Mancini 'held secret talks to take charge at Monaco' (Mail) The perilous nature of Roberto Mancini's position at Manchester City last season has been further underlined by revelations that he spoke to French club Monaco about taking over as coach. Mancini signed a new five-year-contract at City in the summer after securing the club's first Barclays Premier League title with the very last kick of the season.
City's Mancini 'had sorted a switch to Monaco last summer' (Mirror) Mancini held extensive talks with Monaco over three months towards the end of last season, with a view to joining them and pocketing a massive £32m ­tax-free over five years.
Manchester City's Roberto Mancini was in secret talks to join Monaco (Daniel Taylor, Guardian) The details of the extraordinary negotiations have been disclosed to the Guardian, corroborated at the highest level, and suggest that Mancini was close to accepting Monaco's offer, before opting to stay at City when his team overhauled Manchester United to clinch their first title since 1968. The five-year contract, put forward during a meeting in Rome, was tax-free with Monaco's majority shareholder, the Russian billionaire Dmitry Rybolovlev, willing to pay Mancini €8m (£6.4m) a year, plus substantial bonuses, if he left the Etihad Stadium. Rybolovlev, ranked 100th on the Forbes list of billionaires, bought his majority stake in Monaco in December 2011 and is determined to use his wealth to return the club to the Champions League after a difficult period in which the 2004 finalists have dropped into Ligue 2.
Roberto Mancini: why was he tempted to make a golden move? (Daniel Taylor, Guardian) ..On the face of it, there are plenty of reasons why someone in Roberto Mancini's position – ambitious, driven, with a love of the good life – might be attracted to the beautiful scenery along the Côte d'Azur, the climate, the yacht-choked port and, naturally, all the tax perks that go with living in Monaco… But then you remember Sheikh Mansour bin Zayed bin Sultan al-Nahyan and the rest of the Abu Dhabi United Group are not exactly doing too shabbily either, and it makes you wonder what, specifically, should make the Italian negotiate with Monaco last season about becoming their new manager. Was he actually serious about severing his ties with City? Or was it because he suspected they might dispose of him if he failed to win them the league?
Other Managerial News
Eagles officially swoop for Blackpool boss Holloway to replace Freedman (Mail) Crystal Palace have made an official approach for Blackpool boss Ian Holloway… They will have to negotiate compensation with their Championship rivals – who are 12th, six points and eight places behind Palace – but Holloway wants Palace to make it happen.
Premier League or the sack! New Blackburn boss Berg must win promotion (Mail) Henning Berg returned to Ewood Park as Blackburn's new manager but faces the sack at the end of this season if he fails to guide the club back into the Premier League.
Transfer Lies
Kop go for Theo! Rodgers tells Liverpool to launch £8m bid for contract rebel Walcott (Mail) The 23-year-old has rejected a five-year contract worth £75,000 a week, saying he wants to switch from the wing to a central striking role and also play more regularly. Liverpool manager Brendan Rodgers is ready to offer both those things. He wanted to sign Walcott in the summer and will revive his efforts ahead of the January window.
£100k a week to Kop Walcott (Sun) Liverpool want to sign Arsenal's Theo Walcott in January. Kop boss Brendan Rodgers is willing to pay the England star £100,000-a-week AND play him in the central striking role he prefers.
Gunners up the Ante (Sun) Arsenal are lining up a move for Croatia Under-17 star Ante Roguljic. Emirates boss Arsene Wenger is ready to pay £1.5million for the attacking midfielder, 16, who plays at NK Adriatic Split.
Liverpool and Chelsea lead the chase for Charlton and England U16 wonderkid Gomez (Mail) Charlton wonderkid Joe Gomez was at the centre of attention among Barclays Premier League scouts on Thursday night.
Hammers keen on Courtois (Sun) West Ham are keen to swoop for Chelsea keeper Thibaut Courtois, who is starring on loan at Atletico Madrid.
Fed-up Kolo hints at quitting City to play in Ligue 1 (Mirror) Toure, 31, said: "Why not France? There's PSG, Lille, and the league is getting stronger."
---