Chelsea's Luiz dubbed 'Swan Fake' by Fergie, Fernandinho wants Man City move & Liverpool look at Douglas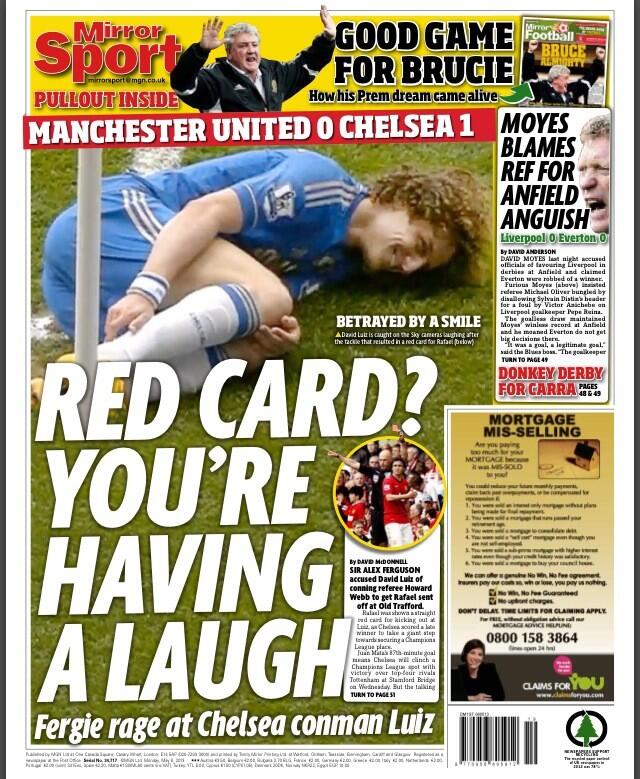 Comment & analysis round-up
Quote of the day: "Rafael retaliates but Luiz rolls about like a dying swan and that convinces the referee. Luiz was smiling, it's bad. What kind of professional is that? The ref has been bought by the fact Luiz is rolling about. But whether the ref will doing anything about it, I doubt it very much. Luiz rolled about. You see that with these European, foreign and South American players. That always happens, the player that retaliates gets the heavier penalty. It was quite clear Luiz has elbowed him twice. It was rash what Rafael did. He is a young lad, he should know better, but retaliation never works. I wouldn't say it was violent conduct. The referee hasn't even seen it at all." – Sir Alex Ferguson.
Runner-up: "I would like to see European football here. That is my dream for the fans and it is achievable. Obviously, it will be difficult finishing in the top four of the Premier League without massive spending but there will be chances in the cup competitions." – Hull owner Assem Allam.
Public Enemy #1: David Luiz
Swan fake (Martin Blackburn, Sun) Alex Ferguson slammed David Luiz for acting like a 'dying swan' to get Rafael sent off. The Chelsea centre-half clashed with his fellow Brazilian near the end of their 1-0 win yesterday. Rafael kicked out at Luiz — and TV cameras caught the Blues star smiling as he rolled around on the turf.
Ferguson blasts 'dying swan' Luiz for 'elbow' on Rafael and reaction to United star's hack (Chris Wheeler, Mail) Rafael's sending-off was the third of his Old Trafford career and the first for a United player in the Premier League this season. Luiz was fortunate to escape a red card himself after being booked for dissent moments earlier but Chelsea's interim manager Rafael Benitez tried to play down the incident.
He Still Hasn't Signed, But Mourinho/Chelsea Love In Continues
Mourinho will save the Prem and win title for Chelsea (Alan Shearer, Sun) I really believe we could be in for a feast next time around with Mourinho the main ingredient again. Chelsea will immediately be title contenders if he returns as they will simply have one of the world's best managers again… We really need a big title race again. With Mourinho back we will at least get three of them at it. That is presuming his return will be plain sailing after he meets Roman Abramovich on his yacht. Let us not forget this is the man who sacked him after he won five major trophies. Has that fall-out been put behind them? Can they work together again? It's intriguing.
Mourinho is returning and the big guns are back… keep an eye on Chelsea chiefs for clues about the club (Neil Ashton, Mail) Now Jose Mourinho is on his way back, Roman Abramovich's lieutenants are jostling for position… They have been assured that there will be no casualties if Mourinho carries out his threat to quit the Bernabeu for a lucrative return to Stamford Bridge. Emenalo, who appeared to be the most vulnerable, has been told by owner Abramovich that he will remain in his position when Mourinho takes over.
Chelsea close in on Champions League spot but must do better next season (Jamie Jackson, Guardian) At the same juncture last year the Blues trailed by 25 points to Ferguson's team, a gap that would remain the same when Manchester City were crowned champions on the final day. Yet Abramovich's summer investment in Eden Hazard (£32m), Oscar (£25m), Moses (£9m), Marko Marin (£7m) and Azpilicueta (£6.5m) that stood at £79.5m, before Ba's January arrival for £7m, demanded better than this late-season dogfight to qualify for European club football's premier competition, with the champions vanishing into the distance.
Borussia Dortmund keen for Chelsea to beat Bayern to Robert Lewandowski signing (David Woods, Star) Dortmund have made a deal more inviting for Chelsea by revealing they want De Bruyne, 21 – who has been on a season-long loan at Werder Bremen.
Gale Bale: Superstar
STAR MAN: Gareth Bale (Jamie Redknapp, Mail) Staggering statistic: Tottenham's last 10 victories have all included goals by Gareth Bale. He lived up to his three individual awards with another scorcher against Southampton. Now can he take down Chelsea on Wednesday? If Spurs are a one-man team, he is some man.
Tottenham must go for broke and win mega-match with Chelsea if they want Champions League football (Alan Hansen, Telegraph) Wednesday night at Stamford Bridge may not be a championship decider but the weekend's results have turned it into one of the games of the season… This was always going to be massive game but it is mega now and there is no doubt the pressure is on Spurs and you have got to look at it and think they are outsiders and in real trouble now. I backed Spurs to finish fourth earlier in the season but now it is looking a genuine struggle for them and quite simply they've got to go to Chelsea and win on Wednesday.
Going Down?
The remaining Premier League relegation spot is still wide open (Mark Lawrenson, Mirror) Aston Villa have picked the best possible time to get two wins back-to-back. Sunderland should win at home against Stoke tonight. If Wigan win on Tuesday, Newcastle could be in the bottom three. I still think there will be twists and turns this season. And Wigan may yet go down. Largely because the FA Cup Final, which they contest against Manchester City on Saturday is not just a game.
Man City Chase Fernandinho
Brazil star well up Fer move to City (Sun) Shakthar Donetsk Brazilian star Fernandinho has issued a 'come and get me' plea to Manchester City… Fernandinho, 28, has a £42.5million release clause in his contract, although he hopes the Ukrainian giants will take nearer £20m.
Come get me, Mancini! £23m-rated Fernandinho admits he'd love to join Man City to boost World Cup bid (Oliver Pickup, Mail) The Brazilian international is coveted by Roberto Mancini, but the City manager was dismayed when the Ukrainian champions' manager, Mircea Lucescu, last week said that the club would have to match their prize asset's release fee clause of £42.5 million.
Transfer Lies
Liverpool look to swoop for Brazilian defender Douglas as Carragher nears retirement (Mail) Liverpool are looking to sign Brazilian defender Douglas on a free transfer. The 25-year-old has been a long-term target for Newcastle who failed with a £4million offer last summer while Inter Milan have also shown interest.
Mancini targets goal machine Cavani as lack of firepower halts City once again (Mail) Mancini remains determined to recruit Napoli striker Edinson Cavani, with Dzeko understood to have been offered in part exchange, in an effort to recapture the Premier League immediately.
Zaha's Brother Is A Gangster, Maybe
Man Utd ace and the 'gangster' brother: Sick boasts of £15m winger's big bruv (David Collins, Mirror) As Wilfried Zaha's talent propelled the footballer along the road to stardom, it also steered him away from the gang culture ­gripping the mean streets where he grew up. But it was a different story for the gifted winger's brother, who appeared to revel in his links with the violent mobs that terrorise neighbourhoods. Herve even bragged he was a "general" in one of the most feared gangs in London, responsible for scores of stabbings, ­shootings and robberies.
---