Chelsea's JT quits England, Liverpool & Man United can't shake sick songs, Arsenal have £50m & target Llorente
Comment & analysis round-up
Quote of the day: "I feel the FA, in pursuing charges against me where I have already been cleared in a court of law, have made my position with the national team untenable. Representing and captaining my country is what I dreamed of as a boy and it has been a truly great honour. I have always given my all and it breaks my heart to make this decision. I wish Roy and the team every success for the future. I now look forward to playing for Chelsea, and I want to thank the fans and the club for their continued support. I would like to thank the England managers who have selected me for my 78 caps. I have had great pleasure in sharing that honour with all the players that I've played with. I would like to thank them, the fans and my family for their support." – John Terry.
Runner-up: "If Jonjo gets sent off then Jonny Evans has to be sent off as well. It was a tackle that both players had to go for but the Liverpool player can't be sent off and the Manchester United player stay on. It was very, very harsh and that's how it was throughout the game. There were a number of poor decisions that cost us." – Brendan Rodgers.
John Terry Quits England
Terry quits England! Ex-skipper accuses FA of leaving him with no choice ahead of racism hearing (Mail) It is understood the FA's failure to acknowledge their rule 6.8 — which says the outcome and  evidence of any civil or criminal court trial should be regarded as the correct version of events — was the final straw for Terry.
JT quits England (Shaun Custis, Sun) The furious Chelsea skipper believes the FA have a vendetta against him and feels they should have dropped their case once he was cleared of the same charge in July at Westminster Magistrates Court.
John Terry's claim about his England position is nonsense – Chelsea defender was the author of his own downfall (Henry Winter, Telegraph) John Terry claimed on Sunday night that the Football Association had made his position in the England squad "untenable". Nonsense. Terry was the author of his own downfall. Too many scrapes, too many embarrassments. John Terry rang the division bell too often in the England dressing room.
Others had made up their minds so Terry had to quit (Martin Samuel, Mail) He stands accused of a racist outburst, and his career and reputation are at stake. Some think he has no good name to  protect, but this is wrong. What he wishes to safeguard is his reputation for not being a racist and he has lost faith in the FA's ability to uphold that fairly. Terry feels this makes his continued position as an England player untenable. Found guilty, of course, it could be argued his presence in a dressing room of mixed races would be untenable anyway. And everybody expects Terry to be found guilty; even him it seems.
Why John Terry's England retirement will leave a tainted legacy (Oliver Holt, Mirror) He had become a symbol not of unity but of division. He had become identified not as someone who might bind the England team together but as someone tearing it asunder. He had become seen not as an ambassador for our football but as someone of whom the FA was secretly embarrassed. It was a very modern fall. He fell into disgrace as much through events off the field as on it.
John Terry quits with a broken heart but he is no victim (Daniel Taylor, Guardian) Terry's argument is a tenuous one, undeserving of sympathy and badly undermined by the fact the FA has a duty, surely, to convene its own inquiry when a Premier League footballer – at the time the England captain, no less – is accused of calling an opponent a "fucking black cunt"… Terry, in short, has no right to depict himself as being victimised when the FA has actually been pretty good to him given the seriousness of the allegations.
England lose a man of deep contradictions (James Lawton, Independent) Many – and probably not least his ferocious rival and brother of Anton, Manchester United's Rio Ferdinand –will see supreme irony in Terry's decision given his alleged affair with the partner of his former Chelsea team-mate Wayne Bridge effectively split the England team in two before the 2010 World Cup. But this is Terry, a man of deep contradictions and, perhaps above all, a singular tendency to follow his instincts – and then reflect later.
78 caps but no tears (Sun) Some people still love Terry. Many people hate him. Yet you cannot ignore the fact that on the evening Terry called time on playing for England, he was still a crucial member of Roy Hodgson's first-team… This could be seen as slightly childish — but clearly his anger with the FA runs deep. It is a shame, though, that Terry's international career has ended in this way. At Euro 2012, he was outstanding for his country.
John Terry retires from international football with angry attack on FA (Guardian) Terry called Hodgson before he issued his retirement statement to offer him forewarning and thank him for standing by him. The respect between the pair is clear.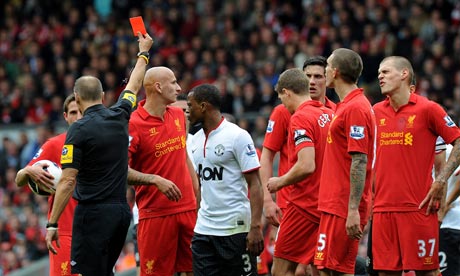 Liverpool 1 – Man United 2
Liverpool manager Brendan Rodgers may need to adapt as Manchester United show how to grind out win (Alan Hansen, Telegraph) Manchester United proved again that football is not always about playing well and winning, it's just about winning. There is no club so skilled in turning poor performances into victories.
A spot of bother as Rodgers is riled by referee on emotional day (Matt Lawton, Mail) Liverpool's manager was right about one thing. The better team lost, the hosts playing the superior football even after Shelvey's red card. United were lacklustre; lacking in energy as well as inspiration. But was Halsey right to send off Shelvey? Yes. And was it a penalty? Yes again.
Manchester United beat 10-man Liverpool after late Van Persie penalty (Andy Hunter, Guardian) The Kop stirred one more time to sing Brendan Rodgers's name but the final tribute of an emotional, absorbing and controversial Anfield afternoon was motivated by sympathy not acclaim for the Liverpool manager. He is without a win after five league games in charge and, after Manchester United's first victory here in five years, luckless too.
Red card ruins Liverpool's midfield plan to dominate Manchester United (Michael Cox, Guardian) Brendan Rodgers saw his central three swamp Michael Carrick and Ryan Giggs in first half but Jonjo Shelvey's dismissal and the introduction of Paul Scholes saw United recover.
There's always one numpty who spoils the day (Sun) Alex Ferguson blasted Jonjo Shelvey for his two-footed lunge on Jonny Evans that saw the Liverpool midfielder sent off.
Why Liverpool missed a trick by not picking up Berbatov (Mark Lawrenson, Mirror) [Liverpool] have missed a trick not going for Dimitar Berbatov from United. Although I reckon the American owners would have seen him as too old at 31, just as they felt Fulham's Clint Dempsey was. But you look at the impact Berbatov has made at Fulham and you realise just how much he still has to offer. He'd have been fantastic in tandem with Suarez. Demba Ba at Newcastle will be another one that Liverpool have a look at in January. Alan Pardew has made public the fact that he has that £7.5million release clause and I was surprised at that at first.
Liverpool could be without defender Daniel Agger for the rest of the season after he suffered a suspected medial ligament injury (Mail)
A Minority Of Fans Fail To Be Respectful At Anfield
Defeat and chants tarnish Liverpool's celebration of justice (David Conn, Guardian) Some United fans kept behind after the match were, sadly, heard singing their songs about "murderers" and "victims", taken as a slur about Hillsborough. According to reports they were responding to a couple of Liverpool supporters making aeroplane gestures as a taunt about the Munich air crash. That dismal exchange happened in an otherwise empty ground, however, and during a fractious game supporters were tetchy rather than hostile.
A victory for football (Steven Howard, Sun) Yes, there was one particular low point when the same fans chanted 'Where's your famous Munich songs?' But a chorus of boos from all corners of the ground seemed to remind them this was probably not the day for things like that.
A minor skirmish – but it mattered: Liverpool and United's animosity resurfaces (Martin Samuel, Mail) There was nothing too outrageous here — the worst excesses amounted to little more than 10 idiots being antagonised by 10 mugs — but nor were too many bridges left standing by the end. Liverpool supporters did not mention Munich but United's did, taunting them in hope of drawing an outrageous response. When the ground had emptied they mockingly chorused 'Always the victims, it's never your fault', the song that had caused such embarrassment and anger at Old  Trafford last week.
Liverpool and Manchester United did the 96 proud, but why did minority spoil it? (Jamie Redknapp, Mail) Liverpool and Manchester United should be proud at how well the Hillsborough tribute, watched by Kenny Dalglish, was observed before kick-off. But it is such a shame a minority have stolen the headlines. Fans of these clubs should be respectful because of the tragedies they have suffered. I can't understand such behaviour.
Such a fragile peace: A day for decency but still the morons have their moment (Chris Wheeler, Mail) When one idiotic Liverpool fan, frustrated at his team's defeat and provoked by their taunts, responded by spreading his arms into the wings of a plane in the time-honoured way of mocking the Munich air crash, the gloves were off.
Man City 1 – Arsenal 1
Mancini 'worried' after City throw away lead for second time in a week (Mail) The game came five days after City suffered a last-gasp defeat by Real Madrid in their opening Champions League game, leaving Mancini less than happy. The Italian is particularly concerned his side have not yet kept a clean sheet, with Koscielny's strike the seventh they have conceded in the league already.
Balotelli has bust-up with Mancini as boss shoves striker down the tunnel (Mail) Roberto Mancini was involved in another confrontation with Mario Balotelli after seeing Manchester City pegged back by a late Arsenal equaliser at the Etihad Stadium. As he came off at the end, 85th-minute substitute Balotelli had words with Mancini, who responded by placing his hand on the temperamental City striker's back and shoving him down the tunnel.
All too predictable Manchester City must find room for Mario Balotelli (Kevin McCarra, Guardian) A mercurial presence does exist, but it is understandable that Mancini does not count on Mario Balotelli. The forward came on for just the last five minutes. His partial estrangement is no shock and his volatility is undisputed. Not starting him is a tacit admission of failure so far by Mancini. This is a most taxing case and anyone can guess that it drives him to anger and exasperation.
We'll be top of the pile (Sun) Arsene Wenger insists his side are genuine title contenders after getting a point at the home of the champions yesterday.
Arsenal are rolling in cash (Sun) Arsenal are expected to release figures any day now which will show Arsene Wenger is sitting on at least £50MILLION of cash… Accounts for last season will confirm Arsenal again made a profit in the transfer market, thanks to the sales of Cesc Fabregas and Samir Nasri.
Arsenal play hardball over Walcott deal but risk getting it wrong again (Sam Wallace, Independent) A wise football man once told me that the balance of power in a relationship between a leading player and his club changes two years from the end of a contract. Before then the club have the upper hand; once the player is in his penultimate season, he holds all the cards. It is a pity that no one seems to have told Arsenal.
Twitter Trolls
Halsey suffers sick abuse on Twitter after officiating United's visit to Anfield (Mail) Referee Mark Halsey is considering calling in the police over sick Twitter taunts following his handling of the explosive clash between Liverpool and Manchester United. A number of tweets referred to Halsey's well-known battle against cancer and sickeningly referred to his wife, Michelle, who has also been fighting the disease. Two of the most offensive comments came from a John Wareing who posted 'I hope Mark Halsey gets cancer again and dies' (@johnwareing1) and a John Hughes who tweeted 'Mark Halsey should've died of cancer' (@lfcjohn259).
Lights Out On Real Madrid 
Sabotage claim after Madrid's match at Rayo is abandoned in the dark (Mail) Rayo president Raul Martin Presa said unidentified persons had cut the cables on some of the lights and when it became clear they could not be repaired in time the game was abandoned.
Transfer Lies
Arsenal have joined the race for Fernando Llorente with the Athletic Bilbao striker delaying signing a new deal with the club (Mail) Manchester City and Chelsea are also interested in picking up the striker who is valued at around £15million.
Jol looks to add to Fulham midfield and weighs up move for Reo-Coker (Mail) Other options for Jol might include Owen Hargreaves and Thomas Hizlsperger, who are both out of employment, having been released by Manchester City and VfL Wolfsburg respectively.
Kean braced for sack after failing to meet Blackburn owners target (Mirror) Steve Kean is braced for the axe today at Blackburn, despite guiding them to second in the Championship. The Rovers boss is set for the sack because he has failed to reach Venky's target of 16 points from his first seven league games.
Spurs set to miss out on Baldini as former England No 2 wants to stay at Roma (Mail)
---