Chelsea's CWC defeat dissected, Fellaini to escape 9-game Everton ban, Balotelli takes Man City to court & why Arsenal shouldn't re-sign Henry
Comment & analysis round-up
Quote of the day: "I don't have any comments to make. You must call City. Mario is happy in Manchester. I don't have any comments to make. Call City." – Balotelli's agent Mino Raiola.
Runner-up: "We knew it would be a tough game against a good team and, in the end, it has gone like this. They had one chance and scored, and we didn't take our chances. That was the difference. They were very physical from the first minute, every challenge and second ball. It was harder once they scored, they were keeping the ball and passing it. It wasn't that we were going down physically, but they were keeping the ball much better. But we had four very clear chances, and the goalkeeper was man of the match, and to me that means a lot." – Rafa Benitez.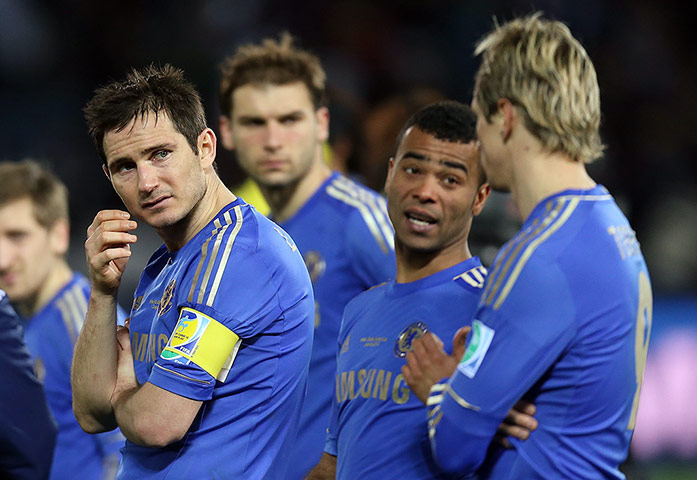 Chelsea: Club World Cup Losers
You are so out of order, 'son (Sun) Gary Cahill last night blasted Corinthians star Emerson for falling down like a little girl. The centre-back was shown a straight red for kicking out at the Brazilian in the 90th minute of Chelsea's Club World Cup final defeat. It means Cahill is banned for Wednesday's Capital One Cup quarter-final at Leeds. And he was left sweating on a FIFA disciplinary hearing this week which could extend the ban. Cahill said: "We tangled up, he lashed out with his arm and hit me in the face. That was out of order but I reacted in a bad way. But there's two sides to it. I got smashed in the face but I didn't roll around on the floor for five minutes holding my head. I got up, reacted and tapped him in the shin."
Rafa's world falls apart! Back to (grim) reality for Benitez as Chelsea flop in final (Martin Samuel, Mail) Benitez needed victory here to prove his methods are working. He intended to use a good result as a springboard… Chelsea were lifeless, slow to respond and beaten by a side that finished the season in Brazil 20 points shy of champions Fluminese… The Club World Cup may leave English football dead but Chelsea did not look as if they did not care. They were just not good enough.
Corinthians beat Chelsea to lift Cup after two Torres howlers (Mirror) Meaningless, pointless, a non-event? It didn't look like that for Chelsea last night. Did not feel that way. You don't stand, disconsolate and teary-eyed, heads bowed, after a glorified friendly. You don't slump to the ground, staring crestfallen at opponents celebrating with abandon in the centre circle 50 yards away, when it doesn't matter. And if you are Chelsea, wracked by self-doubt for most of the past two months, you do not come 6,000 miles to lose a game you should have won. Suddenly, for Rafa Benitez, the strides he believed his new team had made look as if they may not have been that significant.
Rafael Benítez's strategy has Chelsea at the mercy of clever Corinthians (Michael Cox, Guardian) The Chelsea manager's caution in attacking options was undone by a well-organised Corinthians side.
We know football's becoming more expensive, but this is ridiculous! FIFA fat cats charge whopping £24 for Club World Cup final programme (Mail)
Fellaini: The Punishment
OK, Fellaini was wrong but let's get to grips with the real problem (Martin Samuel, Mail) Fellaini assaults Shawcross primarily because he is being prevented from playing, illegally, and Mark Halsey, the referee, appears happy to let this continue. Football has never had more policemen and yet such little interest in implementing the rules. The replays clearly show that, directly before Fellaini strikes, Shawcross is gripping him by an upper arm beneath the shoulder, to restrict his run. This is a foul. It isn't a penalty, because the ball is dead but it is without doubt subject to corrective action. As none is forthcoming, Fellaini takes matters into his own hands, attempts to wrestle free and, as he passes Shawcross, ducks his head into his opponent's face. Shawcross collapses. Halsey misses the incident.
Defenders are having a laugh (Guardian) There are no excuses for the manner in which Everton's Marouane Fellaini attempted to take the law into his own hands when being held by Stoke's Ryan Shawcross on Saturday, and the Belgium international will undoubtedly be punished appropriately, but the incident again highlights how much defenders get away with when defending set pieces in their own penalty areas. Referees seem to be at a loss in how to deal with the increasingly blatant holding and shirt-tugging that go on and in most cases settle for simply ignoring it. It is an argument for Uefa's additional officials on the goalline to be introduced in the Premier League, though – unlike in European competition – they would need to be prepared to actually give a decision.
Headbutt Fellaini faces 9-game ban (Sun) Everton's Marouane Fellaini is facing a possible NINE-GAME ban after headbutting Stoke skipper Ryan Shawcross. And he is also set to be fined £150,000 — two weeks' wages — by boss David Moyes, who is still fuming with the Belgian. FA chiefs will today review TV footage and are likely to hit Fellaini with a three-match suspension at the very least.
Marouane Fellaini big ban escape (Star) FA sources suggested that their fast-track video process was likely to consider only the most serious headbutt incident meaning Fellaini will probably be back in Everton's team by the time they go to Newcastle on January 2.
Crisis Arsenal, Again 
A staging of Henry I, Part III is just what Arsenal don't need (Sam Wallace, Independent) Next month, he is coming back again – a case of Henry the First, Part III. Not just coming back for January but, if Henry gets his way, until the end of the season if he obtains the permission of the New York Red Bulls. What a bad idea… Bringing back Henry would be one more small acceptance that Arsenal have failed to move on from the better times he represents. Whatever the frustrations with Gervinho and Chamakh – and there are many – there has to be a better option than a 35-year-old, however talented, who is strolling through his last years in a substandard American league (and if you disagree with that, just peruse, for example, the CVs of the MLS-winning LA Galaxy squad outside of its three star players).
Arsenal manager Arsène Wenger is still the right man for the Emirates job but he must win over disgruntled fans (Alan Hansen, Telegraph) Anyone imagining the end of Arsène Wenger's reign at Arsenal should consider the following scenario. A new manager takes over and accepts the following task: to continue to balance the books (in most seasons actually making a profit in transfers), always reach the latter stages of the Champions League playing an attractive brand of football, and to win trophies each season, preferably competing for the Premier League title. It is an unattainable dream, and if Wenger leaves at the end of the season Arsenal fans will quickly realise what a mistake it is.
Bring back Dein (Terry Venables, Sun) Despite leaving the club in 2007 after a bust-up with fellow board members about the direction they were taking, Dein remains an Arsenal man through and through. I am sure it would not take much to get him back at the club. He is just what they need at the moment.
Wenger has got to be ruthless and cull Arsenal's passengers (Mark Lawrenson, Mirror) Wenger is going to have to address that situation in January. He is going to have to bring in players that can galvanise the side when things are not going their way… Gervinho is a good player and he will probably come good against Reading tonight but Wenger should be saying to him: 'You let me down. Sit on the bench.' Olivier Giroud is okay but Marouane Chamakh has not been good enough. People talk about Pepe Reina at Liverpool. If he were available I would go and buy him now. The point is, Wenger can no longer keep faith with the players that are continually leaving him in the firing line. Now is the time for him to be ruthless.
Arsenal show their attacking intent against Reading by welcoming back Theo Walcott and Olivier Giroud (Telegraph) Arsenal have received a timely boost ahead of Monday night's crucial Premier League match against Reading, with Theo Walcott and Olivier Giroud both available after missing the Capital One Cup humiliation against Bradford City.
Balotelli Takes City To Court: Other Citizens' News
Furious Balotelli takes on Man City in tribunal over £340,000 fine for bad behaviour (Mail) Mario Balotelli and Manchester City face each other at a Premier League tribunal this week after the league champions tried to fine their errant centre forward £340,000 for his persistent poor discipline on the field… It is understood that the 22-year-old was charged by his club with misconduct and hit with a fine of two weeks' wages last May after City got fed up with the amount of football Balotelli was missing due to his habit of picking up red and yellow cards.
Manchester City striker Mario Balotelli faces exit after refusing to pay £340,000 fine for poor on-field discipline (Telegraph) Mario Balotelli's fractious relationship with Manchester City is set to lead to his departure next month after it emerged that the Italian had turned to the Premier League to overturn a £340,000 club fine for repeatedly poor on-field discipline. The 22 year-old will appear before an independent two-man panel at a Premier League tribunal on Wednesday following City's decision to reject his appeal against the fine, which was imposed as a result of the forward missing 11 of the club's 54 games last season through suspension.
Play the dynamic duo (Jamie Redknapp, Mail) Roberto Mancini needs to be selfish now and play Sergio Aguero and Carlos Tevez together all the time. That's 13 times they have started together and City have won them all. Their movement is great so stick with them… it's not rocket science! It was a pivotal result for City and may give them the belief that they can retain their crown.
Freefall Newcastle
Newcastle missed a great chance to build on last year (Alan Shearer, Sun) Nothing is coming from Jonas Gutierrez, Cheick Tiote just keeps getting booked, Mike Williamson and Fabricio Coloccini are struggling at the back. Demba Ba is having a good season up front, but Papiss Cisse clearly hates playing wide rather than being down the middle. Newcastle have now lost six of their last seven league games and face a huge home clash against a resurgent QPR who have just won their first game. After that it is a trip to Old Trafford. Come Boxing Day evening they could be staring at a relegation fight like their near neighbours.
Transfer Lies
Court number one for Barca (Sun) Barcelona want Chelsea keeper Thibaut Courtois, who is currently on loan at Atletico Madrid.
Arsenal make you dream! Ba open to Gunners offer as Newcastle struggle to shake £7.5m release clause (Mail) Demba Ba has opened the door to a move to Arsenal by admitting they are a club that 'makes you dream'… Wenger has been tracking a number of options, including £15m-rated Spain striker Adrian Lopez and Schalke's Klaas-Jan Huntelaar.
Juve not a hope, Drogba (Sun) Juventus have dismissed rumours linking them with Didier Drogba.
Canaries in for Mackail-Smith (Sun) Norwich are plotting a double raid on Brighton for striker Craig Mackail-Smith as well as Liam Bridcutt. Norwich boss Chris Hughton had a £3million offer for hitman Mackail-Smith, 28, rejected on transfer deadline day in August but will try again.
---
GAMBLING CAN BE ADDICTIVE, PLEASE PLAY RESPONSIBLY