Chelsea's £35m (Guardian) or £40m (Telegraph) bid for Fernando Torres is rejected, but a £50m (Daily Mail) or £60m (Mirror) bid is just around the corner
Comment & analysis round-up
Quote of the day: "She's [Karren Brady] been working her tail off trying to get the Olympic Stadium for West Ham. She's been spending three or four days a week in London and for the past couple of weeks she hasn't been home at all. The last thing she was going to do was take a phone call [from Richard Keys]… Criticise my missus? He's having a laugh. The top business people in this country are desperate for her to join their boards. Look what she did for Birmingham. They bought it for a quid and sold it for £80m. And West Ham for £20m? She's a genius when it comes to business… [Keys'] grovelling made it worse than before. He started having a go at her, saying 'I've done her a favour.' I was thinking, 'You're making this worse for yourself, you idiot'.'" – Paul Peschisolido.
Runner-up: "Jack Wilshere is better technically than Makelele. He's slower than Makelele but when he receives the ball he is more dangerous than Makelele… No, no, no, no. Not like Pirlo. Wilshere's too young… Wilshere wins back the ball, he passes, he turns, dribbles, goes and shoots. I saw everything. The style of Arsenal is touch, touch, touch, touch. Like Barcelona. Wilshere is the best young player. I want to put him in this position in front of the back four. I have to decide because he's so young, he would stay alone in midfield and that can be dangerous. I think he's mature enough to play this role." – Fabio Capello.
Today's overview: Transfer gossip dominates the backpages this Friday, with Liverpool, Chelsea and Manchester United heavily featured.
All the papers report on Chelsea's rejected bod for Liverpool's Fernando Torres, while the red-tops seem to suggest that an even bigger bid for the Spaniard is being prepared for by the Londoners. Oliver Holt then suggests that the Scousers may do the deal if it can fund the Reds' other spending objectives.
On Manchester United, the big question is who'll replace Van der Sar at the end of the season. The usual names are thrown up, while Mark Ogden investigates why Anders Lindegaard is unlikely to be the new number one at Old Trafford.
Other topics include a discussion of whether Wayne Rooney should be sold, Inter's mega-money pursuit of Gareth Bale, and the Keys-Gray sexism fiasco continues to garner attention.
Finally, The Sun break the news of yet another sex orgy involving Premier League footballers.
Chelsea & Torres: The Guardian splash with news of yet another marquee signing failure by Chelsea. "Roman Abramovich attempted to revive Chelsea's faltering Premier League title defence last night with an audacious £35m bid for the Liverpool striker Fernando Torres. The offer was dismissed out of hand by Liverpool's new owner, Fenway Sports Group… Abramovich must return with an improved offer to prise Torres from Anfield or hope the striker will submit a transfer request."
Mark Odgen reports that Chelsea bid was in fact £40m, but the Reds rejected the approach out of hand as the Scousers try and piece together their dream striker-force. "Liverpool's hopes of signing Luis Suarez to play alongside Torres remain in the balance, however, following Ajax's decision to reject their £15 million offer on Thursday night. Suarez has made it clear to the Dutch club that he wishes to leave this month, but Ajax are determined to secure a fee in the region of £30 million for the striker – a figure regarded as outlandish by Liverpool."
Offering far more encouragement to Chelsea was Ian Herbert. "The return of Dalglish, who has recorded consecutive wins and palpably restored Torres to something resembling his top form, could now prove critical if Chelsea are intent on following up their bid with a more serious bid for the player. If Chelsea returned with a bid closer to £50m, the effect on the player may be destabilising, with Liverpool resigned to the fact that they will not achieve one of the Champions League positions this Spring."
The £50m price-tag is also flagged up by Dan Francis. "Chelsea owner Roman Abramovich will not be deterred and is expected to return with an increased offer for the 26-year-old, who had a £50m get-out clause written into his Anfield contract last summer."
Injecting the tabloid spin, Oliver Holt claims "Chelsea are attempting to stage a massive transfer coup with a dramatic £60million bid for Liverpool star Fernando Torres, it emerged last night… Liverpool have been linked with Ajax forward Luis Suarez and Blackpool midfielder Charlie Adam, who would cost a total of £30m. The sale of Torres, who met Dalglish to discuss his future, would finance those purchases and leave plenty more to spend… The main stumbling block to the sale of Torres is FSG's concerns about the reaction it would provoke from ­Liverpool supporters."
Richard Williams peeps behind the veil to understand the Pensioners pursuit of El Nino. "One thing Chelsea's unsuccessful £35m bid for Fernando Torres proves beyond doubt is that Roman Abramovich has not lost interest in football… The bid for Torres, then, is an admission both of weakness on the playing side and of undiminished strength on the fiscal side. Whether Abramovich will sanction an increase in the sum tendered, perhaps closer to the £50m stipulated in the player's contract, remains to be seen."
Taking a different stance of the meaning behind Chelsea's bid, under the headline "Chelsea's £40 million bid for Liverpool striker Fernando Torres is an act of desperation," was Rory Smith. "That Chelsea's attempts to sign arguably the Premier League's most marketable, most recognisable star can be portrayed as an ill-judged, kneejerk splurge, rather than intelligent recruitment, says much about their plight. It says more, though, about how far Torres himself has fallen."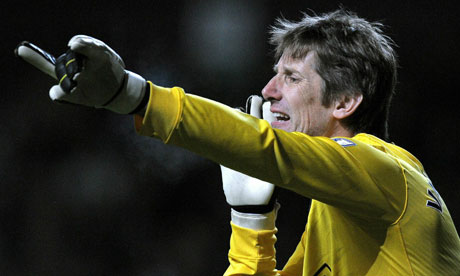 Man Utd's Goalie Hunt: After Edwin van der Sar's impending retirement was rubber-stamped this week, focus has again centred on who the next keeper for Manchester United will be.
In a cut-throat appraisal by Daniel Taylor we learn "Sir Alex Ferguson has whittled down the search for Edwin van der Sar's replacement to a shortlist of three after deciding that Tomasz Kuszczak and Anders Lindegaard cannot be trusted to succeed the Dutchman at the end of the season… Ajax's Maarten Stekelenburg, the Germany international Manuel Neuer and, to a lesser extent, Atlético Madrid's David de Gea are among those under consideration."
Ian Herbert, perhaps too liberally, also pinpoints some other potential goalie targets. "Another contender is René Adler of Bayer Leverkusen, Neuer's deputy in the Germany squad, who is understood to have a clause written into his contract allowing his departure to Old Trafford if the opportunity arises. The CSKA Moscow goalkeeper and Russia No 1 Igor Akinfeev, whose contract runs until 2013, and Hugo Lloris, the France keeper at Lyons, are others who could possess the pedigree United require. Ferguson is known to appreciate Liverpool's Pepe Reina, who has a get-out clause in his contract for this summer, but United's fiercest rivals are unlikely to sell to them."
So why did Manchester United sign Anders Lindegaard? Mark Ogden posits that "Lindegaard's arrival from Aalesunds was merely a move by United to replace Ben Foster, who was sold to Birmingham last summer. Lindegaard is in line to make his United debut in tomorrow's FA Cup fourth-round tie at Southampton because Van der Sar has a slight knock."
Selling Rooney: The Sun's Steven Howard arguably wastes his time trying to create an argument for Manchester United selling Wayne Rooney. "So much for Rooney being irreplaceable. So much also for the theory that Berbatov only scores when Rooney is on the pitch… The emergence of Hernandez as a real rival for Rooney's place will ensure that Ferguson continues to hold the upper hand in his dealings with his star player… [Ferguson] may, like he did with Cristiano Ronaldo, decide to cash in. And there's little doubt Jose Mourinho would have Rooney at Real Madrid."
Posting A Large Bale: In news likely to irritate Tottenham fans, David Hytner wrote "Internazionale will confirm Gareth Bale's growing reputation as the most sought-after player in world football with a £40m bid in the summer, the most that has ever been offered for a player of his age and experience… Tottenham have consistently stated that Bale is not for sale but the money set to be put in front of them will test the resolve of the chairman Daniel Levy."
Sky's Anchor Management: So who'll be the new Richard Keys and Andy Gray for Sky?
According to Owen Gibson, "Jeff Stelling and Ben Shepherd are expected to be at the front of the queue as the broadcaster hurriedly seeks to reshape its coverage in the short term to cope with the departure of Keys and their star pundit Andy Gray, who was sacked on Tuesday."
Some however remain glued on making sure Keys and Gray remain public enemies number one.
In that regard Matthew Norman went on the assault. "That Messrs Gray and Keys are charmless, cocky, nasty, swaggering bully boy schlubs — one the archetypal portly, balding swordsman; the other seeking vicarious thrills from the conquests of less uxorious colleagues – should surprise no one because football remains rooted in the Neanderthal 1970s… This is a game for little boys of all ages, and until broadcasters (not just Sky; Match of the Day stinks as badly of stale testosterone) wean themselves off the addiction to overpaying emotionally retarded former players, and overlooking the proof of that retardation until it suits them, so it will remain."
Redressing the balance was Brian Viner. "With scarcely any let-up in the sound and the fury directed at Andy Gray and Richard Keys, and adjectives such as "antediluvian", "prehistoric", and "boorish" continuing to reverberate, the pioneering work they represented as the two most visible frontmen for Sky's football coverage these last 20 years, not to mention their own talents as broadcasters, has been rather wilfully overlooked… Personally, I don't mind admitting that I will miss the Gray-Keys double act."
Signing Keys & Gray: The headline story in the Daily Mirror has Alan Nixon gassing that "Super-rich Arab TV station Al Jazeera want to snap up Richard Keys and Andy Gray – after the pair were axed by Sky. Keys is due in Qatar today for talks about a lucrative contract and if he takes up their top post he would bring long-term friend and sidekick Gray with him."
English Lions in Waiting: All of a sudden discussion over the next generation of England players has become a hot topic.
Sam Wallace commented that "when Capello signalled his intention to build his midfield, and potentially his whole team around the talents of Jack Wilshere, he did not only promote the 19-year-old to being the country's midfield general-in-waiting. Rather, Capello suggested that at last the door was open for the generation of players approximately 10 years younger than the one still referred to as "golden". Behind Wilshere is a queue of young England players waiting for their chance – Andy Carroll, Adam Johnson, Jordan Henderson, Kieran Gibbs, Chris Smalling and Danny Welbeck among them… Martin Kelly, the Liverpool right-back, and Tottenham's Kyle Walker, currently on loan at Aston Villa, who plays in the same position, are also up for consideration."
The Transfers: Blackpool have snapped up Nimes left back Salaheddine Sbai while Plymouth's Onismor Bhasera could also arrive at Bloomfield Park on loan. Staying with loans, the Independent link Obafemi Martins with Birmingham, while Sulley Muntari is heading to Sunderland according to the Mirror.
Far less successful were West Ham, whom the Telegraph report have had a bid for Robbie Keane plus £2 million in return for Scott Parker rejected by Spurs. Similarly, the Daily Mail fart that "Liverpool have made an informal enquiry about Aston Villa defender Richard Dunne, 31, but were told he is unavailable."
Other transfer gossip includes news that Curtis Davies will join Birmingham City for £1.75m, Phil Neville is still on Spurs' shopping list, Blackburn sill want Mauro Formica, Jonathan Woodgate could move to Wolves, while Carlos Vela should sign for Bolton.
The Smut: The Sun have news of yet another footballing-orgy sex scandal. "A star Premier League footballer has been caught on video taking part in an orgy with two brunettes and an international team-mate, The Sun can reveal. He plays for the same top ten club as another ace who is at the centre of an alleged blackmail plot over a filmed orgy with three Swedish blondes. The new video shows the player, in his 20s, having sex in a hotel room while his international team-mate – who plays abroad – eggs him on. The pair, who cannot be named for legal reasons, take turns to romp with one of the brunettes."
Best football betting tips & free bet offers
Click here for more Premier League betting tips
---