Chelsea will have to pay £12m to free Mourinho, Jose wants Blues return even if they are in the Europa League
Comment & analysis round-up
Quote of the day: "We have created history and are in the final. We've beaten a team who dominated Europe for years 4-0 and 3-0. This is our third final in the last four years and it's time to win it now. But we have improved the squad compared to last season." – Arjen Robben.
Runner-up: "Marseille have got to put an offer in. Joey is under contract and Joey would be a very useful player for Queens Park Rangers. He helped Newcastle out (of the Championship). Some would say we lacked his fighting spirit in the midfield. If Joey and Marseille want (the transfer), then we will talk. However, he is contracted to QPR. That's a deal which would have to be worked out if he wants to go to Marseille, but as far as I am concerned he is a QPR player." – QPR owner Tony Fernandes.
Mourinho moving closer to Chelsea return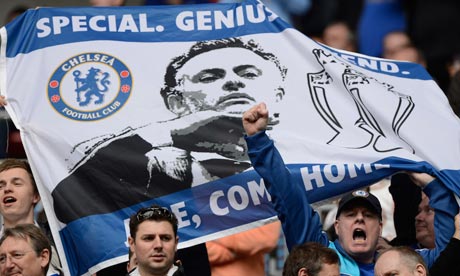 Jose Mourinho moves closer to Chelsea return as Real Madrid coach lowers demands (Jason Burt, Daily Telegraph) Mourinho's representatives have re-opened a dialogue with the Premier League club over the past few days in the hope that Roman Abramovich can finally be persuaded to take back the manager who left amid acrimony in September 2007, although no deal has yet been agreed. As Chelsea's search for a manager to replace Rafael Benítez intensified, so too did their attempts to revitalise their playing squad. It is believed that Chelsea have made another move to eventually sign Brazilian striker Neymar, with technical director Michael Emenalo having travelled to Brazil to watch him play. Although there is a groundswell of support from within Chelsea for Mourinho to return, it is believed that Abramovich, the club's owner, has proved more reluctant as he did not enjoy the aggravation around the manager. He also gave Mourinho an £18 million pay-off.
José Mourinho wants Chelsea job even if they are in the Europa League (Dom Fifield, Guardian) The possibility that Chelsea, currently third in the Premier League under the interim stewardship of Rafael Benítez, may not qualify for next year's Champions League had been mooted as a potential obstacle to the 50-year-old's return. While that would have serious implications for the club's attempts to balance the books ahead of the implementation of Uefa's financial fair play rules, sources close to the negotiations have suggested Mourinho would actually not be dissuaded from coming should the side finish outside the top four and be condemned to Europa League football. Indeed, he could consider it an even greater challenge. Yet, having reconciled with Roman Abramovich in the years since their relationship fractured so spectacularly, other obstacles still need to be cleared if his desire to return to a club "where people love me", as he stated after Real's elimination by Borussia Dortmund, is to come to fruition. His contractual tie with Real extends to 2016, and PSG have an interest in recruiting him, but principal among his concerns is the amount of power he would be permitted to wield at Chelsea.
Taking the Michael: Jose Mourinho would have to work UNDER Emenalo if he wants Chelsea job (Martin Lipton, Daily Mirror)
Jose Mourinho has been told he will have to accept working under Technical Director Michael Emenalo if he wants to return to Stamford Bridge. Mourinho raised the hopes and expectations of the Blues fans that he was on his way "home" as he spoke warmly of the enduring "love" from the Chelsea faithful. But while the "Special One" and his advisors have been involved in negotiations with the Chelsea hierarchy for months, his initial demands for "full control" have been rebuffed. And that could still end up sending him in the direction of Paris St Germain, who have also held talks with his agent Jorge Mendes and are likely to bend over backwards to offer the 50-year-old a deal he wants. Mourinho's preferred option is to go back to Chelsea, six years after his rift with Roman Abramovich and the Blues board became irreparable.
Chelsea must fork out £12m to free Mourinho from Real Madrid (Neil Ashton, Daily Mail) Roman Abramovich will have to pay as much as £12million to bring Jose Mourinho back to Chelsea. The Real Madrid coach inserted a break clause in the four-year contract he signed at the Bernabeu last summer after he won La Liga. Mourinho's contract runs until 2016, but Chelsea may have to pay Madrid up to a year of that to bring him back to Stamford Bridge.
Analysis of Mourinho's likely return to the Bridge
Toying with Chelsea owner Roman Abramovich is a dangerous game for Jose Mourinho to play (Paul Hayward, Daily Telegraph) Mourinho has employed sentimentality before. He is also a master of the persecution complex. But few can recall seeing him as emotional as he was in the aftermath of Real's Champions League exit to Borussia Dortmund. The strains of life at the Bernabéu were apparent in his face. His speech about needing to be admired was an unusual display of vulnerability from a manager whose calling cards are icy logic and authority. Obvious from his behaviour was the stress inflicted by a rare season of failure. This has been Mourinho's worst campaign since he touched down from Portugal to force Chelsea over the line in the English title race. From the day Abramovich lured him from Porto in 2004, he has managed his career brilliantly, moving from Chelsea to Inter Milan, who had won three Serie A titles under Roberto Mancini, and then to Madrid, for the greatest challenge of his career.
Mourinho has painted himself into the bluest of corners (Rob Beasley, Sun) Michael Essien's 30th birthday party last December was just further confirmation for Jose Mourinho of what he knew already. That his Real Madrid squad was a gathering of egotistical Galacticos more interested in themselves than the team. For the on-loan Chelsea star invited all his Madrid colleagues to his birthday bash but only a handful of them turned up. And it was left to the Bernabeu boss to console his upset player. He told the Ghana international that it was nothing personal — it was not that his team-mates did not like him and, sadly, it was not because they had anything better to do. It was simply because they were more interested in themselves than anything or anyone else. A superstar ego to go with their superstar talents. Mourinho was speaking from bitter experience because he had come up against it himself. Players believing they were bigger than their coach, maybe even bigger than the club.
José Mourinho's grand return to Chelsea requires egos to be put aside (Daniel Taylor, Guardian) Mourinho is said to be lining up Radamel Falcao as a priority in the transfer market. His appointment would potentially increase the chances of Frank Lampard being offered another contract. More than that, it should refocus a group of players who must find it a blur sometimes trying to keep up with Abramovich's trigger reflex and this permanent sense that a couple of bad results might do for whoever is in charge. In Benítez's case, they have known pretty much from the start that he is a stopgap measure, with no fully integrated plan for the future and enough bad feeling to give every home match an edge. On that basis, who can be that surprised the players have not always seemed entirely fixed on his ideas? Footballers, on the whole, want some form of security and consistency and Chelsea have been without that for too long. They finished 25 points off the top last season and are 20 adrift this time around. The old adage in management is never to go back but the timing for Mourinho, and Abramovich, could hardly be better.
Brilliant Bayern
Bayern Munich's beating of Barcelona will send shockwaves around Europe (Marcus Christenson, Guardian) All over Europe managers and players will have been watching; realising that a new chapter in European football was being written, thinking: "How can we possibly compete with this?" In some ways Bayern's display was both exhilarating and demoralising. In the north west of England Sir Alex Ferguson, if he was watching, must have done so with a sinking feeling. Manchester United have been utterly dominant domestically this season and lead the league by 14 points, yet not even Ferguson, surely, can look at his squad and think they are capable of beating this Bayern side. The United manager is likely to invest in the summer but how many world-class players would he need to sign to catch up with Bayern? Three? Four? And that is England's best club. His neighbour Roberto Mancini must have similar feelings, despite all the money at Manchester City, not to talk about Arsène Wenger at Arsenal, although they, of course, may not even make it into the Champions League next season.
Lionel Messi's brilliance has masked Barca's real problems, but Bayern batterings left them horribly exposed (David Cartlidge, Daily Mirror) Following a second humiliation at the hands of Bayern Munich in the Champions League semi-finals, the power shift between Spain and Germany has been well and truly completed. This season's Champions League final at Wembley will be played between the Bundesliga champions and their counterparts Borussia Dortmund. The post-mortem for the Spaniards will be vigorous: is it the end of an era? Is a changing of the guard required? We look back at our La Liga expert David Cartlidge's view of where it all went wrong for the former greatest team in the world…. Barça are so used to people looking at them with awe, but now the club needs to take a look at itself. They need to evolve once more, retain their values but somehow add something new to get them back on top again.
Messi was NOT injured! Vilanova spared star from drubbing at hands of Bayern (Graeme Yorke, Daily Mail) Barcelona coach Tito Vilanova confirmed after his side's 7-0 aggregate Champions League semi-final loss to Bayern Munich that star forward Lionel Messi was not injured but did not feature in the second leg for fear of picking up a knock. Newly crowned Bundesliga champions Bayern prevailed 3-0 at the Nou Camp this evening to seal an emphatic 7-0 aggregate triumph over the Catalan club and set up an all-German Wembley final against Borussia Dortmund on May 25. Leading 4-0 from the first leg, the Bavarians were similarly clinical in Catalunya with second-half goals from Arjen Robben, Gerard Pique – who put through his own net – and Thomas Muller sealing a one-sided win over a sorry Barca side for whom Messi was an unused substitute.
Lewandowski to snub United
Man Lew Utd dream ends (Graeme Bryce, Sun) Robert Lewandowski is ready to snub Manchester United and join Bayern Munich instead. Alex Ferguson admits he would love to sign the Borussia Dortmund striker this summer. But the £25million-rated Polish sensation is on the brink of sealing a stunning £160,000-a-week five-year deal at Bayern. Lewandowski's reputation soared after he smashed all four goals in Dortmund's 4-1 win over Real Madrid in the Champions League semi-final first leg.
Newcastle ban the Telegraph
Newcastle United bans Telegraph from attending matches following dressing room 'split' revelations (Daily Telegraph) Telegraph Sport's north-east football reporter Luke Edwards disclosed on Tuesday that the club's struggle for Premier League survival has been undermined by acrimony between different sets of players at the club. One group believes that another, mainly French, group of players have not been committed enough to Newcastle in recent weeks, spending too much time complaining about manager Alan Pardew and pursuing their own personal agendas. They also believe one player has allowed his fitness levels to decline dramatically and that several players did not understand the importance of keeping Newcastle in the Premier League. The story was written on the basis of verbal and written accounts of the split provided by several sources, including individuals employed by the club. But Newcastle have reacted by sending the Telegraph a solicitor's letter demanding the story be withdrawn from our website and a public apology be issued.
No more Fanny for Mario
No more Fanny for sex bet Balotelli (Sun) Mario Balotelli has been dumped by his girlfriend Fanny Neguesha — just days after he said the entire Real Madrid team could sleep with her. Model Fanny, 22, moved out of the footie bad boy's mansion in Italy following blazing rows over his joke remark and partying. AC Milan star Balotelli, 22, said the players — who include Cristiano Ronaldo — could have sex with Fanny if they managed to go through after losing the first leg of the Champions League semi-final 4-1 to Borussia Dortmund. The ex-Man City ace said: "If Real Madrid make it to the Champions League final, I will let my girlfriend sleep with all their players." He later denied saying it. The Spanish giants didn't quite make it — losing 4-3 on aggregate after Tuesday's 2-0 second leg win.
---
GAMBLING CAN BE ADDICTIVE, PLEASE PLAY RESPONSIBLY