Chelsea to sell Lamps (LA), Cole (PSG, Real) & buy Ba (Newcastle), Madrid eye United's £20m De Gea & Wenger says Walcott is staying at Arsenal
Comment & analysis round-up
Quote of the day: "Talks are ongoing and I am sure something will be sorted. I've been saying that I want to play up front and I am showing the manager what I can do. I believe I will be a striker and it's about taking the opportunity when I get it. I enjoy playing in whatever position but it was just telling the manager to give me the opportunities to play up front. I'm not saying I'm always going to play there but it's just showing what I can do. Hopefully, I've opened a few eyes and it's provided a different option." – Theo Walcott.
Runner-up: "After the defeat last Saturday in Malaga, I have to think long and carefully about my situation with Real Madrid. I've come to one conclusion. Football changes. It changes virtually every day, every minute and almost every second. But one thing which does not change, is simply that the team is always the coach. I will use a phrase of Sir Alex Ferguson's. I am too old to quit. And, if I may, I am too young. I have said my goal is to win a third Champions League: with Real after Porto and Inter. No one has ever succeeded [in doing that]. And for Real Madrid it would be their 10th Champions League, the only team to reach double digits." – Jose Mourinho.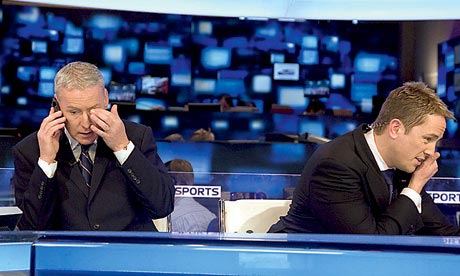 Buying In January
Successful January signings are a rarity – but they are out there (Paul Wilson, Observer) It is a tricky decision to get right; some clubs want to stay up at all costs, some are better suited to sticking together and coming back stronger after a relegation. But whatever the financial situation there appears to be little truth any more in Ferguson's sniffy assertion that there is no value in the market. Papiss Cissé and Nikica Jelavic were arguably the pick of last January's transfer business, at £8m and £5m respectively, and not only did the United manager admit he had never heard of the former, he said the same about Michu, Swansea's £2m bargain of the season. Michu was a summer signing: it is much harder to obtain such a snip in January, but the players are out there if you know where to look.
Everton apart, clubs struggle to make January transfer deals work (Tim Rich, Independent) The January transfer window is to Sky Sports News what Children in Need is to the BBC. There is the same sense of giddying expectation in the studio, the same rolling news ticker at the bottom of the screen, the same sense that somebody's life will never be the same again. It's just that the money goes to less deserving causes. The January transfer window is 10 years old and despite the fact that it has seen more than £520 million change hands (compared to the £355m raised by Children in Need over the same period) it is hard to find anyone in football who likes it or will even argue it has been decisive. There has never been a game-changing transfer in January to rival Eric Cantona's arrival at Manchester United in November 1992 or Thierry Henry's at Arsenal in August 1999.
Transfer Lies: Two Days Till The Window Opens
Frank Lampard's £4million 'to be new David Beckham' (Sun) LA Galaxy will offer Frank Lampard the same wage packet as David Beckham in a bid to lure the Chelsea star to the MLS. The England midfielder could earn $6.5million a year — equal to £4million — plus a potential $1million (£619,000) in merchandise sales.
Chelsea defender Ashley Cole set to open talks with Madrid and PSG (People) Real Madrid and Paris ­Saint-Germain will this week open talks with Ashley Cole about a summer move. But Cole may decide to keep his options open, with his Chelsea contract due to expire at the end of the season and Manchester City and Manchester ­United monitoring the situation.
Chelsea lead race to sign £7m Ba (Telegraph) Chelsea have emerged as the favourites to sign Demba Ba for £7m once the January transfer window opens.
Real Gea up for David bid (Sun) Real Madrid will bid £22million for David De Gea next summer. The Spanish giants will swoop for the Manchester United keeper, 22, who only left Atletico Madrid for £18.9m 18 months ago. Real boss Jose Mourinho and his 31-year-old skipper Iker Casillas have fallen out this season. Spain Under-21 ace De Gea is now his top target.
United keeper De Gea is £20m target for Real Madrid (People) The Spaniards will limit any offer to £20m and that could include a Real youngster moving the opposite way. Real will also keep tabs on 20-year-old German keeper Marc-Andre ter Stegen at Borussia Moenchengladbach.
United go Wes (Sun) Wesley Sneijder last night opened the door for a cut-price £11million January move from Inter Milan to Manchester United or Tottenham… Sneijder, 28, said: "It's clear it is the best for everyone concerned that in January I am transferred."
Arsenal set sights on £10m Leighton Baines (Star) Gunners boss Arsene Wenger is a huge admirer of Baines, 28, and believes that his adventurous overlapping style would be a perfect fit at The Emirates.
Newcastle striker may stay after advisers demand £12m (People) Demba Ba may be forced to stay at Newcastle after demands from his advisers for extra payments pushed his fee above £12million.
Tottenham tell Real Madrid that Gareth Bale will cost them £60m (People) A source told Sunday Mirror Sport: "Real are prepared to push very hard for Gareth and there are not too many better players in the world than him right now." Bale signed a new four-year contract in June, which puts Levy in a strong negotiating position. Real may well try to top up their bid by offering Tottenham a number of players as part of a deal for Bale, with Portuguese ­left-back Fabio Coentrao a long-standing target of Spurs boss Andre ­Villas-Boas.
We won't let him go! Fergie tells Arsenal their pursuit of Nani is doomed (Mail) Alex Ferguson has dismissed Arsenal's hopes of signing Nani when the transfer window reopens next month… Ferguson said: 'We won't be letting him go. His contract isn't up for a year and a half. We need a Nani, he's got incredible talent,' report the Sunday Times.
Arsenal, Liverpool and Spurs set to battle for Lewis Holtby (People) Germany Under-21 captain Lewis Holtby will hold talks with Liverpool, Arsenal and Tottenham in January over an end-of-season move. Holtby has told Schalke he will not sign a new contract and has set his heart on a free transfer move to the Premier League.
Arsenal in pole position to sign £5m-rated Southampton left-back Shaw (Mail) It's advantage Arsenal in the chase for £5million left-back Luke Shaw, a Premier League regular for Southampton at 17.
Kop, Toon busy with Isi (Sun) Liverpool and Newcastle are competing for France Under-21 centre-back Nicolas Isimat-Mirin. The Valenciennes youngster, a product of France's national academy, is rated at £3m.
City consider Shawcross bid as Stoke skipper stalls on signing new deal (Mail) England defender Ryan Shawcross may be a shock departure from Stoke in the transfer window if he doesn't sign a six-year deal offered recently. The club are unhappy at the prospect of the 25-year-old running down the last 18 months of his deal. Manchester City like him, and could be tempted to make a move for the former Manchester United man.
Sunderland set to offer Lescott an escape route from Man City (People) Sunderland boss Martin O'Neill is plotting a daring raid for Manchester City and England centre-half Joleon Lescott… The Black Cats chief is already hoping to land Swedish striker John Guidetti from City and can only take one at a time from the same Premier League club.
Norwich preparing £3m swoop for Brighton striker Mackail-Smith (Mail) Hughton is keen to boost his side's goal tally with Grant Holt having scored only four times this season.
Harry lines up Erdnic, Joe Cole and Diame in bid to save QPR from the drop (People) Harry Redknapp will make a move for Rennes striker Mevlut Erdinc as he banks on firepower to save QPR from relegation. The Rangers boss will also recall DJ Campbell from his loan spell at Ipswich as he looks for the goals to pull off a major ­rescue act at Loftus Road… Redknapp was named 'Harry Houdini' after saving Portsmouth from the drop, and he will need all his powers to save the Hoops – which is why he is also targeting Everton's Sylvain Distin, Liverpool's Joe Cole and Momo Diame of West Ham.
First Monaco, now PSG! Beckham left in limbo as Ligue 1 leaders join list of clubs to rule out move (Mail) Carlo Ancelotti has ruled out a January move for David Beckham.
Aston Villa defender Richard Dunne's sweating on New York Red Bulls switch (Star) The Irish international is keen on the switch from Aston Villa to the Big Apple – with his contract due to expire and Red Bulls offering him £50,000-a-week wages.
Arsenal 7 – Newcastle 3
Seven reasons to sign him up (Sun) Walcott held the match ball aloft at the final whistle and applauded the fans in a gesture which many at the Emirates believed to be a parting shot. Incredibly, the England star could still leave the Gunners next month as a new deal has not been thrashed out. But the 23-year-old, who took his goal tally to 14 this season, has shown Arsene Wenger what he is capable of as a centre-forward.
Hat-trick for Walcott as Pardew's strugglers are given a real hiding (Mail) The comparisons are clearly laboured. After all, what Thierry Henry achieved at Arsenal is a cut above anything all but an exalted few can expect to match. But at the Emirates on Saturday, to see Theo Walcott race away, his sights on goals, the No 14 on his back and dominating a match, it was impossible to ignore the obvious. Not least when his manager, Arsene Wenger, had dared to make the link between the two players before this match; still more when Walcott himself has made playing in this central position such a key part of his  protracted contract negotiations. And especially as the Frenchman was watching from the stands.
Perfect student Theo Walcott of Arsenal scores full marks with a stunning hat-trick in Newcastle hammering (Independent) Theo Walcott scored a hat-trick and created two goals for late substitute Olivier Giroud as Arsenal recorded their fourth successive League win to calm any talk of a crisis at the club. That said, there were aspects of their display, especially at the back, that will haunt Arsène Wenger, their manager. Newcastle equalised three times, two of the goals scored by Demba Ba, before running out of steam as Arsenal scored three times in the last six minutes.
Arsène Wenger rules out Theo Walcott leaving Arsenal in January (Paul Doyle, Observer) Arsène Wenger insists that there is no chance of Theo Walcott leaving Arsenal in January, after the 23-year-old seized centre stage in his team's breathtaking 7-3 defeat of Newcastle United, by scoring a hat-trick and creating two others. "I rule it out," the manager said emphatically when asked if Walcott would be sold when the transfer window opens in order to prevent him leaving for free when his contract expires in the summer.
Mr Fixit: Arsenal plan move for Man City chief to help end trophy drought (People) Arsenal chiefs will launch an audacious move to bring in Brian Marwood from Manchester City to help Arsene Wenger end his trophy drought… Marwood, 52, is thought to be keen on a switch after being marginalised at Manchester City.
Fergie Versus Referees (& Alan Pardew)
Why do we keep letting Sir Alex and his manager pals get away with endless self-indulgent tantrums and spats? (Patrick Collins, Mail) It was a depressing tantrum; a foot-stamping, arm-waving, finger-jabbing eruption of self-indulgence, with more than a hint of the bully about it. Sir Alex Ferguson behaved quite outrageously at Old Trafford on Boxing Day. He may be incomparably accomplished but for a man on the eve of his 71st birthday he can sometimes seem distressingly immature. Yet nobody was unduly surprised by the performance, since Ferguson has form in this department. Just as nobody was especially amazed by Mike Dean's decision not to report Sir Alex to the Football Association.
Wee dram's off! Feud between Fergie and Pardew started immediately after the game (Brian McNally, People) The rival managers exchanged a frosty handshake at full-time but did not have their customary drink together in Ferguson's room. Pardew, a long-standing admirer of his Old Trafford counterpart, has admitted that in the past he has sought out Ferguson's advice, including whether to take the Newcastle job… The fact they avoided each other after the game – especially at Christmas – points to the tension between the duo following Mike Dean's decision to allow Jonny Evans' disputed own goal.
'Everything that Sir Alex does is for a reason': Van der Sar reveals method behind Fergie's madness (People) "When you see Sir Alex arguing with referees and linesmen, he is showing passion that has taken him to the very highest level of the game," said Van der Sar.
Forget talk of Fergie's retirement, he's going nowhere (Ian Holloway, People) If Manchester United can become champions of ­England for a 20th time, some people reckon that Sir Alex will ride off into the sunset because there will be nothing left for him to achieve. After knocking Liverpool off their perch and seeing off the challenges laid down by Arsenal and Chelsea, ­reclaiming the title from Manchester rivals City would be the perfect end for the most successful ­manager Old Trafford has ever seen. Well, do you know what? I'm having none of it.
Pep Guardiola will KO Manchester City boss bid in favour of United (Star) In a huge snub to City, Guardiola, 41, would extend his sabbatical should Fergie decide to stay. Guardiola could double his money at City but is more interested in the Old Trafford project and has met Ferguson over the last few months to discuss it.
Nasri Is A Headbanger
Nasri goes nuts (Ben Hunt, Sun) City midfielder Nasri was scythed down by Bassong in the 44th minute. He then reacted angrily to the full-blooded challenge by going head-to-head with Norwich's ex-Spurs defender. Jones decided to show the Frenchman a red card after consulting with his assistant but, bizarrely, Bassong was let off with just a booking.
City will appeal against Samir Nasri's red card for head-on clash with Sébastien Bassong (Independent) Unless the appeal is successful, Nasri will miss games against Stoke City on Tuesday and his former club Arsenal, plus the FA Cup tie at home to Watford. Mancini is also facing a possible Football Association charge after joking that Kevin Friend, the referee of his side's Boxing Day defeat at Sunderland, had eaten too much at Christmas. The Italian resisted any similar quips yesterday.
Sunday Op-eds: FA Cup Crap, EPL's English Problem & The Worst Idea Of 2012
Top clubs aren't up four Cup (Harry Redknapp, Sun) Being a bit of a football romantic I love the dear old FA Cup. However, these days it is not just the race for the Premier League title that has overshadowed it. Even the chasing pack now put battling it out for fourth place ahead of our most cherished and famous old trophy. For the players, the prospect of a medal and a day out at Wembley is still a huge draw. But for the chairmen and club owners the lure and the big pay day from securing Champions League football is far more attractive.
I'm ready for the Premier League, says United, Arsenal and Spurs target Zaha (Mail) "I'm not a teenager any more," he says firmly. "I've played more than 100 first-team games and this year is crucial to develop my football career. I want to establish myself in the Premier League and in international football.  I've played a lot in the Championship so having that new challenge in the Premier League, where everyone wants to be, would be great. To be honest, if I had the chance in January and Palace agreed, it's something I'd want to go for."
Get real, Roy! England wouldn't win against the Premier League's Spaniards, let alone Spain (Andy Dunn, People) Of the 198 players to start the nine-game Boxing Day programme in the Premier League, only 59 were available to Hodgson. That is just under 30 per cent – and that is about standard. Six of those 59 started for Aston Villa, thumped 4-0 by Tottenham to complement their 8-0 ­hammering at Stamford Bridge. Another six started for struggling Southampton. Yes, Hodgson can field a decent team, put together a decent squad. But, going into 2013, the dearth of international-class English players is truly frightening.
Worst ideas of 2012: paying footballers more than £1m a month (Barney Ronay, Observer) The worst idea this year belongs to Russian Premier League club Anzhi Makhachkala, who have spent the last 12 months paying Samuel Eto'o his first full-year salary of more than £17m, the highest player wages yet recorded. Before tax (though also before endorsements), this breaks down to almost £1.5m a month.
Rooney's Rubbish Horses
United's Rooney spent £80k on racehorses last year… but only managed £5k return in winnings (Mail) Despite spending nearly £80,000 on racehorses last year, Wayne Rooney's investments have only earned him a paltry £5,000 in winnings. The Manchester United striker's returns were published in the accounts of Stoneygate 48 Ltd, the company which handles his image rights and other commercial ventures. Rooney needn't be too worried about the measly returns from his horse racing investments over the past year, as he is almost £3million up in that one company alone – coupled with his bumper wage packet at Premier League leaders United.
---