Chelsea tipped for late title charge as even Graham Poll agrees with Sir Alex that Man United were robbed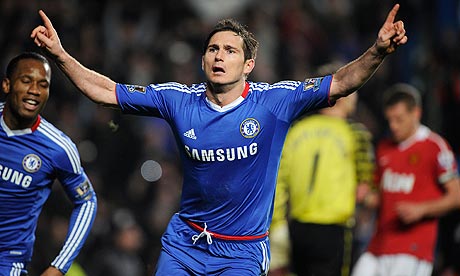 Comment & analysis round-up
Quote of the day:Â "It was a major game, you want a fair referee and we didn't get that. I don't know why he got the game. I feared the worst when I saw who was refereeing. It's three years in a row now where the referee's decisions have changed the game down here. And that's hard to take… Six yards in front of the ref, maybe eight yet he gives him the benefit of the doubt. It was incredible. Even before that, he'd done Chicharito off the ball. I don't know how Luiz stayed on the pitch… The penalty was so soft. It was a great performance from us and we didn't deserve that." – Sir Alex Ferguson.
Runner-up: "I spoke an hour about Ashley yesterday. He played a good game. We never had a problem with the unity of the players. They are always together, in good and bad moments. This victory is important for us and our confidence… It's too far but this victory is important for us and our confidence. We can't think about arriving at the top at this moment." – Carlo Ancelotti.
Today's overview: Chelsea's 2-1 win over Manchester United dominates the back pages as expected this morning following an excellent match and impressive comeback by the Blues.
Carlo Ancelotti's side receive their fair share of plaudits this morning with some pundits even tipping Chelsea to make a late title charge. Martin Samuel described the victory as "one of the matches of the season" and Henry Winter writes "Chelsea are not going to let this title go without a fight."
Sam Wallace says Chelsea "live to fight another day" with Richard Williams one of the few journalists to point out that the home side were lucky. Mike Walters points out that Arsenal were probably the real winners and both Steven Howard and Jason Burt hail the impact of David Luiz.
From Manchester United's perspective, Sir Alex Ferguson finds a surprising voice of support from Graham Poll who says Martin Atkinson got some big decisions wrong. And Martin Keown calls Nemanja Vidic a "silly boy" for his late sending off that will see him miss the game against Liverpool.
Injury news dominates for many of the other Premier League teams. Robin van Persie will miss the Barcelona second leg, Marouane Fellaini is out for the season and Gareth Bale is unlikely to face AC Milan next week.
In the transfer gossip, Manchester United are tipped to sign a wing prodigy and Liverpool are closing in on Moussa Sissoko. There are also some fine features, including Martin Samuel on gay footballers, Jonathan Wilson on the Sofia derby and Rob Bagchi on Adel Taarabt.
Are Chelsea back in the title race?: Kevin McCarra points out the importance to Chelsea of this victory. "While Chelsea have a seasoned line-up that has appeared jaded at times in this campaign, they did respond to this challenge. The side eased above Tottenham Hotspur into fourth place, but there was another sort of standing in mind. This was the kind of event by which footballers measure themselves and, in their minds, Chelsea regained their proper status. With a quarter-final place all but confirmed in the Champions League, the side will feel that purpose has flooded back into this campaign. The glow is all the brighter for the satisfaction in overturning the initial presumptions about the outcome when United were sharper and far more animated. Chelsea then looked set on encouraging the notion that they are a burnt-out team."
Martin Samuel hails an excellent match. "Sir Alex Ferguson spun around, his head in his hands. He had an expression rarely witnessed. Haunted, disbelieving. How did this happen, he seemed to wordlessly implore. That was before Frank Lampard buried a spectacular penalty to confirm Chelsea's victory against the odds. That was before Nemanja Vidic had been sent off, missing Sunday's visit to Liverpool. That was before Chelsea turned the title race around. Maybe not in their favour, but certainly in Arsenal's and, beyond that, who knows? This was one of the matches of the season and may yet be a pivotal moment. And to think at half-time there was only one team in it: the eventual losers."
Henry Winter praises Carlo Ancelotti's side. "Chelsea are not going to let this title go without a fight. No chance. Frank Lampard and company finally remembered they were champions in the second half, displaying all their old power, pace and hunger to turn this exceptional game on its head. For Manchester United, this was a night of pride in their first-half control, bringing Wayne Rooney's fine goal, followed quickly by frustration bordering on incandescence at Martin Atkinson's refereeing. For Chelsea, this was a night of guts and glory, of the dressing-room responding to adversity."
Shaun Custis rolls out a number of puns. "After all the talk about that rifle in the Chelsea dressing room, it was United who ended up shooting themselves in the foot. But boss Alex Ferguson was adamant referee Martin Atkinson helped pull the trigger as the Blues came back from a goal down to claim victory. Fergie was gunning for Atkinson, claiming Chelsea centre-back David Luiz should have been sent off after a number of fouls culminating in a cynical chop on Wayne Rooney."
Sam Wallace welcomes a return to winning ways for Chelsea. "There were no major celebrations at the end of the game last night, and no one was foolish enough to say that this was the moment that Chelsea launched their push for the league title, but for all those who have wondered of late what happened to last season's Double-winners – they turned up at last in the second half. Too late in the season perhaps to make a proper defence of their title come May but just in time to prove that, in the words of their manager Carlo Ancelotti, Chelsea are not dead. Still 12 points adrift of the leaders with a game in hand, their title chances could still be described as critical but, as in the case of Ashley Cole's gunshot victim last week, they live to fight another day."
James Lawton adds "Chelsea got what they most wanted, an injection of life and hope in the grimmest of circumstances, and the Premier League also received a huge benefit from the defeat of Manchester United – a title race filled with new tension and edge, and a surge of encouragement for Arsenal. For the rest of us there was the greatest reward of all – a real match of character between teams who realised they had to reach down for the best and the most inventive of their football. The result was as improbable as it was thrilling – a football match to draw you away from all the squalor and the overstatement, the growing belief that the national game is bedevilled by a death wish. At Stamford Bridge, though, there was, it has to be said, another picture."
Richard Williams feels Chelsea rode their luck. "Some Chelsea anxieties will be alleviated by this adrenaline-fuelled victory, but the result is unlikely to obscure the evidence that too many of Ancelotti's players have lost form with a mystifying simultaneity. Where has Frank Lampard, the 30-goal-a-season midfield player, gone? Trapped in the swamp between defence and attack, and receiving scant assistance from a Michael Essien seemingly shorn of his prodigious power. The real Lampard would have scored not just from the penalty spot but with a free-kick in the 40th minute, struck low and hard from outside the area, provoking a fine double save from Edwin van der Sar. The real Essien, driving towards the United area five minutes later, would have found a way round, past or through Nemanja Vidic's cold-blooded obstruction, for which the Serb received the first of two well-merited cautions. Florent Malouda's virtues are simply lost without trace, making Ramires, an object of scorn earlier in the season, the most dependable figure in a spluttering engine room."
Mike Walters wonders if the Blues can reclaim their title. "Can Chelsea still win the title from here? Well, the deficit is still a forbidding 12 points – almost the length of the Golden Mile, and if they come unstuck among the buckets, spades and knotted handkerchiefs of Blackpool on Monday, all bets will be off again. But in truth, the biggest winners last night were probably Arsenal, where the jokes about a crockery sale – 60,000 mugs but no cups at the Emirates – may not be doing the rounds much longer if United keep coming a cropper."
David Luiz: Steven Howard hails David Luiz. "Well, Chelsea have certainly found the successor to Ricardo Carvalho, the man who made John Terry tick. And, on the subject of ticking, as much a timebomb as Carvalho himself. Yet, like Carvalho again, David Luiz Moreira Marinho is a contradiction as a footballer. Teak-tough and uncompromising in the tackle, he also has the lightest and most skilful of touches. As he showed in his balance and finish when be brought Chelsea back from the dead with his 54th-minute equaliser. He is also considerably quicker than Carvalho. Luiz will not forget his first Premier League encounter with Manchester United in a hurry."
Jason Burt also writes of the Brazil defender. "Carlo Ancelotti will know that he got lucky. But the Chelsea manager can also afford himself a smile of satisfaction in the performance of David Luiz who is the player he identified from Benfica and coveted throughout the January transfer window in the hope that the club would finally sign him which, for £25m, they eventually did. With his distinctive looks — his flowing hair — and decisive style the Brazilian has quickly become a fans' favourite. He is also uncompromising to the point of rashness and it's an area of his game that will have to be softened. Certainly the 23-year-old will be dismissed if he continues to play like he did last night and Ancelotti will have to quickly try and smooth out those rough edges if he isn't to lose a defender who has quickly become so important to Chelsea and provided a greater lift, to be honest, than Torres. David Luiz may even become Chelsea's equivalent of Vidic appearing to possess the same talismanic qualities and courage as the Serb who will now be a spectator come Sunday and Liverpool away."
Atkinson cost United:Â Graham Poll castigates Martin Atkinson for getting the big calls wrong. "Referees are remembered for their big decisions in big games. Unfortunately Martin Atkinson got some wrong on Tuesday night and they cost Manchester United. Atkinson failed to deliver consistency in similar incidents, the basic requirement for match officials."
Martin Keown calls Nemanja Vidic "a silly boy." "Nemanja Vidic is a silly boy. He has been Manchester United's best player this season but the Serb lost his head. He had shoved Didier Drogba a few seconds before he unnecessarily pulled Ramires' shirt to get his second yellow card. The most stupid part of it all is that he will now miss the game with Liverpool at a time when Rio Ferdinand is also out. United will miss him a lot."
Ian Chadband concentrates on Wayne Rooney: "Football wants and needs a transcendent Rooney, not a transgressing Rooney and at least we were treated, gladly, to more of the former than the latter as he powered through from deep, instrumental in counter-attacks of speed and precision. OK, so there was one of his 'I'm going to start a war in an empty room' moments when he immediately roared to his feet after losing the ball and barged straight into Ramires, sending him sprawling. It was reminiscent of his little moment of red mist retaliation on Saturday. And he also missed a sitter when Nani's cross found him unmarked in the box and his header skewed off his bonce so embarrassingly that it seemed to sum up the worst aspects of his season. Yet within minutes he had hit the target unerringly."
Mark Fleming provides five reasons why Manchester United will still win the title. "All the fuss about whether or not Wayne Rooney should have been banned from last night's game for his elbow on Wigan Athletic's James McCarthy clearly had not affected the England striker, who scored with an explosive flourish after 30 minutes and then celebrated provocatively, posing with his arms spread wide in front of the Chelsea fans in the Matthew Harding Stand. The darker side of his game is never far from the surface, but he managed to keep his temper in check when it looked at first that he might lash out after a physical tussle with David Luiz. He was a threat all night."
Arsenal: Dominic Fifield reports "Arsenal will be without Robin van Persie for the return leg of their Champions League last-16 tie against Barcelona after the Holland forward was ruled out for at least three weeks with the knee injury sustained in Sunday's Carling Cup final. Arsène Wenger confirmed more encouraging news on his captain, Cesc Fábregas, who could yet recover from hamstring trouble to feature at the Camp Nou next Tuesday, but the loss of Van Persie, together with that of Theo Walcott, represents a serious blow to Arsenal's prospects. The Dutchman was enjoying his most prolific spell at the club, with his goal at Wembley his 13th in 11 games since the turn of the year, only to limp away after scoring his side's equaliser against Birmingham City."
Matt Barlow and Sami Mokbel team up to report that "Arsene Wenger will remove his Carling Cup blunderers from the firing line against Leyton Orient as he bids to prevent more injuries to key players ahead of next week's trip to Barcelona. Laurent Koscielny and Wojciech Szczesny, who gifted Birmingham victory at Wembley with a bad defensive mix-up, will not play in Wednesday night's FA Cup fifth round replay, and Wenger also confirmed that Robin van Persie and Theo Walcott will not be fit for the Nou Camp. However, captain Cesc Fabregas could be back for the Champions League game."
On tonight's game against Leyton Orient, The Sun report that "Leyton Oritent are guaranteed to be Las Vegas winners – even if they lose tonight's FA Cup replay at Arsenal. O's owner Barry Hearn had promised his squad a trip to Sin City if they pulled off a shock fifth-round win against the Gunners. Jonathan Tehoue's late goal 10 days ago earned Orient a replay at the Emirates. And Planet Hollywood owner Robert Earl has now promised the players their dream trip to Vegas no matter what the result."
Liverpool: Dominic King reports "Andy Carroll has moved a step closer to making his Liverpool debut after he took part in a full training session with his new team-mates for the first time yesterday. The England striker has not played since completing his £35million move to Anfield on transfer deadline day in January because of a thigh problem he sustained at former club Newcastle. But it is looking increasingly likely that Kenny Dalglish will find a place for Carroll in his squad when Liverpool host Manchester United this Sunday."
Bale doubtful to face Milan: The Daily Mirror report "Tottenham winger Gareth Bale is losing his battle to face AC Milan after being ruled out of Sunday's clash at Wolves. The 21-year-old, who has been out with a back injury since January, is yet to return to full training with the rest of the squad during a mid-season break in Dubai. He will miss the Premier League trip to Molineux and is rated as extremely unlikely to make the Champions League last-16 grudge clash against Milan four days later. It is doubtful whether he would be ready to play if a friendly was arranged at Spurs' Chigwell HQ between now and Milan's visit."
Fellaini out for the season: David Maddock: "Everton's night hit rock-bottom after their devastating FA Cup exit to Reading, when they discovered key midfielder Marouane Fellaini is out for the season. The Belgium international last night got the results of a scan on the ankle injury he picked up at the weekend, which showed he must undergo surgery on the problem. Fellaini – who has been the Blues' best performer – will have the operation on Monday, and Everton's medical staff are already resigned to him being absent until the end of the summer."
Transfer gossip: The Sun reveal that "Manchester United are poised to sign Anderlecht's 16-year-old wing prodigy Adnan Januzaj for £600,000." The Daily Mail say Liverpool will beat Spurs and United to the signing of Moussa Sissoko.
The relegation battle: Phil Shaw predicts the teams that will survive and those that are doomed. "With more than two-thirds of this season's Premier League completed, at least half the 20 clubs are involved in the battle for survival. For three of them it may well end like it did for Crystal Palace in the first season after the reorganisation of the divisions, 1992-93. They left the pitch at Arsenal believing they were safe only to find that Oldham had beaten Southampton 4-3 to squeeze above them. Others will look to the precedent of West Bromwich Albion's "great escape" of 2004-05, the only year in the history of the Premier League when no team went into the final day knowing they were already down. Albion clung on with 34 points to spark wild celebrations. A year earlier Leeds went down with 33 amid bitter recriminations. The margins, then, are fine, the penalty for failure severe."
Adel Taarabt: Rob Bagchi pays tribute to the QPR playmaker. "Other ball marvels who have had to knuckle down, such as Joe Cole, have appeared sedated, as if curbing instincts has robbed them of their special quality. But Taarabt continues with his dragbacks, Cruyff turns, sidesteps and even unveiled a "rainbow flick" against Reading, where he knocked the ball from his right instep on to his left heel and arced it over his head. When added to his imperious dribbling, crossing, shooting, greater discipline and awareness, his 15 Championship goals and 13 assists, make him the division's outstanding player."
The Sofia derby: Jonathan Wilson reports on Saturday evening's match between Levski and CSKA. "The realisation that something was wrong came suddenly. I'd been slowly working my around the Georgi Asparuhov Stadium – in the Bulgarian capital of Sofia – battling against the crowd, trying to get to the main road I knew led over the railway lines and back in to the centre of town. There had been hundreds of police on the way, but the mood had seemed fairly relaxed until, just before the VIP entrance, I realised they were strung across the road. There was a slight crush, with fans caught between the banking of the stadium to one side, and a mesh fence to the other. I pushed on, thinking my usual tactic of waving a press card and saying something cheery in English would probably get me through, but as I got to within about five yards of the line, I saw a baton twitch upwards."
Where are the gay footballers?: Martin Samuel investigates. "The moment Steven Davies, the Surrey and England wicketkeeper, broke the worst kept secret in cricket by announcing he was gay, it was clear where the recoil from this event would be most fiercely felt: in football. And, sure enough, here it is. The last 48 hours have brought forth predictable commentaries. Football has homophobic issues; a gay footballer could never be accepted; his life would be made hell; the sport is in the dark ages; look at what happened to Justin Fashanu. So we start there, with the first openly gay footballer and a man the Pink Paper placed at 99 in its list of 500 Gay and Lesbian Heroes. Fashanu committed suicide in 1998, eight years after revealing his homosexuality. It is commonly stated that football failed him, that homophobia and years of living a lie contributed to the fragile mental state that took his life. And perhaps it did."
---