Chelsea set to offer £20m for Man United's Wayne Rooney & Gareth Bale likes the Champions League music
Comment & analysis round-up
Quote of the day: "When you play in the Premier League, say you're playing against a lower-end team, they set up to defend all the time, they set up to block you off. But when you play in the Champions League, all the other teams are used to winning every week, so it's more of an open game, it's more attacking, end-to-end. No one's used to defending, everyone's used to attacking and trying to win games, so it's just all against all. The music is a massive thing – Zadok the Priest (Handel's anthem that announces the arrival of the teams). When we first got into the Champions League, it's one of the things that most of the lads were looking forward to, hearing it in the stadium. It's little things like that which make it special." – Gareth Bale.
Runner-up: "You look at the type of players, like Higuain, we're trying to bring in, and you've got to be encouraged. I think we need a few more – not to step right into the team but to add to the squad. We need our squad to be as deep as United's and City's. They can change their back four completely and still win. There's no way United would have won the Premier League trophy with 18 players. It's no secret we need to win a trophy. How long has it been now? The players feel the pressure and we've gotten close a few times, like with the Carling Cup, a couple of years ago. I think once we win one, others will follow." – Jack Wilshere.
Chelsea & Arsenal eye Wayne Rooney developments
Chelsea prepare to offer £20m for Manchester United's Wayne Rooney (Chris Bascombe, Daily Telegraph) David Moyes officially joined Manchester United on Monday faced with a decision whether to sell Wayne Rooney to Chelsea for £20million. Although several clubs have been tracking the unsettled England striker, it is understood that Rooney is most attracted by the prospect of joining Jose Mourinho, a coach he has long admired, at Stamford Bridge. United have maintained their stance that Rooney would not be allowed to leave for another English club, but a planned massive bid from Roman Abramovich may prompt the player to break the impasse and seek a move to the capital. Arsenal and Paris St-Germain will also be monitoring the progress of the meeting between Moyes and Rooney, the first following the start of pre-season training. That meeting is expected to take place on Tuesday. Rooney and Moyes spoke after the Scot's appointment was announced, but only now can they seek a resolution to what could become the transfer story of the summer.
Arsenal and Chelsea on red alert as Man United face up to life without Rooney (Chris Wheeler, Daily Mail) David Moyes officially began life as Manchester United manager on Monday but is increasingly resigned to the fact that Wayne Rooney's Old Trafford career is coming to an end. It has emerged that the two men met before going on holiday earlier this summer, and the feeling is that if the conversation had gone well there would have been no need for a make-or-break summit this week that will also involve Rooney's agent Paul Stretford and new United chief Ed Woodward. Moyes has not completely given up hope of persuading Rooney to stay, but it now seems to be a matter of when – not if – the England striker leaves and where he will go next.
David Moyes' first day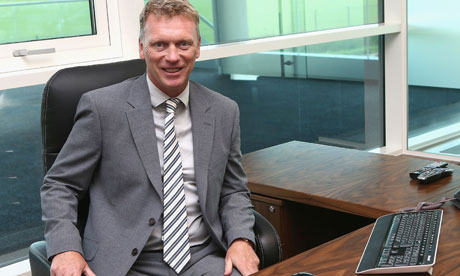 David Moyes begins Manchester United reign – and big decisions await him (Jamie Jackson, Guardian) Moyes started his first official day in charge trying to continue the dynasty built by Sir Alex Ferguson over 27 gilded years, with Wayne Rooney's future at the head of the perpetually increasing, always-morphing list of issues he is expected to control. Since being handed the job on 9 May as Ferguson's successor Moyes has been on a United crash course, attempting to gain some kind of working handle on arguably the world's biggest football club. Seven weeks before the whirl of another pre-season begins is as much any new manager of United could be granted. For this Moyes can be grateful to the executive who ensured the ending of Ferguson's reign and the start of his was handled slickly and swiftly. In this near two-month period the pressing business for Moyes has been how best to handle the unsettled Rooney before meeting him this week, assembling his own backroom staff and the decision to make an opening bid for Everton's Leighton Baines – all moves that could well have significant impact on his hopes of success.
Arsenal bid for Bender rejected
Arsenal's £18.5m bid for Lars Bender rejected by Bayer Leverkusen (Dom Fifield, Guardian) Arsenal's attempt to strengthen their midfield have been frustrated after Bayer Leverkusen knocked back an approach for the Germany international Lars Bender. The club have, however, signed the French French youth international striker Yaya Sanogo as a free agent after leaving Ligue 2 team Auxerre. The Gunners had hoped to secure the 24-year-old, whose twin brother Sven plays at Borussia Dortmund, for about €23m (£18.5m) but the Bundesliga club quickly turned down the inquiry and have since made it clear Bender is not for sale at any price. Leverkusen sold André Schürrle to Chelsea and Dani Carvajal to Real Madrid earlier in the summer and are not under financial pressure to move on more of their first-team squad.
Everton close in on Kone & Alcaraz
Martinez poised to seal reunion with Wigan duo Kone and Alcaraz at Everton (Simon Jones, Daily Mail) Everton hope to wrap up the signings of Arouna Kone and Antolin Alcaraz from Wigan on Tuesday. Wigan have had an £850,000 bid rejected for Bristol City winger Albert Adomah and are hoping to be given the all clear to sign Newcastle defender James Perch after bidding £700,000.
Adebayor on his way out of Spurs
Spurs land Paulinho but Ade may go (Paul Jiggins, Sun) Striker Emmanuel Adebayor could be on his way out of Spurs. The North London club last night clinched the £17million capture of Brazilian midfielder Paulinho from Corinthians. And now Andre Villas-Boas will switch his attention to his frontline, with Valencia's Roberto Soldado his top target. The Spurs boss expects a busy summer and Besiktas are said to be lining up a £5m swoop for Adebayor. They hope he is tempted by the country's tiddly 15 per cent tax rate.
West Brom set to bag Anelka
Baggies to Nick Nic (Graham Hill, Sun) West Brom boss Steve Clarke is lining up a move for Nicolas Anelka. It means the Baggies boss will replace one bad boy for another, with transfer rebel Peter Odemwingie set to leave Albion. Anelka, 34, is looking for a new club after a six-month spell at Juventus, which followed his year with Chinese club Shanghai Shenhua.
Why you need a VPN?
Cut chords:
Watch everything (Netflix, BBC iPlayer, Hulu) online using a VPN.
Unlock geoblocking:
A VPN gives you access to the best content from anywhere in the world.
Privacy & security:
A VPN keeps your information private, activity encrypted & data anonymous.
Just $6.67 a month + 3 months free!
Best football betting tips & free bet offers
Click here for more Premier League betting tips
---