Chelsea Pep pushback, Man City's worst ever CL record, United cool Sneijder interest & Liverpool eye stoppers
Comment & analysis round-up
Quote of the day: "Fernando is a great player and his team-mates know this. If he is in the right position they'll play the ball to him. If he's not, maybe they won't. All I can do is see things on the pitch and on the training ground, and Fernando is doing really well. He scored a lot in training yesterday but it's not just about the goals. For example, we have changed his position for corners against us and he was amazing. I don't know if Gary Neville has analysed this but two or three times now Fernando has cleared the ball. He is really good at that, helping the team to defend. Of course we want him to score but I wouldn't mind him not scoring as long as the team is winning. Winning is the main thing." – Rafa Benitez.
Runner-up: "You could be embarrassed if you don't play 100 per cent in every game, but when you play 100 per cent you can still lose. We wanted to score tonight, but we had a big problem with that and we could not do that. To win a game, you have to score, or you lose or finish 0-0. We haven't scored a lot of goals recently and we have to score more goals if we are going to win. We didn't miss out on qualification tonight. When you start and make mistakes, like we did in the first two or three games, you cannot recover." – Roberto Mancini.
Chelsea's Pep Talk
Back off Rom (Sun) Chelsea have been told to back off Pep Guardiola or risk losing out on the former Barcelona coach. Blues owner Roman Abramovich is desperate to confirm Guardiola as his new long-term manager after sacking Roberto Di Matteo and appointing Rafa Benitez as interim boss. But the former Nou Camp idol is growing increasingly irritated by persistent approaches from Chelsea.
If Roman doesn't respect Chelsea's managers, why would the players? (Martin Samuel, Mail) What appears to be absent here is respect. Abramovich clearly appreciates the work of lawyers, of business people, even public relations consultants; but anyone in a tracksuit is a clown. The problem with such a short-sighted attitude is that, in time, it rubs off. First the owner thinks the manager is a fool, then the players and now the fans. Abramovich should not be surprised that so few are affording Rafael Benitez the consideration his c.v. merits; they are taking their cue directly from him. The players know that if Benitez's methods are not to their liking they can wait this one out.
Man City: Out Of Europe
Europa-less (Sun) Julian Schieber got the only goal for the Germans after 57 minutes. That meant City finished with a paltry three points from their six Group D games — with star striker Carlos Tevez failing to score even once in the competition. It is the lowest total recorded by an English side in the group stages, one point worse than Blackburn 17 years ago.
Roberto Mancini not 'embarrassed' by Manchester City's failure in Europe (Guardian) Roberto Mancini denied feeling embarrassed after Manchester City ended their European campaign with the lowest points tally of any English team in Champions League history – but admitted his side have a "big problem" scoring goals.
Mancini puts brave face on City exiting Europe with worst record (Independent) It was not so much a matter of missing good chances as failing to create them; City managed four attempts on target to Borussia's 10. Samir Nasri and Scott Sinclair, on his Champions League debut, were peripheral figures on the flanks and were both substituted and although Carlos Tevez worked hard and was their best outfield player, his one real scoring chance was beaten away by the home goalkeeper and captain Roman Weidenfeller.
Maicon goes backwards (Rob Bagchi, Guardian) Maicon has not enjoyed much respite from criticism since joining Manchester City from Internazionale and, admittedly, at first he did look rather ponderous and paunchy. But to imply, as many did, that the Brazil right-back was a liability defensively, that he could not, in the game's evocative phrase, tackle his own mother in a cupboard, seemed in recent weeks to be a ludicrous extrapolation of the evidence of Gareth Bale's performance against Inter in the Champions League two years ago. But against Borussia Dortmund there was somewhat of a regression. Of course he impressed when going forward but too many times he let Ivan Perisic go past him and any real sense that he was doubling his effort to recover was absent.
Class of Klopp contrasts with City's failure to show up when it really mattered (James Lawton, Independent) It seemed that Dortmund, who we might have imagined would simply go through the motions, had simply forgotten how to lower their own expectations.
Arsenal: Mixed Reviews
The secret life of Arsene Wenger: How Gunners boss takes it for the team (Ollie Holt, Mirror) I think Arsene Wenger has chosen secret honour at Arsenal. I think he's staying silent where other managers would turn around and point the finger at their club. I think he's keeping quiet where other managers might brief against the chief executive. I think he's taking the heat when, actually, he doesn't really deserve it… They have also spent less than West Ham, West Brom, Stoke, Everton, Fulham and Sunderland. That is the reality that Wenger has to work with. The simple truth is that, financially, Arsenal simply will not compete with the teams considered their direct rivals.
Another bad night for the Gunners… but Wenger still didn't see it (Mail) You could argue this result did not matter as Arsenal had already qualified for the knockout stages and now avoid teams such as Real Madrid by finishing second in Group B. But that would be to underestimate the importance confidence plays in this club's performances, no matter who is in the starting XI. The manager fielded a second string XI but, apart from 20-year-old Champions League debutant Jernade Meade at left back, they were still experienced, boasting nine internationals. It should have been good enough to beat a Greek side who themselves made six changes from their last league game, being  already assured of a place in the Europa League.
Olympiakos' Kostas Mitroglou seals miserable week for Arsenal (Guardian) Arsenal will tell themselves this was not a do-or-die fixture. Qualification for the Champions League's knockout phase had already been assured and the merits of advancing as the group winners to the last 16 remain dubious. Scary fish are circling in the pot of runners-up. Arsène Wenger's starting XI had also been experimental. Yet the manner of the defeat by Greece's champions raised familiar questions, which Wenger is sick of hearing let alone addressing. A goal up at the interval, courtesy of a slick assist from Gervinho and a thumping conversion by Tomas Rosicky, on only his second appearance of the season, the scene had been set for Arsenal to show steeliness and professionalism, to slam the door on any Olympiakos fightback. Instead, the hosts took a grip on proceedings and they floored Arsenal with two goals in quick succession.
Messi: Record Breaker
Barcelona genius Lionel Messi poised to surpass Gerd Muller's goalscoring landmark (Henry Winter, Telegraph) It is official: the pitter-patter of tiny feet can be heard, delivering history. It is the sound of the crown prince of football, Lionel Messi, closing inexorably on Gerd Muller's phenomenal 40-year-old record of 85 goals for club and country in a calendar year. Surely against either Benfica on Wednesday or Real Betis at the weekend, Messi will equal and eclipse "Der Bomber".
Too Gerd to be true: Messi poised to beat Muller's goals in a year record (Martin Lipton, Mirror) If Lionel Messi grabs two against Benfica at the Nou Camp, he will beat Gerd Muller's seemingly unbreakable record of 85 goals in a calendar year, set in 1972 – with almost a full month to spare. Nobody, not even Cristiano Ronaldo, would deny the little Argentine his moment of glory at the end of 12 months of pure genius.
West Ham's Olympic Dream
Hammers face D-Day (Sun) West Ham will find out today if they have won their bid to move into the Olympic Stadium… West Ham were told more than a year ago they could no longer buy the stadium once the London 2012 Games were over and instead had to apply to become tenants paying £2.5million-a-year rent following a series of legal challenges. But a final deal depends on negotiations over who will fund the £20m gap to convert the 80,000 arena to football.
Why West Ham MUST be handed the keys to the Olympic Stadium (Ray Winstone, Mail) West Ham's Vice-Chairman Karren Brady has said that if the club are chosen, they are determined to create an arena that can be used for athletics, football and the community. This means that young kids will be able to follow in my footsteps and see their idols and role models up close every week, while also getting involved in skills coaching that the West Ham community department provide. It's the perfect match.
No Kop out: West Ham vow to keep crocked Andy Carroll until end of season (Mirror) West Ham chairman David Gold says Andy Carroll will not go back to Liverpool in January because "we didn't buy him from Argos."
Defending 'Diving' Bale
A head-on collision is like running into a 600kg polar bear… so, do you still think it's wrong for Bale to dive for cover? (Neil Ashton, Mail) Good on Gareth Bale for trying get out of Steven Sidwell's way at Craven Cottage on Saturday. It's not cheating, it's sensible. At full pelt the Tottenham flyer, who weighs 74kg, bears down on opposition defenders at around 23mph. If he acts the big brave British boy as everyone is screaming out for him to do, then a head-on collision is the equivalent of running into a polar bear weighing 600kg. No-one is stupid enough to do that.
David Ginola defends Tottenham 'diver' Gareth Bale (Star) Ginola claims lightning-quick players like Bale get a raw deal. He said: "It's easy when you run that fast at players – you don't need a big tackle to go down. A little push would be enough to lose balance."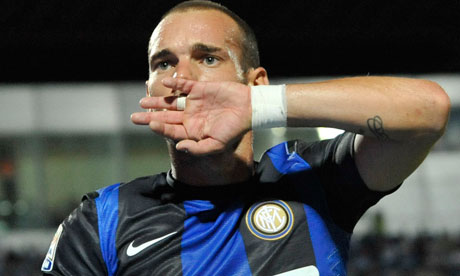 Transfer Lies
Manchester City get all-clear for Wesley Sneijder raid as United cool interest (Star) Manchester United boss Sir Alex Ferguson has given City manager Roberto Mancini the green light to land Inter Milan outcast Wesley Sneijder. The Dutch star has been frozen out by the Italian giants after refusing to accept a wage cut. The midfielder's £180,000-a-week deal runs until 2015 and he is unwilling to renegotiate it, leaving Inter fuming.
Arsene rap at PSG link (Sun) Arsene Wenger insists he will not quit Arsenal and join Paris Saint Germain. The Emirates boss has been a long-time target of PSG but Wenger maintains he will honour his contract at Arsenal which runs out in the summer of 2014. Reports in France suggest he is considering a move to the wealthy French club but Wenger insisted: "It is the wrong information, believe me. I always honour my contract."
Miami nice for Becks? Former England captain lined up as MLS owner (Mail) David Beckham has been earmarked as the prospective owner of an emerging Miami-based MLS franchise.
Michu's most Swan-ted (Sun) Swansea sensation Michu is wanted by Serie A duo Napoli and Genoa.
Reina on way out of Liverpool as Rodgers eyes Butland… with Sturridge and Ince set to join England stopper at Anfield (Mail) Pepe Reina's future at Liverpool is under threat, with manager Brendan Rodgers considering January moves for Birmingham's England goalkeeper Jack Butland or young German prospect Ron-Robert Zieler. And that will not be Rodgers's only move, with Liverpool close to finalising a £12million deal for Chelsea striker Daniel Sturridge and the £6m acquisition of his England Under 21 team-mate Thomas Ince.
Al's Ad break (Sun) Alan Pardew is plotting a January raid on old club Southampton for Adam Lallana.
Besler battle (Sun) QPR boss Harry Redknapp and his old club Southampton want Matt Besler of MLS club Kansas City. Besler, 25, was defender of the year in America last season.
Bolton keen on Leigh as Wigan snap up Espinoza on two-and-a-half year deal (Mail) Bolton are lining up a deal for Norwegian winger Dawda Leigh, 26, who is a free agent. Sporting Kansas City midfielder Roger Espinoza, 26, has agreed a two-and-a-half-year contract with Wigan. However, his deal hinges on a work permit appeal.
Villa, Newcastle and Norwich chase Cluj's Senegal winger Sougou (Mail) Aston Villa, Newcastle and Norwich will have FC Cluj winger Modou Sougou watched at Manchester United on Wedneday night.
---
GAMBLING CAN BE ADDICTIVE, PLEASE PLAY RESPONSIBLY