Chelsea move to keep Frank Lampard & close in on Isco, Man City line up Cavani & Spurs bid for Zaha
Comment & analysis round-up
Quote of the day:  "The pass from Giggs, the first touch from Van Persie and his finish was absolutely world class, absolutely fantastic." – Sir Alex Ferguson.
Runner-up: "Everything he did pleased me.  It is always important for strikers to score goals. I prefer to have this problem of choosing who to play up front. You have to be careful with just one and it is important for the team to have different options. They will compete — or maybe we will match them together. Ba played with Cisse at Newcastle so he can play with two strikers. He is clever." – Rafa Benitez.
Robin van Persie's brilliant equaliser at West Ham
Robin van Persie rescues Manchester United in the FA Cup at West Ham (Amy Lawrence, Observer) This was a romantic tale speared by a twisted knife. Joe Cole, the name on everybody's lips, had done all that he could to steal West Ham hearts all over again. He looked like being the game's catalyst, as he helped his team to recover from a goal deficit with two creative deliveries that James Collins finished off gleefully. He took a blow to the face that made him bleed, and had to change his shirt to one unembellished by his identity, as if anyone in these parts could ever forget. It was too perfect. But just as West Ham and Joe Cole were reaquainting their relationship in the sweetest way possible, Robin van Persie arrived to throw a metaphorical bucket of icy water all over the cosy claret and blue love-in. A stoppage-time equaliser by the substitute spared Manchester United embarrassment and continued the trail of electrifying comebacks.
Sunday Telegraph match report (Jason Burt) Just as Joe Cole's return, 14 years after he made his West Ham debut, was the stuff of dreams, along came Robin van Persie – who else? – to burst that bubble. Not that it entirely faded, or died. Van Persie's injury-time goal, the 20th of his extraordinary season, only salvaged a desperate draw for Manchester United. This third-round tie will go to a replay and if the second match is as good as the first it will be one to savour. And not just for Van Persie's wonderful first touch, after a superb flighted pass from Ryan Giggs, and his unerring shot which flashed past Jussi Jaaskelainen.
Chelsea move to keep Frank Lampard
Lampard in talks to stay: Chelsea make first move to keep club legend at the Bridge (Malcolm Folley, Mail on Sunday) Chelsea have revealed that they have made the first moves towards awarding veteran midfielder Frank Lampard a new contract to stay at the club he has given 12 years of wonderful service. With Lampard's current deal running out at the end of the season, Chelsea fans have grown increasingly angry that the club were apparently willing to let him leave without any dialogue. Faced with yet another backlash yesterday at Southampton, where Lampard scored as Chelsea crushed Saints 5-1 in their FA Cup third-round tie, sources within the club insisted that discussions had taken place to keep the 34-year-old at Stamford Bridge. They declined to go into detail but confirmed that Lampard's £150,000-a-week salary would not be slashed as a primary condition of any new deal. 'The subject of a pay cut has never been raised nor discussed in any of the recent conversations between the club, the player or his agent,' said the source.
Chelsea may keep Lampard after all (Trevor Haylett, Independent on Sunday) Chelsea's interim manager, Rafa Benitez, last night saluted the impact of Demba Ba, who scored twice in his team's 5-1 destruction of Southampton, while the club revealed for the first time they are involved in negotiations aimed at keeping Frank Lampard at the club beyond the end of the season. A club source, denying a newspaper story that the England midfielder had been asked to accept a massive reduction in wages, said: "The subject of a pay cut has never been raised or discussed in any of the recent conversations between the club, the players or his agent."
Chelsea close in for Isco
U-turn: Chelsea ready to extend Lampard stay despite closing in on Isco (Dean Jones, Dave Kidd, Sunday People) Chelsea owner Roman Abramovich is ready to ­perform a major U-turn and re-open contract talks with Frank Lampard, writes the Sunday People. Sunday People Sport can reveal the Blues are close to announcing the£15million signing of Spain Under-21 international midfielder Isco but they are open to the idea of long-serving Lampard staying. After telling the club legend that he could leave, Stamford Bridge sources now insist they want to talk about a new deal. Lampard's representatives have yet to hear from Chelsea, but the player is keen to stay in the hope of persuading the club to offer him a two-year agreement. Lampard scored a penalty in Chelsea's 5-1 FA Cup demolition of Southampton yesterday to go level with Kerry Dixon on 193 goals for Blues.
Sir Alex Ferguson on Newcastle
Ferguson: I was talking about Newcastle's lack of trophies, not the Toon Army, when I made the 'wee club' comment (Bob Cass, Mail on Sunday) Sir Alex Ferguson claims he has received backing from many Toon Army members following his controversial comment that Newcastle United is a 'wee club in the North East'. The Manchester United manager revealed that, among many emails he received about the issue from fans of the Tyneside club, several welcomed what he said. 'Among the criticism there were also messages from people who feel they have been let down by the club and that it has not matched their own ambitions for success,' he said. Ferguson has sought to exclude Newcastle supporters from his observations last week, insisting that they were directed only at the club's lack of success over the years – a failure compounded by their 2-0 defeat at Championship side Brighton in the third round of the FA Cup.
Arsene Wenger on Arsenal's wage structure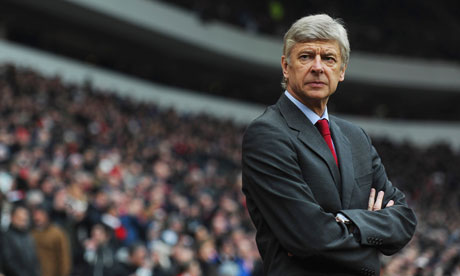 'I decide how much my players get paid': Wenger reveals Arsenal's 'socialist' pay structure (Matt Law, Sunday Mirror) Arsene Wenger admits he is responsible for Arsenal's much-maligned 'socialist' wage structure. For the first time, manager Wenger has given a fascinating insight into how Arsenal's pay system works. With Arsenal desperately trying to agree a new contract with Theo Walcott, Wenger has ­confirmed that HE decides how much players earn – and ­confessed that the pay scale he advocates can leave the club ­vulnerable. "We don't have a big gap ­between what our players earn at Arsenal," said Wenger. "We are more a socialist model and vulnerable because of that. "We have something that is ­defendable in front of every single player. We make ­exceptions, but the ­exceptions are maybe not as high as elsewhere. "We have an amount of money that is dedicated to wages. Within that we try to do things that make sense and are defendable."
Arsenal's Arsène Wenger needs to rediscover his Midas touch (Amy Lawrence, Observer) It is hard to avoid the feeling that Wenger's approach to this window is similar to that of the infamous summer of 2011, when Arsenal were indecisive, inhibited by the prospect of what might happen with Cesc Fábregas and Samir Nasri (Theo Walcott this time) and ended up responding to a crisis by last-minute grabbing what they could from the sales. Last week Wenger's official line switched from the determined – "I will be active … we are looking everywhere" – to the coy – "If we need something we will look" – a couple of days later. So is there a grand plan? Is there a clear vision of which departments need strengthening and which are strong enough? It appears not.
Jose Mourinho adds more pressure on Wenger
Wenger has so much stability but I'd pressure myself to win things (Rob Beasley, Sunday Sun) Mourinho confessing he is envious of the Frenchman's longevity and job security. But he says he could never stomach so long without silverware. He admitted: "Yes I would love to have that stability at a club. "But at the same time I think for my mentality I also need the pressure to succeed. "And if no one imposes that pressure on me then I would impose that pressure on myself. "The pressure to win things. "Yes it's possible to be one or two seasons building for the future and not being at the level to win things. "But no longer, because my mentality is I always need the pressure of winning things. "Maybe it could happen soon for Arsenal. "They play good football and produce good players. "And they're always buying players in every transfer window so surely sooner or later they should do something, should win something." But he says it will not be the Premier League.
Manchester City line up Edinson Cavani
Edin to Manchester? City line up £45m Cavani as patience wears with Balotelli (steve Bates, Sunday People) Manchester City have taken their first step towards ditching Mario Balotelli – by making a £45million bid for Napoli striker Edinson Cavani, writes the Sunday People. The bid was made by City's sporting director Txiki Begiristain at Christmas – BEFORE Balotelli's training-ground fight with manager Roberto Mancini. Despite support from City's wealthy owners for the madcap striker, patience has now worn thin among Balotelli's Etihad team-mates. Former allies like skipper Vincent Kompany and Gareth Barry have become exasperated by his behavior. And it's clear from Begiristain's first moves for Uruguayan goal-machine Cavani that Balotelli's days are numbered even if Mancini is prepared to give him another chance.
Mario Balotelli fined
One million pound drop: Mario Balotelli's bad form costs him massive Manchester City bonus (Simon Mullock, Sunday Mirror) Mario Balotelli's nightmare season at Manchester City has cost him a £1million windfall. The controversial Italian striker would have banked the incredible seven-figure bonus under the terms of his ­£170,000-a-week contract if he had landed the World Footballer of the Year award in Zurich ­tomorrow. Balotelli, 22, was short-listed for the ­Ballon d'Or following his explosive exploits for Italy at Euro 2012. But he has started just eight games this season and has scored one Premier League goal as Roberto Mancini's mistrust of the £24million striker has grown. City write lucrative ­bonus schedules into the contracts of all their players – and Sergio Aguero (below) and Yaya Toure were also in line to cash in after being named on the original long list list for FIFA's top player award.
Spurs move for Zaha
Spurs spark January transfer battle for Zaha with £10m move for Palace starlet (Bob Cass, Mail on Sunday) Tottenham will open negotiations this week for the £10million signing of Crystal Palace winger Wilfred Zaha. In spite of intense competition for the 20-yearold Ivory Coast-born England international, Spurs have leapt ahead of Manchester United and Chelsea because they are ready to do the deal in the January transfer window and will comply with Palace's condition that the player is loaned back to them until the end of the season.
Harry Redknapp on the transfer window
This transfer window is pure HELL for some managers (Harry Redknapp, Sunday Sun) The next three weeks are going to be hell for some managers. The January transfer window means a load of earache from hours spent on the phone. Then there's the stress while desperately trying to get in some players in the hope of transforming your season and possibly saving your job. Over the years I've had some pretty crazy times in January. The phone is ringing all the time. When I'm out having dinner with my wife Sandra it rings and the thing is you have to take the call. You can't switch the phone off in case you miss out on a deal or because you are closing in on one. You are taking a gamble when you sign players in this way and it's usually the struggling clubs that are forced to be most active in January.
The Ballon d'Or
Fourth Fifa World Player of the Year award for magical Lionel Messi will end all the arguments (Oliver Brown, Sunday Telegraph) If, or rather when, Lionel Messi receives an unprecedented fourth Fifa World Player of the Year award in Zurich on Tuesday, Barcelona's pint-sized sorcerer will vault beyond Zinedine Zidane and Brazil's Ronaldo, the other three-time winners, as the most garlanded player of his generation. Those irksome parallels to Pele and Diego Maradona will persist, of course, in the haste to anoint Messi the greatest of all time. But in terms of official recognition, Lionel Messi is out on his own. The extremes to which Messi has been pushed for this fourth award are staggering. In the calendar year of 2012 Cristiano Ronaldo at Real Madrid scored 63 goals, and yet his Argentine nemesis had the temerity to eclipse him with 92. It should be interesting to glimpse the Portugal star's face when he discovers that his prodigious club strike-rate, not to mention his two goals against Holland to seal a place in the Euro 2012 quarter-final, are still not sufficient to depose the boy-king of Barca.
Joe Cole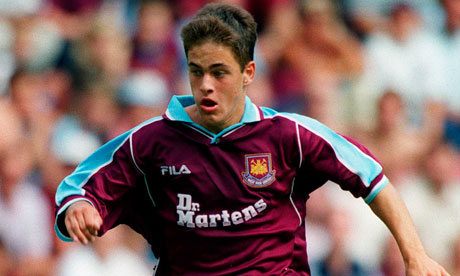 Can we really blame Cole for taking that £3m pay-off? (Rob Draper, Mail on Sunday) The grumbling is near universal, the anger almost palpable. Joe Cole is said to have received a £3million pay-off to leave Liverpool to join his old club, West Ham.
And in a single stroke, all that is wrong about the modern football professional is revealed. Like some executive fat cat collecting his pension, Cole's pay-off is viewed as reward for failure after his less-than-inspiring two-and-a-half years at Liverpool, although one of those years was spent on loan at Lille, where he started 25 times and helped the club qualify for the Champions League. But any anger at the amounts of money involved should be directed at the executives of Liverpool Football Club who agreed the deal with Cole in the first place; executives, it should be noted, who are no longer employed by the club.
No ordinary Joe but we may have expected far too much from Cole (Daniel Taylor, Observer) Perhaps we were all a little bit guilty of expecting too much. Maybe we were too seduced by the hype. At 15, Cole was invited to train with West Ham's first team. "He was the best player out there," Ferdinand confirms. John Moncur nicknamed him "the Conjuror". Cole signed his first professional contract on the pitch, on his 17th birthday, and the public announcer told the crowd they would be able to tell their grandchildren about it. By the time he had turned 21, Cole had played for England eight times and was about to be named captain of his club. Frank Lampard, to put it into context, was still waiting for his first cap at that age. Carrick had two.
Kevin Prince-Boateng & racism
Boateng isn't a hero, just a human being (Michael Calvin, Independent on Sunday) Kevin-Prince Boateng is no hero. He is as flawed and fallible as the rest of mankind. In other circumstances it would be easy to condemn him as a caricature of a modern multimillionaire footballer. He has more tattoos – a florid 14 at the last count – than the average Hell's Angel. His girlfriend, Melissa Satta, inevitably a "model, actress and TV presenter", blamed his succession of muscular injuries this season on their robust sex life. This may have struck a chord with Milan's president, Silvio Berlusconi, one of the first to applaud Boateng's decision to lead the players off the pitch in the club's midweek friendly against the lower-division side Pro Patria, but it wasn't rapturously received when Boateng was being criticised for poor form.
Wayne Rooney's sister-in-law passes away
Our angel (Emma Foster & Guy Patrick, Sunday Sun) Coleen Rooney and her family were last night mourning their "special angel" after her sister Rosie died aged just 14. Heartbroken Coleen, 26, wife of England ace Wayne, was at Rosie's bedside as she passed away at home after bravely battling health problems all her life. Last night she paid tribute to her sister saying: "Our special angel went to Heaven." Rosie McLoughlin — who was severely disabled because of a rare genetic condition — died yesterday morning with her family around her. Coleen, who had returned home early after celebrating New Year in Barbados with son Kai, three, later went online to thank well-wishers for their messages. She wrote: "We are absolutely heartbroken to have lost our angel Rosie. So glad we ended our holiday short and were able to spend the last few days together. Sleep tight Rosie Mc x. We love you more than words can say x."
---
GAMBLING CAN BE ADDICTIVE, PLEASE PLAY RESPONSIBLY