"Chelsea have lacked zest and on occasion they have looked like an ensemble in which too many members are feeling their age or sensing the lingering damage of all the battles of the past" – Kevin McCarra
Comment & analysis round-up
Quote of the day: "We have another 19 games, so all is possible. We have a good team and if we keep concentrating it's possible [to win the Premier League]. We must carry on playing well and winning. Then, in two months, we can look at the situation [in the title race]. It's important that we just play well and improve match after match. If we keep playing well, if we keep the ball on the pitch and play a short game, we can arrive in the top four." – Roberto Mancini.
Runner-up: "I want to come back to England. I'm not the kind of guy to keep his feelings hidden. I have always said the same – I love it here, I love it here, I love it here. I won two titles in three years [at Chelsea] and all the other cups too. I was very successful, so it is normal that other clubs here will want me. I won two titles with Porto, two with Chelsea and now I want to make it two, plus two, plus two by winning it again with Inter. That would be special. I don't leave any club in mid-season to go to another. So until the end of the season there's no chance that I will leave Inter." – Jose Mourinho.
Today's overview: He's been in charge for just two games, but has Roberto Mancini already proved that Manchester City were right to sack Sparky?
Building the case for Mancini, Stuart James splutters "whatever the rights and wrongs of Manchester City's decision to sack Mark Hughes, Roberto Mancini has managed to win as many Premier League games in three days as his predecessor did in his final 12 weeks… Mancini was entitled to cherish a second successive clean sheet and City's first away win in four months." Peter Lansley continues the Mancini love-in, barking "the king is gone; long live the king. Manchester City supporters may have liked Mark Hughes, but they love their club… [Mancini] says he has only worked with his defence for four days, but getting Kolo Toure to preside over clean sheets in successive matches suggests City may have hired a miracle worker."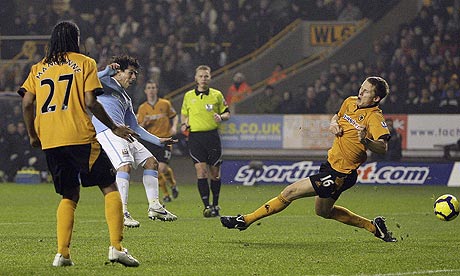 Pattern-spotting, Daniel Taylor then noted "the Premier League's newest and best-dressed manager now has two wins from his opening two games, with six of the bottom 10 clubs next on the fixture list. The former Internazionale head coach may have been stretching the boundaries when he said that City could catch and overhaul Chelsea at the top of the league but he has clearly picked a good time to take control of this team."
Sam Wallace discussed City's revised objectives for the season. "Roberto Mancini made the radical step last night of changing his prediction for City's season – upgrading them from top four material to Premier League title contenders – and he did so on the back of one of the best performances in recent weeks from Bellamy. Carlos Tevez might have scored two goals but it was Bellamy who gave City their bite."
Chelsea left it late to beat Fulham at the Bridge on Monday, and Kevin McCarra remains unconvinced by the Pensioner's shaky rearguard. "They have not looked intimidating since their 3-0 win at the Emirates on 29 November. Chelsea have lacked zest and on occasion they have looked like an ensemble in which too many members are feeling their age or sensing the lingering damage of all the battles of the past. They cannot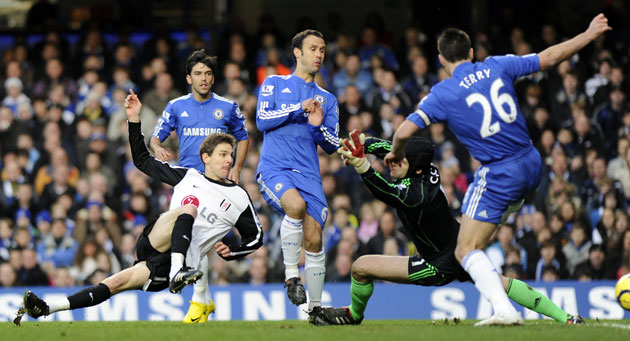 count any longer on fortitude in defence."
Similar downbeat sentiments of Chelsea were tabled by Matt Hughes, who commented "to borrow a phrase from the political lexicon, which may even apply to the Prime Minister at the moment, Chelsea are in government but not in power. Carlo Ancelotti's side are five points clear at the top of the Barclays Premier League, although it is difficult to see precisely why, and no one can say with any certainty how long their lead will last. Their authority of old is missing."
After watching Spurs down West Ham to close out the year, Tom Dart attempted to sum up the past 12 months for the Lilywhites. "In the relegation zone in January, Tottenham Hotspur end December touted as potential Barclays Premier League winners. By any standards, 2009 has been one hell of a good year."
In distressing news, Daniel Taylor reports that "Edwin van der Sar has been given compassionate leave by Manchester United to be with his wife after she suffered a brain haemorrhage."
Bad tidings also reach the Emirates this Tuesday, with Dominic Fifield announcing "Cesc Fabregas will undergo a scan on his troublesome hamstring tomorrow with Arsenal fearing they could be denied their influential captain for more than three weeks."
The Telegraph take time out to report the latest stories breaking on the continent, including how Dan Petrescu is considering several managerial offers following his surprise departure from Unirea Urziceni, the Luca Toni is on his way to Roma, and the story of how "Belgian side Excelsior Mouscron were kicked out of the first division yesterday after declaring they would fail to play for a third time this season."
It's just 72 hours now until the transfer window reopens for the New Year sales.
One player up for purchase is Manchester United's failed winger Nani, Daniel Taylor detailing how the Red Devils are trying to engineer a swap deal with Benfica for Angel di Maria. Adding his weight behind the story, Ian Herbert scribbled "Nani is resigned to leaving Old Trafford, with his representatives seeking clubs in Italy and Spain to rebuild his career from next month."
The Daily Mail, with not a sniff of a quote or piece of supporting evidence in sight, fart "Zenit St Petersburg have been linked with a sensational move for Tottenham Hotspur striker Peter Crouch. The wealthy Russian club's new boss Luciano Spalletti is determined to land an imposing centre-forward and is said to be a huge admirer of the 6ft 7in England star. Zenit are keen on a move for Roman Pavlyuchenko but will look at other targets if the Russia international's price tag is much above £10million." Staying with English-based strikers heading to Russia, the Daily Mail add "Brazilian striker Jo has been offered a way out of his Premier League nightmare with a return to former club CSKA Moscow."
Like a dog with a bone, the Daily Mail then continue to link the Premier League with Russia crashing in with news that "Liverpool are ready to offload Andrea Dossena to fund a move for Norwegian forward Erik Huseklepp. Zenit St Petersburg have joined the race for Dossena and value the Italy left back at about £2million – £5m less than Rafa Benitez paid Udinese for him 18 months ago. If the Reds are prepared to take such a big hit, the same fee should be enough to snare Huseklepp from Norwegian side Brann."
No-name articles continue in The Sun, where we learn that "Rafa Benitez  will ditch his Kop flops to fund a move for Galatasaray winger Arda Turan," that "Harry Redknapp is ready to raid former club Portsmouth for 6ft 5in keeper Asmir Begovic," and that "Birmingham have targeted want-away Peterborough striker Aaron McLean to lead their European charge."
Questionable use of the word "extraordinary" is made by James Nursey today in the Mirror, as the hack crashes in with news that "West Ham are considering an extraordinary move for former Chelsea bad-boy Adrian Mutu." In a separate article James Nursey coughs the rumour that "West Brom have bid £1.5million for Crystal Palace starlet Victor Moses."
Staying in the Mirror a faceless article reveals that "Tony Pulis has launched an ambitious £9m bid to raid cash-strapped West Ham for England international Scott Parker," while Alan Nixon delivers the hard to believe rumour that "Blackburn boss Sam Allardyce is making an ambitious move to land Marseille midfielder Hatem Ben Arfa on loan."
---
GAMBLING CAN BE ADDICTIVE, PLEASE PLAY RESPONSIBLY