Chelsea & Barcelona battle for Torres, Manchester United eye Anelka, Rodwell, Milner & Dzeko while Inter Milan want Lampard
Comment & analysis round-up
Quote of the day: "Grant did not show great confidence in me. In the 2008 Champions League final against Manchester United, Grant threw me on as a sub without giving me any warning. In the end I messed up the very last penalty in the shootout, which Edwin van der Sar pushed away. It is sad to say but I knew I was going to miss my kick. Grant used to look down on me. It was as though he felt I should be grateful and not ask for anything. The pretext for this was I had been brought in from Bolton." – Nicolas Anelka.
Runner-up: "The manager said to me before the season that I needed to score more headers. But I was playing out wide a lot back then. I said: 'Do you want me to get on the end of my own crosses?'" – Wayne Rooney.
Today's overview: Back in the day, the FA Cup final would have dominated every aspect of the backpages. However, with Portsmouth rank outsiders to beat Chelsea, most of this Saturday's focus is spent on transfer gossip.
The FA Cup final: Striking up the Portsmouth support band, Barney Ronay tried to unearth why most neutrals will want Portsmouth to defeat Chelsea. "Perhaps the only really lovable thing about Portsmouth is Avram Grant, often criticised at Chelsea for his glum, sardonic, mooching demeanour, even at times when his glum, sardonic, mooching demeanour was by far the best thing about Chelsea. In adversity he has developed a lovely, shrugging excitability, a conviction that something or other means something and that's the real, you know, point here."
Henry Winter gives an over view of the opposing financial positions of this season's FA Cup finalists. "Today's showpiece highlights the boom-and-bust nature of the English game, a game of patriarchs and paupers. Roman Abramovich's new super-yacht, the Eclipse, reportedly cost three times more than Pompey's £130 million debts. Yet for 90 minutes, possibly 120, these teams are equal, their valuables left at reception. The depth of an oligarch's pockets can never match the depth of fans' ardour. Just listen to Portsmouth at Wembley on Saturday."
For Mark Fleming, while acknowledging the achievement that the double would be for Chelsea, the scribe already ups the ante for next year. "Winning the Double would mark this Chelsea side out as an exceptional side, a claim that few would contest. Their 8-0 demolition of Wigan to win the Premier League six days ago is certain to be remembered for many years to come, an emphatic demonstration of their ability to blow opposing teams out of the water. They also won all six games against Arsenal, Liverpool and Manchester United this season to stamp their authority on their closest rivals. But it is not enough, and Ancelotti knows it. The Double is one thing, but Ancelotti understands that his priority next season is to address Chelsea's failure to win the Champions League."
Taking a slight detour, Matt Hughes believes Joe Cole is running out of time to confirm himself in England's World Cup squad. "A big performance at Wembley this afternoon would make a strong case for Cole's inclusion in Capello's final 23, but he is unlikely to get the chance. Ancelotti has opted for Florent Malouda and Salomon Kalou as his wide men to start the FA Cup Final and the most Cole can hope for is making an impression from the bench. Such cameos may earn him plenty of points in the Capello Index — in which Cole is ranked as England's third-best midfield player — but count for little in the real world."
Des Kelly also focuses in on Joe Cole. "The truth is Saint Joe has never quite reached the heights expected of him. He has always had the God-given ability, but he has shown it only in flashes, he has never established himself as a truly notable figure in the game. Now that he is 'free', maybe this is his chance."
Golden Balls-Up?: Following news on Friday that David Beckham has been asked to join the England squad in South Africa, Patrick Barclay fears that the invitation may back-fire. "In South Africa he threatens to be just another distraction to the football side of England's tournament — although Capello must have been warned about the accompanying theatre of the absurd, he appears not to take it seriously enough — instead of a relentlessly dazzling contributor to the off-field effort designed to bring the country the World Cup in 2018. The danger is that Beckham will be largely confined to barracks at the Bafokeng Sports Campus and other training centres and thus unable to be out and about in the hotels where Fifa dignitaries gather, flattering them with his presence, working on the key men who deliver votes."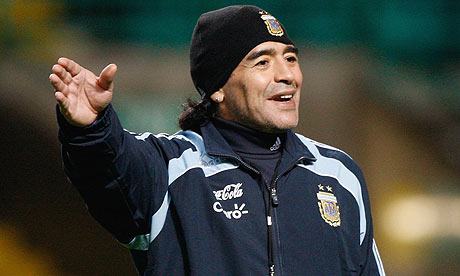 Maradona – Madness or Method: Neil Clack makes the case in support of Diego Maradona's Argentina ahead of South Africa. "At long last, Maradona's team appeared to be coming together. He has settled for a counter-attacking 4-4-2 system, almost British in its style, with two pacy wingers, Newcastle's Gutierrez and Di Maria patrolling the length of the flanks, tracking back and defending. Crucially, the Argentina squad do not have any injury issues, and the six strikers that Maradona will take to the World Cup are all bang on form – Messi, Gonzalo Higuain, Diego Milito, Carlos Tevez, Sergio Aguero, and even 36-year-old Martin Palermo, who recently broke the all-time top scorer's record at his club, Boca Juniors."
Managers on the Move: A massive job has opened up in Italy, with Paolo Bandini making public that "Leonardo has left Milan by mutual consent following weeks of speculation over his position at the club in the Italian press… Leonardo's successor is widely expected to come from within the club, with Leonardo's assistant Mauro Tassotti and the youth team coach Filippo Galli the two most likely choices. The club's former striker Marco van Basten has also been linked with the position."
Staying in Italy, Geoff Sweet claims "Inter Milan have made contact with Rafa Benitez after finally accepting they may lose Jose Mourinho." And Sweet isn't finished there, adding "Juventus are preparing a dramatic bid to prise Roy Hodgson from Fulham."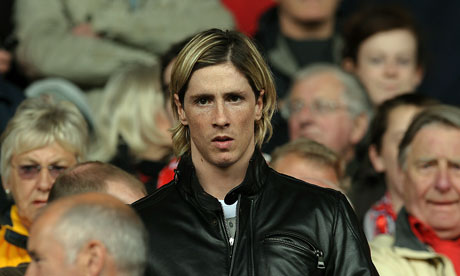 Transfer Gossip: It's a case of slowly slowly catch the monkey for Chelsea as the Blues take some more baby steps in their attempt to lure El Nino to the Bridge. Paul Coupar details how "Chelsea are hopeful of luring Fernando Torres from Liverpool after making discreet inquiries, according to reports last night. Torres is reported to be one of Chelsea's key targets as they aim finally to win the Champions League. The coach, Carlo Ancelotti, and the owner, Roman Abramovich, are believed to agree that extra quality is needed to achieve their goal." The battle for Liverpool's hitman heats up in the Daily Mail, as apparently "Barcelona have joined the battle to sign Liverpool striker Fernando Torres.
Andy Hunter opens the door for another Liverpool star to leave through, announcing "Javier Mascherano has delayed signing a new contract with Liverpool as he waits for the uncertainty surrounding Rafael Benítez and the club's financial future to be resolved."
Moving to Old Trafford, Daniel Taylor links the Red Devils with a move for Le Sulk. "Ferguson is looking at ways to get more players into the penalty area and has been monitoring Nicolas Anelka's contract talks in case the Chelsea striker should become available." Any deal for Anelka though looks unlikely as Matt Hughes announces "the France forward has agreed the terms of a new three-year deal worth £100,000 a week that he will sign before meeting up with Raymond Domenech's World Cup squad."
Oliver Kay then spreads the net of United's transfer targets. "Manchester United are determined to beat Chelsea to the signature of Jack Rodwell… James Milner, the Aston Villa and England midfield player, is another potential target… it is unclear at this stage whether Ferguson will be tempted to move to sign Joe Cole on a free transfer… The United manager's plans in attack are also unclear, despite a watching interest in Edin Dzeko, the Wolfsburg forward, and Karim Benzema."
In some less sexy transfer news Stuart James reports "Wolverhampton Wanderers hope to sign Steven Fletcher from Burnley for a fee in the region of £6m," while Gordon Tynan scribbles "Wigan Athletic have agreed terms to sign Paraguay defender Antolin Alcaraz from Bruges."
Obviously the Daily Mail also get in on the gossip, with Simon Cass splashing with news that "Chelsea are bracing themselves for a swoop by Real Madrid for Frank Lampard." The psuedo-tabloid also prints "Birmingham striker Christian Benitez is being tracked by West Ham," as well as "Fulham  are keen on a £3.25m move for Bristol City striker Nicky Maynard."
Andrew Dillion coughs in The Sun "Yossi Benayoun is a surprise transfer target for Double-chasing Chelsea." While over in the Mirror, John Cross chugs "Arsene Wenger has begged Cesc Fabregas to give him two more years at Arsenal," David McDonnell claims up to 14 players will leave Eastlands this summer, and apparently "Lokomotiv Moscow will make a new bid for Roman Pavlyuchenko, closer to Spurs' £15million valuation."
---