Chelsea are set to splash another £100 million as Arsenal are linked with eight strikers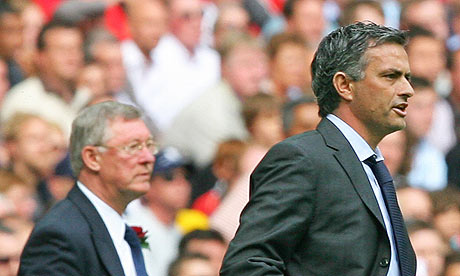 Comment & analysis round-up
Quote of the day: "I thought he [Ibrahimovic] would stay because only Real Madrid – and they weren't interested in him – could spend such crazy money, but then Barcelona did too. If, as his agent said, this deal has been in the pipeline for a year, then there's something strange going on. If it was a recent thing, that's ok. He gave everything he could for me and for Inter, always. Even though he was never loved by the fans, who aren't crying over his sale and are ready to love Eto'o. Inter had two possibilities, tell Ibrahimovic: 'we're not selling you', or take Eto'o, plus Hleb on loan for a year for free, plus 50 million euros. To me that seems like an incredible deal, a deal worth 100 million euros, the deal of the summer. Kaka 70, Cristiano Ronaldo 96. For me this is worth 100 million because Eto'o is worth not even one euro less than Ibra." – Jose Mourinho.
Runner-up: "[Manchester City] are a small club with a small mentality. All they can talk about is Manchester United, they can't get away from it. That is stupid doing that. That arrogance will be rewarded. It is a go at us, that's the one thing it is. They think taking Tevez away from Manchester United is a triumph. It is poor stuff. Do you know what City's biggest triumph is? It's getting those players there. I don't know if they will do anything. They have come because of the money. That is the big attraction to people nowadays. That is the reason they have gone there. At the last minute, from what I can gather, Emmanuel Adebayor or his agent phoned us after he had agreed a deal with City and then he did the same to Chelsea. You ask why is he going to Manchester City and it can only be for one reason. He was desperate to get to Chelsea and he was desperate to get to us. " – Sir Alex Ferguson.
Today's overview: Its a case of déjà  vu this Sunday as the same stories which have been vomited all over the backpages throughout the summer continue to be flogged to death. This means more speculation over John Terry, more speculation over signings that Tottenham won't make, and a whopping eight strikers being linked to Arsenal on one day.
But before we get there, tucked away amongst the miles of column inches this Sunday is a short and potentially explosive article from the Sunday Express' Brendan Abbott. According to the hack, "players outside the Premier League face a whopping 20 per cent pay cut. The controversial plan has been proposed by Football League chairman Lord Mawhinney to ease the effect of the recession on clubs."
After Sven-Goran Eriksson returned to Britain with Notts County last week, this weekend offers the fifth estate opportunity to review the Swedes decision-making process once more.
For John Aizlewood, "not since England striker Tommy Lawton, at the peak of his powers, moved from first division Chelsea to County of the Third Division in 1947 has there been such heady romance at Meadow Lane." Rory Smith has observed that while "the rest of the country may have scoffed at Eriksson's arrival, but in Nottingham, they are taking it very seriously. Not just County, either. Their opponents here, Nottingham Forest, have spent much of this week hearing of their upstart neighbours' grand designs."
Rob Shepherd also wades into Eriksson analysis writing "there is no problem with Notts County's rich new owners shooting for the stars. It just beggars belief they are indulging Eriksson when there are so many better qualified English managers who, given such a break, could do a far better job."
Who doubts the might of Manchester City and the power of their cheque-book?
Not Duncan Castles as the Sunday Times' scribe boasts how "City have agreed personal terms with Arsenal defender Kolo Toure as the Premier League's most affluent football club continue their assault on the English transfer market. City expect to sign Toure, Joleon Lescott and John Terry by the end of August for combined fees of around £100m." Elsewhere, James Masters trumpets in the Sunday Mirror that "West Ham are bracing themselves for a £15million bid from Manchester City for Matthew Upson."
So the John Terry-Manchester City rumours have been struck up once more, and Jason Burt is left aggravated that JT has yet to declare his position. "Chelsea have been in the United States for more than a week now. And Terry hasn't spoken, to either the American or international media. Not once. Given this tour is largely about spreading the message to a new market then the failure for the club captain to voice an opinion is curious. Publicly Chelsea say there is no need for him to talk. Privately they are desperate for him to do so."
It is left for the gossip-mongers in the tabloids to fire up the JT story again. Daniel King and Joe Bernstein jointly fart "Manchester City last night edged closer to signing England and Chelsea captain John Terry for a British record transfer fee of £35million." Paul Hetherington cracks up the gossip by announcing "John Terry has admitted to close friends that he is in 'two minds' about staying at Chelsea or moving to Manchester City." And its a similar story in the NOTW where Neil Ashton toots "Terry has already asked owner Roman Abramovich for permission to speak with City several times – but that has been rejected outright on each occasion."
Turning attention back on the Blues, Jonathan Northcroft focuses on Chelsea's new Russian winger, Yuri Zhirkov. "For some time Abramovich has been keen to run his club on a sensible financial basis and Zhirkov, costing the same as Manchester United's feckless winger, Nani, could be the kind of signing to justify the new policy."
Onto the rest of the tabloid transfer guff.
Brendon Abbott claims a three-way battle for Dean Ashton. "Ashton's two-year misery at West Ham is set to end with a £5million move to any one of three Premier League clubs. Stoke City, Fulham and Hull City are leading the chase for the injury-jinxed striker." The Star's Harry Pratt claims Stoke to be the front-runners for Ashton's signature.
The Sunday Mirror spew out a throng of transfer tales including how Blackburn are chasing Valencia's Miguel Angel Angulo, that Steve Bruce has confirmed Sunderland are locked in fresh high-level negotiations with Tottenham to buy England striker Darren Bent, and that "Peter Crouch will complete a £10million move from Portsmouth to Tottenham tomorrow."
Keeping with the Lillywhites, Spurs fans will be dying to believe Aiden McGee in the NOTW who claims "Harry Redknapp will fly to Amsterdam this week to make Klaas-Jan Huntelaar the highest-paid player in Tottenham's history." And finally on Spurs a faceless article in the NOTW suggests "Everton plan to pay £7million for Tottenham's Scotland international right-back Alan Hutton. "
Staying in the red rag, Bill Mills toots "Arsenal look set to win the race to sign Brazilian wonderkid Wellington." Other strikers are also linked to the Emirates this Sunday, Paul Hetherington barking that "Arsenal want Roma's Mirko Vucinic to replace Emmanuel Adebayor," before the hack spreads his bets linking the Gunners with Andre-Pierre Gignac, Marouane Chamakh, Obafemi Martins, Demba Ba and Edin Dzeko. And amazingly even more strikers are linked with Arsenal as Cliff Hayes lies that "Arsenal are planning a £7million swoop for Chelsea's Salomon Kalou."
Aston Villa made their second summer signing according to Harry Pratt. "Villa have won the race for Portsmouth centre-half Sylvain Distin – and will now step up their £12million pursuit of Spurs ace Jermaine Jenas."
Returning to the analysis, "the Beckham Experiment has surely failed" cries Jonathan Northcroft. "Pele couldn't crack America, neither could hosting the World Cup… Beckham's 2007 Galaxy debut was massively promoted and drew five times the normal television audience for an MLS game. Even so, more viewers watched a women's softball game screened by the same channel in the same month."
Lastly, in a wonderfully honest interview Robbie Savage tells Phil Shaw of his excitement in entering the world on television punditry with MOTD2. Savage: "The bottom line is that I can talk football all day and hold my own with anybody. I watch every league, at home and abroad. It's what I'm comfortable with."
---
GAMBLING CAN BE ADDICTIVE, PLEASE PLAY RESPONSIBLY