Chelsea are back in the title race, West Ham consider axing Zola for either Hoddle or Hughes, Man City target Cavani & Mexes while Arsenal linked with Remy & £36m Fabregas-Balotelli deal
Comment & analysis round-up
Quote of the day: "If I made a mistake I'm sorry. I only wanted to get the ball because we had another five minutes at the end. I was frustrated for the players and for me and for the supporters. If I was waving my hands then it can happen sometimes. If it upsets people I will try not to do it again next time. Yes, I will have a drink with him – there is no problem. These things can happen during the game. It's finished now and I'm sorry about it. It was nothing, it's finished… It was a frustrating night for us but I still think we can finish in fourth." – Roberto Mancini.
Runner-up: "Next time I might just let the ball run through. I caught it because I was making a substitution, I would have thought it would actually have helped him. I was very surprised, I didn't know what I had done wrong. Maybe I held on to the ball a second or two longer than I should have done but I was trying to make a substitution. But if I had let the ball go, let it run down the touchline – I actually speeded it up. I wasn't the one waving my hand for bookings. I shouldn't have been sent off, simple as." – David Moyes.
Today's overview: And all of a sudden, after a week of bashing, Chelsea are back in the title race.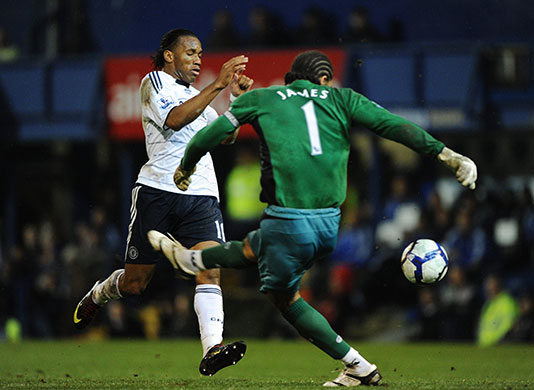 Commenting on the Pensioners' 5-nil drumming of Pompey, Nick Szczepanik conceded "the result, however achieved, quells talk of a crisis at Stamford Bridge and means that, with a visit to Old Trafford on Saturday week, Chelsea remain in control of their destiny in the title race… It was a welcome return to winning ways for Ancelotti's team — but then anything other than victory over the league's bottom club would have converted a drama into a crisis."
Next, Matt Hughes acknowledged how Chelsea have their destiny in their own hands. "The West London club are not playing like champions at the moment despite the one-sided scoreline, but no one among them will remember or even care about that if blue ribbons are attached to the Premier League trophy in May. It will take more than a convincing win over financially and physically crippled opponents to erase the doubts that have surfaced recently, but Carlo Ancelotti's side appear determined to take the title fight to the finish."
Matt Lawton remains unconvinced though about Chelsea's title hopes, viewing their win at Fratton Park in terms of Pompey's failings. "This was not Chelsea at their best. They were up against a Portsmouth side lacking any real incentive after their nine-point deduction and a side that suffered the further  distraction of nasty injuries to Ricardo Rocha and Tommy Smith and the news that they may lose players after the Premier League allowed them to sell outside the transfer window."
The touchline spat between Roberto Mancini and David Moyes is flagged up across the backpages, but James Ducker focuses on the result itself as he almost labels Everton Chelsea-lite. "Moyes may have dismissed his team's chances of finishing fourth this season, but given that only Manchester United have taken more points from the past 13 matches in the league, the chances of their causing a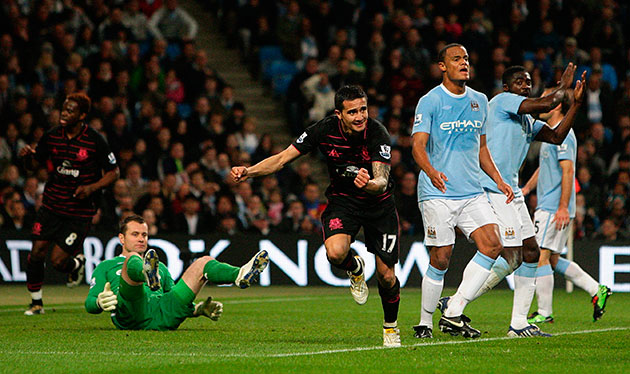 monumental upset cannot be ruled out. In many respects, they are a lowbudget version of the Chelsea team that Jose Mourinho built. Organised, disciplined and dogged but not without flair, City never seemed like breaking their resistance, despite playing much of the second half in a 4-2-4 formation. For all that money can buy, the kind of unity and team spirit Moyes has forged at Everton only comes with time."
Flipping to the Citizens, Ian Herbert lays into Mancini's men. "For all their spending, City already rely heavily on Adam Johnson and when he didn't fire either, the options ran out. This was nothing new. The statistic which said Mancini was on his longest unbeaten run at City – six games – did not explain the good fortune at Sunderland and edginess at Fulham. Mancini talked away his spat with Moyes last night but the first sense of lost control from him compounds the feeling that he has much work to do."
In an amazing twist on Wednesday, penniless Portsmouth were granted special dispensation to dodge the rigid guidelines of the transfer window and raise funds in order to help them escape administration.
While noting that present owner Balram Chainrai could "remain in charge of the club for the long term," Owen Gibson detailed how the permission to sell players has been granted. "The Premier League has agreed to allow Portsmouth to sell players before the transfer window opens – although those players will not be able to play for their new clubs until next season – and Andronikou hopes to shift at least 10 first-team players, raising up to £30m, and slash the wage bill in preparation for life in the Championship."
Mark Irwin doubts whether Pompey will be able to shift many of their squad. "The agreement is not expected to spark a rush of buyers, particularly with the club rock bottom and with precious few players capable of generating a transfer fee. Celtic, however, are set to revive their interest in Nigerian striker John Utaka and are prepared to pay up to £4million."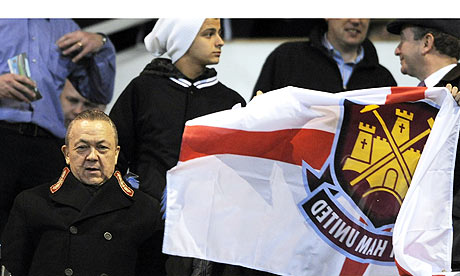 The axe continues to slowly lower itself on Gianfranco Zola's head, with Stuart James noting how the lovable Italian has received the dreaded vote of confidence. "West Ham's co-owner David Sullivan has offered Gianfranco Zola his public backing and said the club remain '100% behind the manager.' But Sullivan qualified that support by admitting that he is in no position to lure any other 'ideal candidate' to Upton Park with seven matches remaining to preserve their Premier League status."
Cranking up the pressure on Zola, Simon Cass announces how the manager is now being forced to waste time paper-pushing. "Gianfranco Zola has been forced to deliver a playing report to the new West Ham owners – in a bid to convince them he can still save the club from relegation. After five successive defeats and a chronic lack of confidence in their rookie manager, senior West Ham officials have demanded what is effectively a survival dossier. The report is expected to cover tactics, formation and selection."
A cynical Dominic Fifield explains why Zola has not been turfed out of West Ham already. "Zola and his assistant, Steve Clarke, signed new three-year deals only last May and, with annual salaries of around £1.9m and £900,000 respectively, compensation would be hefty. Perhaps more significant is that no obvious short-term replacements stand out. The Premier League's 'impact manager of the moment' is Iain Dowie, a man still living off a reputation forged largely over five giddy months in the second tier at Crystal Palace in 2004. There appears to be a lack of firefighters available."
Yet, despite the good points raised above, the gutter press are all-too-quick to claim that the Hammers what to sack Zola.
The Daily Mirror bleats "West Ham are ready to make a sensational move for Glenn Hoddle – as Gianfranco Zola's future is dramatically plunged into fresh doubt… Hoddle is free and available and could be approached in the next few days to see if he will come into the Hammers hot seat as the new regime frets about whether Zola is up to the task of beating the drop." Over in the Star, Duncan Wright chugs "West Ham want Mark Hughes to replace Gianfranco Zola as their new manager."
Moving on, James Ducker believes Manchester United may have to spend big this summer. "Smalling will arrive in the summer, but if Vidic leaves, United are likely to need another central defender. A right back could also be required. Van der Sar will remain on for another year, but with Ben Foster having failed to convince, a long-term replacement for the Dutchman will be needed. More pressingly, Ferguson wants a goalscoring midfield player and another top quality striker to supplement Rooney. Acquiring four or five such players is likely to cost in the region of the £66.9 million United committed to sign Tevez (on a two-year loan), Hargreaves, Anderson and Nani in the summer of 2007."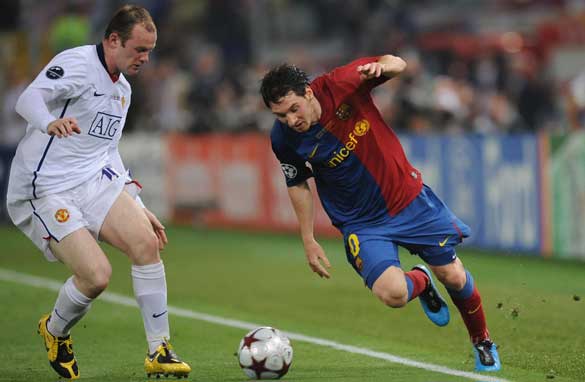 Heading off on a tangent, Andy Cole uses his weekly column in the Independent to argue that Rooney, just like Messi, can drag their international teams to World Cup success. "In this form there is no reason Messi can't carry Argentina way beyond where they could expect without him. If we're being brutally honest, England's hopes in South Africa probably rest with Rooney being as fit and in form for every England game as he has been for almost every match of United's season so far. And I don't necessarily think that reliance on one player to take you to another level is unusual, or even bad. It just happens. Logically, then, Messi too can galvanise and transform Argentina."
Onto the rumour-mill, where despite reports in the red-tops early in the week that Sven Goran Eriksson will be the next Ivory Coast boss, Jamie Jackson now claims that the Swede is fighting for the job with Mark Hughes and Bernd Schuster. Keeping with managers on the reported move, the Daily Mail splutter "Jose Mourinho is reportedly seeking a staggering £10million a year after tax before he even thinks about sitting in the Real Madrid hot seat."
The Telegraph today report the long-standing rumour that Thierry Henry is close to signing for Major League Soccer side New York Red Bulls. However another long-standing rumour is put today by Kieren Daley, who scrawls "Franck Ribery has ruled out a transfer to Chelsea by revealing he will definitely move to Spain if he decides to leave Bayern Munich."
The Daily Mail go into overdrive with transfer lies.
Firstly, the pseudo-tabloid links Manchester City with Palermo striker Edinson Cavani, before adding that "Roma defender Philippe Mexes is hoping for a summer move to Manchester City." Next, Ashley Gray farts "Liverpool are preparing to let Albert Riera leave on loan to Spartak Moscow… A loan till the end of June would suit Riera, who could then assess offers in more established European leagues."
And the Daily Mail aren't done there. Next we learn that French striker Loic Remy wants to move to Arsenal, before we are spoon-fed the never-gonna-happen lie of the day that "Inter Milan have entered the race to sign Cesc Fabregas and hope to tempt Arsenal by offering Italy Under 21 star Mario Balotelli in a player-plus-cash deal worth £36million."
The Sun then also get knee-deep in the transfer muck, kicking off with a report that Birmingham are tracking Notts County keeper Kasper Schmeichel. Next we read that "Manchester City are in talks with Grenoble's Sofiane Feghouli, 20, over a summer switch," and lastly it's announced that "Blackburn's Morten Gamst Pedersen is wanted by Italian side Palermo."
---