Chelsea accuse Clattenberg of racism, QPR may sack Hughes this week & Newcastle to sign Sissoko
Comment & analysis round-up
Quote of the day: "The Professional Games Match Officials is aware of the allegations and they are being treated with the utmost seriousness. Mark [Clattenburg] will cooperate fully and welcomes the opportunity for the facts to be established. No further comment will be made until this matter has been properly investigated." – A statement from the Professional Games Match Officials board.
Runner-up: "We have lodged a complaint to the Premier League match delegate regarding inappropriate language used by the referee towards two of our players in two separate incidents in today's game." – A statement from Chelsea.
Chelsea Accuse Clattenberg With Racism
New darkness: For a moment at Stamford Bridge it seemed shadows were lifting (Ollie Holt, Mirror) Just as English football appeared to be on the verge of ridding itself of some of the rancour that has poisoned it, it has been plunged into a fresh crisis. This is potentially more serious than the others, even though the Terry-Ferdinand case cost Fabio Capello the England manager's job and Terry the England captaincy… It raises fundamental questions about how referees 'manage' matches and whether they have become too familiar with players. And it raises questions about how much the already strained relationship between referees and players will be damaged by these allegations.
Clattenberk (Sun) Furious Chelsea have sensationally accused referee Mark Clattenburg of verbally abusing their players… It is understood John Obi Mikel chased the FIFA-accredited referee after the final whistle to confront him. Juan Mata is believed to be the other player involved… Clattenburg and his three assistants were all wearing microphones and would have been able to hear all the comments made during the match… Di Matteo did not mention the allegations to the Press after the clash which saw United cut Chelsea's lead at the top of the table to just one point.
Ref race row! Chelsea accuse Clattenburg of abusing Mikel and referring to a 'Spanish t***' during fiery United win at the Bridge (Mail) Chelsea made the official complaint at 7.45pm on Sunday night, but Clattenburg had already been confronted by then. Chief executive Ron Gourlay, with Mikel and manager Roberto Di Matteo, demanded an apology during stormy scenes in the referee's room. Clattenburg refused and Chelsea decided to take the incredible action of launching an immediate complaint to the Premier League over his language.
Clattenburg is Marked down as Utd star of the future (Steven Howard, Sun) If it goes on like this, Howard Webb will lose his place in the Manchester United side to Mark Clattenburg… Clattenburg ruined one of the season's great matches yesterday.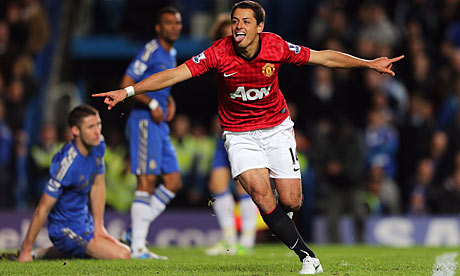 Chelsea 2 – Man United 3
It's all your fault Torres (Sun) Alex Ferguson stuck the boot into Fernando Torres and claimed the £50million Chelsea striker DESERVED to be sent off for diving… And he reckoned that the European champions should have had THREE red cards but ref Mark Clattenburg bottled sending off John Obi Mikel.
Crazy red card for Torres and Hernandez offside goal hand United victory at Stamford Bridge (Martin Samuel, Mail) Games as good as this should be decided by a moment of magic, a sliver of sublime skill, an act of bravery or great daring. Sadly, Manchester United won here courtesy of one of the worst performances by a referee in Premier League history. In fact, make that the worst.
Red cards ruin Chelsea's attacking comeback and Oscar's brilliance (Richard Williams, Guardian) For half an hour, either side of half-time, Abramovich had the pleasure of watching his team play the way he expects, full of artistry and inventiveness, looking fully worthy of their position at the top of the table as David de Gea held them at bay, making a number of saves with his lower limbs. Torres worked hard and took advantage of United's generosity to put over several probing crosses from the right, Mata and Hazard probed ominously and Oscar had a touch of the divine about his work.
Add Robin van Persie and Chelsea would be magnificent (Paul Hayward, Telegraph) Van Persie has scored half as many goals for United already as Torres has posted in 2½ seasons at Stamford Bridge. In 58 appearances, Torres has scored only 18 times: a weak strike-rate. Ramires, another midfielder, is not far behind, with 16…  Buying Van Persie from Arsenal was a surgical act by Ferguson, whose United side lost last season's title race to Manchester City on goal difference. The front of this United team now has a nicely sharpened tip. The same cannot be said of Chelsea. They are unlikely to tolerate that much longer. Not with so much talent in their ranks.
Fergie pulled off a masterstroke at Stamford Bridge (Mark Lawrenson, Mirror) Fergie decided to fight fire with fire, and the result was a performance and a win that could resonate throughout the season as the race unfolds. He basically decided to go really attacking, the opposite to what Roberto Di Matteo, and most other managers may have guessed.
Javier back to his best (Jamie Redknapp, Mail) A couple of seasons ago, I I called Javier Hernandez 'buy of the century'. Then concussion and other injuries affected him and he looked tired. Now his spark's back and goals are coming thick and fast, even if yesterday's had a hint of offside. Antonio Valencia was fantastic too, a real power player, quicker and stronger than most defenders.
David Luiz's inept display at the back shows how hard it will be to replace Chelsea anchorman John Terry (Alan Hansen, Telegraph) Whatever you think about John Terry, nobody can deny he has been a formidable defender and a magnificent servant for Chelsea. So when you analyse the performance of David Luiz against Manchester United, which can be best described as totally erratic, it only serves to highlight the problems Chelsea face when it comes to replacing Terry.
Everton 1 – Liverpool 1 
Rucking & diving (Sun) Striker Suarez mocked the Everton boss at Goodison by diving at his feet to celebrate Liverpool's opening goal. It came after Moyes' pre-match taunt that Suarez 'spoils the game' with his diving. Moyes said: "I actually quite liked that and it's the sort of thing I'd have done if I'd have scored. If we'd have scored a third I probably would have done the same to him! But you've got to be careful. He's going to have to dive in front of a lot of managers now isn't he? And I've got to say he was very lucky to stay on for his tackle on Sylvain Distin."
Moyes admits Suarez's winner should have stood… but says striker deserved red card (Mail) While Moyes admitted Everton were lucky to escape with a draw after Suarez incorrectly had a stoppage-time goal ruled out, he was adamant Liverpool should have been down to 10 men before that. Suarez was booked by Andre Marriner for a 71st-minute foul on Sylvain Distin.
Missiles At Goodison, Steward KO'ed At Stamford Bridge
Shame Games (Sun) The FA will launch an investigation into yesterday's disgraceful missile-throwing at Stamford Bridge and Goodison Park. Yobs hurled coins at Liverpool's Luis Suarez during the X-rated 2-2 Merseyside derby with Everton. And a Chelsea steward needed hospital treatment after being struck by an object hurled from the stands during Manchester United's explosive 3-2 win. The louts hurled coins, lighters, plastic cups and even a SEAT on to the pitch after Javier Hernandez struck the 75th-minute winner. It was a return to the bad old days of football hooliganism.
Steward hurt on day of shame as Chelsea face police and FA investigation (Mail) A Chelsea steward was taken to hospital with a knee injury, caught in a crush after Javier Hernandez's controversial 75th-minute winner for United. On a shocking day for the Barclays Premier League, a seat was ripped out and hurled towards celebrating United players in the corner of the West Stand and Matthew Harding Stand.
Sparky In Trouble
Under-fire Hughes has SEVEN days to save his job (Mail) Queens Park Rangers manager Mark Hughes is facing a seven-day battle to keep his job… Hughes must deal with the very real possibility of being sacked if he cannot win next weekend's home match against Reading… Out-of-work Harry Redknapp is understood to be high on the list of contenders to replace Hughes, but Fernandes is fully aware that the appointment of a new manager is likely to lead to further heavy investment in January.
One game to save job: Mark Hughes is on the brink at rock-bottom QPR (Mirror) Fernandes and the board met with the manager last week and their biggest concern is that they do not want to be cut adrift. ­Fernandes still passionately believes in Hughes, but QPR desperately need a win – and soon.
Managers feel heat as they move near window (Independent) Premier League chairmen will start feeling anxious as November arrives this week. The chance to bring in a new manager who can spend money in the January transfer window is a popular option for many struggling teams. It is rare to have a season without it… Aston Villa's Paul Lambert, Mark Hughes of QPR, Southampton's Nigel Adkins and Brian McDermott at Reading will certainly be aware of this. Those four have won two Premier League games between them this season and are all at clubs owned by men rich enough to make a difference in January.
Monday's Op-eds
Meet Txiki Begiristain, Manchester City's new man and Guardiola's mentor (Sid Lowe, Guardian) Two down, one to go? No sooner had Txiki Begiristain been confirmed as Manchester City's director of football than the inevitable question began to be asked and once they started they did not stop. Begiristain's statement said he was looking forward to working with Roberto Mancini, which it had to say of course, but it seemed everybody wanted to know the same thing: does this mean Pep Guardiola is coming too?
Thinking football? I fear for England when we're always dumbing down (Martin Samuel, Mail) How does the standard inquest into the state of English football go again? We haven't got a player like Andres Iniesta. We haven't got an Andrea Pirlo. Oh, woe is us. Did you see the Chelsea and Manchester City games last week? We haven't got Christian Eriksen of Denmark, either. We haven't got the best player in Armenia. His name is Henrikh Mkhitaryan.
Lerner must be ready to dig deep to insure admirable youth policy (Independent) For Villa, a reliance on youth has to be fortified at some point by investment, even if it is not at the level that Mansour has afforded City. Villa have outperformed many wealthier clubs in their academy and it is wonderful that so many have been given a chance. Of the next generation, the likes of Dan Crowley and Jack Grealish are rated as two outstanding prospects. But they cannot allow themselves to be too vulnerable to predators.
Lost in translation listening to Mark Lawrenson on Match of the Day (Martin Kelner, Guardian) In his never-ending bid to make himself colourful Mark Lawrenson is making up words. On Saturday's Match of the Day he described the Stoke-Sunderland match as "towzie". And forgive me, Mark, if the spelling is wrong but, having tried a number of alternatives, nowhere could I find a definition of towsey, towsie, towzy or anything close.
Transfer Lies
Toon set a Mous trap (Sun) Newcastle have pipped a host of Premier League rivals by agreeing to sign France midfielder Moussa Sissoko.
Chelsea, United and Liverpool plot move for highly-rated Genoa defender Sampirisi (Mail) Chelsea, Manchester United and Liverpool all had scouts watching Genoa full back Mario Sampirisi, 19, against AC Milan on Saturday.
Arsenal scouting Palace wonderteen Zaha again (Mirror) Arsenal have made another check on Crystal Palace prospect Wilfried Zaha.
---
GAMBLING CAN BE ADDICTIVE, PLEASE PLAY RESPONSIBLY