Chaos at City: Robinho & Sparky out, Ribery & Klinsmann in; And who, if anyone, won from Rick Parry's Liverpool exit?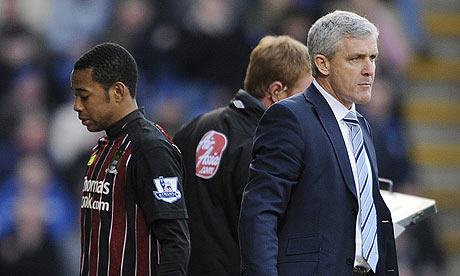 Comment & analysis round-up
Quote of the day: "I don't see why people say I won. The owners made the decision and if they change the CEO someone else will be there. We want the best for the club and that is working together to do the right things. Now we are talking about the contract and I don't want to talk about this. This won't have a bearing on whether I sign or not. This [Parry going] was not one of the issues. I was talking about football and football issues when we were talking about my contract. I have never said I won't sign a contract if Rick Parry stays. I am surprised if people are saying it because I didn't say that." – Rafa Benitez.
Runner-up: "I come from east London and there was a spell where they produced great Jewish boxers after the War. They were hungry. The Jewish people had been persecuted and great champions came out of the East End. It's the same now with the black kids, mixed-race kids, who are very, very hungry, coming from the poorer areas. It's a chance for them to make a fantastic living. Kids today need to hear about Alan Ball. As a kid at Bolton, 'Bally' got called into the manager's office. Bill Ridding said: 'Listen son, the only apprenticeship you are going to get is as a jockey'. 'Bally' cried all the way home on the bus. His dad said: 'Don't cry, don't give up, you've got to prove him wrong'. He got the ball, went outside, spent hours practising. And made it." – Harry Redknapp from an interview with Henry Winter.
Today's overview: Craziness reigns at Manchester City today as a fresh wave of over-the-top stories hit the backpages revolving around not just a shake-up of the squad but also the management. Liverpool's decision to fire Rick Parry at the end of the season takes up the main bulk of today's focus, while the small matter of the Carling Cup final is chewed over.
Crazy days return to Eastlands. According to Daniel Taylor, Manchester City are cooking up a dastardly plan to ship Robinho off the Chelsea in return for the capture of John Terry, while the Abu Dhabi owenrs prepare to invest a further £200m "with David Villa, Yaya Toure, Kolo Toure and Roque Santa Cruz also on the extensive list of targets." And in a secondary article, Daniel Taylor goes on to spell out how and why Robinho has fallen out of favour in Manchester claiming "the club's senior players have begun to think of Robinho and Elano as cliquish and lazy."
A slightly different set of rumours are peddled by Ian Ladyman who, while agreeing Robinho is toast, quotes unnamed sources as claiming that the club want Jurgen Klinsmann as their next manager while on the player front Franck Ribery and Thierry Henry are their top targets.
On the departure of Rick Parry from Liverpool, Andy Hunter claims to winner of the hour to be Tom Hicks. Rory Smith echoes that sentiment claiming "Hicks's power play has left Anfield in no doubt as to who is in charge. The stalemate has been broken. Hicks is calling the shots. Now he can give Benitez answers." And in a second article, Rory Smith continues his simplistic analysis of the situation writing "Gillett's days in English football are surely numbered. Tom Hicks has finally got his man."
However for James Ducker there seems to be no winners, only losers at Anfield, as Benitez remains reticent of needing "guarantees about the future ownership of the club" however "the reality, though, is that Hicks cannot provide the manager, who has 16 months left on his existing contract, with the assurances he craves. Gillett has still to find a buyer for his 50 per cent share in the club and even if he wanted to sell to Hicks, his partner does not have the funds to buy it." In a secondary article, James Ducker continues his criticism of the Reds' picking up on Liverpool's decision to leave Rick Parry in his job until the end of the season. "Half measures are what Liverpool have become good at… Liverpool are left with a chief executive who has been rendered a lame duck."
Ian Herbert speculates as to why George Gillett agreed to Parry's dismissal claiming the decision to be a "product of his realisation that his share of the club will be harder to sell without the Spaniard in place. If that is Gillett's thinking, then it further underlines how irrational it would be for Benitez to demand reassurances about who Liverpool's future proprietors will be."
Oliver Kay stands up for Rick Parry's achievements at Liverpool. "[Parry] is an extremely good guy. His problem is that he, along with David Moores, the former chairman, made a poor decision to sell to Hicks and Gillett in February 2007 and they have regretted it ever since." Also looking back at Parry's time at Liverpool, Ian Herbert cites the beginning of the end to have been "the notorious meeting with Jurgen Klinsmann in November 2007." While on a potential replacement Rory Smith penned "Brian Barwick, like Parry a former FA chief executive and a lifelong Liverpool fan, is one likely candidate, as is Ian Ayre, the club's commercial director and a close ally of Hicks. Making an appointment, though, is likely to be a stern test of the dysfunctional relationship between the two boardroom factions."
Arsenal keeper Manuel Almunia is on the receiving end of praise this Saturday, Kaveh Solhekol writing that "his commanding performances and technical excellence have started to convince some of the doubters at the Emirates Stadium that he has what it takes to follow in the footsteps of David Seaman and Jens Lehmann."
Only one more day until the Carling Cup final, and Henry Winter is gunning for the competition to reform. "The Football League and Football Association must inject some breathing space into this chaotic stretch of the season by staging the League Cup final before Christmas."
From Manchester United's point of view, Oliver Kay argues that "whatever its value as a trophy, the Carling Cup is more about legacy where Ferguson is concerned." Danny Welbeck is featured by Ian Herbert while Dimitar Berbatov's importance (or lack of) at Old Trafford is assessed by Kevin Garside. "Berbatov has hit 12 goals in 27 appearances, the same number as Alan Smith managed in 61 and Garry Birtles in 63. The mention of the latter is not meant to demean but to demonstrate that despite appearances Berbatov puts more on the plate than his detractors might think. But at a cost of 30 million smackers patience forms no part of the deal."
Des Kelly hopes that Tottenham lose the final claiming "they don't really want to be in Europe. The club won a place in the UEFA Cup as a reward for winning the same competition last year and look how they marked that auspicious achievement?… So why would they want to do it again? And, more to the point, why would we want to give them the chance?" Andy Hunter speaks to Tottenham keeper Heurelho Gomes ("I've never had a bad period before, whether it be for Cruzeiro, PSV or Brazil. This has been the first time I have suffered like this.")
Terry Venables gives his insight into how Spurs can win the cup. "If I was in charge of Tottenham tomorrow, I would go 4-3-3 with the front three consisting of Aaron Lennon playing high on the right, Roman Pavlyuchenko in the middle and that man Modric on the left, just inside the right-back, likely to be Gary Neville."
While in an amazing admission by Harry Redknapp in his column in The Sun, Pompey fans will likely be spitting blood as 'Arry admits "I do not even know where my FA Cup winner's medal is from last season with Portsmouth. No idea at all… A lot of the lads end up selling their medals, getting some cash for them and passing that on to their kids as a deposit for a house or something similar. It sounds cold, even harsh but I do not blame them. At least that way you get some benefit out of them."
Defending the right of lessor clubs to park the bus when playing the big-wigs, David Lacey argues "good football is as much about sound defending as inspired attacking."
The red-tops continue to roll out transfer stories which appear totally baseless. The Daily Mirror are the worst offenders first reporting that Stuart Downing and/or Ryan Babel are being lined up by Juventus as a replacement for Pavel Nedved, and following that up with a one-lined article that reads "Manchester United are chasing £5m-rated Walter, 19, regarded as Brazil's next big prospect." Lastly we are told that "Everton boss David Moyes is set to win the battle for Coventry's highly-rated keeper Keiren Westwood."
In the rest of Saturday's football coverage in the papers, Fulham's Brede Hangeland speaks to Matt Barlow, Neil Moxley reports how Martin O'Neill is set to take out all the those Villa fans who when to Moscow this week to a private dinner as a way to say sorry for the teams' performance, and Tim Walker announces the latest difficulty facing Roman Abramovich with Avram Grant's wife, Tzofit, having written a play about the world of Russian oligarchs in London which she hopes to stage this year.
---
GAMBLING CAN BE ADDICTIVE, PLEASE PLAY RESPONSIBLY