Celtic & Aston Villa fight over Spurs' Robbie Keane, Barca & Real Madrid circle £22m Ashley Young & are the Yanks leaving Liverpool?
Comment & analysis round-up
Quote of the day: "The most important thing about Wednesday night's game is how well we played. But you have lost that in the mist of your venom. The Germans let themselves down in the way they behaved by getting the boy sent off. If they don't recognise that, there is nothing I can do about that. It was totally unfair – they bullied a young referee into it… We were magnificent and that has been lost just because you want a headline about what I say about the Germans. That is disgusting, absolutely disgusting. The players deserved some praise from you lot because their performance was outstanding. At the end of the game you are forced by Uefa rules to do a television interview. It is a bad time to do it." – Sir Alex Ferguson.
Runner-up: "All those countries [United States, England, France, Germany and Italy] are part of the Zionist-Crusader campaign against Islam. How amazing could the match between the United States and England be if, during a live broadcast with a stadium packed with spectators, the sound of an explosion rumbles through the stands, the whole stadium is turned upside down and the numbers of dead bodies are in their dozens and hundreds, God willing." – Al-Qaida.
Today's overview: There is a real mix bag this Saturday with the FA Cup, World Cup and the state of English football all touched upon, before the tabloids live up to their reputations with a string of transfer toss.
Penniless Pompey: The plight of Portsmouth plunges new depths this Saturday as the south coasters trip to Wembley in the FA Cup semi-final against Spurs is ruined by financial, rather than football, concerns.
According to Nick Szczepanik, "Portsmouth players have been told to waive hundreds of thousands of pounds in bonuses if they want to play in the FA Cup Final. As many as six players have been warned that they may never play for the club again after tomorrow's semi-final against Tottenham Hotspur at Wembley."
Upping the ante, The Sun also get in on the story claiming "Portsmouth are being threatened with losing SEVEN stars if they reach the FA Cup final… Five – Kanu, Richard Hughes, Papa Bouba Diop, John Utaka and reserve keeper Jamie Ashdown – negotiated bonuses of up to £100,000 with former chief executive Peter Storrie for lifting the trophy. Defender Steve Finnan has played 21 times this season and is guaranteed a new one-year contract if he reaches 25. And on-loan striker Aruna Dindane can make just one more appearance before penniless Pompey will be forced to pay Lens a £4million signing fee."
The future of English football: The post mortem continues this weekend after Manchester United and Arsenal's exit from the Champions League leaves some to consider the overall standard of English football.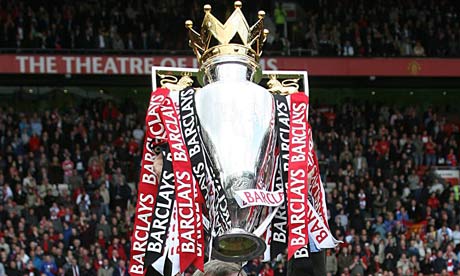 But Patrick Barclay is bored by the conversation already. "If I'd been given a thousand pounds for every time I was asked the question of the week — have English clubs lost their dominance over the rest of Europe? — it might have got to the stage where I cared. But who cares? The point of European football is to present a fresh and exciting challenge, not an opportunity for muscle-flexing, and thanks to Pep Guardiola's Barcelona and José Mourinho's Inter Milan among others, it now does again. Hooray."
Trumpeting the negative backlash, Jason Burt argues that the worrying state of English football's finances could escalated a dip in quality of English teams in Europe. "A recent Uefa report – the European club footballing landscape – showed that Premier League clubs owe more money than the rest of Europe's top divisions put together and now, with the new financial crisis, that is finally catching up on them.  The weakness of the pound and the increase in taxes have also had an effect while Uefa's impending financial fair play rules — an attempt to get clubs to live within their means – will hit hard. No representative in the last four of the Champions League is embarrassing enough. But it may be about to get worse for the Premier League."
Des Kelly jumps on the negative-nancy bandwagon to argue that English football isn't as good as many people think. "The theory doing the rounds right now is that Premier League clubs have underperformed spectacularly in Europe in comparison to their rivals. In fact, the depressing reality is they appear to have achieved precisely what they should have expected… The Euro-zone a decidedly more attractive place to live and work. Roughly 25 per cent more attractive, in fact, as you will find when you head to the bureau de change before your suddenly less lavish holiday."
World Cup: Will Bobby Zamora be on the plane to South Africa? After another terrific evening last Thursday night at Wolfsburg Jason Burt believes the Fulham forward's chances has never been closer. "The fact that Zamora is even being considered represents a remarkable change of fortune for a 29 year-old who has never before even been close to playing for his country despite earning six under-21 caps, without scoring. His claim now is regarded as genuinely strong even though he has not even been put on standby by Capello in the past. But the pragmatic England manager has now taken the attitude that Zamora has at least earned the chance to be considered and he is now regarded as a more likely candidate to be selected than Sunderland's Darren Bent, who has been chosen in the past."
Switching topics, James Lawton continues the Messi vs Maradona debate by viewing it in a World Cup context. "What we are talking about, of course, is the difference between all the promise in the world and the high ground of unforgettable achievement. Against Arsenal in the Champions League this week, Messi performed with superb skill and his fourth goal, though achieved against a team who had been forced over 180 minutes to take a sharply new and different, and less gratifying, view of themselves, spoke of mesmering skill and timing. However, it did not relieve him of the need to match the significance of Maradona's historic achievement – or Barcelona, if they are to be hailed as the best club side ever seen, of the requirement to step further from the shadow all club teams, with the possible exception of the Milan of Ruud Gullit and Marco van Basten, Frank Rijkaard and Franco Baresi, have inhabited since Real Madrid so profoundly dominated the first five years of the European Cup… Messi needs to win at least one World Cup and Barça must make at least one successful defence of the Champions League. Until then, they have to remain contenders, sublime ones, but mere contenders all the same. History, after all, often has a cruel way with loose talk."
Managerial merry-go-round: Looking at England's two remaining representatives in European competitions this season, Jamie Jackson speculates how the Reds could be coveting the Cottager's leader this summer. "With Benítez's future at Liverpool still unclear as the Spaniard wrestles with the club's financial problems and internal politics, Hodgson's continuing success could even make him a target for tomorrow's opponents should they require a replacement."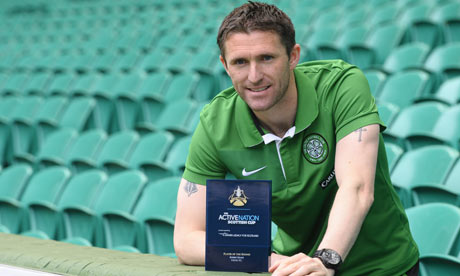 Transfer Lies: Following quotes from Robbie Keane, Ewan Murray asserts that the on-loan Tottenham striker could stay on at Celtic after the season ends. John Greechan then gets in on the gossip claiming "Tottenham will have first call on their player come the end of the season, while former Celtic manager Martin O'Neill is understood to be keen on snaffling the 29-year-old Irishman for Aston Villa."
To what extent are Manchester United financially restricted in the transfer market this summer? James Ducker delivers a confused picture of the Red Devils' resources "David Gill, the United chief executive, has told supporters to "watch this space" for new signings. But Ferguson effectively dismissed the prospect of signing David Villa, the 28-year-old Valencia striker, in the summer because of his age and lack of resale value and insisted that he was committed to buying young players such as Javier Hernández, the Mexico striker, who will arrive in July."
Adopting the term "starlet" very very loosely in the headline "Starlet set to quit Chelsea for Reading," The Mirror chug "Chelsea's Ryan Bertrand is ready to snub the offer of a new contract at Stamford Bridge to make his loan at Reading permanent." Next, The Mirror report that "Everton boss David Moyes is chasing Standard Liege's Dieudonne Mbokani after making a personal check on the powerful striker… Moyes is looking around for a new and 'different' forward, however the Belgians could demand as much as £8million."
And then we arrive at the ridiculous.
The Daily Mail – serial liars of never-gonna-happen transfers tripe – once again adopt their pathetic flimsy no-name/no-accountability stance to bark "Barcelona and Real Madrid are lining up summer bids for Aston Villa winger Ashley Young. The Spanish giants are battling to sign Franck Ribery from Bayern Munich, but have Young lined up as an alternative once the France star chooses his destination… Pep Guardiola admires Young's ability to play on either flank and Nou Camp insiders believe he would be available for about £22million."
Liverpool lies in the Daily Mail: Lastly, the awful Daily Mail fart yet another rumour without any apparent evidence in support as they tell Liverpool fans what they want to hear. "It is believed that owners Tom Hicks and George Gillett may stand aside and appoint an independent chairman in a bid to attract investment. The duo's refusal to listen to a £110m offer from the Rhone Group for a 40 per cent stake sparked an outspoken response from Benitez this week. It came as Hicks and Gillett held talks with their advisors in London ahead of a summer deadline to reduce the club's £237m debts. The unpopular owners could stand aside even if they do not decide to sell a stake, with British Airways chairman Martin Broughton one of the business heads being considered."
---