Celtic and Man United can't win the Champions League, Chelsea's unpolished diamond, broke Liverpool & West Ham gazump Arsenal for Chamakh
Comment & analysis round-up
Quote of the day: "Arsenal will have a lot of the ball and we will need to have a plan for that. But it won't be all about trying to stop them. We will also play our own game when we have the ball. We will have to ask questions of them and have them running back to their own goal, and I'm confident that we will be able to do that. It would be easier for me to explain it to you after you've seen the formation of my team tomorrow. For this game I might have to do something different with my players. There is a cunning plan in place, but it if doesn't work, it is there for you guys to beat me over the head with it afterwards. These things are only 'a cunning plan' if you win. It is 'a shambles' if you don't, isn't it?" – Tony Mowbray.
Runner-up: "I see more a European league developing over time rather than one team going out of the country. The national leagues will survive but maybe in 10 years, you will have a European league. I'm not sure 100% that I'm right but I feel inside our game there are some voices behind the scenes coming up to do something about that, especially if the rules become too restrictive for these clubs…Teams would have to play in both the European league in midweek and the national league at the weekend. It means all these teams have two teams. The way we are going financially is that even the money that will be coming in from the Champions League will not be enough for some clubs because they spend too much money. The income is basically owned by Uefa and they distribute the money to the clubs." – Arsene Wenger.
Today's overview: Only days into the new season, and already the Battle of Britain is upon us as Celtic play host to Arsenal on Tuesday night in the Champions League.
Ahead of kick-off, Kevin McCarra wallows in Scotland's low standing in world football. "[Scotland] has run out of emerging prospects. Celtic have had difficulty in developing footballers and have now started to buy teenagers of potential. Josh Thompson, a centre-half, has been acquired from Stockport County… If it is all but impossible to think of Portuguese or Dutch clubs lifting the Champions League in future then the odds against the representatives from a far smaller country such as Scotland are crushing."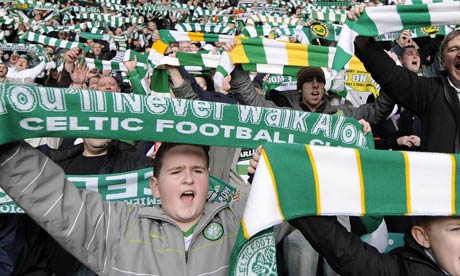 Also picking up the analysis from a Bhoys perspective is Oliver Kay, who delivers an airy-fairy statement for how Celtic should approach the match. "Tonight offers Celtic a rare opportunity to make their voice heard above the whispers of the powerful elite. If they are to be a part of any pan-European league that may transpire in future, it is vital that they show they are a force for the present, not merely a blast from the past." Equally unscientific is Graham Spiers, who is left referencing "an aura around Celtic Park which Mowbray hopes will help against Arsenal tonight."
Always one to pick up on the latest fad and run with it, Ian Wright boasts "Arsenal play Celtic in the Champions League tonight and a few home truths might be exposed. Everyone north of the border seems to think Celtic and Rangers could more than hold their own in the Premier League. But the way Gunners ripped Everton apart suggests Tony Mowbray's side are in for a very tough time."
In an article likely to wind up Manchester United supporters, Matt Dickinson contests that without fresh faces the reigning champs are too weak to win the Champions League this season. "I have taken all the names, juggled them, switched them around, chopped and changed but, whichever way you line them up, I cannot see a United midfield that wins the Champions League this season… Is he going to achieve that, truly, from being reliant on a partnership of Darren Fletcher and Michael Carrick? From trusting Nani and Antonio Valencia on the wings and from hoping that Ryan Giggs and Paul Scholes can continue to turn back time?"
Picking up on Arsene Wenger's belief that a Super League can transpire in the next decade, Henry Winter gives the proposal short shrift. "Fans would reject the concept, as most cherish domestic rivalries and would not be excited by the prospect of a meaningless, mid-table meeting with Paris St-Germain in March."
Heading back into the Premier League, Mark Fleming pokes holes in Chelsea's diamond midfield. Citing Jon Obi Mikel as not good enough in the holding role, but balancing that out by arguing "the point of the diamond could just be the position Joe Cole has been crying out to play all his career," the scribe concludes that "when Cole and the new £18m signing Yuri Zhirkov are fit, Ancelotti will find it hard to play all his stars, and that's when the problems could well start."
On Monday hacks across the paper-divide began to highlight the lack of defensive signings made over the summer by spewing out a raft of potential transfers. Today a couple of teams receive the forensic treatment as the backline weaknesses are explicitly called out.
According to Tony Barrett, "Rafael Benitez… will step up his pursuit of much-needed central-defensive reinforcements in the coming days, armed with a budget of no more than £2 million… The Liverpool owners argue that the club must be run as a business and made it clear that pay increases handed out to Fernando Torres, Steven Gerrard, Dirk Kuyt, Yossi Benayoun and Agger would be subtracted from the money made available to Benitez." Looking to sensationalise the story one step further, David Maddock splashes in the Mirror that "Rafa Benitez has been left devastated after being told he has just £1.5million to spend by his club's American owners."
Over in the Midlands, its a similar story of defensive woe for Aston Villa as explained by Sandy Macaskill. "[Villa need to bring] in a new, experienced central defender post haste. One glance at the Villa bench revealed the lack of defensive options at O'Neill's fingertips: the only specialised player he could have called upon is Ciaran Clark, a 19-year-old reserve who is yet to make a competitive start for the first team."
Racism in football is the central topic for the Independent this Tuesday as Tranmere Rovers prepare to take on the MK Dons in League One.
The debate is led by Ian Herbert's discussion with Tranmere boss John Barnes. Barnes: "Until we are considered to be intellectually equal, we will never be equal. In the 1970s you didn't have black goalkeepers or centre-halves – or not many. If you were a black player you had to play on the wing where you're fast and didn't have to think too much… My contemporaries and I are the management equivalent of those black centre halves." In a supplementary article, Barnes continued to speak plainly about his thoughts on institutional racism in football saying "there are a lot of bad managers who are white but they get another shot at it. There are not a lot of black managers who go back into football. Paul Ince and I are very fortunate."
Onto the transfers, where the Premier League's middling-to-bottom teams are all reported to be frantically looking to add to their squads.
Wigan are closing in on 22-year-old Rayo Vallecano midfielder Mohamed Diame according to the Guardian, while over in The Times the Latics are also said to be trailing Crystal Palace starlet Victor Moses in an article which also revealed that "Blackburn Rovers agreed a two-year contract with Michel Salgado."
West Ham look to have gazumped Arsenal, Jason Burt reports that the Hammers are "poised to seal £7 million deal for Bordeaux striker Marouane Chamakh." While over in the Independent we learn that "Everton continue to monitor Arsenal defender Philippe Senderos, with the Toffees also linked with Valencia midfielder Ever Banega, Spartak Moscow winger Vladimir Bystrov and the Middlesbrough defender Robert Huth."
The Daily Mail's Simon Cass claims that "Spurs would be tempted to move for [Portsmouth's David] James if Carlo Cudicini could be off-loaded… [while Sylvain] Distin has been linked with Sunderland, Aston Villa and a return to Manchester City." Staying with Villa, James Nursey links Martin O'Neill with "a £6million offer for Middlesbrough defender David Wheater."
In an article which exposes how the Premier League rich-boys blood youth in their club, The Sun print that "Manchester City look to have edged out Chelsea to land Brazilian wonderkid Rafael de Souza Rodolfo – thanks to a major charm offensive from Robinho," while in other news Birmingham are said to have snapped up £3m midfielder Michel from Sporting Gijon.
The headline grabbing story of the day is served up by Martin Lipton, barfing "Spanish giants Barcelona and Real Madrid are monitoring Liverpool winger Albert Riera after he was dropped for the Reds' opening weekend defeat at Spurs."
While wrapping up the transfer tales Louise Taylor reports that "Sol Campbell is in negotiations with Newcastle United about a possible move to St James' Park," while the Mirror claim "Afonso Alves looks set to end his Middlesbrough nightmare with Ajax set to complete a deal for the Brazilian striker."
Best football betting tips & free bet offers
Click here for more Premier League betting tips
---